Business Owners and Workers Worry About Speaking Their Minds, Being Villainized, And Cruise Ship Petition Impacts During Council meeting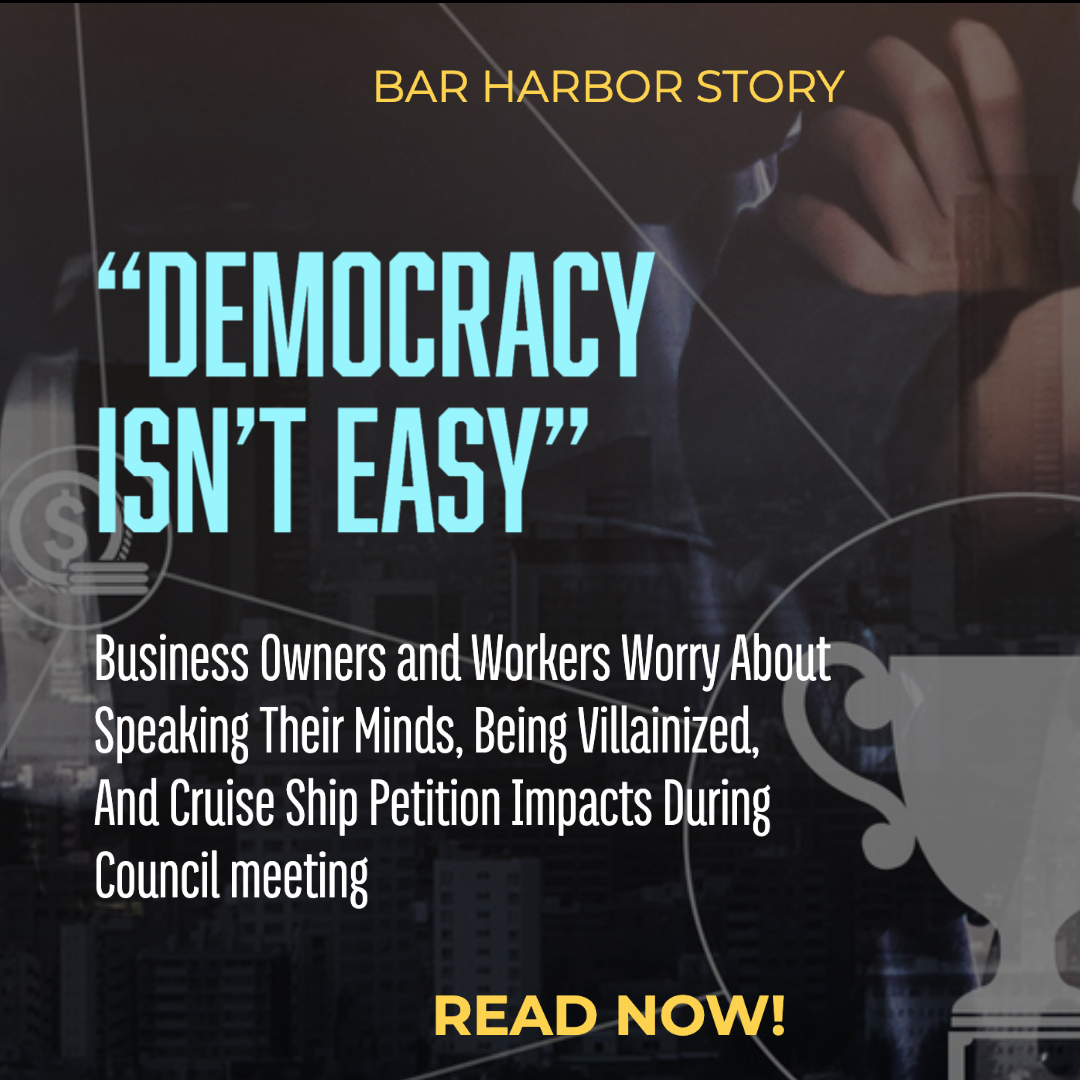 BAR HARBOR—In a quick meeting, the Bar Harbor Town Council met on November 15 and Chair Valerie Peacock said that the council's next steps were to set out the new rules and regulations that correspond to the citizens' initiative which capped cruise ship disembarkations into Bar Harbor at 1,000 a day.
The public comments that immediately followed were all pleas about the cruise ship cap's impact on local businesses and workers except for comments from Bar Harbor School Board Chair Lilea Simis and AnnLinn Kruger who again called for a public accounting of Town Manager Kevin Sutherland's interactions with her and her chalk messages about Leonard Leo.
"My project was none of Sutherland's business," she said and applauded Councilor Gary Friedman for bucking what she called group-thing cronyism.
After Kruger spoke, Bo Jennings went to the microphone set up in Council Chambers at the Bar Harbor Municipal Building and said that he was not representing a business or organizations and that he worried about the cruise ship cap's impact on his friends, colleagues, and the community.
"I'm sorry that not enough people stood up for them. I'm sorry that their lives were so severely affected," he said, adding that this isn't about businesses; it's about people.
Tiffany Carroll said she would be impacted personally by the cruise ship vote, which passed 1,780 to 1,273.
Peter Hastings said that he is employed by a small hospitality company in town. He said that he is in favor of cruise ship reform and restructuring, but had concerns about the article's passage. "It was backhanded, right down to the wording on the article itself," he said. His businesses aren't directly impacted by the cruise ships, but said that the vote impacts how the public views the town, particularly when the town courted cruise ship businesses ten or so years ago. "What happened last week was really a spit in the eye to tourism in this town," he said of the vote.
Mackenzie Paterson has worked in Bar Harbor for seven seasons and now her six-year-old daughter goes to Conners Emerson. Her husband works for three restaurants.
"We are directly impacted," she said. "All of our friends" are impacted as well. "I hope that that can get fixed."
Brandon Monroe has lived in Bar Harbor since 2020 and had been a 2010 seasonal worker. Because of tourism, he's been able to live here, he said.
"The way you afford housing is to work," he said, adding that it is counterintuitive to get rid of the people who pay people to work.
"Businesses are now the villain," he said and added that cruise ships help businesses stay open in the shoulder seasons. "We'll go back to being closed on Labor Day."
Another woman who works at the Chart Room agreed, saying that without tourism, she wouldn't be in Bar Harbor.
Jena Young, an owner of multiple businesses said, "I've never stood here and spoken publicly on anything because I've been so concerned about backlash."
Though she felt unsafe speaking out, she said, "I feel like we've really worked with and for our community for many years" and also for their employees. It's why she owns her businesses, she said. They've built teams and helped employees find housing. "The small businesses are the huge backbone of the community."
The industry does support their workers, bringing them closer to a year round Bar Harbor community, she said. Many of the people and workers impacted by the cruise ship cap can't vote in Bar Harbor, she said, adding that it is a huge step backward.
Young's husband and business owner and Warrant Committee member Jeff Young said, "There's a lot that this community has to offer all of us. This vote with the cruise ships was a really, really hard thing to swallow." He said it made many who worked in Bar Harbor and own businesses here feel unimportant. There's a balance, he said, but this is not it. "This business community is the heart of this town. Without us, I don't know what we've got."
Chris Rock, recently moved here and had been a tourist. He moved here because of the privately owned independent businesses and buildings. If the town had prevented him from coming here for the last six years, then he couldn't have fallen in love. "You don't want to restrict people like me from coming if you want people like me being here and appreciating it."
During the council comments at the end of the meeting, Councilor Jill Goldthwait said that councilors received a heated and forceful email "about the council being reckless about putting the measure on the ballot."
She said, "We didn't do this. We're the people who are trying to answer for the people who did do this." The council, she said, had no choice but to put the measure on the ballot, unless they wanted to adopt it themselves instead.
Also during councilors' comments, Councilor Gary Friedmann said, "The comments tonight showed that this is really a complex issue." He said he isn't in love with the town's Memorandum of Agreements with cruise ship lines, a plan created by a small committee and approved by a split council prior to election day, but said that he believes there might be a better middle ground, but there's not much for the council to do about the cruise ship caps that have just passed.
School Committee Plea
Also during the public comment, Simis, chair of BH School Committee, said that the school and its building project will be on the council's agenda next month. She gave a quick recap of the committee's work with the Harriman firm and the two forums that had been held. She asked people to participate in the process, saying that the committee hoped to have the plan about the school's facilities on the ballot in June.
"We need your voices. It's not just a few people designing the school. It's our town," she said.
Later at the end of the meeting during councilors' remarks, Friedmann said that he had attended the second school building forum "I'd really liked what they were saying about getting the best school for the 21st century." He added that he wants to learn about how to find that collaboratively and in an economically efficient way. He asked for a report from the school with a potential collaboration with Mt Desert School. He said that he had heard that the Bar Harbor school committee might be thinking about that now.
The public comment lasted about twenty minutes before the council moved on with the rest of the agenda. Sutherland was on vacation.
Town Business
Three positions are unfilled in the town according to Finance Director Sarah Gilbert.
Nobody spoke to changes in the amendments of the General Assistance Ordinance or the Vehicles and Traffic Ordinance. Both amendments passed unanimously. That meant that the parking ban in winter is totally reconfigured.
"I hope this works for the community at large," Councilor Erin Cough said after the changes to winter parking passed.
"Years in the making," Councilor Matthew Hochman said.
According to an October 12 memo written by Police Chief Willis, at the request of Council Vice Chairman Matthew Hochman, Willis looked into ways "to improve upon the town's on-street parking ban during the winter months." Willis wrote that both he and the town's Public Works Director Bethany Leavitt find these changes "feasible."
Residents and visitors apply for free winter overnight parking permit via the town's IPS system. Permit holders would have to have "an actively monitored email account" so that messages about parking would be received in a timely manner.The permit would then enable holder to leave vehicles in parking lots and public streets overnight.
When snow removal is necessary, the system would alert overnight parking permit holders that "parking will not be allowed during the anticipated snow removal days and times in named places."
The parking ban has existed in winter to allow the town's public works department to clear snow from the streets.
Peacock also gave a quick Comprehensive Plan Update, saying 159 people attended the two-nights of forum. The posters for the forum are now on the main floor of the Municipal Building and they are still hoping for more feedback, which can occur until the end of November. The Jesup Memorial Library is setting up laptops dedicated to the answers and surveys, Peacock said. The committee is also hoping to create informal times for people to sit together and talk about Bar Harbor's future.
Tony Smith was voted onto the Municipal Review Committee's Board of Directors.
Councilor Joe Minutolo recused himself from a few items on the agenda as other councilors unanimously passed maintaining the maximum annual payouts under the town's health reimbursement plan and establishing maximum annual payouts for the town's wage stipend program. The council also updated the town's consent agreement policy and personnel rules.
BROADBAND GAP ANALYSIS
Steve Cornell will pursue a grant for high-speed internet in an area that's underserved, but to do that he has to find the underserved areas in Bar Harbor.
The analysis is the first step in mapping where Bar Harbor doesn't have broadband coverage. The last maps of coverage (and lack thereof) are from 2003. "We just don't know," he said.
Bee's Store
The council also unanimously passed a resolution to recognize the 150 years that Bee's Store has given to Bar Harbor, a store that the resolution stated was "a business that was a legendary part of the Bar Harbor community."
"Bee's has been a part of my life since I was a young kid," Hochman said. "Bee's has really been a fabric of Bar Harbor for a very long time. Bee's will be missed by a lot of people of a lot of generations."
Dobbs also went to Bee's, starting in 1955. He said he recently locked his car for one of the few times because he had 12 boxes of Bee's candy for his nieces and nephews within it.
Bee's Candy, Crafts and Sweaters announced that it would be closing at the end of November. It's been a Bar Harbor business for 150 years.
COUNCILORS' COMMENTS
At the end of the meeting, individual councilors had time to give comments. Minutolo asked for the ferry terminal and marina plan to be on a future agenda. "It might be nice to hear about the ferry terminal and a future update because it's been a very long time."
Jill Goldthwait thanked all the town's election staff and volunteers for their time and efforts during the election. She also thanked the public works department because of its efficient work taking the meters down the morning after paid parking ended.
Cough said that there was a lot of work that was put into the other citizens' petitions that were put on the ballot. She thanked those petitioners for working with the town and putting so much thought and doing due diligence even if their petitions did not pass.
"I truly appreciate hearing from the entire community about cruise ships and hearing everyone's voice. Not just the loudest people in the room," Cough said.
Hochman acknowledged the death of Alan deCheubell. "He was a pretty amazing guy. He will definitely be missed," Hochman said, mentioning deCheubell's abilities with trebuchets, carpentry and cooking. "He was knowledgeable about everything."
Councilor Jeff Dobbs echoed Hochman's statements and said, "Alan built beautiful displays for me. They were works of art."
Hochman also mentioned an upcoming meeting about the restoration efforts at Great Meadow.
Peacock closed the comments with her own, saying that "governing and building in this country is damn hard." She quoted a recent Ezra Klein podcast that basically said that democracy isn't easy because it's never final. It's living. It's changing. It's shifting. "We're really feeling that right now," Peacock said. "It's damn hard work."
"I had hair when I was elected," Hochman joked.
"There are people in town who thank us for what we do," Dobbs said.
The next council meeting is scheduled for December 6 at 6:30 p.m. in Council Chambers at the Municipal Building.
---
TO LEARN MORE, we have numerous past stories about the petition and the winter parking changes, but also head to the Town Council's page and click on this link to see the most recent town packet or watch the meeting here.
---
Bar Harbor Story is a reader-supported publication. To receive new posts and support my work, consider becoming a free or paid subscriber. I'm just one person reporting here, but please let me know if there's anything you'd like me to cover or look into. I'll do my best to get there. And thank you so much for being here!