Maine Supreme Court Backs Planning Board Approval of Acadia Apartments Plan for Seasonal Employee Housing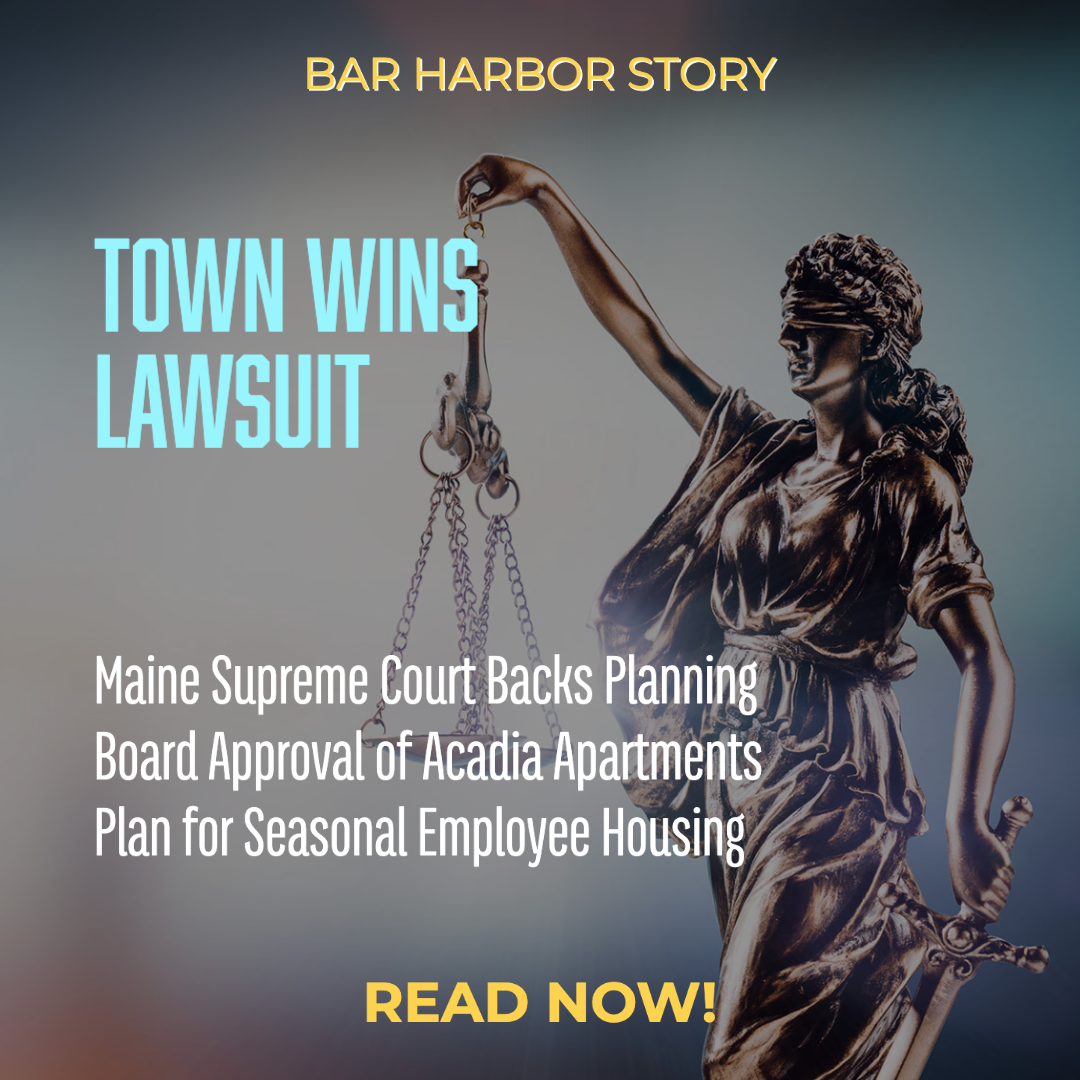 BAR HARBOR—The town of Bar Harbor had a legal win October 27 when the Maine Supreme Judicial Court affirmed the Planning Board's approval of the construction and renovation of seven multi-family dwellings on 25 West Street Extension, a 1.54-acre piece of land next to the Collier Family Trust property. Elizabeth Mills is a trustee of that trust.
Mills had challenged the town's Appeals Board which did not find in her favor. Mills argued that the plan to build an eighteen-unit project of BHAPTS to house seasonal workers interfered with her own property rights. That plan passed the Planning Board and then on April 9, 2019, the Appeals Board supported the Planning Board's decision, finding that she didn't "submit sufficient documents for the Board to review her appeal and dismissed the appeal application" according to a Hancock County Superior Court decision in November, 2019.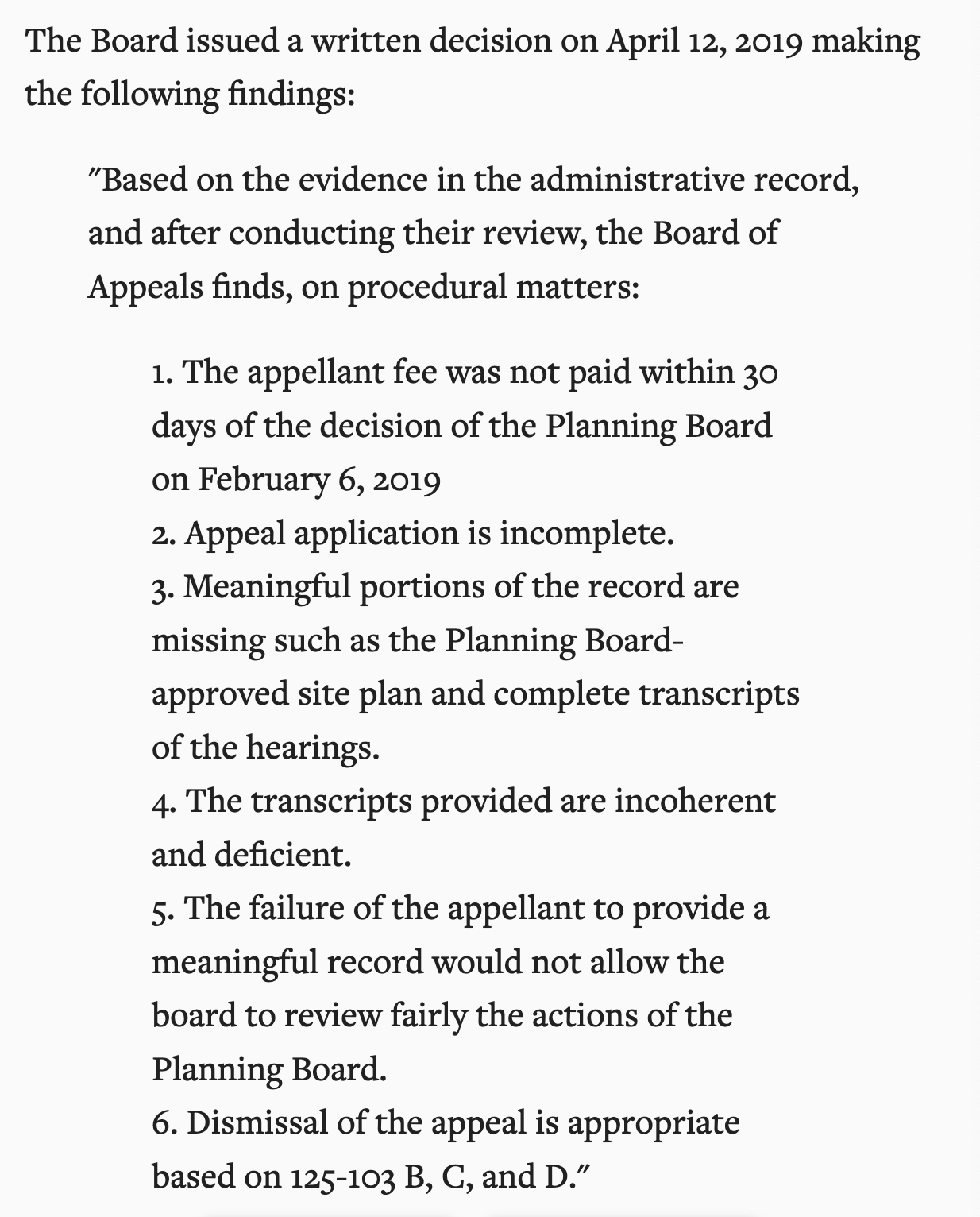 Mills owns historic property adjacent to 25 West Street Extension, the Farm House. The property has a large garden and is a national historic site. She had argued that the Board of Appeals didn't interpret the procedural rules correctly and that it lacked power to dismiss her appeal because of the procedure, but also that she met the requirements.
The October 27, 2022 decision by the Maine Supreme Court said that the project is residential, that it complies with the uses for its zone: Village Residential District. It also said that "the board did not abuse its discretion when it determined that the project would not have an undue adverse effect on Elizabeth's property."
Arthur Greif had been Mills' attorney. He died in May. Eaton Peabody's Patrick Lyons and P. Andrew Hamilton represented BHAPTS, LLC.
At one point Mills had argued that employee housing didn't count as a residential use. The project had been subject to a great deal of back-and-forth since it began in September 2018. In December of 2019 Justice Ann Murray gave Mills a requested stay and sent the application back to the Board of Appeals. A Mount Desert Islander article by Liz Graves said, "Greif's wife Donna Karlson wrote a letter read into the record at the meeting by resident Jake Jagel, excoriating Ocean Properties as being "more equal" under the law than residents and other businesses."
Unlike the seasonal employee housing project currently occurring on Kebo Street, the project at Acadia Apartments inspired protesters who had signs stating "Protect the Historic Integrity of Bar Harbor" and "Corporate Greed." One protestor at a 2021 Planning Board meeting had to be escorted out of the building by a member of the Bar Harbor police force.
Last year, Grief had said that the project would impact "evening fundraisers" and ruin the Farm House's views, and that the employees currently housed there littered on the Farm House property with hypodermic needles and liquor bottles. The estate is located between Highbrook Road and Prospect Avenue. Its garden was created by Beatrix Farrand and Arthur McFarland.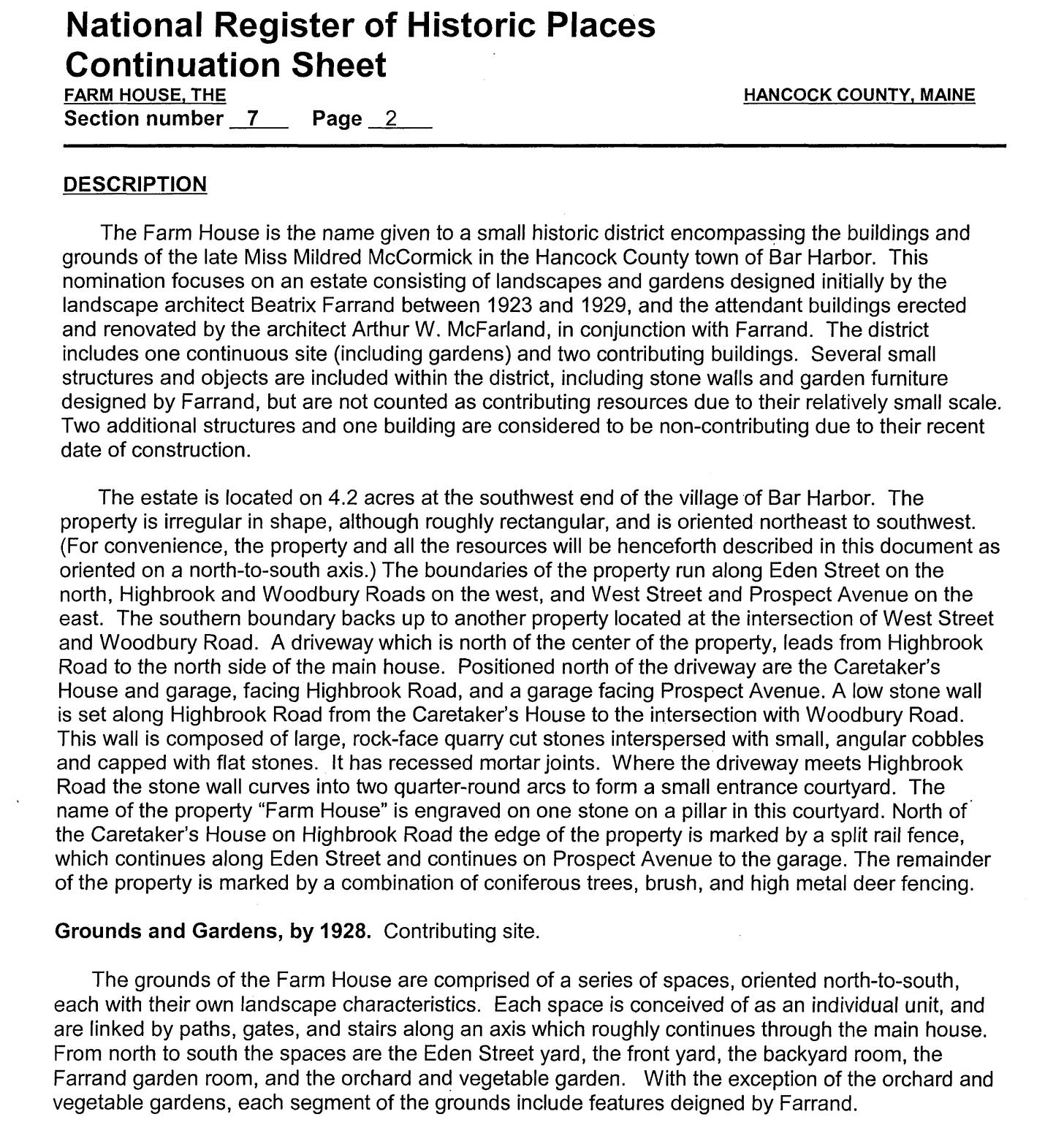 SEASONAL HOUSING PROJECTS
Witham Family Limited Partnership and KOA Campground also have projects about employee housing.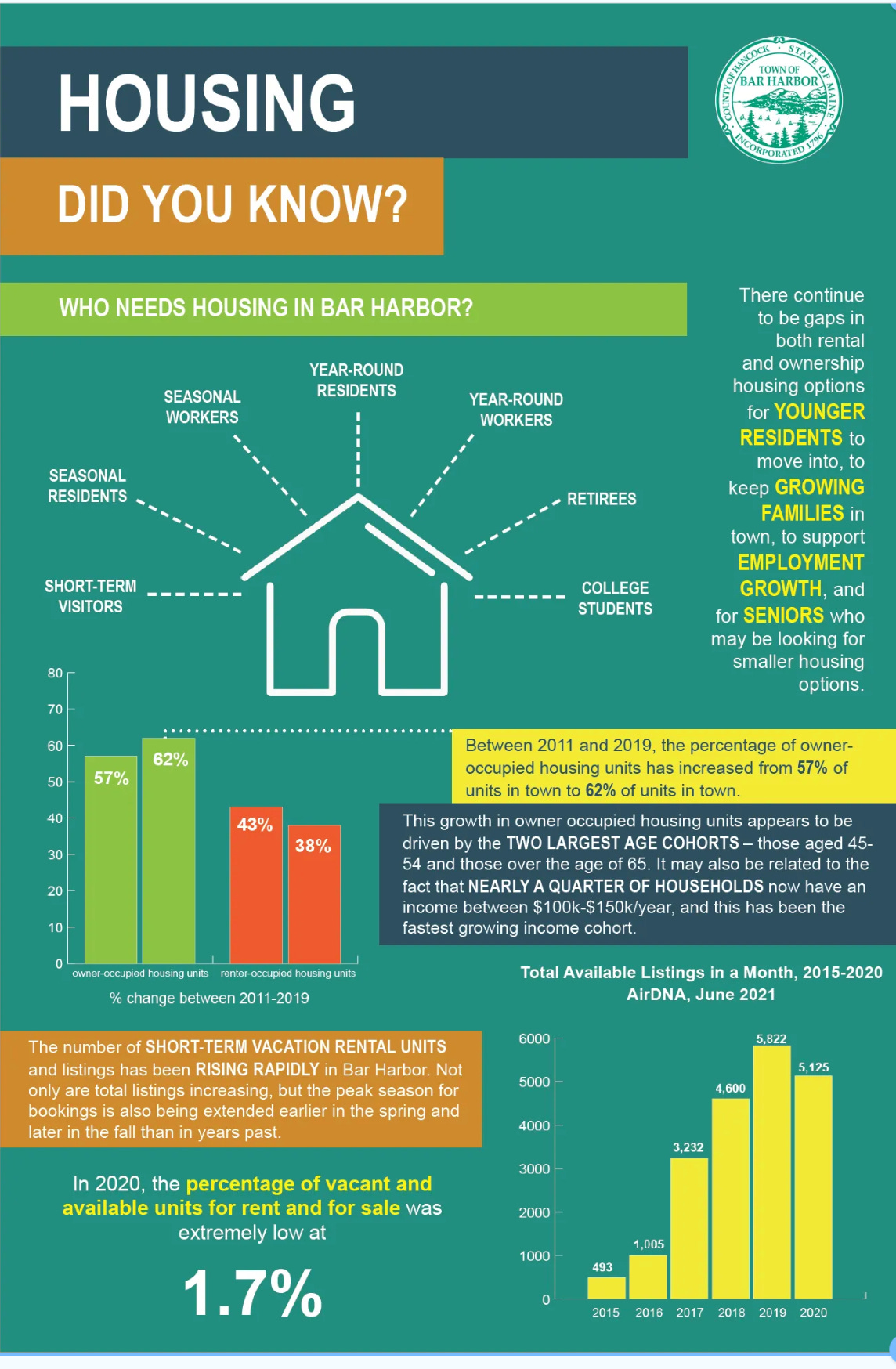 According to the Bar Harbor Existing Conditions Report, which was released as part of the Bar Harbor Comprehensive Plan process,
"Housing is an economic development issue, particularly in a place like Bar Harbor. Demand for housing from employees is coming from larger and small employers ranging from The Jackson Laboratory to small local shops and restaurants in the downtown. There is also demand for a range of housing types and price points as not all employees in Bar Harbor earn enough to afford market rate rents or sale prices in town. Some employers in Bar Harbor are taking it upon themselves to solve their own housing issues for their employees."
The report cites the Jackson Laboratory's recent multi-family workforce housing (24 units) for its employees. The lab has stated multiple times that housing keeps it from attracting new employees.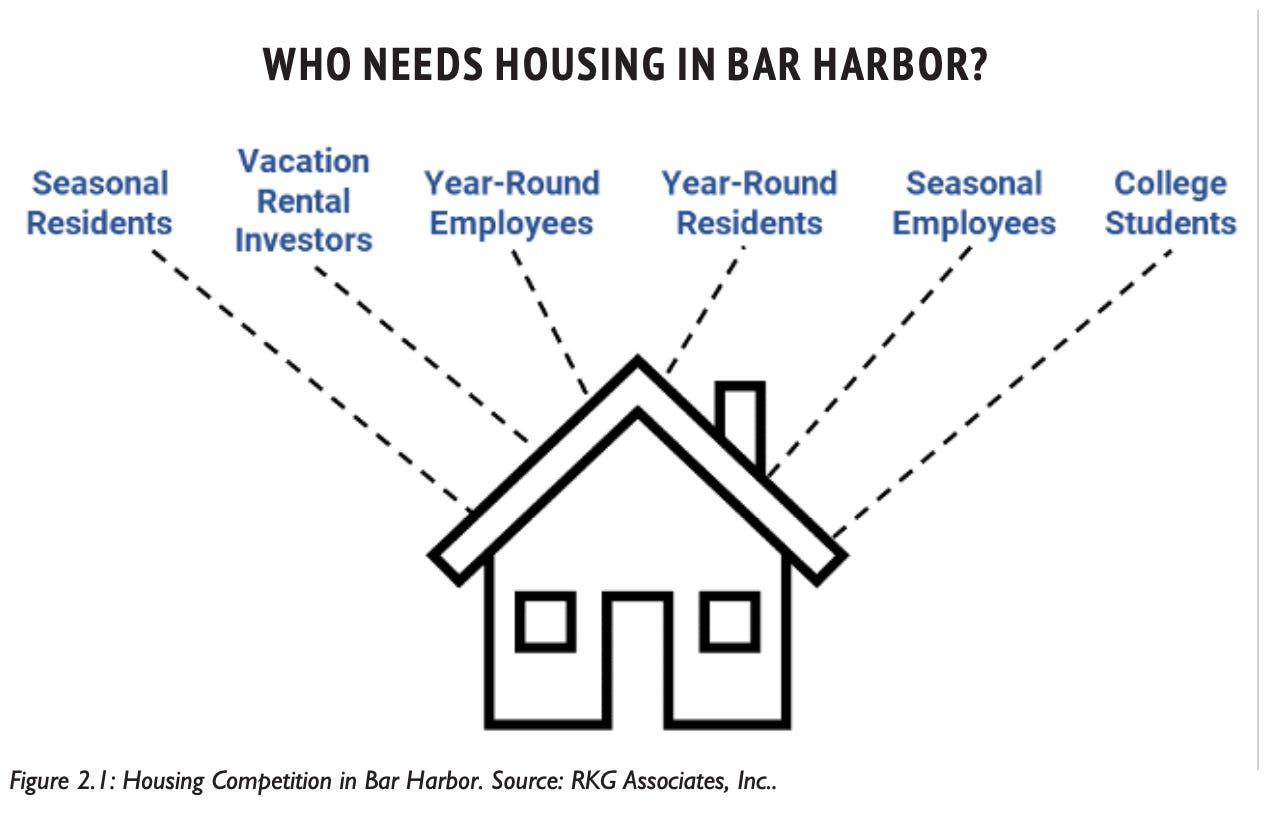 "In another example," the report reads, "a number of local businesses including large hotels, restaurants, and retail shops, are having to create housing for their seasonal workforce either on property they currently own or by purchasing housing units on the open market."
One retail employer recently purchased a duplex on Ledgelawn. Though not housing workers, College of the Atlantic recently purchased several buildings near Glen Mary Park for its students to live in.
"As housing becomes a scarcer resource over time, there may be limited options for employees to live and work in town, particularly for lower wage workers, including college students, in the tourism and hospitality industry who need housing priced appropriately to what they earn," the report reads.
---
Bar Harbor Story is a reader-supported publication. To receive new posts and support my work, consider becoming a free or paid subscriber.
---
RESOURCES TO LEARN MORE!
https://casetext.com/case/mills-v-town-of-bar-harbor
https://en.wikipedia.org/wiki/The_Farm_House_(Bar_Harbor,_Maine)