Committee Looks For Replacement After Bolt's Resignation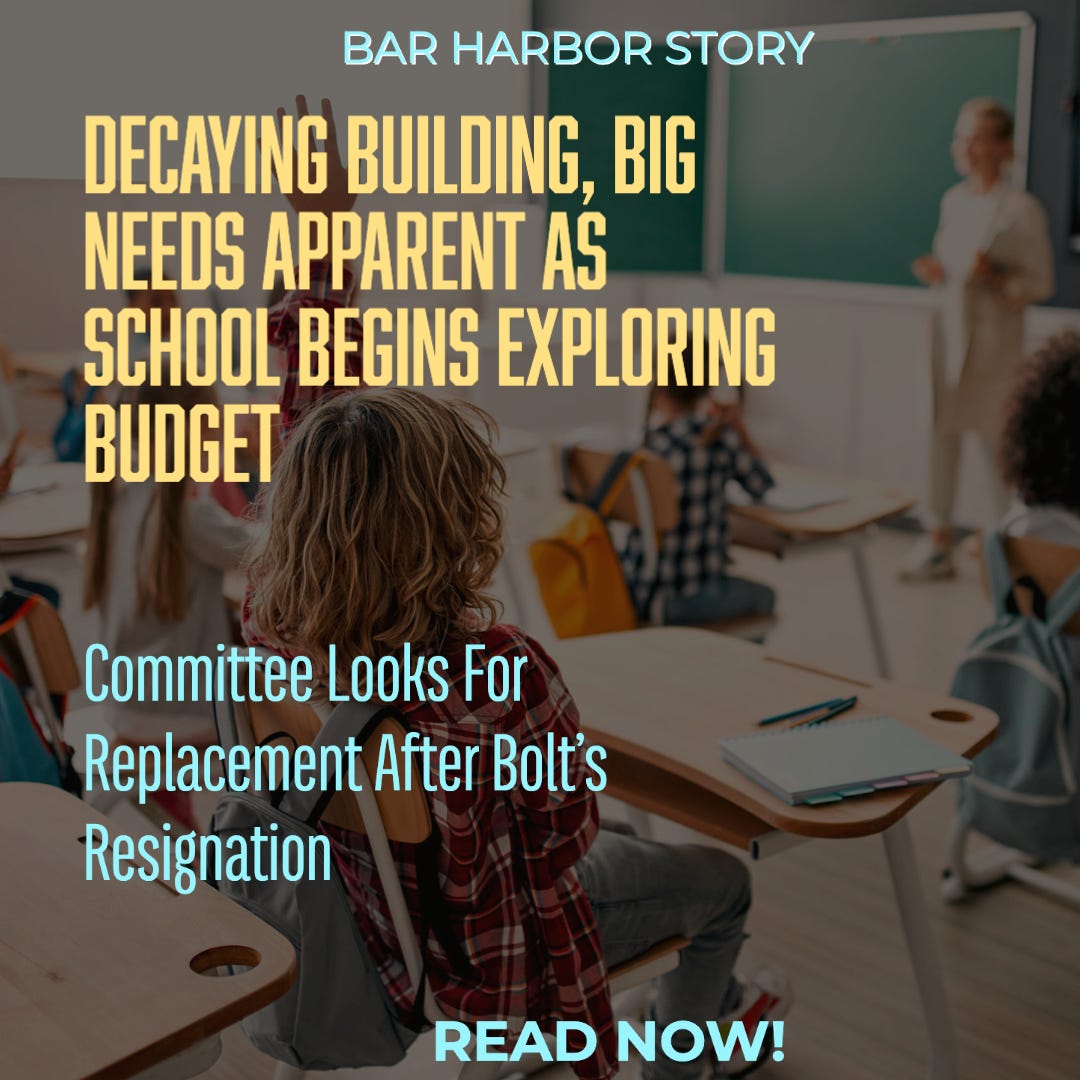 BAR HARBOR—The carpet in the Conners Emerson library is made of sections that don't all match up, a sort of indoor outdoor weave that looks like stitching from far away. And as the Bar Harbor Superintending School Committee meets on November 7, there's a constant buzz of some sort of equipment. One school board member sits with her elbows on the light wood table, with its rounded legs and worn corners. All the chairs have scuff marks on the legs. A couple have marker or pen marks on the back rest.
Another board member rubs her temples.
Everyone stares at the papers that rest in laps and on tables, reading line after line of data and numbers.
The 2023-2024 school budget process has officially begun, but nothing is finalized yet as school committee members and administrators stare at numbers and line items, a mosaic of the school's future that's threaded together with need and hope, stitches that mirror the carpeting on the library floor. For months, the Bar Harbor School Committee and Conners Emerson staff will study and work on a budget that eventually has to be presented to the Bar Harbor Town Council and voters.
Uniforms, salaries, online computer programs, the increased cost of food, the difference in school needs before COVID and after, broken heating systems, security needs all come under the scrutiny of the committee and the administrators who create the budget to review.
As the first look at a draft budget went on, Chair Lilea (Alexandra) Simis said quietly but passionately, "I really want to make sure we have what we need. We have to be mindful of our kids and what they need."
Her comments came as they discussed the need for education technicians and hopes for reinstating a behavior RTI. They also came after an emotional plea at the beginning of the meeting from a desperate mom whose child is having a hard time in school because of their special needs. The mother's passionate plea occurred during the public comment and she asked for more autism training for ed techs, saying she felt as if her child's options had dwindled down to being taught at home by an ed tech with parental supervision or the parent having to go to the school all day to constantly supervise the child and ed tech. There was no response to the public comment, which procedurally is not meant to be a back and forth, but a time for the committee to listen to comments.
During the budgeting discussion, Principal Heather Webster said that she appreciated the support from Simis. "We have a great staff, but they are taxed. We're struggling now with the aftereffects of COVID."
Several staff recently attended a seminar about autism spectrum disorder, Webster said during her principal's report.
Webster said, "We're finding this year that we're struggling with behaviors that we would have seen once every two years or once every three years. Now it seems we're having behavioral eruptions, one in every grade level." This takes a lot of time to deal with, she said. "With the trends that we're seeing with a lot of the students during the COVID years," socialization and problem solving skills lagged. "We're seeing kids who are six months to a year behind developmentally" and those students, she said, are having a hard time understanding how to interact with other kids.
Simis said it was important to "invest in our children so that they have an opportunity like we did."
Committee member Tyson Starling said, "Right there with you."
Those educational needs are compounded by aging buildings and a broken boiler. One of the buildings' two boilers broke last month and cannot be fixed. Webster and others are currently dealing with supply chain issues as well as compatibility issues to find a replacement for the heating system. They've expanded the search from the Northeast to nationwide.
"It's an odd system that goes from steam to hot water," MDIRSS/AOS#91 School Superintendent Michael Zboray said.
"Most schools have two boilers and they rotate through so that they can do repairs," Zboray said.
Typically two boilers provide heat for the buildings. One might cycle down for a while to "rest" while the other will do the work. However, the current boiler has broken down multiple times in the past. There are portable boilers that the school may use for a couple of months. The portable is on a wheeled trailer and would cost between $5,500 and $7,500 a month. The cost of a replacement varies depending on the type chosen, installation costs, and making it compatible with the current heating system. Earlier estimates placed the cost between $150,000 and $200,000. The boilers were installed in 1989.
SAFETY DISCUSSION
Also at the meeting, the board approved unanimously the memorandum of understanding about school resource officer, Tim Bland of the Bar Harbor Police Department. The committee quickly delved into a few safety issues and updates brought up by Webster. These included installing three exterior cameras that were approved last year and that they'd install them with input from Bland about positioning; putting up a fence behind the garage to make the school a secure campus—it's currently often used by residents of Rodick Lorraine as a passthrough to their residence and there's some smoking that goes on there, Webster said; and finally, going over the evacuation plan that's currently in place and fixing a couple of deadbolts and plans for students with medical needs if a lockdown or security situation takes place in the school.
BUILDING PROJECT
The Bar Harbor School Committee hopes to get a referendum for the schools rebuild or massive renovation on the June 2023 ballot.
The school's second building project forum is Wednesday at the school, and Simis asked committee members, "I don't know if any of you are willing to stand on the street corners," to drum up attendance. The first forum had approximately 18 attending.
She said that she had some good conversations while attending the town's Comprehensive Plan forum, including with town councilors.
"There's no better investment than any of us can make than in our children," she said. "We really need the council's support."
Harriman, the design and engineering company overseeing the process, is trying to get a sense of our community and what's important to us. "It's not just going to be a k-8 school in Maine," she said. "It's going to be a piece of our community."
The school committee has previously supported deconstructing the approximately 71-year-old Conners building and instead creating a two-story building that would be attached to the approximately 60-year-old Emerson building. The Emerson building would also be renovated.
In the November 2021 election a $3 million bond was approved by voters. That bond pays for more designs for the school's renovation or remodel.
The Conners Emerson Building Project will hold its second community forum at the Conners Emerson cafeteria on Wednesday, November 9 from 6 to 8 p.m.. Those who can't attend in person can attend via Zoom.
RESIGNATION
Vice Chair Dwayne Bolt officially tendered his resignation. The committee has 30 days from his letter's date to appoint someone else to fill his position. That appointment would last until the June 2023 election.
COMMUNICATIONS
Also during the meeting, member Marie Yarborough stressed that she wanted to find a way to dovetail communications between individual school boards and the board of trustees so that individual school boards across the island would know about what is going on at those schools especially in terms of innovations and building projects.
Zboray said that he could begin including that information in his superintendent's report.
---
FOR MORE RESOURCES AND TO LEARN MORE BECAUSE LEARNING IS GREAT
For information on the Bar Harbor School Committee, click here.
For information on the Conners Emerson Building For Our Future project, click here.
https://www.harriman.com/projects/