Chamber Dinner Features Love for Bar Harbor Community, New Board Announced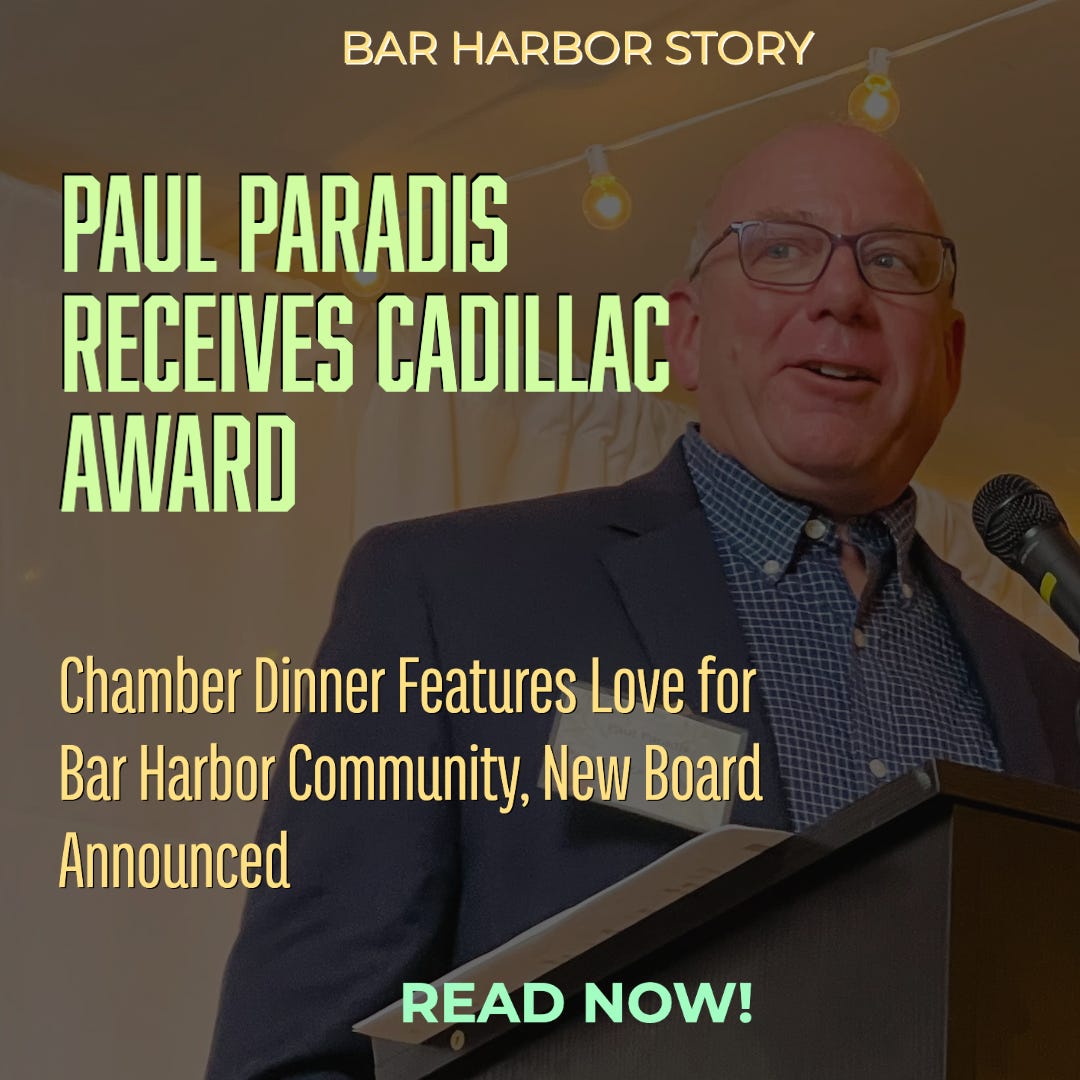 BAR HARBOR—A tearful and surprised Paul Paradis accepted the Bar Harbor Chamber of Commerce's Cadillac Award, its highest award, on Wednesday night. Paradis, a former Bar Harbor Town Councilor, member of the United States Coast Guard and current hardware store owner and Hancock County Commissioner gave a quick thank you.
The Bar Harbor Chamber categorizes the winner as someone "who epitomizes the virtues of leadership, service, and sacrifice and the quest for personal excellence."
In a video created by Dobbs Productions for the event, Machias Savings Bank's Matt Horton said, "If anyone in this town has really really earned it," it's Paradis. His statements were echoed throughout the video.
"I was just so impressed with his commitment to the community," said Stephen Coston
The compliments came from politicians such as Senator Susan Collins and former state representative Brian Langley as well as employees, neighbors, family, and friends with Erin Fogg, widow of former chamber director Chris Fogg giving an especially touching tribute, saying that she could hear the voice of her husband in her ear as she spoke about Paradis' friendship, mentorship and kindness.
"When Chris and I moved to Bar Harbor, we had a lot to learn about life, about Maine, and about Bar Harbor," she said, adding that Paradis took them in, all the time teaching them about working hard but also having fun, and mentoring Chris in how to be a dad and a husband.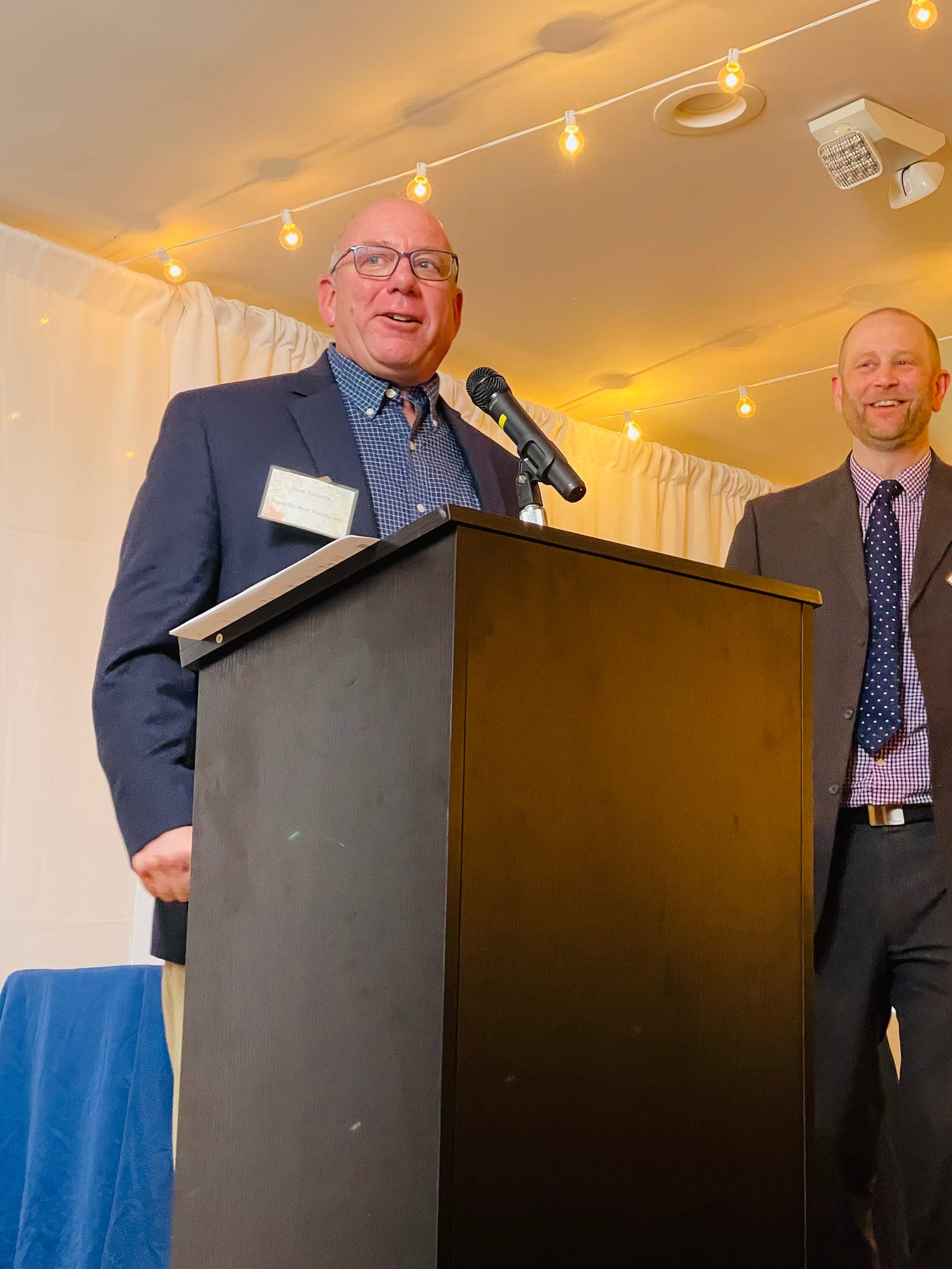 It was the last Chamber annual dinner where Alf Anderson, executive director, would preside. Anderson and his wife, Heather, are moving to Southern Maine to be closer to family at the end of the year. A separate event saying goodbye will occur at Jack Russell's Steakhouse in December. At the Wednesday night meeting, Anderson spoke about the organization's work with the town on housing issues.
"We are fighting for you," he said. "We are fighting to find solutions." He referenced a development report that the chamber worked on this year with the town.
He also said that "there are no reasons not to be excited" about Bar Harbor's future. "We live in a great place," he said. "People love to come here." He said the chamber is constantly told that people love Acadia National Park and had a great visit, but "the people here are so nice."
"That always sticks with me," he said.
That theme of community and the quality of the people on MDI was echoed by many of the night's reward recipients and presenters.
First National Bank's Tony McKim said, "This community has always been defined by its resiliency," and he thanked Anderson for being a "class act" saying that the community appreciated his service.
---
OTHER AWARDS
The 2022 awards recipients were: Business of the Year: My Darling Maine Island Boutique; Neighbor Business of the Year: Island Cruises; Rising Star Award: A Little Mad; Community Hero Award: Jeremy Dougherty.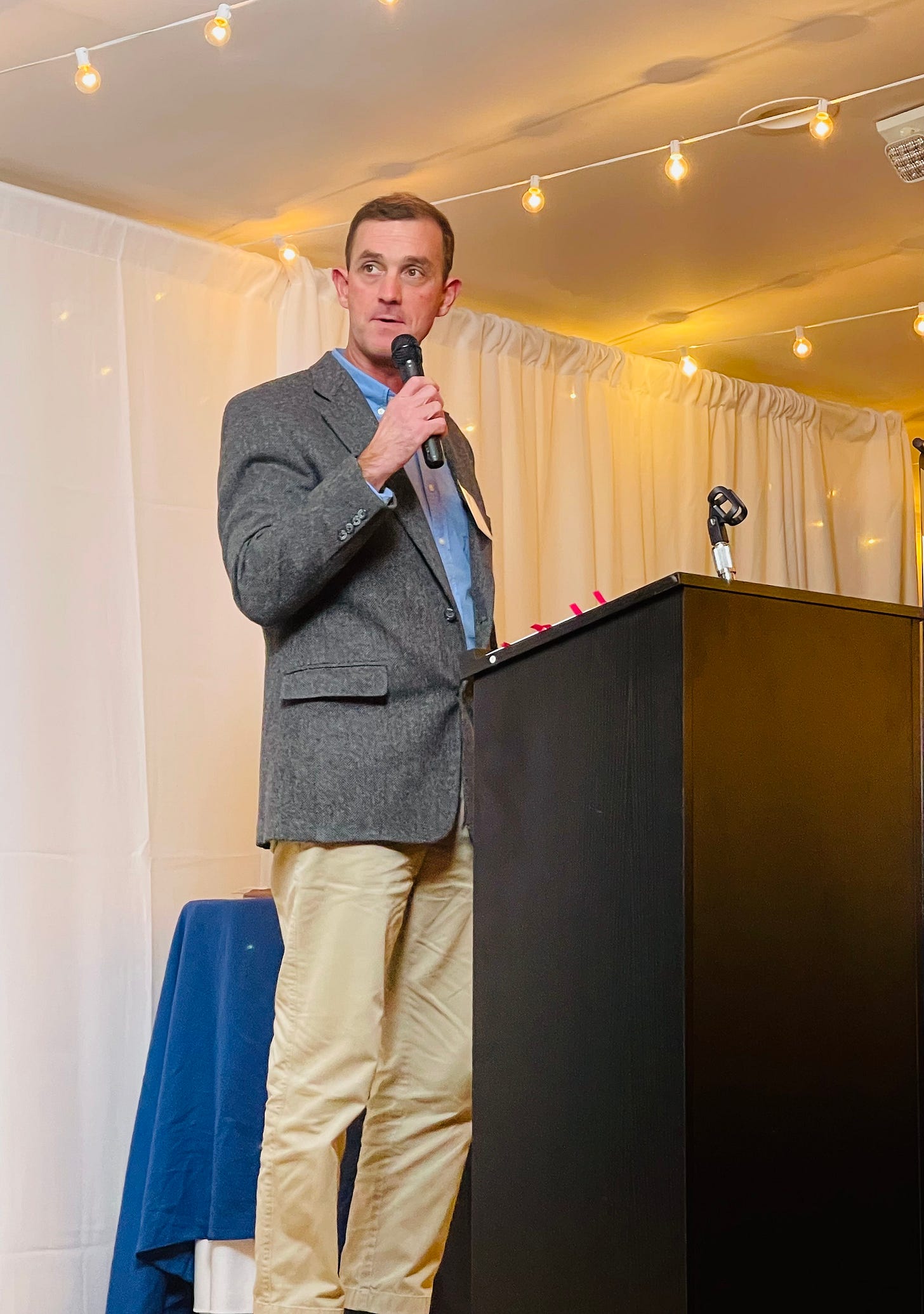 Carrie Jones was selected for the President's Award, which was selected by the outgoing chair Nina Barufaldi St Germain "to honor the business or person they admire most in our community," according to a press release by the Bar Harbor Chamber.
The dinner was held at the Atlantic Oceanside and also featured a presentation by Carolann Ouellette, the director of the Maine Office of Outdoor Recreation. The presenting sponsor was Bar Harbor Bank & Trust.
CHAMBER DIRECTORS
Bo Jennings of Side Street Café was elected president of the Chamber's Board of Directors. The remaining executive committee remains the same with Stephen Coston as first vice president; John Bench as second vice president; Brenda Fernald as treasurer; Stephanie Clement as secretary. Nina Barufaldi St. Germain remains on as a director, joining James Allen, Todd Graham, Bethany Reece, Eben Salvatore, Heather Sorokin, and Lauren Tucker.
Anderson welcomed the board and also expressed his appreciation for the chamber's staff (Aubrie Boyce, Chris Graten, Melanie Graten, Peter Huckings and Donna Hutton) as well as the staff at the Atlantic Oceanside where the dinner took place.
---
Editor's Note: I am the Carrie Jones that received the President's Award, which made this article a bit awkward for me to write. Apologies.
Bar Harbor Story is a reader-supported publication. To receive new posts and support my work, consider becoming a free or paid subscriber. I'm just one person, but please let me know if there's something you'd like me to cover and I'll do my best to get there.