Design Review Board Okay with Small New Antennas, Tables Shared-Housing Project, Approves Changes for Acadia Corporation and Two Cats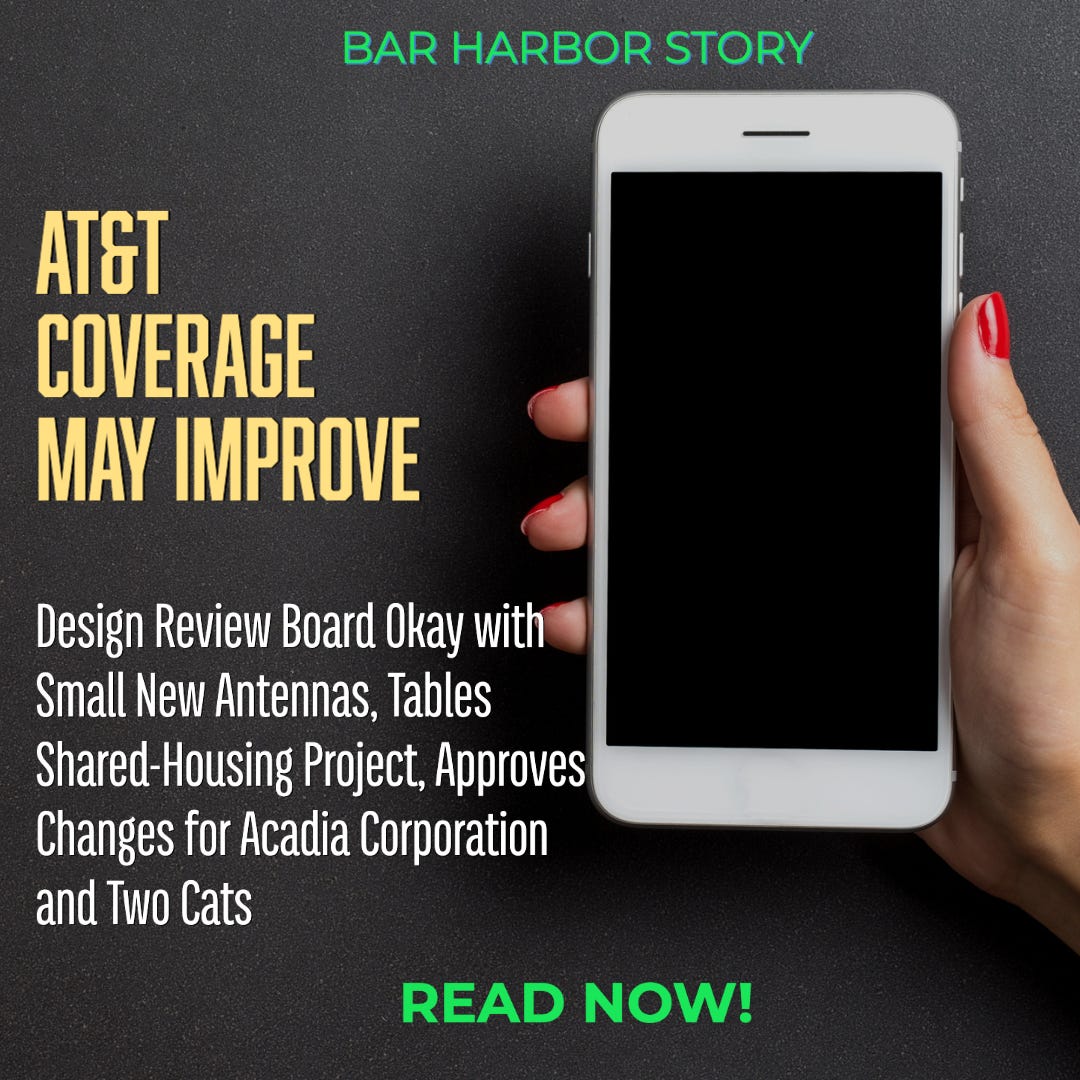 BAR HARBOR—Could ATT coverage in Bar Harbor begin to improve? It might be one step closer.
Vincent Paquette of New Cingular Wireless came before the Design Review Board via Zoom on October 27, asking to add antenna and radio equipment to the roof of the fire department along with associated infrastructure elsewhere in and on the building.
"ATT has identified a need to cover some of the capacity problems in Bar Harbor," Paquette said.
This would be part of a 2023 improvement planned by the company. Improvements have been in the works for years. The Bar Harbor Chamber of Commerce has been asking for improvements since at least 2020. Comments complaining of dropped calls and lack of cell service stem back to at least 2016 on ATT's forum.
According to Bar Harbor Chamber of Commerce Executive Director Alf Anderson, the Chamber has been engaged in communications with AT&T since January of 2020 to improve the level and consistency of coverage on MDI.
Anderson said Friday,
"The pressures of seasonal visitation to an area as popular as Mount Desert Island are felt by local residents in many ways; cellular service is just one example. Reliable phone and data service is no longer a luxury; it is a necessity for residents, businesses, and visitors. In an era of global connectivity, visitors have come to expect reliable and consistent mobile telephone, texting, and data services. Business customers also expect to be able to use cellular communications and data for point-of-sale and reservation systems. And emergency service providers, the people responsible for the safety of residents and visitors, need to rely on mobile phones to locate missing people, as well as to communicate in situations where radios are down.

"We have heard from many residents and businesses that AT&T's service has presented ongoing challenges through dropped calls, slow/no data transfer, and weak signals. We are concerned that these challenges will worsen in the future as mobile phones and tablets become even more widely used and we have been encouraging AT&T to increase the cellular capacity and improve the reliability of their network on and around MDI. To date, we have seen marginal improvements in certain pockets of the area but there is still much more to be done to meet the demand of our residents, visitors, and businesses."
A May 2, 2020 article by Liz Graves in the Mount Desert Islander has a headline of "AT&T Service to Improve" and shows a crew positioning a "Cell on Wheels" by the Bar Harbor Public Safety Building.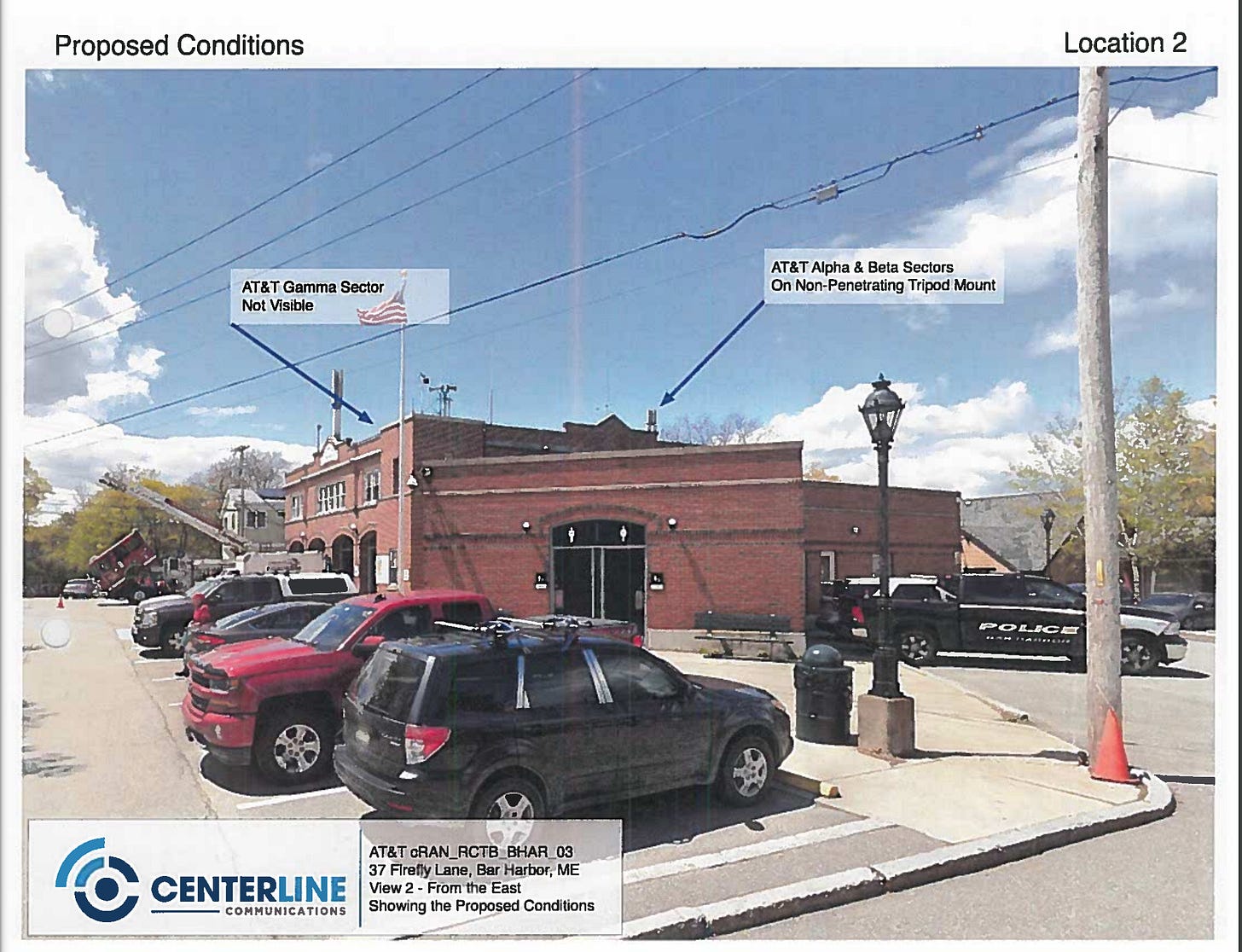 "For the past couple of years, we've partnered with the fire department to do a temporary installation," Paquette told the board, saying that these improvements would be more permanent. There is currently a Verizon installation on the roof of the Public Safety Building on Firefly Lane. ATT looks to add several smaller antennae.
Board member Pancho Cole had worries that something that happened with Verizon's antenna installation would happen again here. "What we approved for the front of the building was not what was installed," Cole said of Verizon.
He was assured that it would not happen here.
"Everyone in Bar Harbor is looking forward to this," Cole said after the approval. "There's been an immense amount of grief this summer."
It was approved unanimously. Somewhat ironically, Secretary Andrea Lepcio's call dropped during the meeting as she was travelling, and she did not vote. It is not known who her carrier is.
Four different projects came before the Design Review Board Thursday, October 27's meeting via Zoom with three (including the project above the fire department) gathering quick approval while the fourth engendered more talk.
---
39 KEBO STREET
Geoff Fraser of Fraser Associates Architects represented Witham Family, LLC. for the construction of a new three-story building at 39 Kebo Street. The plan would demolish the existing two-story breakfast room. The new building would be for shared accommodations, housing 84. There will be eight kitchens and 23 bathrooms with showers in the 17,1150-square-foot building.
The project is also going through the Planning Board process and is scheduled for a completeness review at the Planning Board's November 2 meeting at the Council Chambers in the Municipal Building on Cottage Street. All Planning Board meetings and town meetings are public.
Board member Mike Rogers, the landscape architect for the project, recused himself for the project's discussion.
Board Chair Barbara Sassaman said there is no quorum requirement for the Design Review Board section of the Land Use Ordinance. Because Lepicio's call dropped, only board members Kate Macko, Cole, and Sassaman discussed and voted on elements of the project.
Fraser said that there was "a dramatic need in the town to support employee housing." The new three-story building would accommodate seasonal workers. It was once the breakfast room that served the Quality Inn.
"We tried to design a building in keeping with the theme and quality of the town," Fraser said.
Town Planner Michele Gagnon asked that the board consider using the "Findings for Deliberations Checklist" based on section 125-114 (Design Review Standards) prior to making a decision on the certificate of appropriateness. The list is nine pages long. Since there are a lot of standards, she suggested going through the standards one by one and crossing out the ones that are obvious that the project will meet. That way, she said, board members could focus on the standards where there might be contention and it might expedite the process. Those standards are meant to be used on bigger projects.
"The windows are going to get shut and heat is going to turn down and that's it," Fraser said about the off-season months. There will be an onsite manager who lives there year round, David Witham said.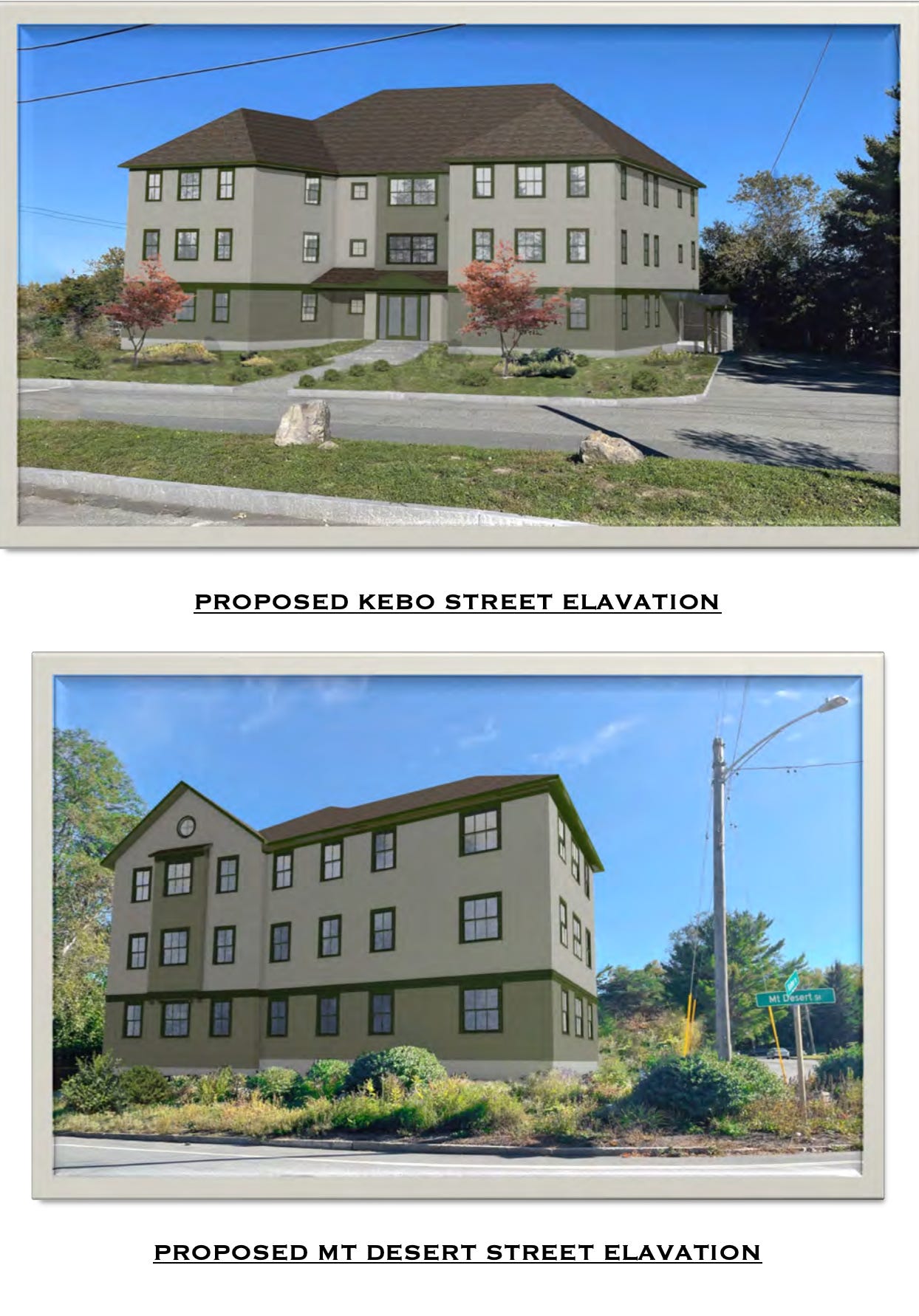 There was some discussion about whether or not the structure would complement the surrounding buildings, which is mentioned in the standards document.
"The visual character pattern of the district is chop suey," Cole said. "I would say it was an improvement, but not necessarily a complement."
Witham said, "This is one of those unique examples where zoning is trying to promote something," but the actual standards conflict with what the ordinance is trying to accomplish. For example, if an applicant came to build town hall currently, he said, it would not be compatible with the area in scale and size, but it's a successful building. He said this also happened with the Bar Harbor Grand Hotel when it was built on Main Street.
"We're trying to meet the standards and goals" but everyone else nearby isn't, he said, and then the builder might get penalized. "Our goal was to design a building that meets the overall goal of the ordinance and meet the character that you expect of Bar Harbor."
He added that they are trying to compliment the Ledgelawn Inn or Primrose Inn rather than Kids Corner, which is directly across the street. Because this is shared accommodation in that location it triggered Design Review Board review. Other buildings nearby may not have been subject to design review.
The project was tabled for a few items about the external appearance and was scheduled for the November 10 meeting, which will again be via Zoom, starting at 4 p.m.. Revisions to the plan have to be submitted in early November.
---
TWO CATS
Diwas Thapa asked for changes to the exterior appearance of the historic building. Those changes included repainting the deck and the deck skirting.
"Last year, I had a deck built out front and the decking boards were supposed to be a matching color that matched the deck that was there," he said. It was still not the exact match and that would be a change needing approval.
"The skirting on the deck is just white right now. I'd like to color it green so it blends with the garden," Thapa said.
He also asked for approval for a flag that said "open."
"There was a complaint about the open flag being there and not being approved," he said.
Chair Barbara Sassaman said that flags that say "open" aren't allowed in the village of Bar Harbor district that Two Cats is in. "You could put up a downtown business flag or country flag."
"The code won't let us approve that for you," Sassaman said.
The painting of the deck boards and skirting was unanimously approved.
"Go forth and paint," Barbara Sassaman said.
---
45 MAIN STREET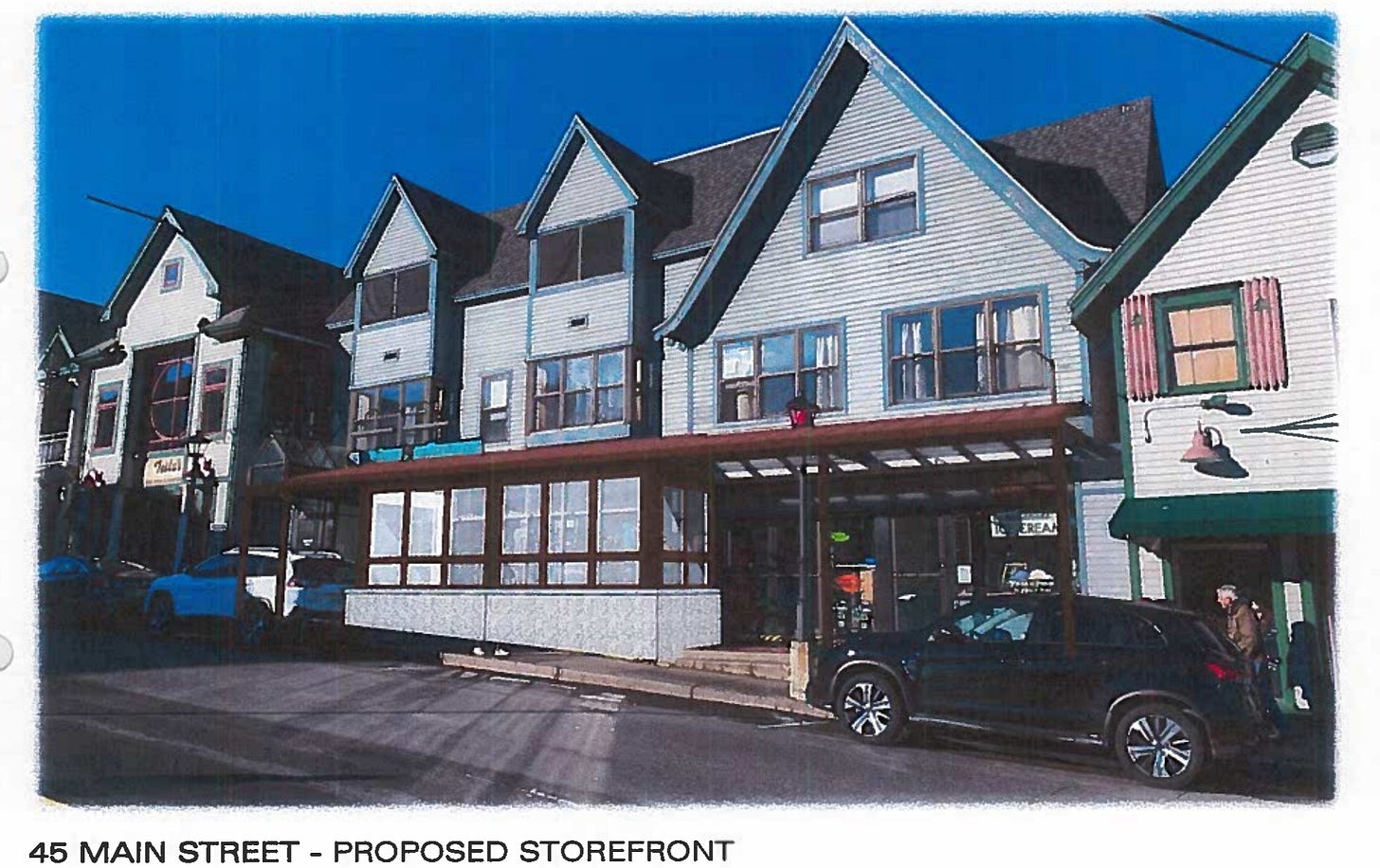 The board also unanimously approved changes to the storefront of 45 Main Street, a non-historic building.
Todd Hardy of Eden Builders represented the Acadia Corporation before the board. Hardy said there was water coming through the structure and that the storefront hasn't been redone for twenty years.
The footprint will be the same, but there would be a roof over the entire awning. The front street side elevation is currently all fixed windows. "We would actually have a sliding window above the two fixed," Hardy said and they'd raise the height of the base to about one foot.
There were no questions for Hardy.
The color of the metal roof would be brown, matching what is already there as close as possible, Hardy said.
---
LINKS TO LEARN MORE
To see agendas for town meetings.
https://forums.att.com/conversations/network-coverage/new-cell-tower-on-mt-desert-island-maine/5defc3c7bad5f2f606f4dc98
---
Bar Harbor Story is a reader-supported publication. To receive new posts and support my work, consider becoming a free or paid subscriber. Thank you so much for being here, and let me know if there is something you'd like me to cover. I'm just one person, but I'll do my best