VOTERS WILL AGAIN DECIDE THE FATE OF ADULT USE MARIJUANA RETAIL STORES IN BAR HARBOR
BAR HARBOR—A request to change the town's land use ordinance to allow adult-use retail  marijuana stores in Bar Harbor is bouncing back to the voters in November.
The citizen's petition to amend the land use ordinance amendment allowing retail marijuana stores in four/five districts in town passed unanimously in the Bar Harbor Town Council during its August 16 meeting. A second citizen's petition involving the licensing of those adult-use marijuana stores passed as well and will also be on the November town warrant. Both items passed 7-0, which means it will be up to the voters to decide in November if they want to allow adult-use marijuana stores in a few districts in Bar Harbor.
Unless the council has grave concerns about technical or legal issues, Chair Valerie Peacock said, because the proposed changes are citizens initiatives, the council doesn't have an option but to move the petitions forward. Similarly, the council can't change the language of the ordinance that the petition would create if passed.
During public hearing, where attendees had three minutes to pipe up and express their concerns, one Bar Harbor resident asked councilors to oppose it since it doesn't include buffer zones for churches, childcare centers, YMCAs, libraries, etc. She said the amendment only includes a 1,000-foot buffer for schools. She is also worried about the multi-million dollar cannabis industry coming into Bar Harbor and challenging codes and current buffer zones.
SECOND TIME AROUND
It is the second time the choice will go before voters. Derrick Harrison, owner of a medical cannabis farm, and co-organizer of the petition said that after the first petition failed, "we went back to the drawing board and opened it up to only five districts."
The original citizen push for marijuana retail in Bar Harbor failed 804 to 615. That petition combined licensing and zoning and proposed recreational marijuana retail sales in 26 districts. This time the group has split it into two petitions to vote on and decreased the number of districts where it would be allowed. Currently, recreational marijuana sales are not allowed in a majority of Maine towns. There is an adult-use retail store in Southwest Harbor, Meristem, where buyers go to a side window, present identification, and then are buzzed into a showroom for "walk-in shopping." It bills itself as the "first established recreational adult-use cannabis retail shop in Hancock County."
COUNCIL WEIGHS IN
At the Tuesday night meeting, Councilor Jill Goldthwait said that the fact that the buffer zone restrictions that were in the petitioners' first failed attempt are no longer there worries her.
She also worried that lighting aspects outlined in the plan seem contrary to the town's dark sky projects that have been promoted in Bar Harbor to decrease light pollution for at least a decade. All outdoor lighting in Bar Harbor must be "night sky friendly," according to a town-wide "Light and Glare" ordinance. In 2009, the Bar Harbor Conservation Commission successfully achieved a local ordinance that requires outdoor lighting on new construction to be 'night sky friendly.' Town voters overwhelmingly approved it.
Councilor Erin Cough asked Town Planner, Michele Gagnon if all the zones would fall under design review or not. She was unsure. The town's website states that:
"The Design Review Board reviews all projects which are located within their jurisdiction. Their jurisdiction includes the Downtown Village Districts, the Shoreland General Development I District, Town Hill Business, and the Village Historic District. However, regardless of the district location, any conditionally permitted use or property which houses a bed and breakfast is subject to design review."
Harrison said he's heard rumors of big monopolies moving in here, but stressed that all the members of the committee are locals or work locally. If voters pass it in November, the second ordinance would allow two licenses within the approved districts.
Councilor Matthew Hochman said that though the citizen's committee is full of locals, there is still a possibility that outside companies could end up with one or both of the licenses. He added that if there is a storefront to make sure it's a nice, well-lit storefront fitting with the current ambience of businesses in Bar Harbor.
WHAT THE CHANGES WOULD DO
If voters approve the first change in November, the ordinance would define retail marijuana stores and "place them in specific districts" according to the town manager's packet notes. Those are the four districts that currently allow retail stores (Bar Harbor Gateway, Downtown Village I, Downtown Village II, and Downtown Village Transitional), but would also create a new zoning district whose "boundaries are not defined" according to the warrant article. That new undefined district would be called Shoreland Development III.
Michele Gagnon said "Shoreland Development Three, the way they presented it, doesn't exist." Adding that, "If it did pass, only the first four districts mentioned tonight would be enforceable."
"It does not negate all the work they've done," she said and that small issue doesn't make the rest of it unenforceable or illegal, she said.
The Downtown Village I and II districts are both where most of the town's retail shops and restaurants are. The Downtown Village Transitional is edged by School Street and Edgewood and includes portions of Des Isle Ave, First South and Pleasant Streets. It currently has little or no retail though it is an allowed use.
The Bar Harbor Gateway districts currently run along part of the Route 3 corridor into Bar Harbor proper.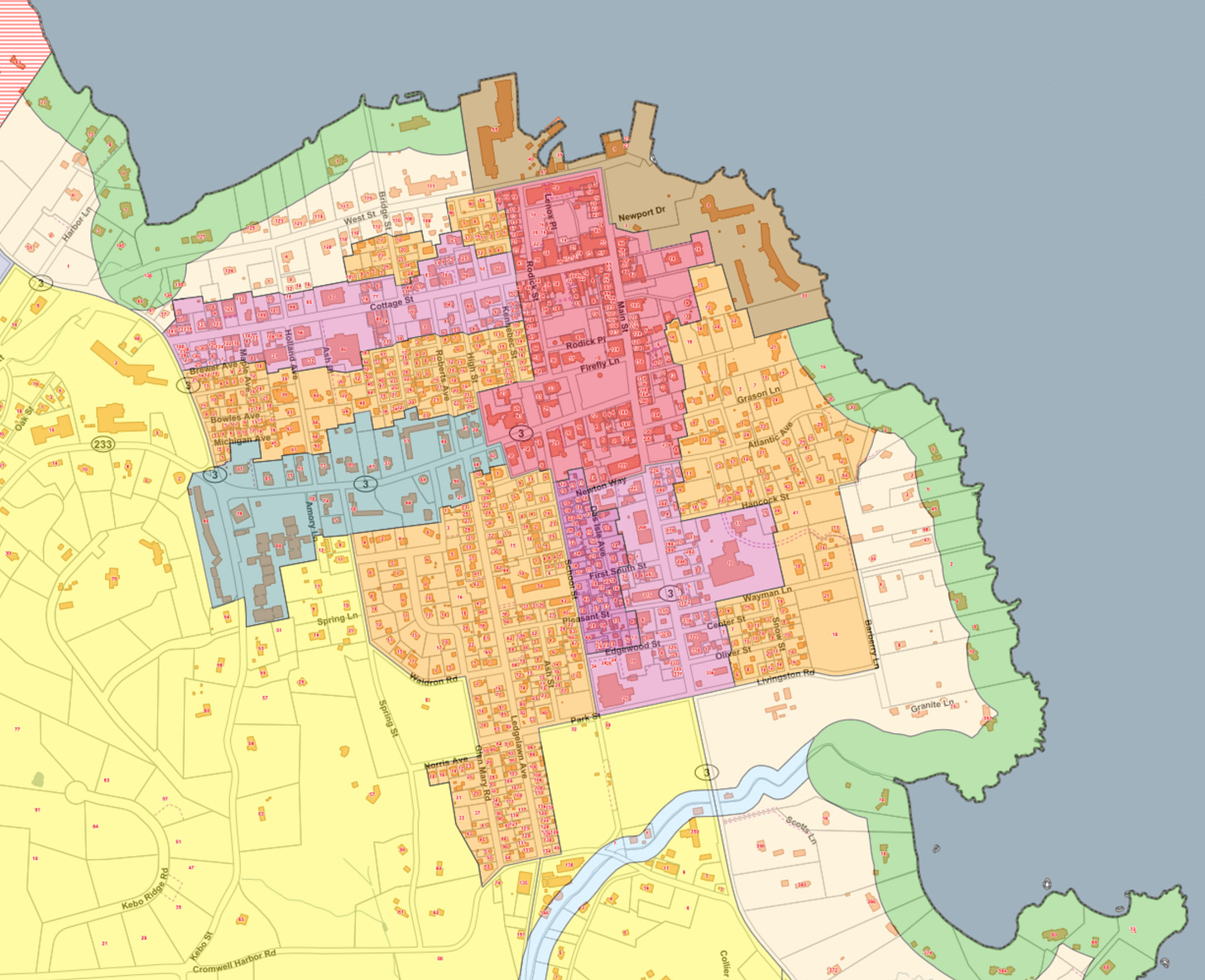 Philip Payne, Tree of Life Day Spa manager, said he's been working with the town to get the petition passed and that the current petition reflects town concerns. He said that the buffer zones were left out of this version to keep the amendment streamlined and that the zones themselves are highly retail oriented and have bars within them. However, Downtown Transitional Zone does not have bars or many—if any—retail spaces. It is mostly comprised of housing.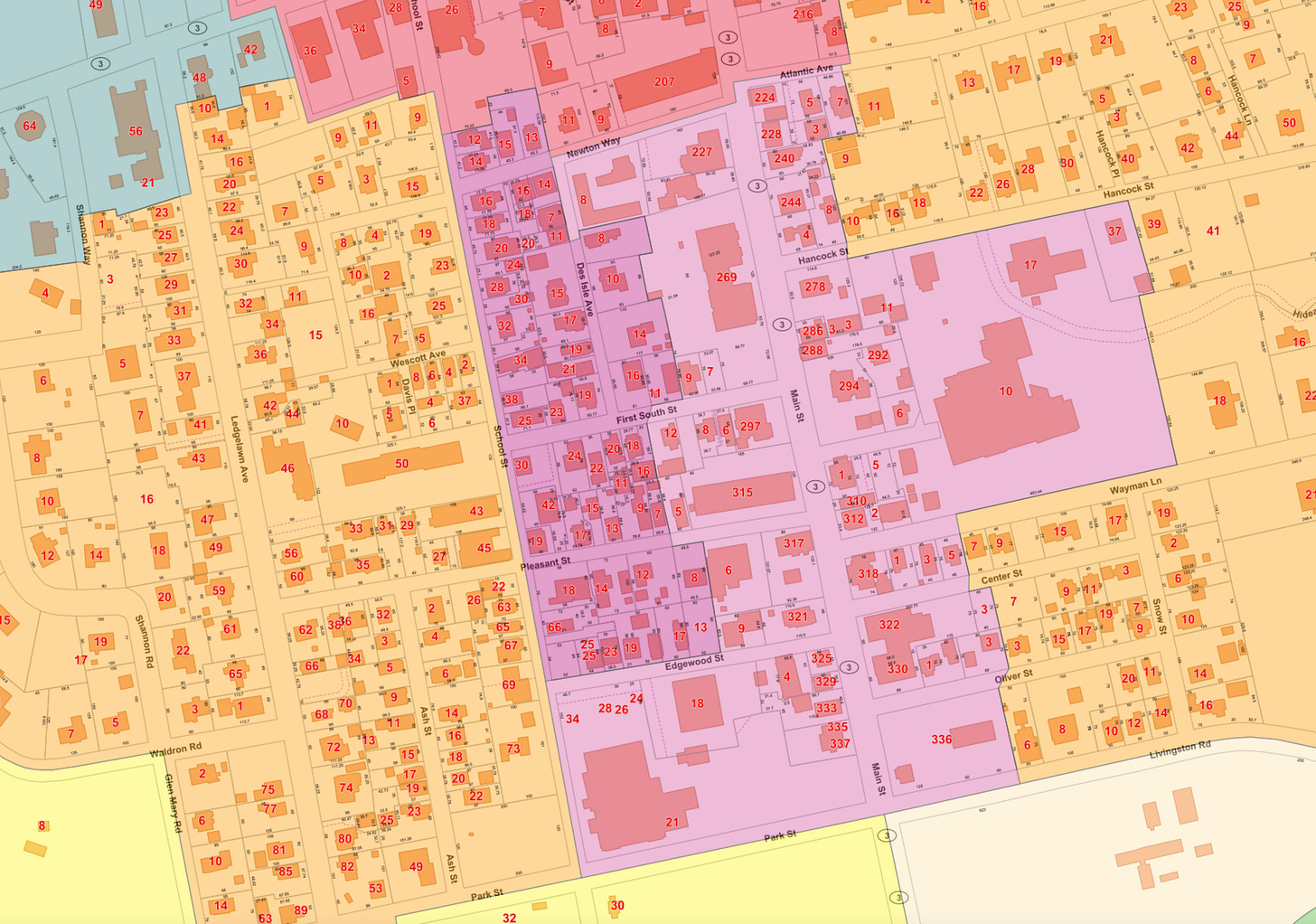 According to the packet sent to councilors,
"This ordinance licenses adult use marijuana stores. It does not allow for cultivation, manufacturing or testing facilities. It allows for up to two adult use marijuana stores in Bar Harbor. Such stores must be operated from a permanent location. Sales may not include the use of vending machines, drive-through/drive-up windows, or delivery services. Adult use marijuana stores cannot be located within 1,000 feet of the property line of a preexisting public or private school serving children from prekindergarten to grade 12. Two licenses, one from the State of Maine and one from the Bar Harbor Town Council, must be secured in order to operate an adult use marijuana store in the Town if Bar Harbor. The processing fee for the town's license is $250 and the fee for the town license itself is $1,250. Applicants who wish to operate an adult use marijuana store must be at least 21 years of age and a resident of the State of Maine. Applicants must divulge if they hold, have held, and/or have had any such licenses or similar licenses denied, suspended, or revoked from any town, city, or state. If a licensed adult use marijuana store is sold, the purchaser would be given preference to obtain a new license and continue operations."
"Adult use marijuana stores may be open for business only between the hours of 10:00 a.m. and 8:00 p.m. Security measures must include security surveillance cameras and an alarm system."
---
WANT TO LEARN MORE?
AT THE BAR HARBOR STORY, WE WANT YOU TO NOT JUST HAVE OUR TAKE ON THE NEWS, BUT YOUR OWN, WHICH IS WHY WE TRY REALLY HARD TO GIVE YOU A LOT OF LINKS TO PERUSE IF YOU HAVE TIME.
---
The council meeting can also be viewed here.
The council agenda and packet of information for the August 16 meeting. This includes the full text for potential warrant items at the November town meetings.
To check out the town zoning map, check here.
The town's land use ordinance.
More on Bar Harbor's ecological initiatives here and design review board here