Bar Harbor councilors have busy August 16 meeting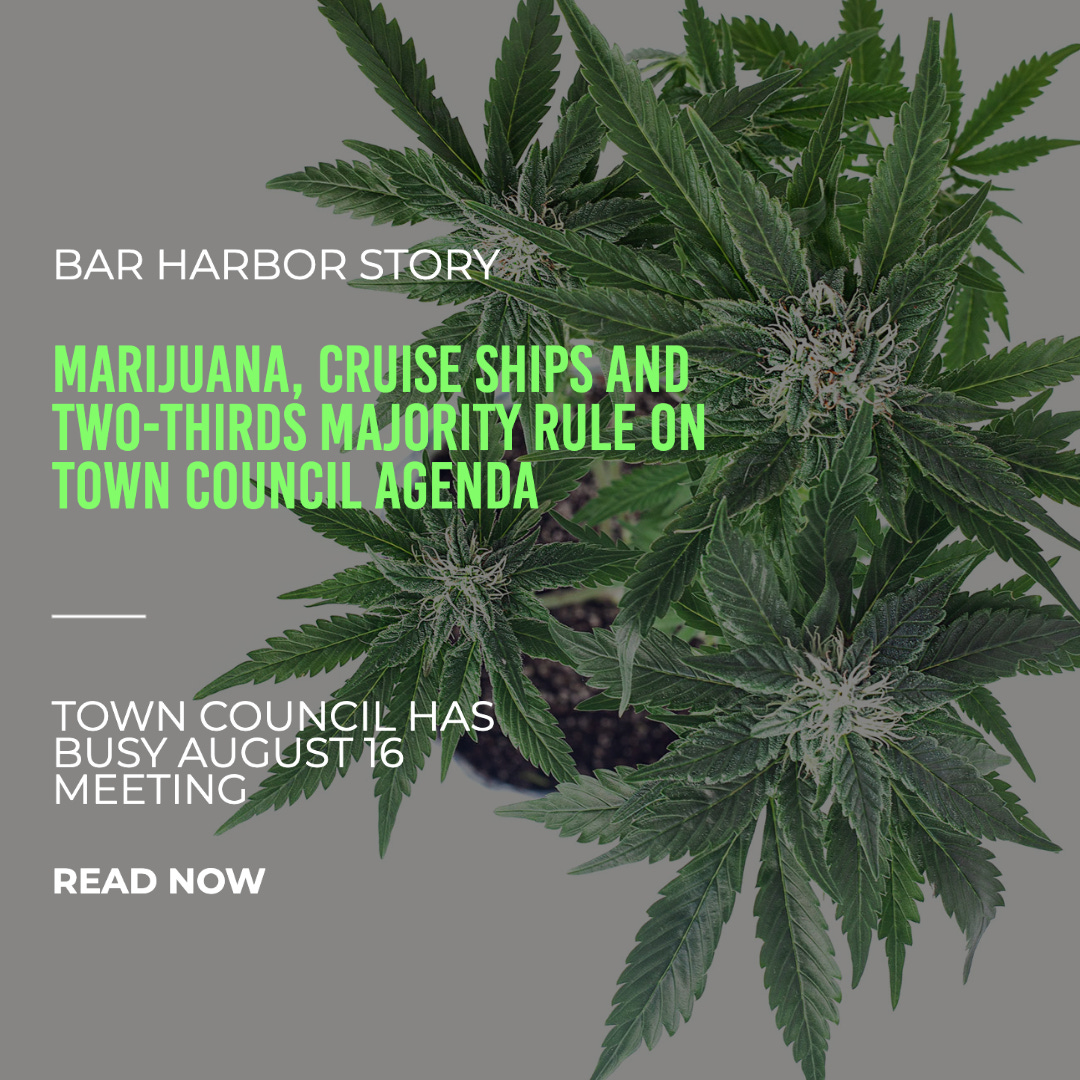 BAR HARBOR—Marijuana. Cruise ships. Two-thirds majority rules? Oh my. It may not be quite like Dorothy in the Wizard of Oz, but the Bar Harbor Town Council has a lot to focus on at its upcoming August 16 meeting, which begins at 7 P.M. at the town's municipal building on Cottage Street.
There will be public hearings on the Land Use Ordinance amendments, which if approved would be up to town vote on November 8 as part of the special town meeting warrant.
TWO-THIRDS AMENDMENT
The first public hearing is about the potential removal of the two-thirds majority voting requirement at town meetings to amend the town's land use ordinance. The warrant article would allow Land Use Ordinance amendments a simple majority vote rather than two-thirds majority to change the town rules if the Bar Harbor Planning Board (which hears the proposed amendment first and has a public hearing) votes against the adoption of the change. If the planning board is in favor of the adoption, it currently just needs to pass via a simple majority vote at the town meeting. This would not change.
What actually is a land use ordinance? One of the simplest definitions is from Law Insider and it's "an ordinance or regulation of general application adopted by the municipal legislative body which controls, directs, or delineates allowable uses of land and the standards for those uses."
MARIJUANA RETAIL STORES UP AGAIN
The second big issue is the citizen petition to amend the Land Use Ordinance concerning marijuana retail stores within Bar Harbor. If approved, the petition would define retail marijuana stores and "place them in specific districts" according to the town manager's packet notes.
Those places where they may be allowed (if placed on the town warrant and approved by voters) are the four districts that currently allow retail stores (Bar Harbor Gateway, Downtown Village I, Downtown Village II, and Downtown Village Transitional), but would also create a new zoning district whose "boundaries are not defined" according to the warrant article. That new undefined district would be called Shoreland Development III.
The material provided by Town Manager Kevin Sutherland states that this portion of the petition may be not be able to be enforced if it passes because of the lack of boundary definition, and he writes that there are other issues involving the failure to strikeout old language in the current land use ordinance.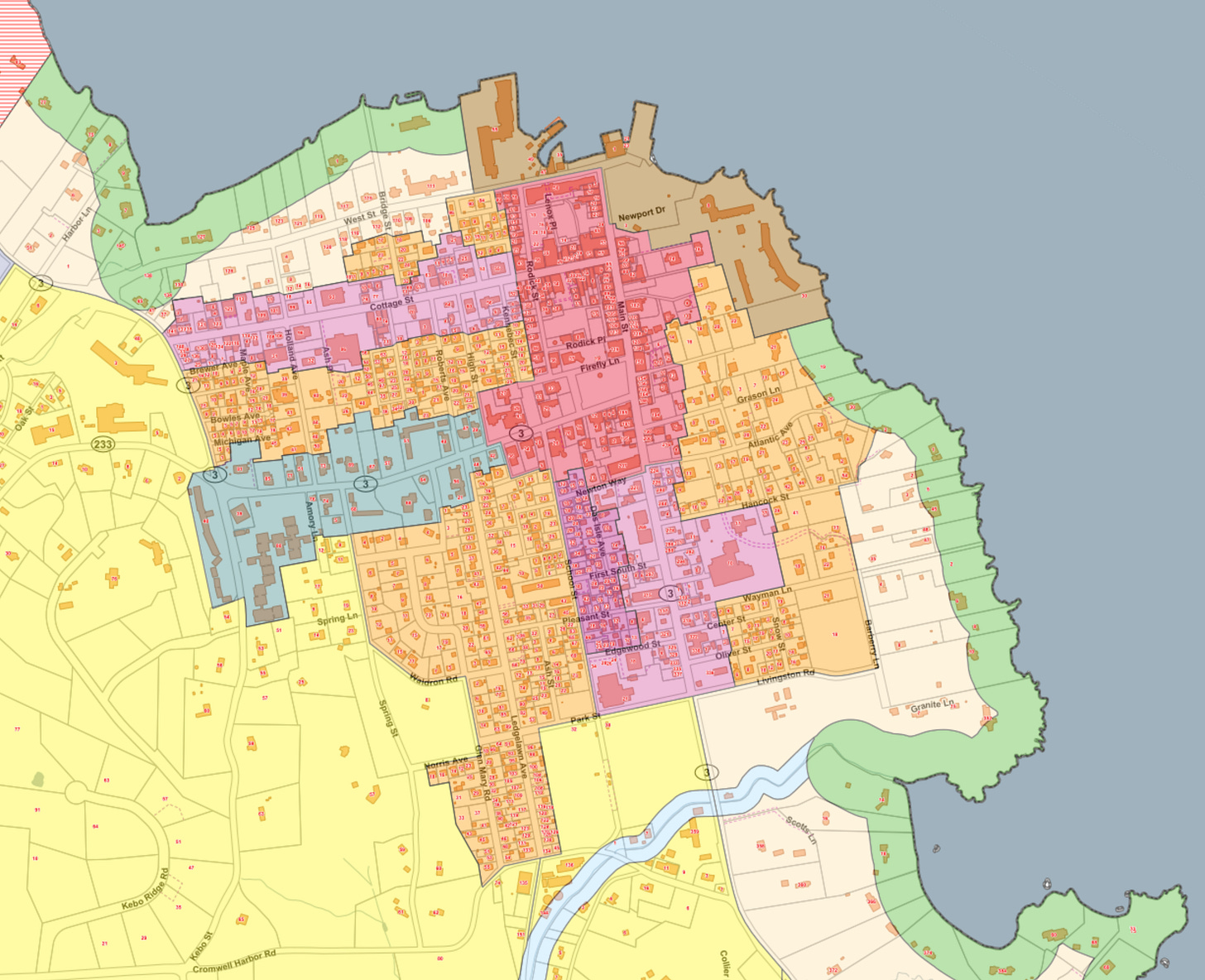 The Downtown Village I and II districts are both where most of the town's retail and restaurants are. The Downtown Village Transitional is edged by School Street and Edgewood and includes portions of Des Isle Ave, First South, and Pleasant Streets. It currently has little or no retail though it is an allowed use.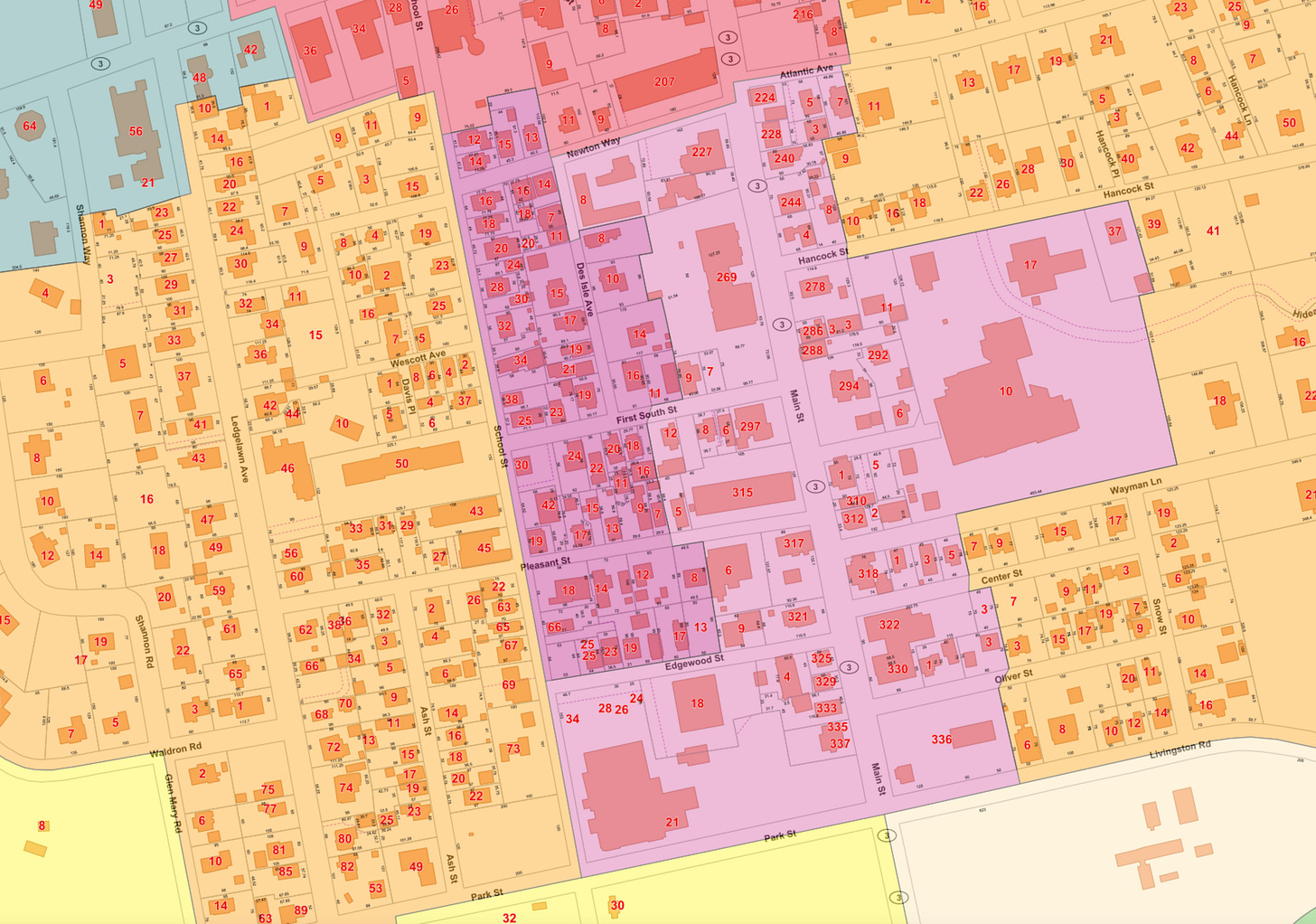 The Bar Harbor Gateway district runs along part of the Route 3 corridor into Bar Harbor proper.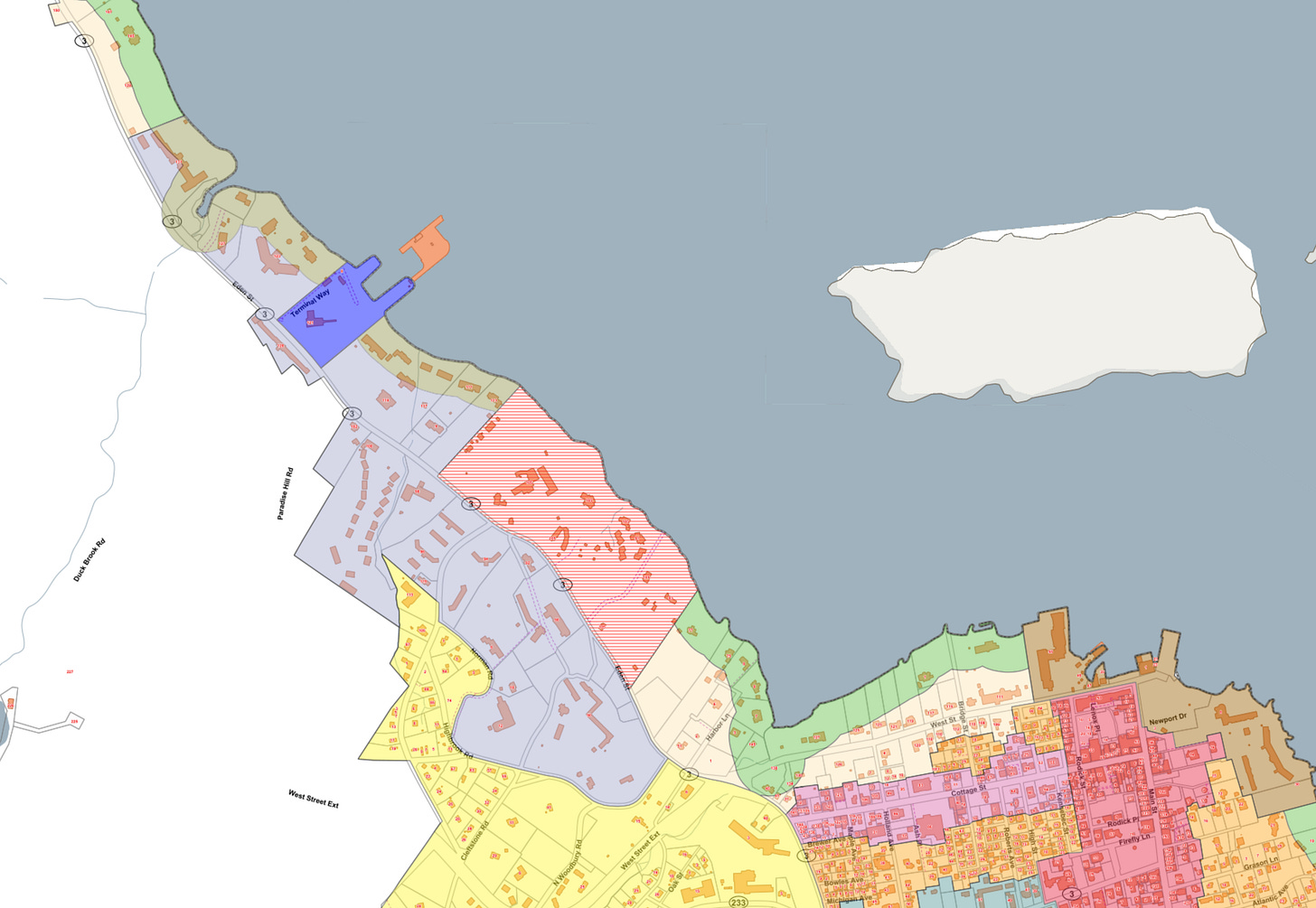 There is another citizen petition specifically about marijuana stores licensing. The council must also approve (or not) for it to go onto the November warrant where voters will decide its fate.
According to the warrant:
"This ordinance licenses adult use marijuana stores. It does not allow for cultivation, manufacturing or testing facilities. It allows for up to two adult use marijuana stores in Bar Harbor. Such stores must be operated from a permanent location. Sales may not include the use of vending machines, drive-through/drive-up windows, or delivery services. Adult use marijuana stores cannot be located within 1,000 feet of the property line of a preexisting public or private school serving children from prekindergarten to grade 12. Two licenses, one from the State of Maine and one from the Bar Harbor Town Council, must be secured in order to operate an adult use marijuana store in the Town if Bar Harbor. The processing fee for the town's license is $250 and the fee for the town license itself is $1,250. Applicants who wish to operate an adult use marijuana store must be at least 21 years of age and a resident of the State of Maine. Applicants must divulge if they hold, have held, and/or have had any such licenses or similar licenses denied, suspended, or revoked from any town, city, or state. If a licensed adult use marijuana store is sold, the purchaser would be given preference to obtain a new license and continue operations."
"Adult use marijuana stores may be open for business only between the hours of 10:00 a.m. and 8:00 p.m. Security measures must include security surveillance cameras and an alarm system."
DESIGN REVIEW BOARD APPENDIX A
Later in the agenda, councilors will potentially sign an order placing LUO Amendment Appendix A: Design Review Board. It is part of an annual review about the historic properties in the Design Review Overlay District.
SENIOR TAXPAYER ASSISTANCE
Not requiring a November vote is the senior taxpayer assistance ordinance amendment. There will be public comment and that ordinance could be adopted at the August 16 meeting.
According to the town manager's packet notes:
"The proposed new ordinance is based on a recently revised City of Saco program. It's a match program for the state's Property Tax Fairness Credit.
"How it would work:
"A resident, by the December 1st deadline for this year (and August 1st in future years), would submit the state program form as part of their tax filing from April along with our application (to be developed in time for the public hearing and final vote) which would be used to establish the credit they'd receive in the following year. i.e. Information filed for Calendar year 2021 (in April 2022).
"Because of the timing of its implementation, if the application is complete and submitted before December 1st, it would be credited toward the second half of the tax bill in Fiscal Year 2023 (the bill that is due March 31th, 2023). In future years, it will be credited to the first tax bill and the application will be due by August 1st….

"I believe this program would cost around $85,000 and talking with the Age Friendly Committee we very well might be able to find some volunteers to help senior citizens apply for and participate in the program."
DOG PARK, CRUISE MANAGEMENT PLAN AND OTHER ITEMS.
Also on the agenda as unfinished business is the cruise management plan that was presented at the Aug. 2 council meeting and a proposed dog park.
Finally, there will be updates on the Jackson Laboratory from lab representatives, councilors will discuss the Highbrook Road speed limit change request and also hear an update on the comprehensive plan. Links to see the full agenda are below.
Along with that, the council will consider appointments to several task forces: Peter Houghton, Age Friendly Committee; Bob Huff, Parks & Recreation Committee; Calistra Martinez, Planning Board; Kaitlyn Burke, Task Force on the Climate Emergency. All are for three year terms.
Bar Harbor Story is a reader-supported publication. To receive new posts and support my work, consider becoming a free or paid subscriber.
---
WANT TO LEARN MORE?
AT THE BAR HARBOR STORY, WE WANT YOU TO NOT JUST HAVE OUR TAKE ON THE NEWS, BUT YOUR OWN, WHICH IS WHY WE TRY REALLY HARD TO GIVE YOU A LOT OF LINKS TO PERUSE IF YOU HAVE TIME.
---
The council meeting can also be viewed live here.
The council agenda and packet of information for the August 16 meeting. This includes the full text for potential warrant items at the November town meetings.
To check out the town zoning map, check here.
The town's land use ordinance.