Acadia GEM's 100% Electric Low-Speed Vehicles Hope to Make a Positive Impact on Local Fun and the Environment
Large American cars, sidewalks full of tourists, crowd the Bar Harbor streets some days like the town is actually a medium-sized city. Tourists jaywalk across Main Steet in diagonals as Island Explorer busses and bigger SUVS wedge themselves between the cars parked parallel along the shops.
The congestion is normal in European towns with narrow streets and bigger cities, but it often becomes a familiar critique among Hancock County residents every summer when the tourists and seasonal homeowners return to the normally small coastal community of approximately 5,000. Bar Harbor a place where residents notice everything new, everything different.
So, this spring when Acadia Gem began, people noticed.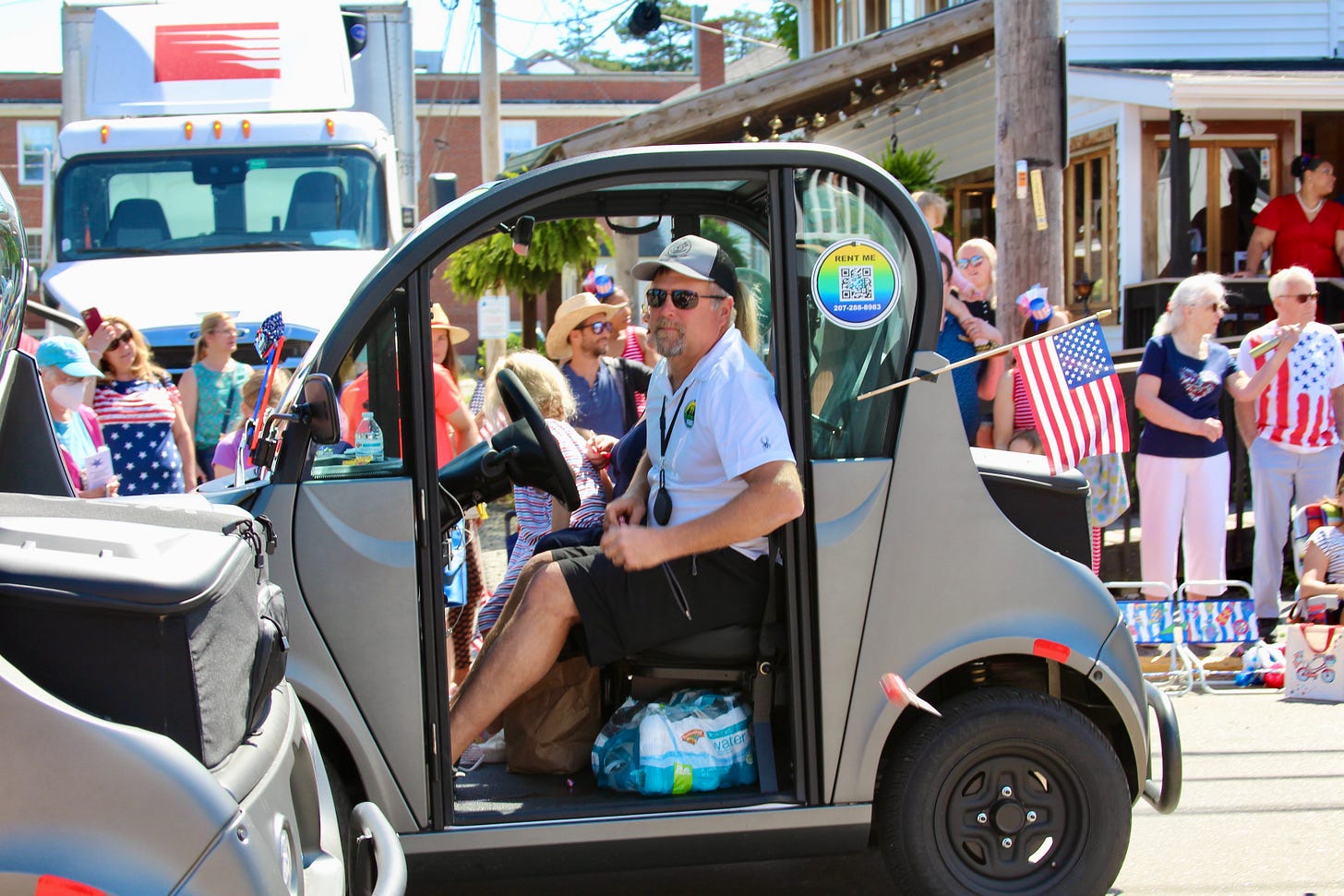 And what they were noticing is something brand new and what co-owner Eben Salvatore hopes will spread across national parks and tourist communities across the nation: low-speed vehicles.
Acadia National Park may be the first in the continental United States to allow low-speed vehicles to cruise on its park roadways, Salvatore said, which would make Acadia Gem the first company to offer that experience.
According to the United States Department of Transportation, the government is testing automated shuttles at the Wright Brothers National Memorial and Yellowstone National Park as part of its Emerging Mobility Pilot Program. These programs use low-speed, automated, electric shuttles. Acadia's own Island Explorer shuttles are free and powered by propane, meant to reduce pollution and traffic congestion, but that's not the same as the Acadia GEM, where tourists or locals rent the vehicles and drive on roads posted for less than 35 mph, creating their own independent experience in a way that lowers pollution.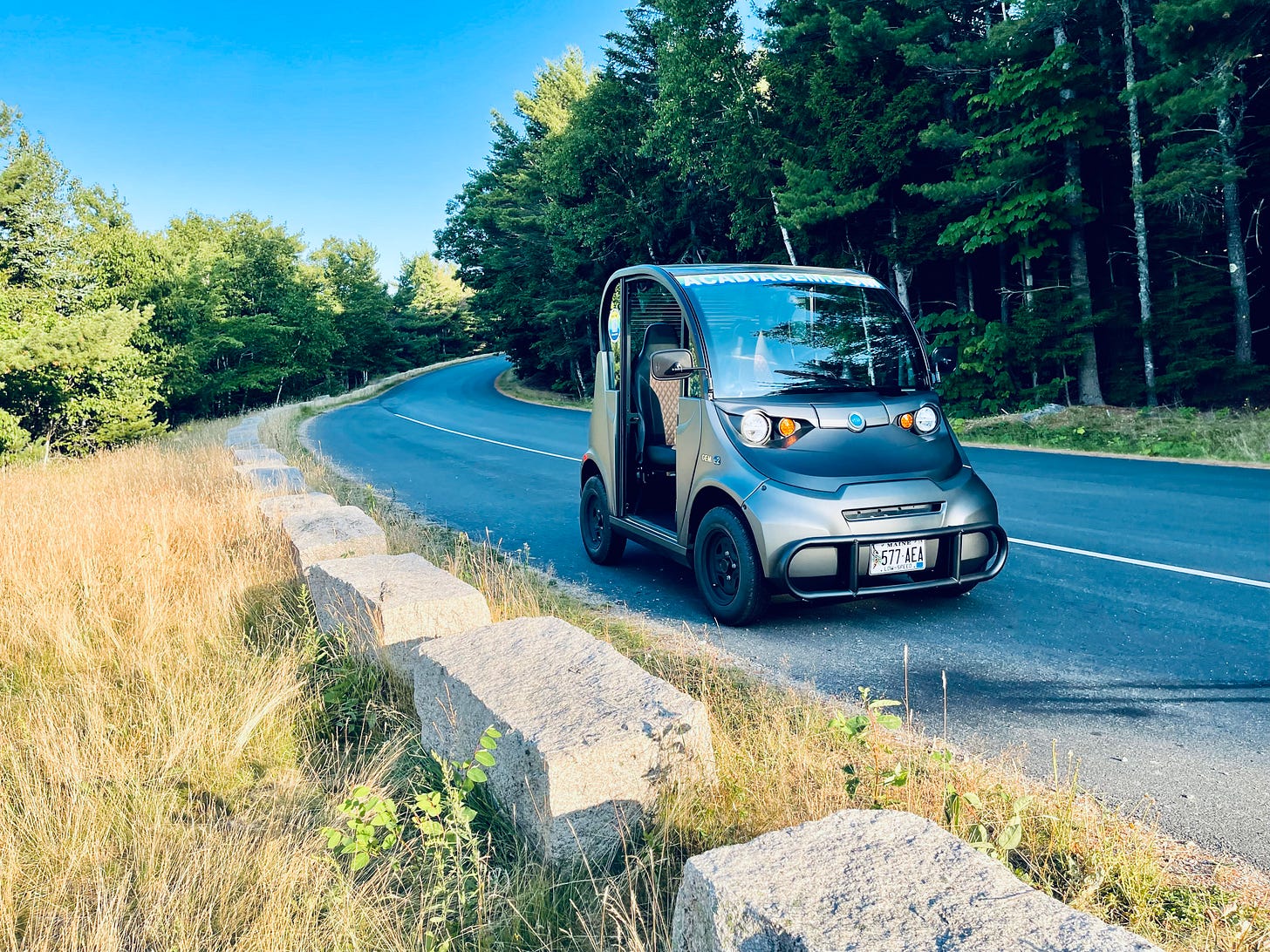 BUSINESS INNOVATION
Acadia GEM proves that low-speed vehicles aren't just for the golf course and campground anymore. This year, Salvatore and partner Jeff Young brought low-speed vehicles to Bar Harbor, offering tourists a way to tool around the slower streets of the island in a vehicle that's a lot quieter and more environmentally friendly than a car or truck or bus.
"We're almost entirely rented," said Salvatore, Thursday, July 28 as he drove around in a GEM picking up loaner vehicles that are part of the fleet of 45. For a brand-new business that sprang out of co-owner Jeff Young's head, this is a pretty positive moment in the short history of the rental company. They just began renting this spring. Many of the decisions were solidified in October, 2021.
"Jeff was on this long before I was. He's seen this island for decades—we both have—and he has really understood areas of opportunity as well as areas of needs. He brought a vehicle here before he even talked to me about it, and I saw it and I thought, 'What is this thing?' " Salvatore said.
That wonderment is common among locals and tourists alike when they first see the fleet of vehicles, which can hold two, four, or six passengers and have removable doors and transparent roofs. Choosing all-electric vehicles, Salvatore said, was the duo's easiest choice to make.
Both have been on the frontlines of the island's summer season for decades working with retail, restaurants, and hotels, and they knew that for bigger cars, and sometimes smaller cars, moving around wasn't always easy. Salvatore said the idea sprang out of "a collection of needs and shortcomings in transportation and making sense of all the different variables."
"Not everyone wants to drive up Cadillac in their Suburban," Salvatore said. He told the anecdote of one man who flew to Maine, picked up two Suburbans at the airport and drove them to Bar Harbor. Staying at a West Street hotel, the man surveyed the streets, saw GEMs and decided to use the service. He ended up renting for the entire week. The Suburbans stayed parked in the hotel's lot until he and his family drove them back to the airport.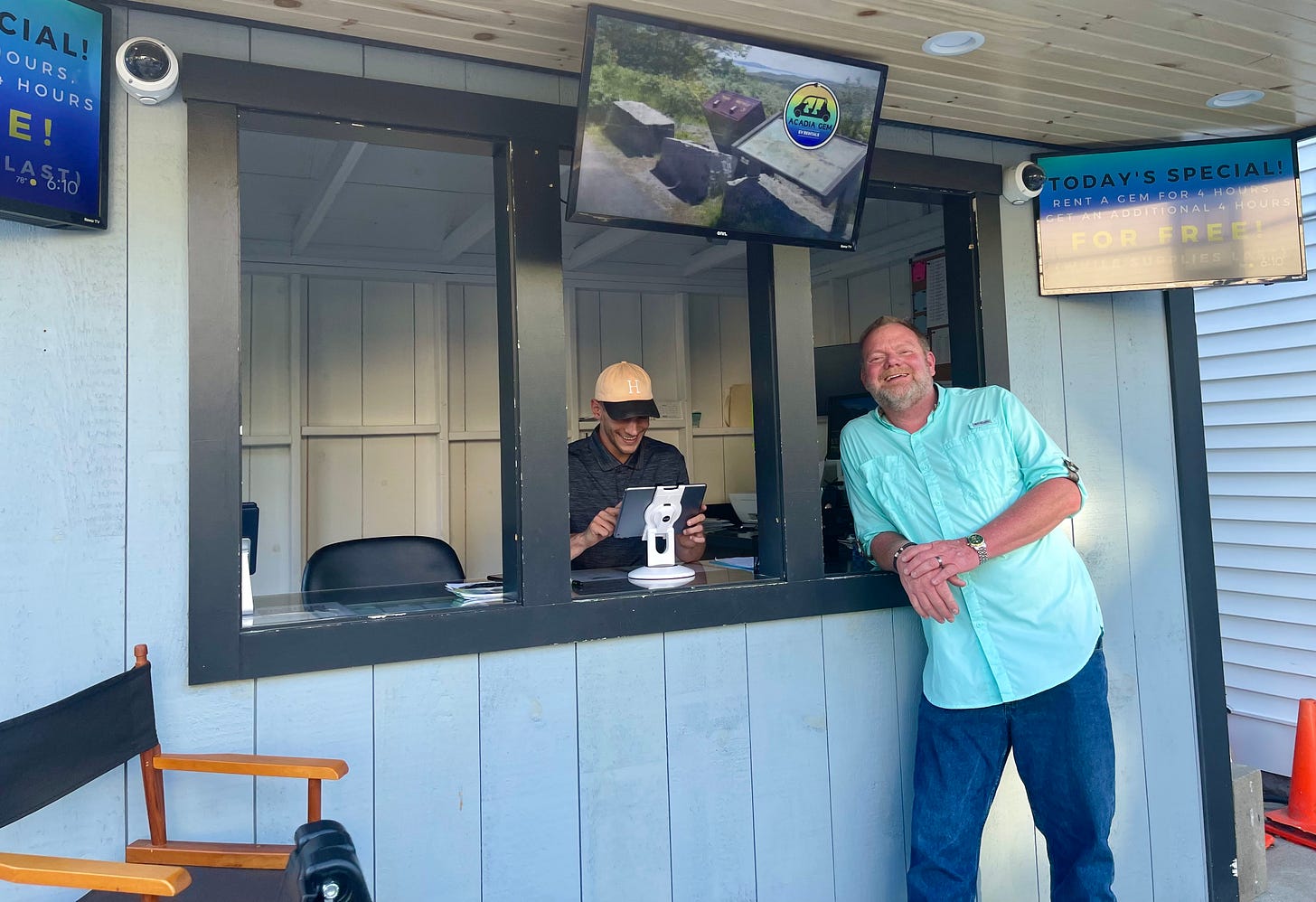 It sounds easy, but creating a business from scratch that required websites and licensing across governmental agencies required a lot of learning.
Salvatore and Young quickly did some research and then the business's opening became a tidal wave of licensing, discovering details about safety, vertical climbing, dealing with the layers of local, state and federal licensing because they wanted the vehicles to be able to go into the parks. The cost for excise tax to the Town of Bar Harbor alone was between $40,000 and $50,000, he said and added that the town and park officials were incredibly supportive and easy to deal with.
Unlike golf carts, neighborhood electric vehicles and low-speed vehicles are meant for the streets. Proponents call them efficient and economical, but it's important to remember that they aren't cars. They often have governors that keep them going at low speeds, but they are smaller than regular cars and usually more affordable, often ranging between $10,000 and $20,000.
They definitely aren't cars or Suburbans, but the GEM vehicles also aren't golf carts. There are many safety features that low speed vehicles like the ones at Acadia Gem are required to have. There's a level of sophistication and speed that golf carts don't have, but that low speed vehicles do. The Bar Harbor Police Department was familiarized with the vehicles early in the season.
Westward Industries says some similar things to Salvatore about the differences between low-speed vehicles and golf carts, writing:
"A low-speed vehicle is a four-wheeled motor vehicle with a gross vehicle weight of fewer than 3,000 pounds (1,400 kg) and a top speed between 20 to 25 mph (32 to 40 km/h). Electric LSVs are widely adopted across the US and Canada because of their zero-carbon emission and quieter operation. Government programs often incentivize these vehicles."
And the market for low speed electric vehicles is expected "to reach $7,617.3 million by 2025," according to Allied Market Research. "It's growing at a CAGR rate of 15.4%" between 2018 and 2025.
It's believed that rising fuel costs, concerns about pollution and climate change and depleting fossil fuel reserves have helped to propel this growth. Westward Industries estimates that fuel costs for a vehicle like Acadia GEM are $350 a year as opposed to $2,000 for a gas-powered vehicle.
Salvatore drives his personal truck into Bar Harbor to work, parks it and then uses a GEM to run to meetings around town and in the park. He uses a quarter of his normal gasoline consumption, he says, by not using his truck.
But for Salvatore and online reviewers, the experience isn't just about the environment and ease of moving a smaller vehicle through Bar Harbor's narrow streets, it's also about fun. Drive one down the streets of Bar Harbor proper and people wave, give thumbs up, and whoop. Go into the park and it's a slightly different story because, he said, the GEM allows you to feel more immersed as you drive along the Park Loop Road.
"I would say the experience and enjoyment of how fun this is is what wows people," he said. "The park feels different. The air blowing around feels different. Seeing a deer feels different. It's a whole new way to get around Bar Harbor."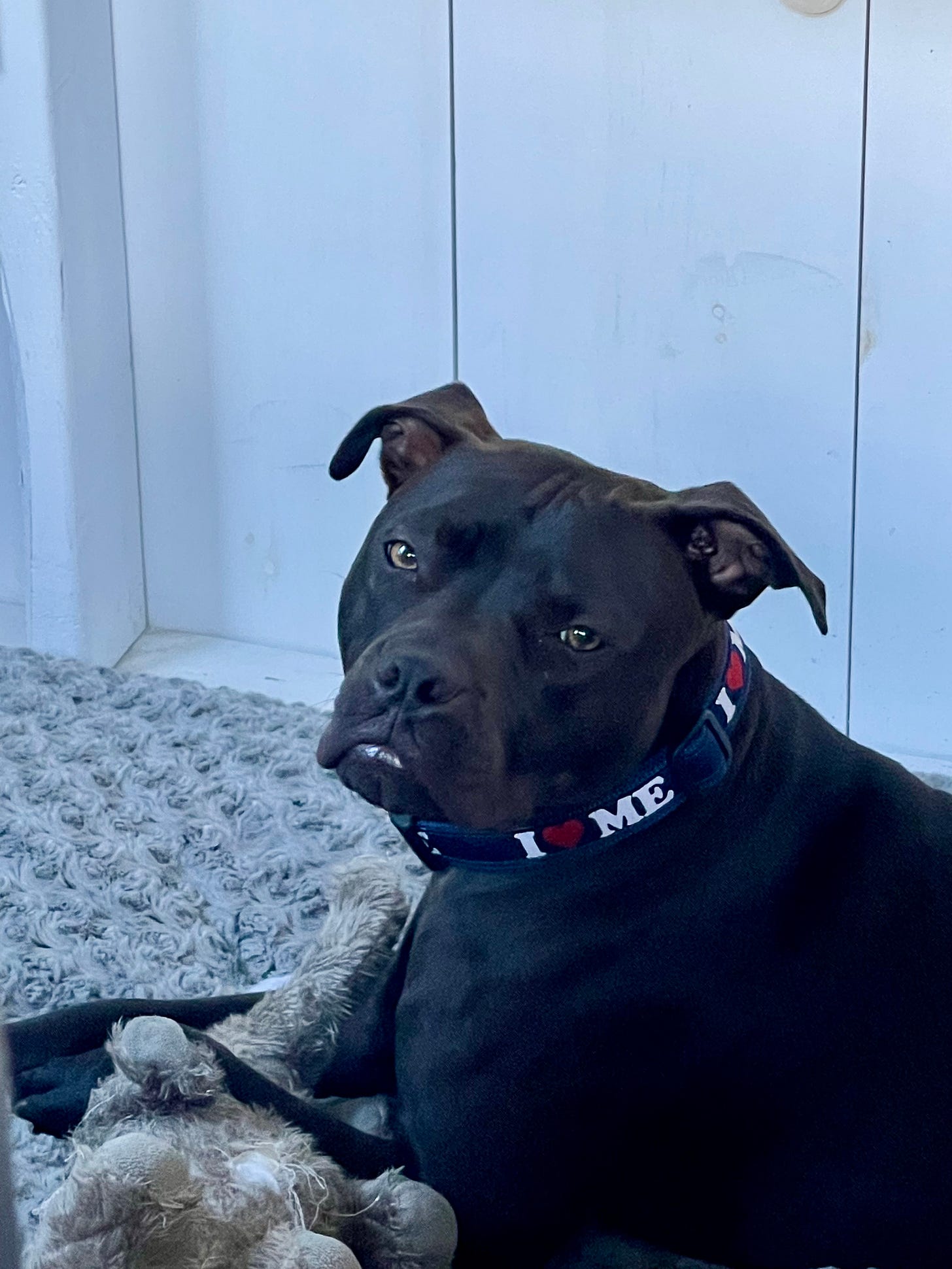 Part of that difference stems from the smaller size of the vehicle and because the roof is transparent and the doors come off, which makes the experience a bit more back to nature.
"It forces you to absorb your park. You can't rush through it and miss it," Salvatore said, mentioning that just slowly driving beneath the intricate stone Rockefeller bridges in Acadia National Park gives you a whole new perspective, allowing you to marvel more at the construction and the placement of stones.
Acadia Gem offers vehicles that hold two, four and six passengers and local discounts. The vehicles are low speed and street legal as long as that street's posted speed limit is 35 mph or less.

If those limits confuse drivers, there's a map on its website and the GEM associate on duty can give customers when they pick up the car. And its website has a list of places to explore including the Cadillac Summit Road and Park Loop Road (27 miles, which Gem recommends having a half-day commitment).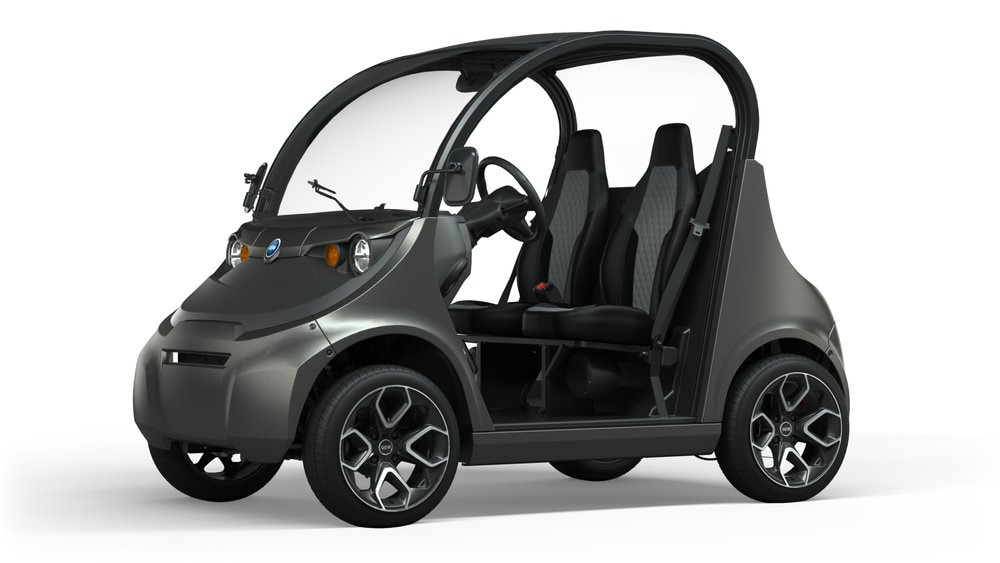 ---
MORE DETAILS
You must have a valid driver's license, insurance, and be twenty-five to rent. There is no age limit for passengers. And there are multi-day packages, which means you can keep the GEM overnight.
On TripAdvisor, Acadia Gem has 12 reviews in and 11 of them are five stars. Its general manager is Jared Erskine. If you're lucky, Jacob and his incredibly cool dog, Rico, will be on hand when you rent out the vehicle.
ACADIA GEM IS LOCATED IN BAR HARBOR
195 Main Street
Bar Harbor, ME 04609
TO CONNECT WITH ACADIA GEM
---
FOR MORE RESOURCES ABOUT TOPICS IN THIS ARTICLE:
https://www.alliedmarketresearch.com/low-speed-electric-vehicles-market
https://legislature.maine.gov/statutes/29-A/title29-Asec2089.html
https://www.nps.gov/acad/planyourvisit/island-explorer.htm
https://www.volpe.dot.gov/transportation-planning/public-lands/national-park-service-emerging-mobility
---