Farmers' Market Open and School News
MAY 15, 2023
BAR HARBOR—The debate about where to locate a potential dog park and whether or not to have one has heated up a bit on social media these past few months as a group of Bar Harbor residents presented plans to the town's Parks and Recreation Committee this month.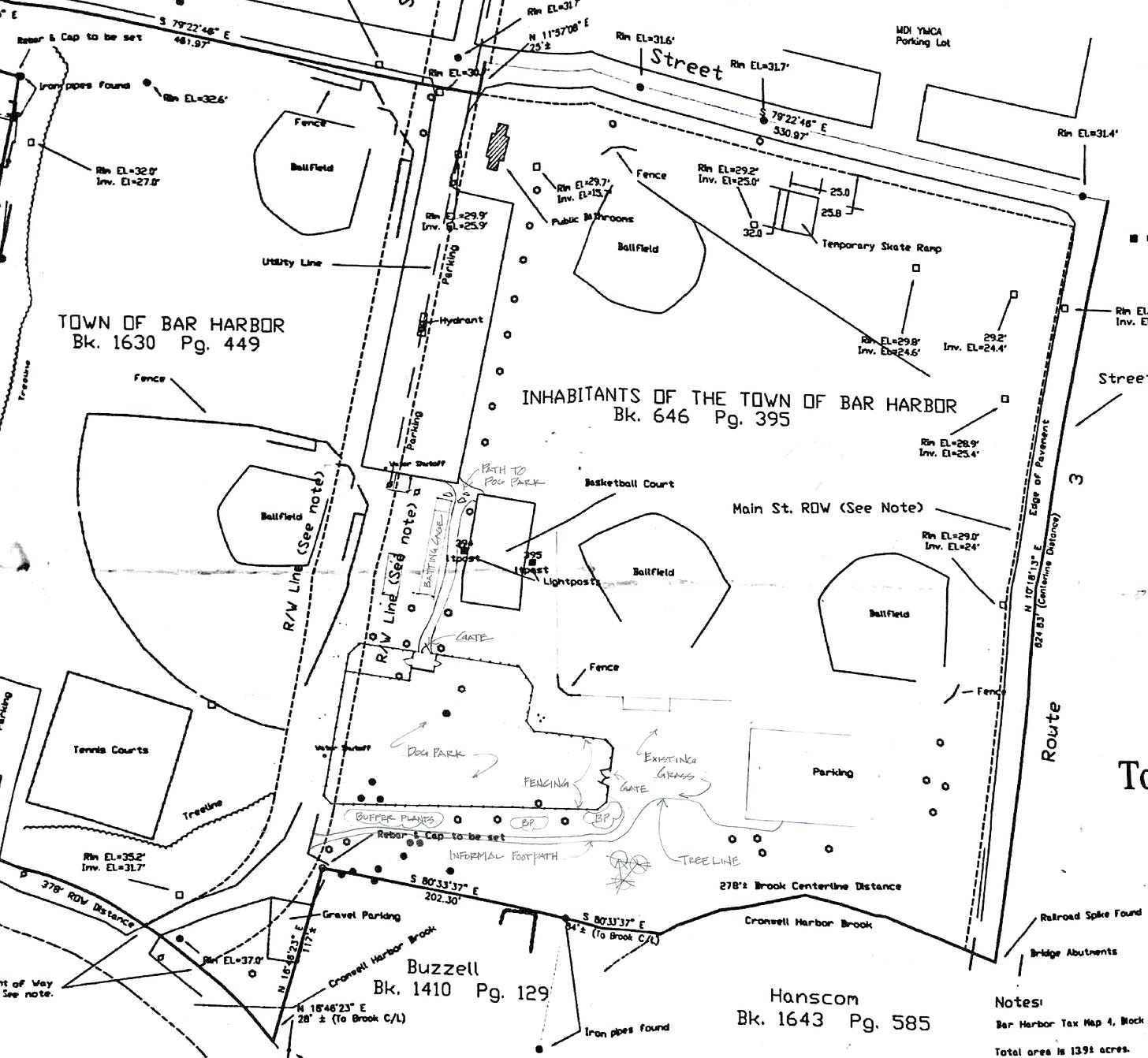 The committee would not make the final decision on the park or location, but it advises the Town Council, which is the body that would do so. The current plan that has been moving forward is locating the dog park at the southeastern corner of the town's athletic field.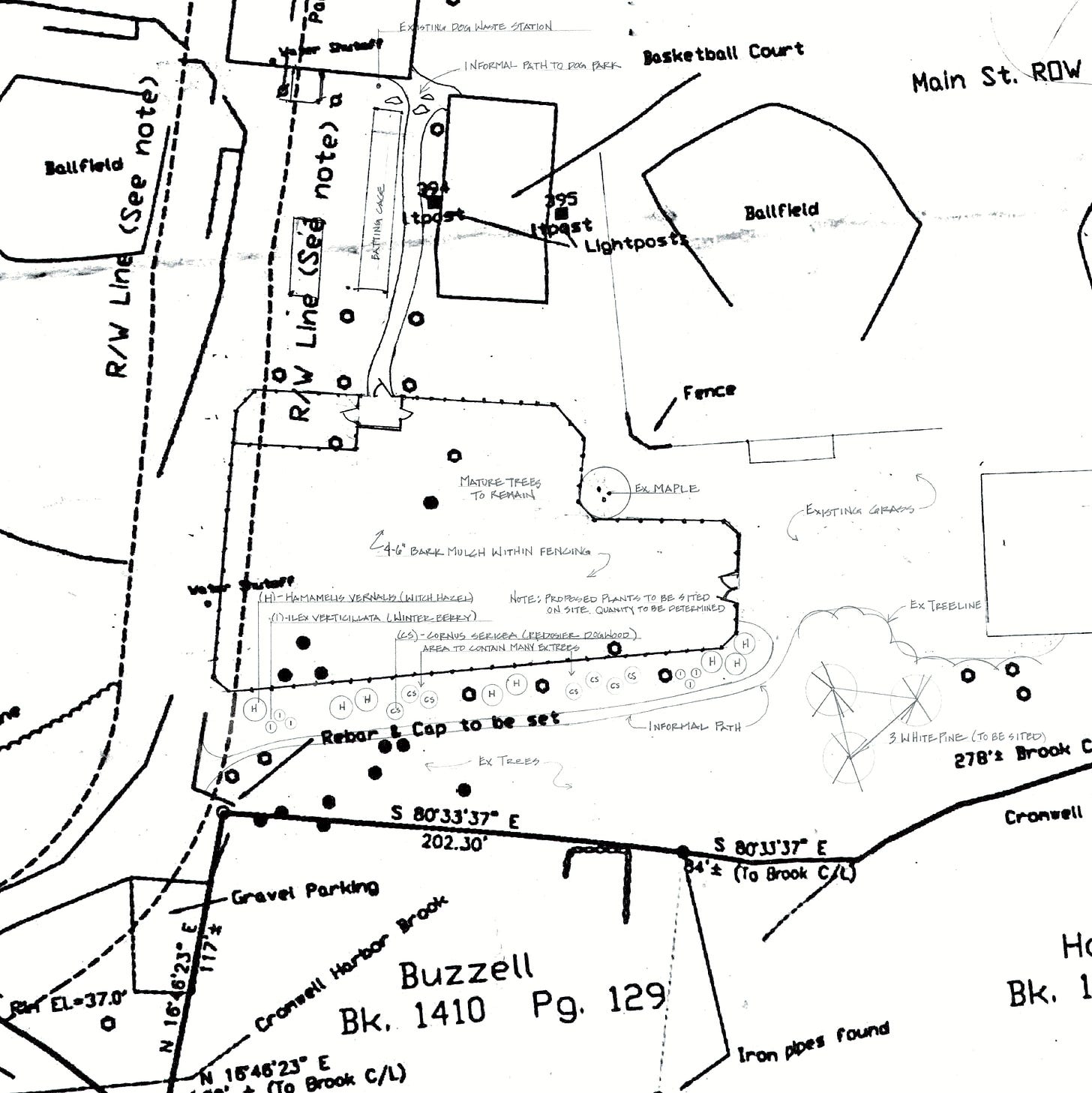 A memorandum of understanding between the town and the Friends of the Bar Harbor Dog Park has been in place since early this winter. At the last Parks and Recreation Committee meeting, representatives for the group said that they do not wish to incorporate. Interim Town Manager and Finance Director Sarah Gilbert told the group that the town's insurance does not allow the group to have volunteers build the site or do maintenance. Often, outside agencies using town property (the MDI YMCA, Bar Harbor/MDI Rotary Club, etc.) will buy insurance for one-day events.
The suggested hours of the potential dog park's operation are 7 a.m. to 7 p.m. These details and others were reported in our last article.
One of the group's organizers has said that they've chosen the current location because in their visitation of other dog parks many were on town recreation fields and close to playgrounds and tennis courts. The location is within walking distance and accessible to downtown proper. Organizers have also said that they don't believe barking will be a problem. I've asked to share those comments which are also on the public Facebook page, but haven't heard back yet. You can see them here. When I hear back, I'll also update the article.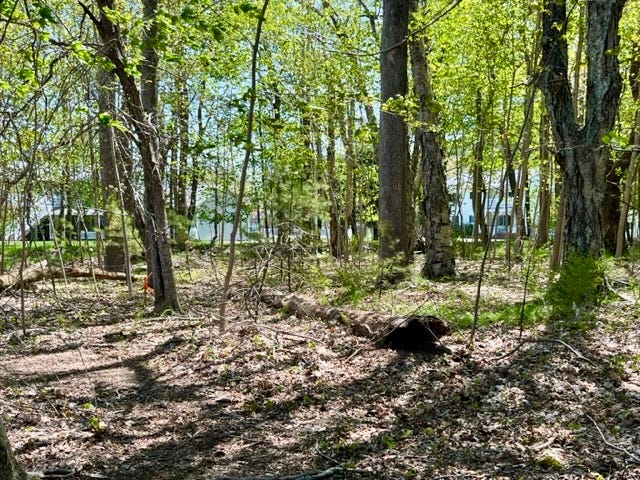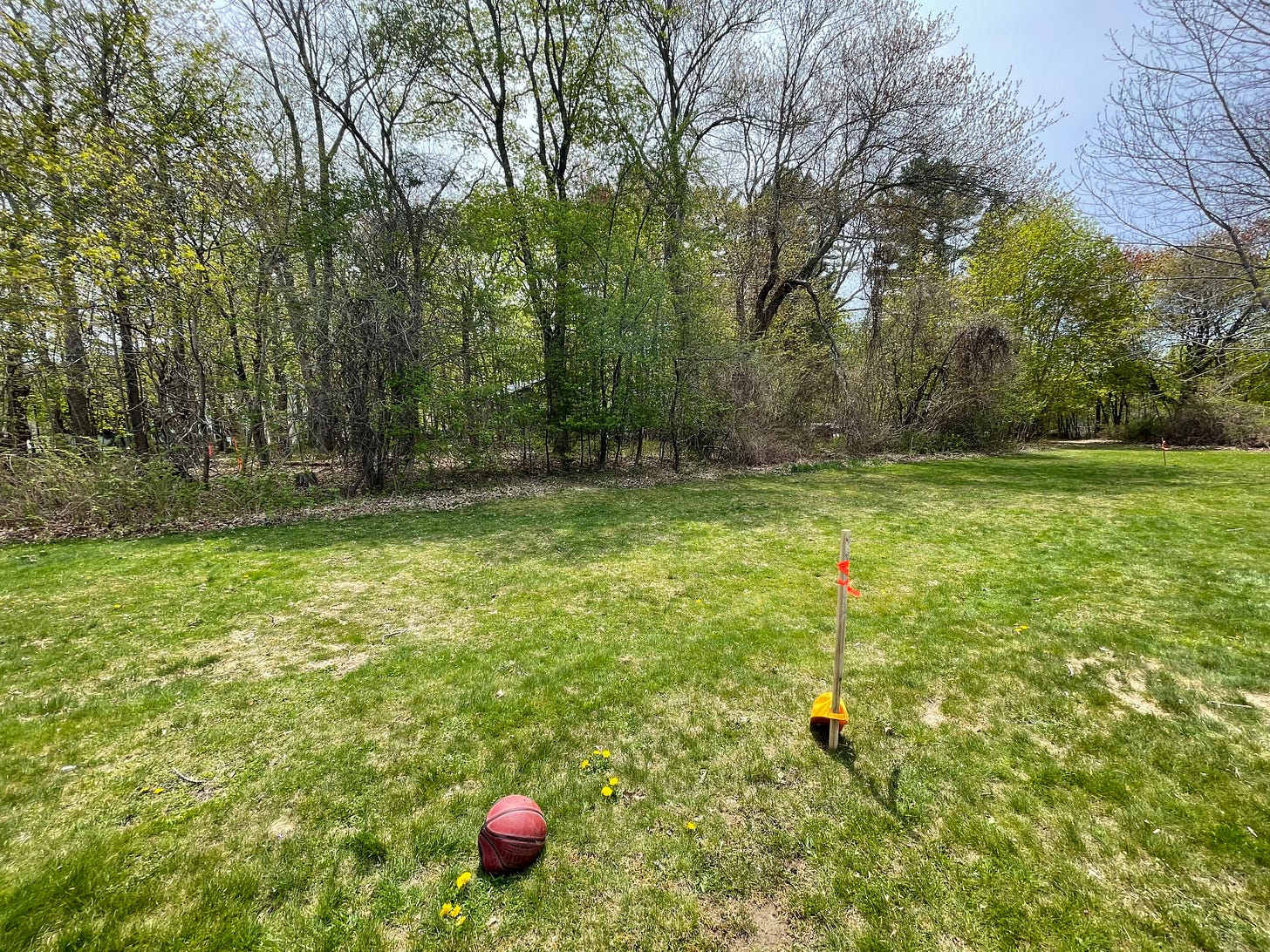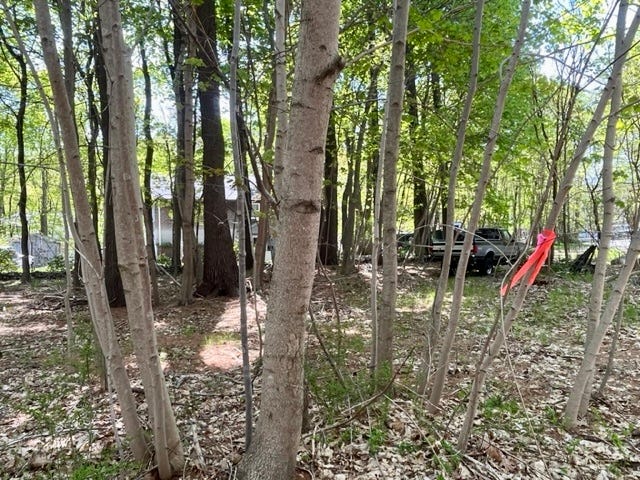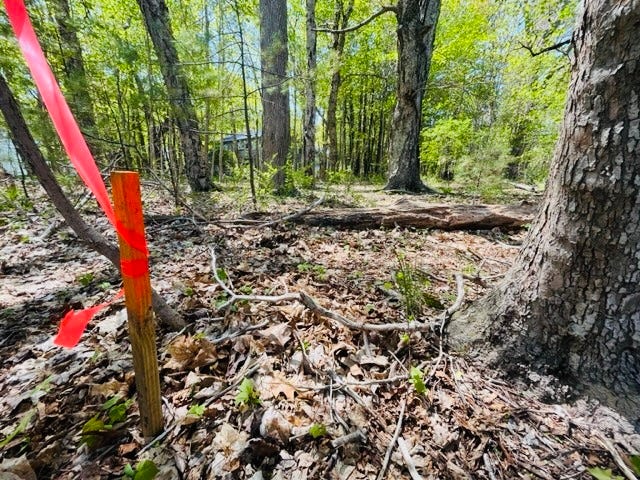 The packet of the plans of the park had not been posted on the website prior to the May 1 meeting. Those were uploaded on May 8 and can be seen in full here.
Prior to that May 1 meeting, the Hanscom family posted an email on Facebook (we have permission to repost here) about their worries about the park's placement. The maps show the locations of the abutters.
Hello, Bar Harbor!

As some of you may know, and for those of you who don't, there is a plan being presented to the Parks & Rec committee on Monday, May 1st at 4:30 to implement a Public Dog Park at the southeast corner of the Athletic Field.

My family is one of the abutting neighbors to the proposed site. For a multitude of obvious reasons, we are extremely opposed to a dog park at this location.

If the dog park should win approval, it will be right outside our kitchen & living room windows.

Our neighbors stand to have this park right outside their bedroom windows.

By my count, we have about 15 YEAR ROUND RESIDENTS that will be subjected to incessant barking 7 days a week, 365 days a year.

We all know YEAR ROUND housing is extremely scarce on the island and a dog park will not do our neighborhood any favors. The living conditions will be severely degraded for the ones fortunate enough to have finally found year round housing.

This plan was originally proposed for the wooded area of Glen Mary. The residents of that neighborhood spoke loud and clear that their neighborhood was not an acceptable location for a dog park. The overwhelming sentiment of the neighborhood forced them to seek another location.

Now they've chosen a new neighborhood and it's ours on Lower Main St.

For all of the same reasons the residents of Glen Mary rejected the idea, so do we!

But somehow, the care and consideration given to the residents of Glen Mary is not being afforded to us.

The proponents of the dog park have not once attempted to talk to us, the direct abutting neighbors, to address our fears, concerns and possible different locations. The disregard for any of us in this neighborhood is alarming and insulting.

In fact, the proponents created a FaceBook page; Friends of The Bar Harbor Dog Park and they denied us access to join. We have been entirely shut out of the process yet will be forced to bare all of the consequences.

The narrative that is being pushed to support this proposal is that dog parks really aren't that noisy. The dogs are too busy playing to bark.

It needs to be stated that this end of town is EXTREMELY QUIET!

The level of noise at the Athletic Field being suggested by the proponents and some members of the Town Council has been grossly overstated.

There is nobody with a better feel to the rhythm of the Athletic Field than our family. We've had a front row seat for 36 years.

The LifeFlight helicopter has been used as an excuse to justify the noise that will be borne from a dog park. That reasoning suggests we live next to an airport.

The helicopter is a life saving component and major necessity for our community. Anyone who has lived in this town long enough has either needed or knows someone who's life has been saved because of it. It's also not buzzing around here morning, noon and night 365 days a year. We have concern when we hear it come in, not agitation.

Conflating that very obvious reality with noise from a dog park is asinine or disingenuous. Perhaps both. The fact that this idea is being parroted by certain current and former members of the council is shocking.

There is not one single organized activity that occurs at the Athletic Field 7 days days a week, 365 days a year.

There are also management and volume issues that will be very hard to address that haven't been given much thought.

The only source of frustration we really have pertaining to the Athletic Field is the disrepair of the dirt parking lot which is now used as the de facto campground in the summer. Parks & Rec has completely disregarded that parking lot over the years.

With that in mind, every vacationer and RV that travels with dogs will flood this proposed park making it even more disastrous than we imagine.

My family loves dogs. We've had dogs all of our lives. I had a 110 pound Golden Retriever who LOVED to bark! I know all about barking dogs!

We have traveled extensively throughout the country with dogs and spent plenty of time at dog parks. They undoubtedly are extremely noisy and we've never seen a dog park directly abutted to homes or business. A simple google search provides plenty of examples where improper placement of dog parks has gone terribly wrong.

We currently have a dog and the dog park will be directly outside Wily's living room window where he will have full view and be well within earshot. He will go berserk morning, noon & night. We will be forced to lock him away in a different room of the house to shield him from the chaos and keep him calm.

Another terrifying aspect of this dog park for our family, is not only is this our home but it's also our family business.

Our family has owned and operated Cromwell Harbor Motel since 1987.

We are all born and raised in Bar Harbor going back generations. We're as local as you get around here.

The Cromwell is one of the last vestiges of a true "mom & pop" business in this town. Our parents have poured all of their blood, sweat and tears into creating the business and home we have today. Considering all of the hard work over the years the complete & total disregard being shown to us is highly offensive and extremely disheartening.

Sadly, we lost our father last year. We are entering a new world, settling into our new life without him steering the ship here at The Cromwell. The very obvious negative impacts this project will undoubtedly have on our business, our home & our sanity will make this task much harder and possibly untenable.

We are pleading for any support we can get to dissuade Parks & Rec from recommending to the Town Council for a vote to approve this location.

The idea of a dog park in our community is not necessarily a terrible idea, but one must take extreme care and consideration when choosing a location to ensure it will not negatively impede on ANY community member.

For such a perceived community minded initiative, this proposal has demonstrated that certain community members don't seem to matter. That sets a very hazardous precedent for all of us in this community.

Via email, we have formally invited all members of Parks & Rec and the Town Council to attend a more substantive site visit than the one ( and only) site visit in March of '22. Notably only 3 members of Parks & Rec attended that meeting and zero Town Council members were represented.

We hope you understand our plight and will write a letter to Parks & Rec and the Town Council voicing opposition to this location at the Athletic Field.

Please ask yourself if you would be happy with a dog park outside your bedroom window or right off your porch while you're enjoying a book.

We will be forever grateful for your support. Email addresses are provided below.

The Hanscom Family

Cromwell Harbor Motel

Bar Harbor
Emails supporting or indicating a lack of support can be addressed to the following members of the Parks and Recreation Committee, the town's public works director and the town council (all of these emails are public and on the website and meant for public comments and concerns about this and other town business):
John Kelly: jkelly0709@gmail.com
Jeff Dobbs: jdobbs@jeffdobbs.com
Greg Veilleux: vfamilymdi@gmail.com
Desiree Sirois: desiree.sirois@mdirss.org
Bob Huff: operations@mdiymca.org
Bethany Leavitt: pwdirector@barharbormaine.gov
Town Council: council@barharbormaine.gov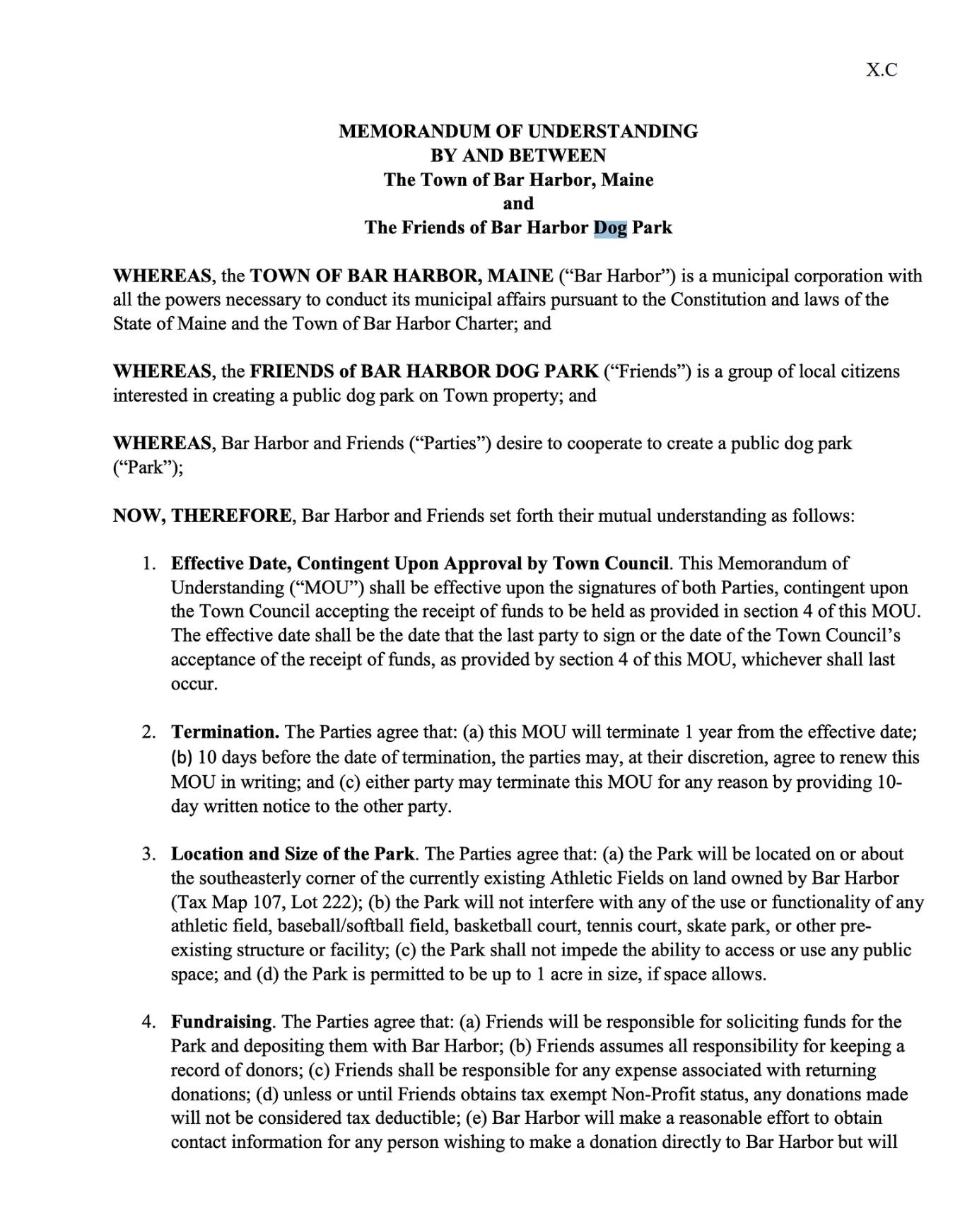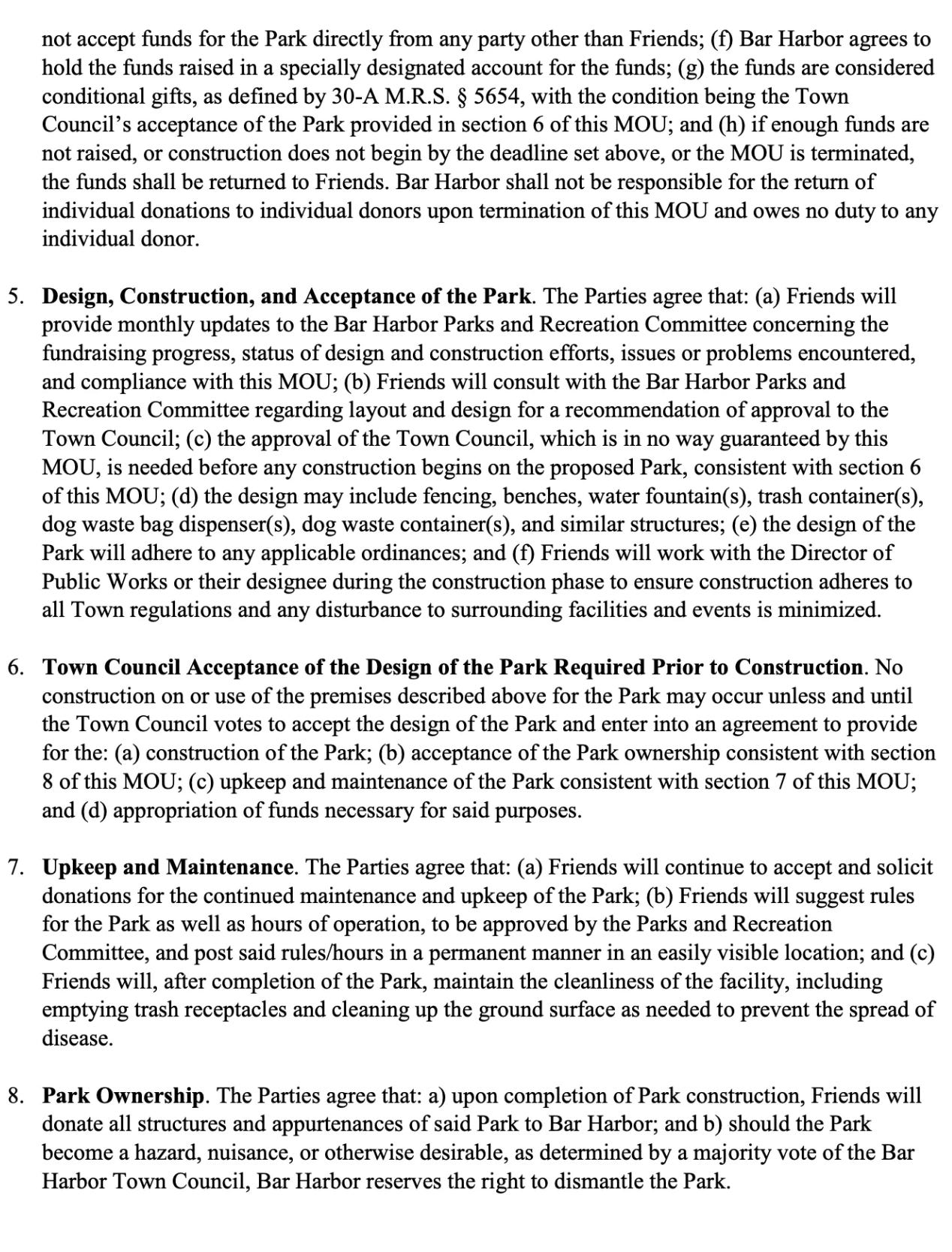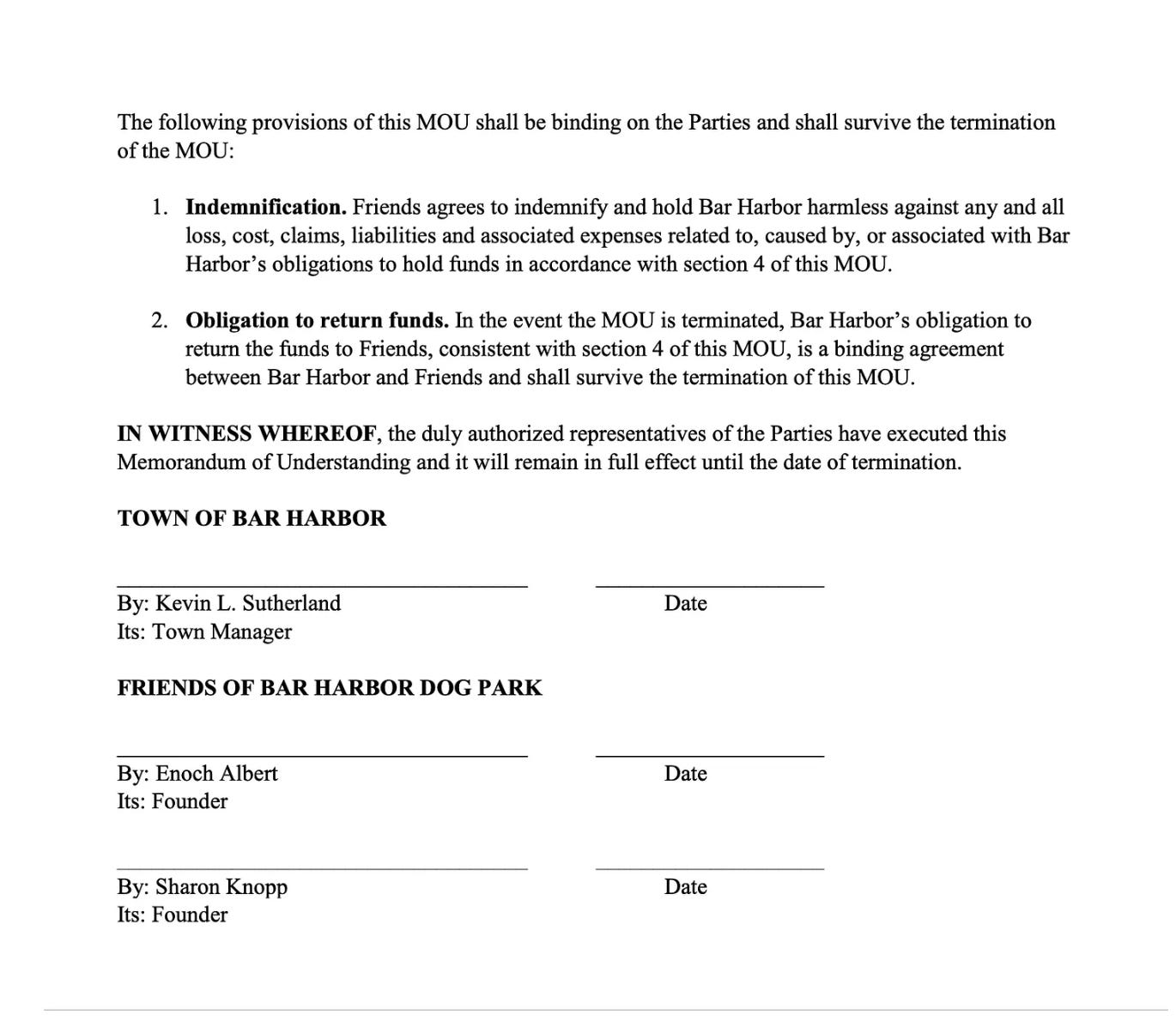 The next Parks and Recreation meeting is currently scheduled for June 5. Those meetings typically start at 4:30, which is the same time as the Conners Emerson School board meetings.
---
SCHOOL CONSTRUCTION PROJECT FORUM
Representatives from Conners Emerson School and the company guiding the school's potential reconstruction were at the school Friday night to informally answer questions from the public about the project. At least three Town Council candidates stopped by and talked to them as well (Earl Breclin, Gary "Bo" Jennings, and Kyle Shank). For our most recent story about the project, click here.
There have been several engineering reports done in the past seven years about the state of the school and its failing systems and structure. Due to water infiltration, the reports said that it would be best to build new buildings.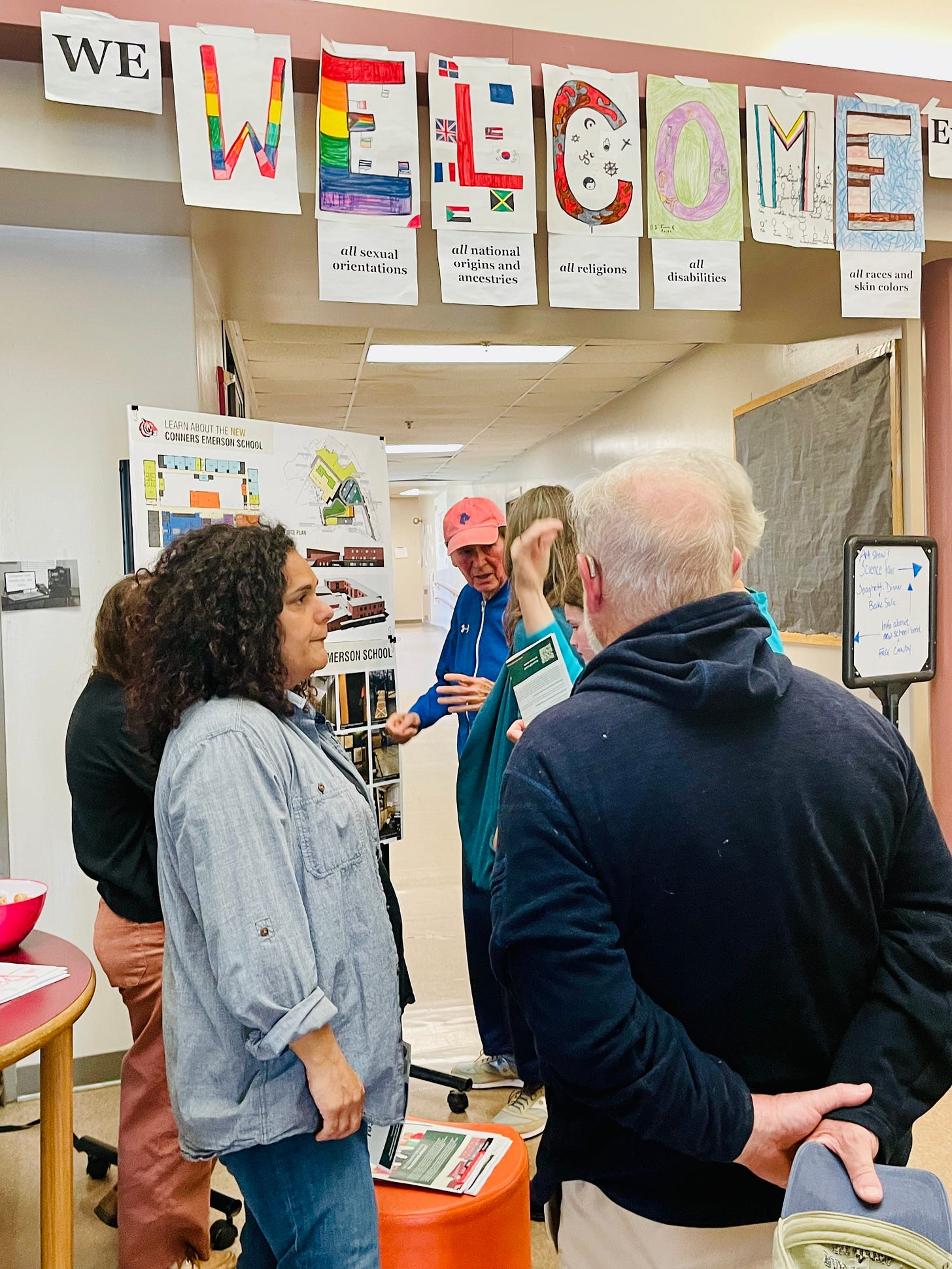 It will be up to the voters of Bar Harbor at the June election to adopt Article 2, which is the new elementary school and a bond up to $58,538,288. Webster said that even with consolidation there would always be a need for a school in Bar Harbor. Most of the consolidation plans include a Bar Harbor school.
The town's bond agent said in April that he's seen municipalities in Maine create a $40 million school project and keep the tax rate/mil rate flat for five years. Towns can often delay the first principal payment for five years, he said.
Past projections about the cost of taking out the full $58 million is that it would equate to a projected increase of $109.58 per $100,000 of home value for property owners in Fiscal Year 2025 to 2026. Then, the increase from Fiscal Year 2026 and through the life of the bond, is projected at $216.96 per $100,000 of home value. These numbers assume a 25-year bond at a 4% rate. These are the numbers if there is no fundraising, no money taken from other revenue streams (such as parking), the interest rate does not drop, and no other options to decrease the bond are found. The school committee is actively fundraising and asking for project donors but said most are hesitant to publicly commit until the bond passes.
---
FARMERS MARKET OPEN
The Bar Harbor Eden Farmer's Market opened for the first time this season on Sunday at the YMCA parking lot on Park Street. The market is every Sunday from 9 to noon.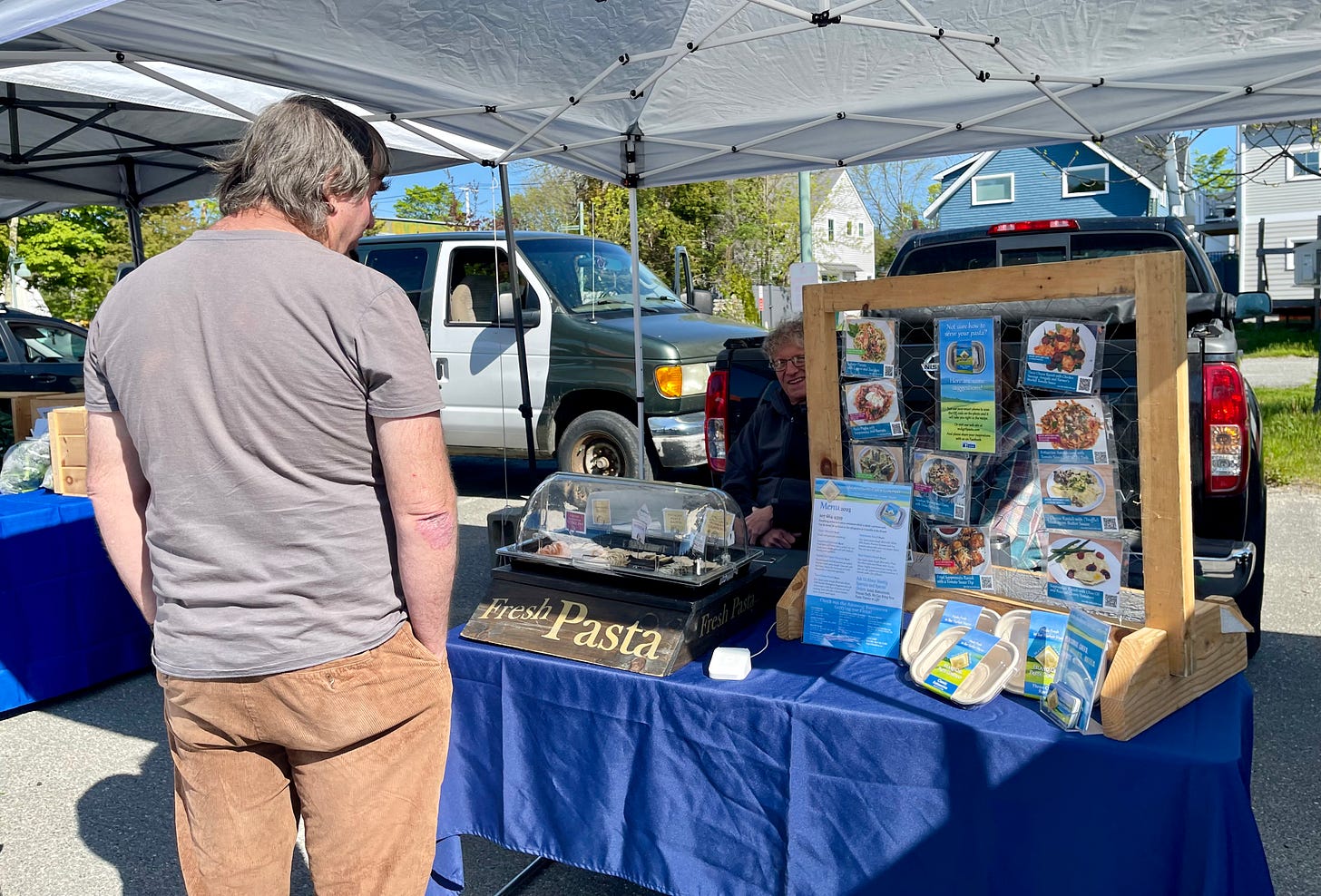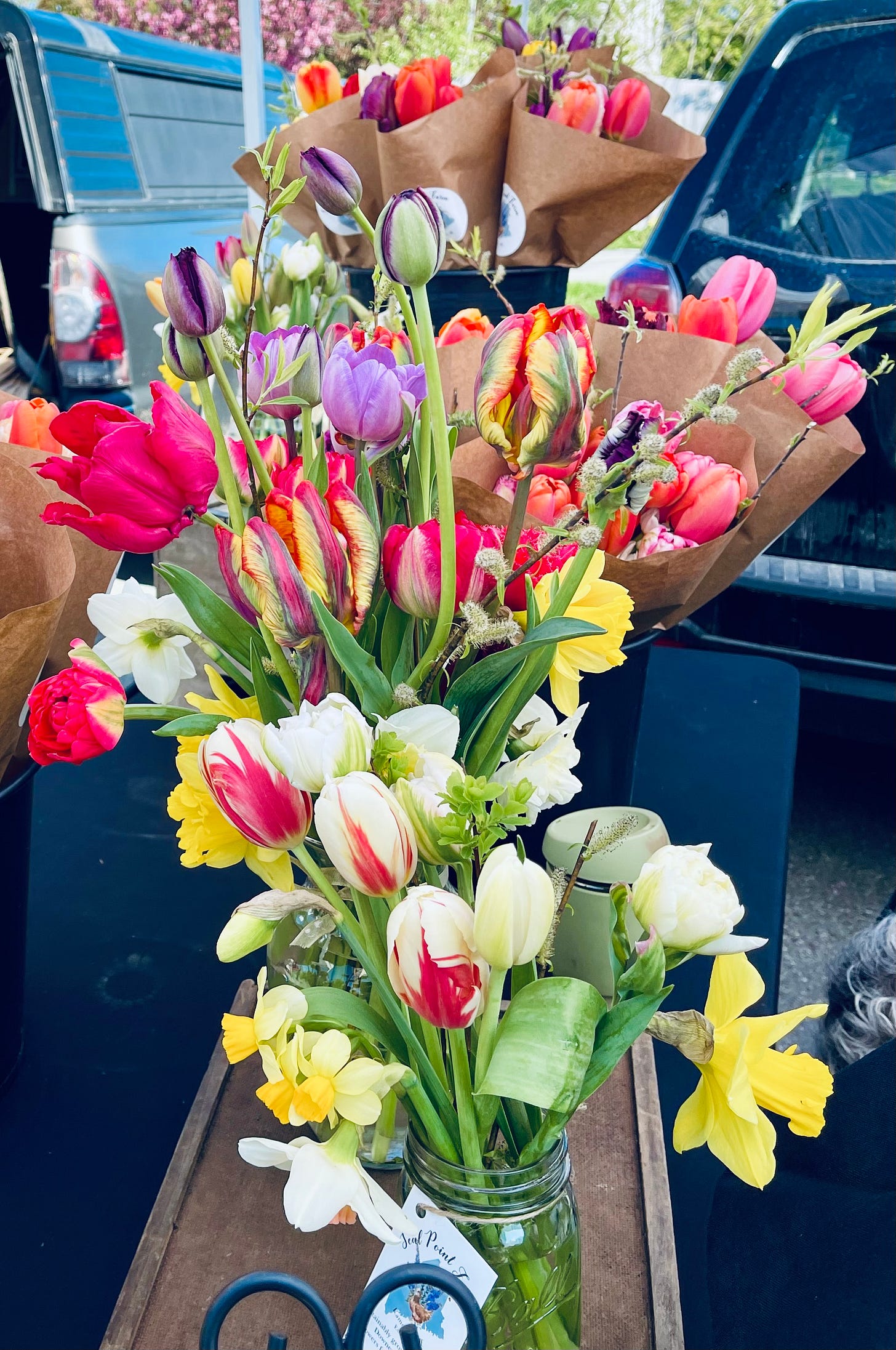 ---
MORE CONNERS EMERSON NEWS

On the same night as the reconstruction forum, the school hosted a science fair, seventh and eighth grade art shows, and eighth grade spaghetti super. There was also a bake sale fundraiser for our Science Olympiad team that is heading to the nationals in Wichita.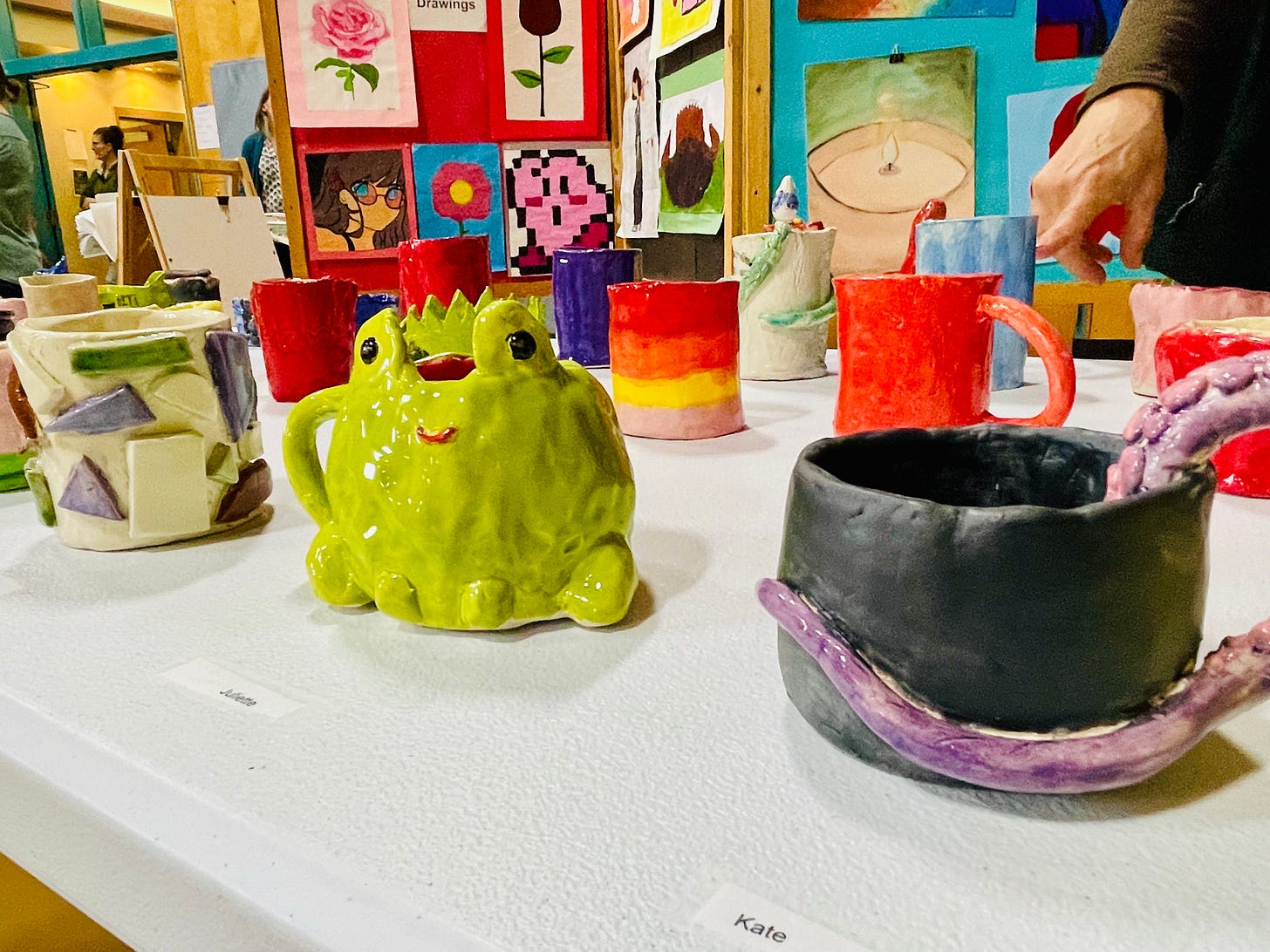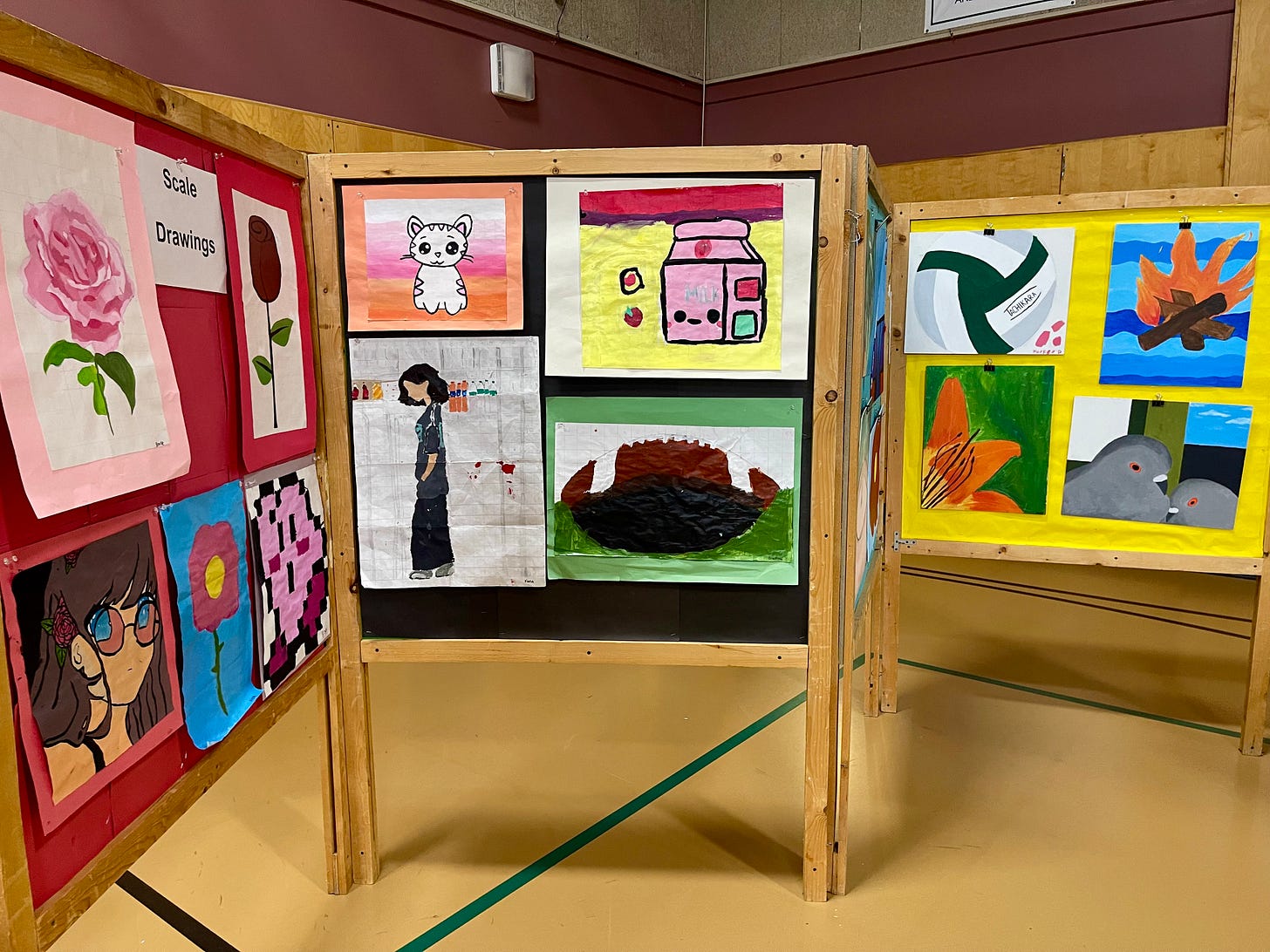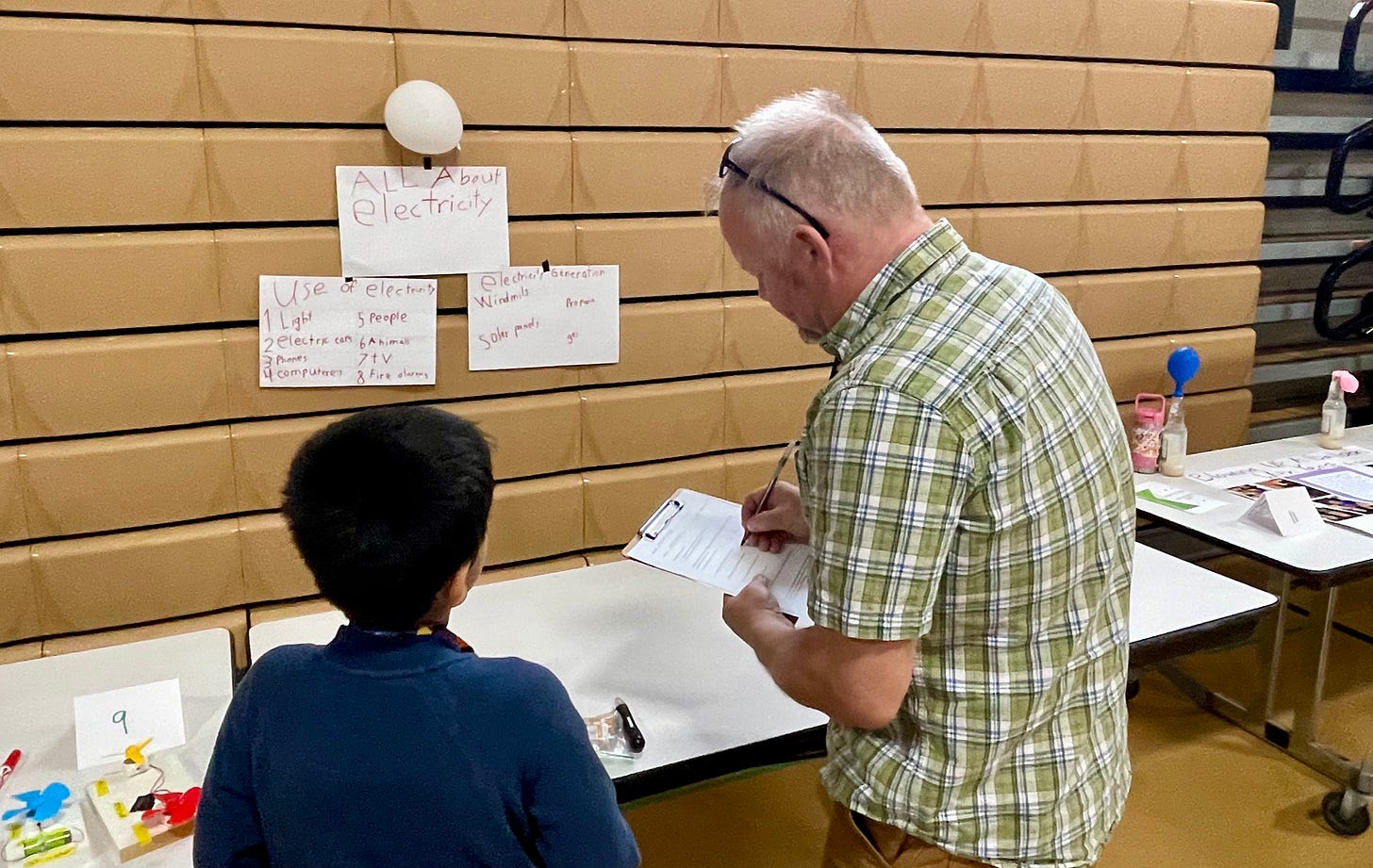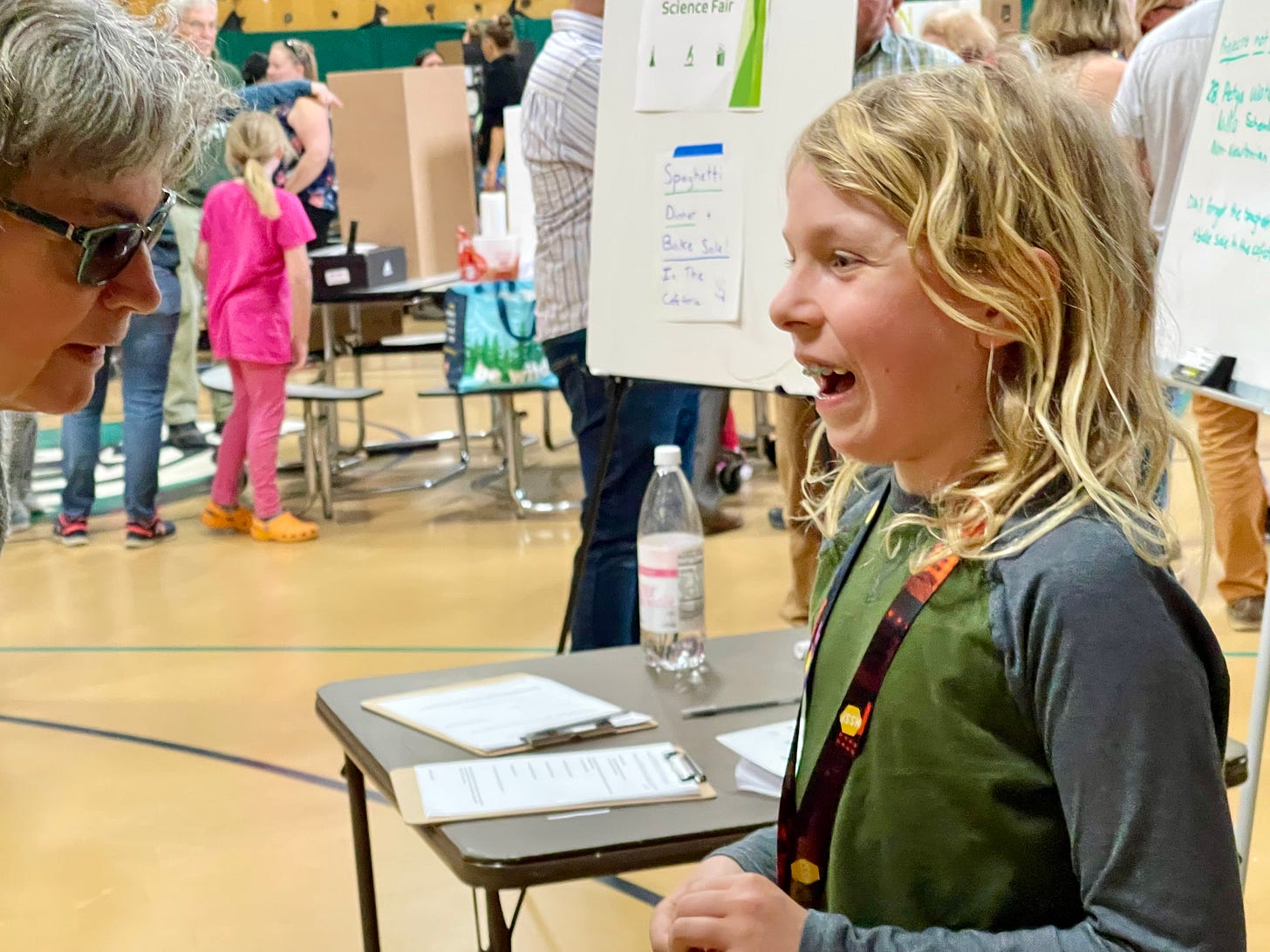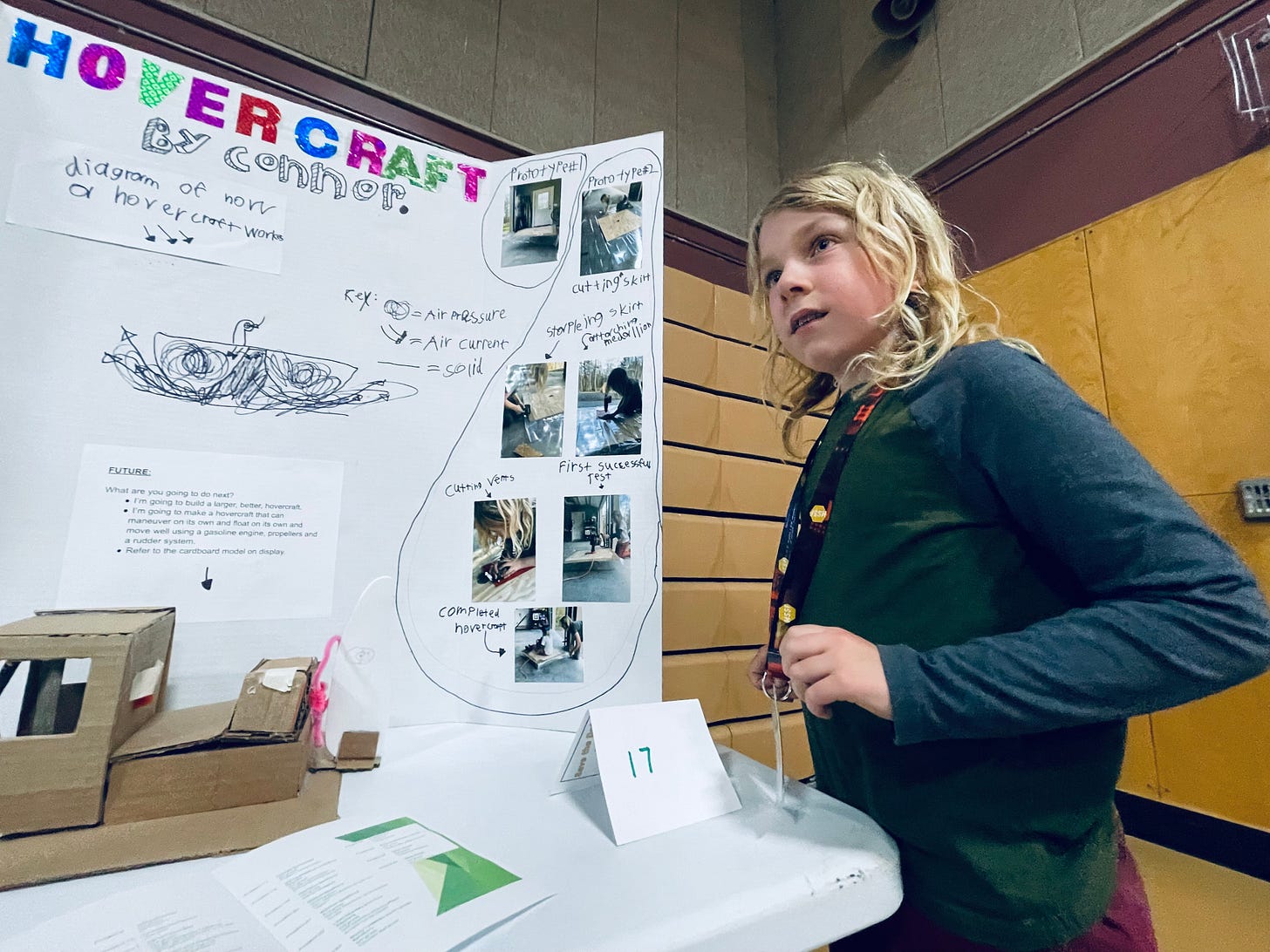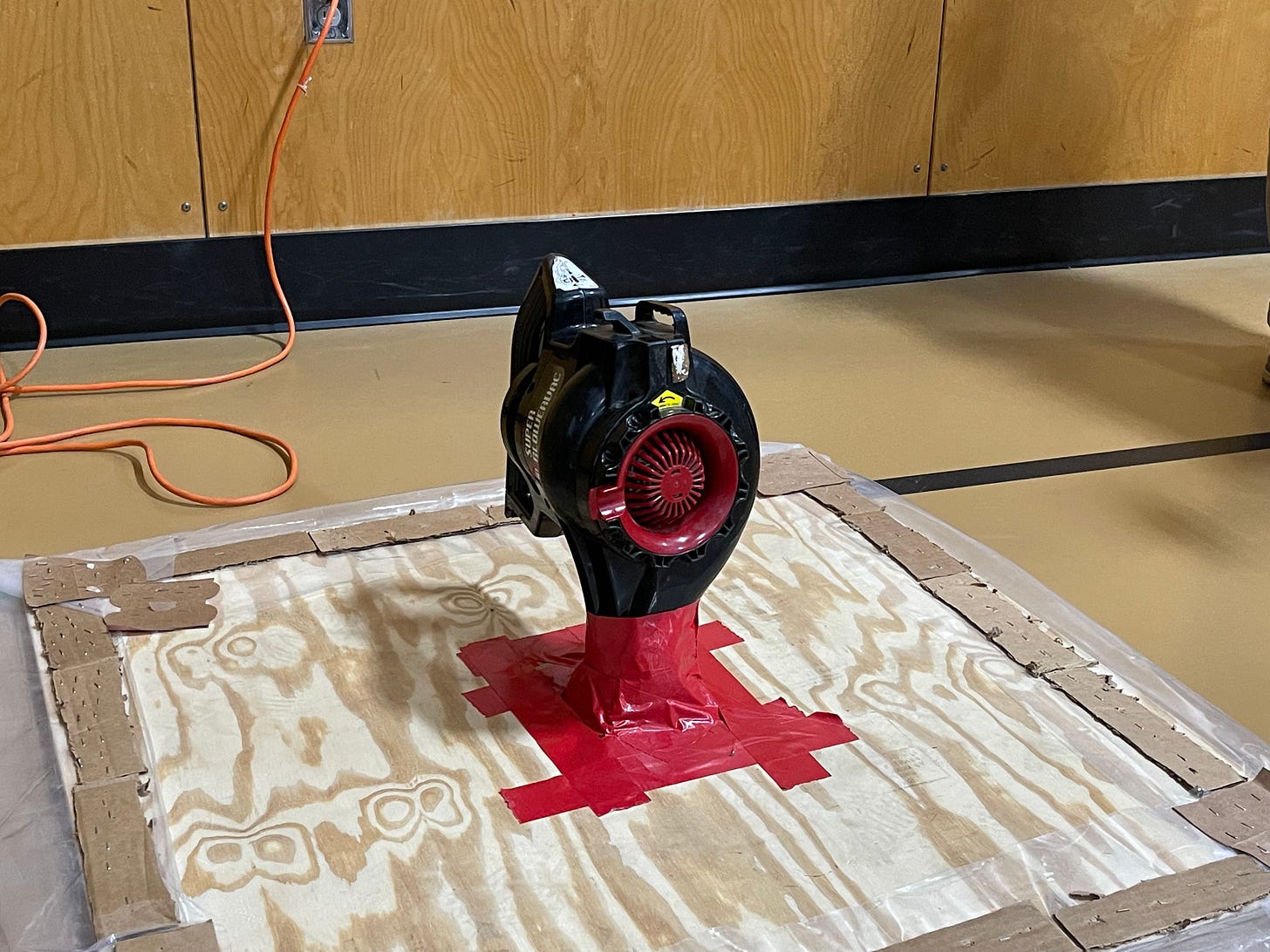 According to Principal Heather Webster, "The well-being of our students is always on our mind. One issue that continues to affect our kids is social media/internet safety. The district will be offering a parent information night at the high school on May 23rd (time to be determined) and district middle schoolers will gather at Pemetic School on May 24. More info to come!
Hancock County artist Robert Shetterly, founder of the, "Americans Who Tell The Truth" Portrait Series visited fourth graders on May 3. This was the culmination of the grade's "Heroes" unit. Tanglewood Marionettes' also performed its show "The Dragon King" for students in fifth grade and lower.
---
HIGH SCHOOL SPRING PLAYS!
Mount Desert Island High School will have two spring plays to end the season. Ionesco's "Exit the King" ran this weekend with a final performance Sunday, May 14.
The following weekend will be "Almost, Maine," on Friday, May 19 at 7 p.m. and Saturday, May 20, at 2 p.m. and 7 p.m.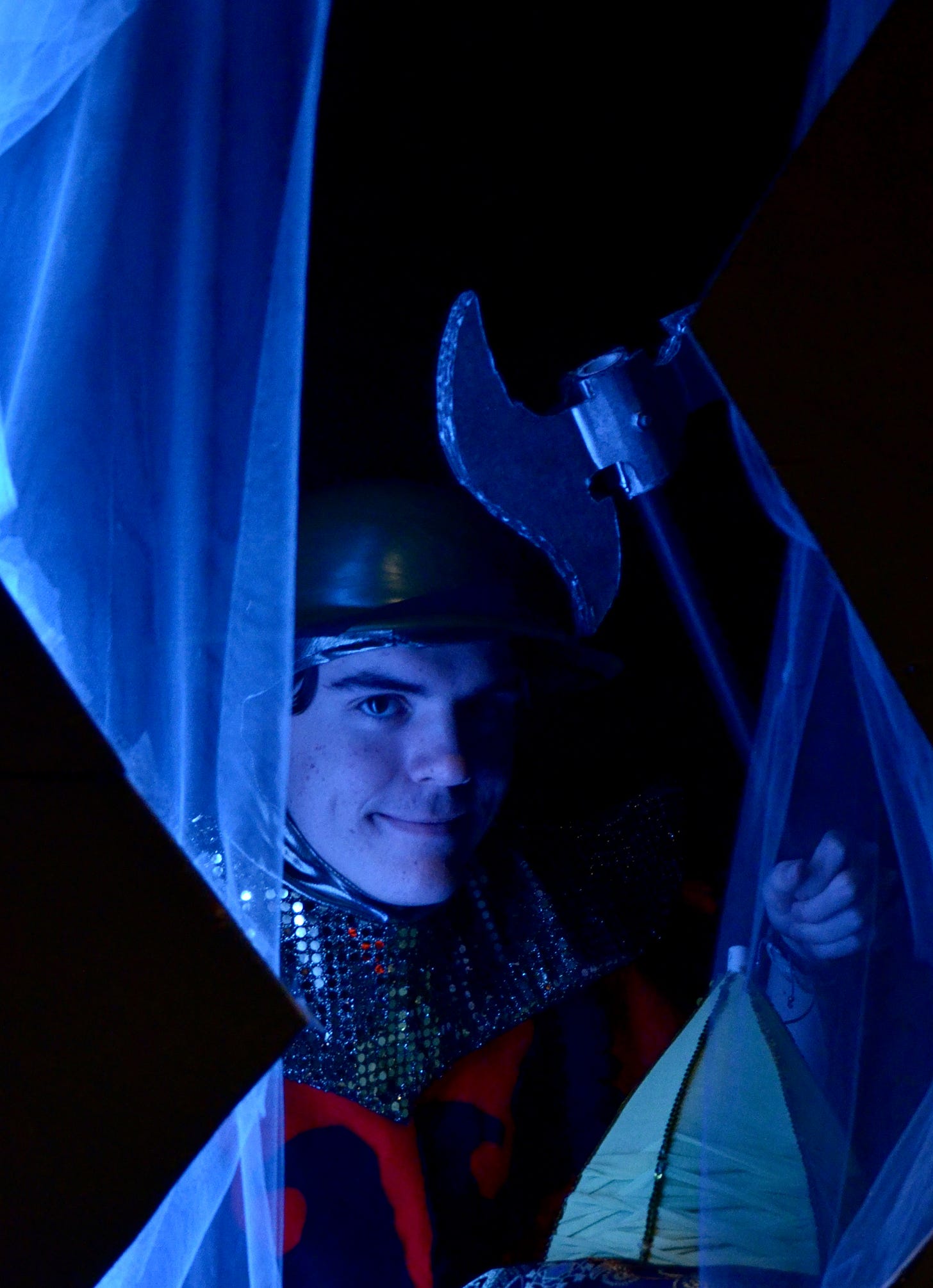 Many of the players were in the competition one act, "Orlando," although there are people who decided to audition for the spring plays and join MDI Drama for the first time. Many of the tech crew members have been with the group all year and some for multiple years.
For the seniors, it's their last production.
The rehearsal period has been extremely short with 20 scheduled and because of illnesses and other factors, there have been closer to 12.
Florian Smith moved from the role of Doctor to King on April 28 and because of prior commitments, had seven rehearsals in that part with the entire cast before opening night! The same occurred with The Guard, Graham Carter, who had just eight rehearsals.
Ryder Haines once newly cast as the Doctor learned to play the bugle to do live fanfares. He had joined the cast on the Monday before the play, so he had four rehearsals in his part before the play opened! According to Chris Dougherty, "Our tech crew, especially set designer Tessa Sanborn, has been incredible."
---
SCHOOL LINKS TO LEARN MORE
For our recent article about the bond workshop, click here.
For the school's building website, click here.
For the school board meeting and town council meeting about some of the same issues, click here and here.
---
Bar Harbor Story is a mostly self-supported publication. To receive new posts and support our work, consider becoming a free or paid subscriber.