People Joyously Making Their Community Better. Together.
MAY 1, 2023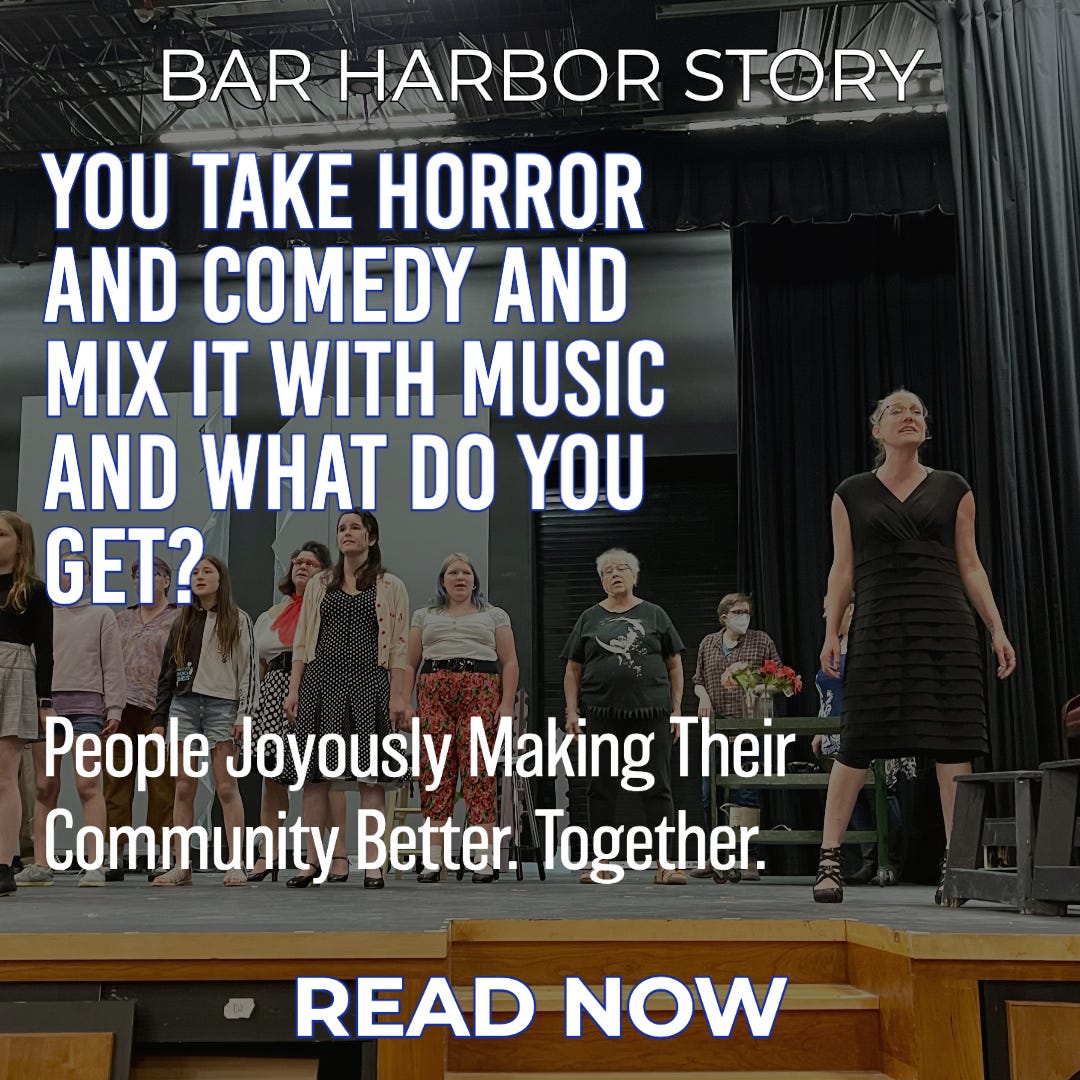 BAR HARBOR—There's a group of musicals—Les Miserable, West Side Story, The Phantom of the Opera, The Wiz, Wicked, Grease—that have created American theater on both the Broadway stages and community and high school theaters in the past few decades. They are the solid standbys, comfortable in their familiarity, joyous in their recreations.
Acadia Community Theater's (ACT) upcoming take on Little Shop of Horrors is one of those musicals. Director Angel Hochman brings the creepy classic back into the Mount Desert Island theater world with an all-star cast and crew. She and her husband, Matt Hochman, saw the movie version when it aired.
"We have always said that we wanted to do this show. It is one of those shows that we would talk about how we would stage it and who we would want as our dream cast. You know, the stuff that you dream about doing 'if only.' When it came time to pick a spring musical for ACT, it was one that we brought up, and the board agreed to let us do it," Hochman said.
However, due to her husband's town council duties and a work-related injury, he wasn't able to co-direct.
"We didn't want to put it off," she said. "That's when Kate Young stepped up and became my co-director. She is just amazing. She is the organization to my chaos. Matt is the technical director and has put together an awesome crew for us. He found our band and has put in so much time even with all the town goings on."
Not putting things off is a running theme in the musical as well. There's a lot going on about society that still pertains today.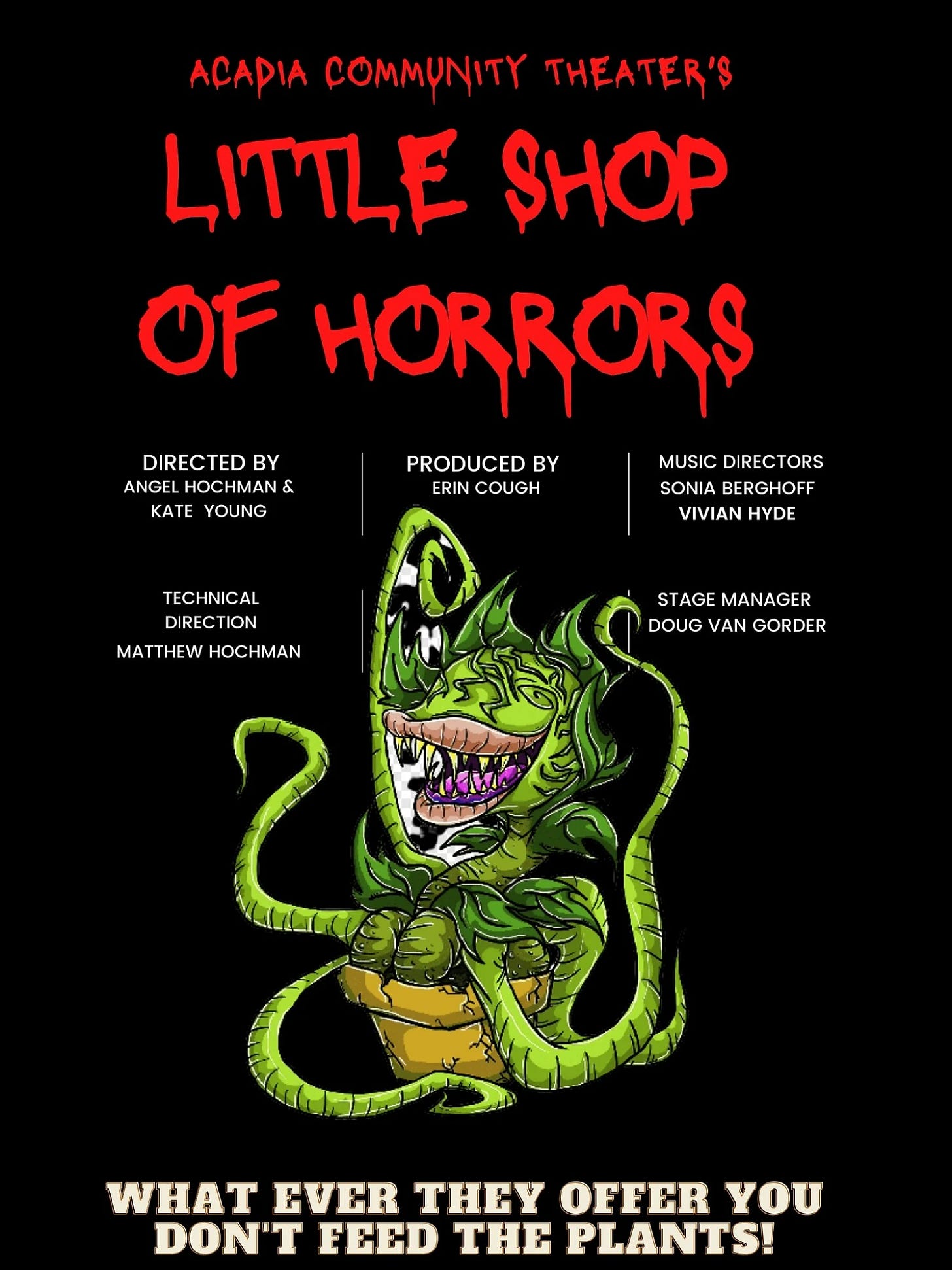 Back in 1960, it was a film. In 1986 Alan Menken and Howard Ashman combined their talents and retold the story of a somewhat clueless and sweet worker in a floral shop. He has a sickly plant, the Audrey II, that turns out can only survive on human blood or human flesh. The fresher the better.
The musical and the movie it is based on both create a contrast of slapstick and depression, goofiness and violence. The world of Little Shop of Horrors is vast and contradictory, pretty much like our own: complicated, nuanced, broad-stroked, full of horror and poignancy and false presumptions and ignored truths.
It's gruesome. It's funny. And it's also sad. It's a morality tale of the 1960s when feminine power was threatening and in 2023 when some are threatened by gender and sex again.
Audrey II is often thought of by critics as representative of the rise of female power. She's also thought of as an example of science unrestrained and wild and threatening humanity.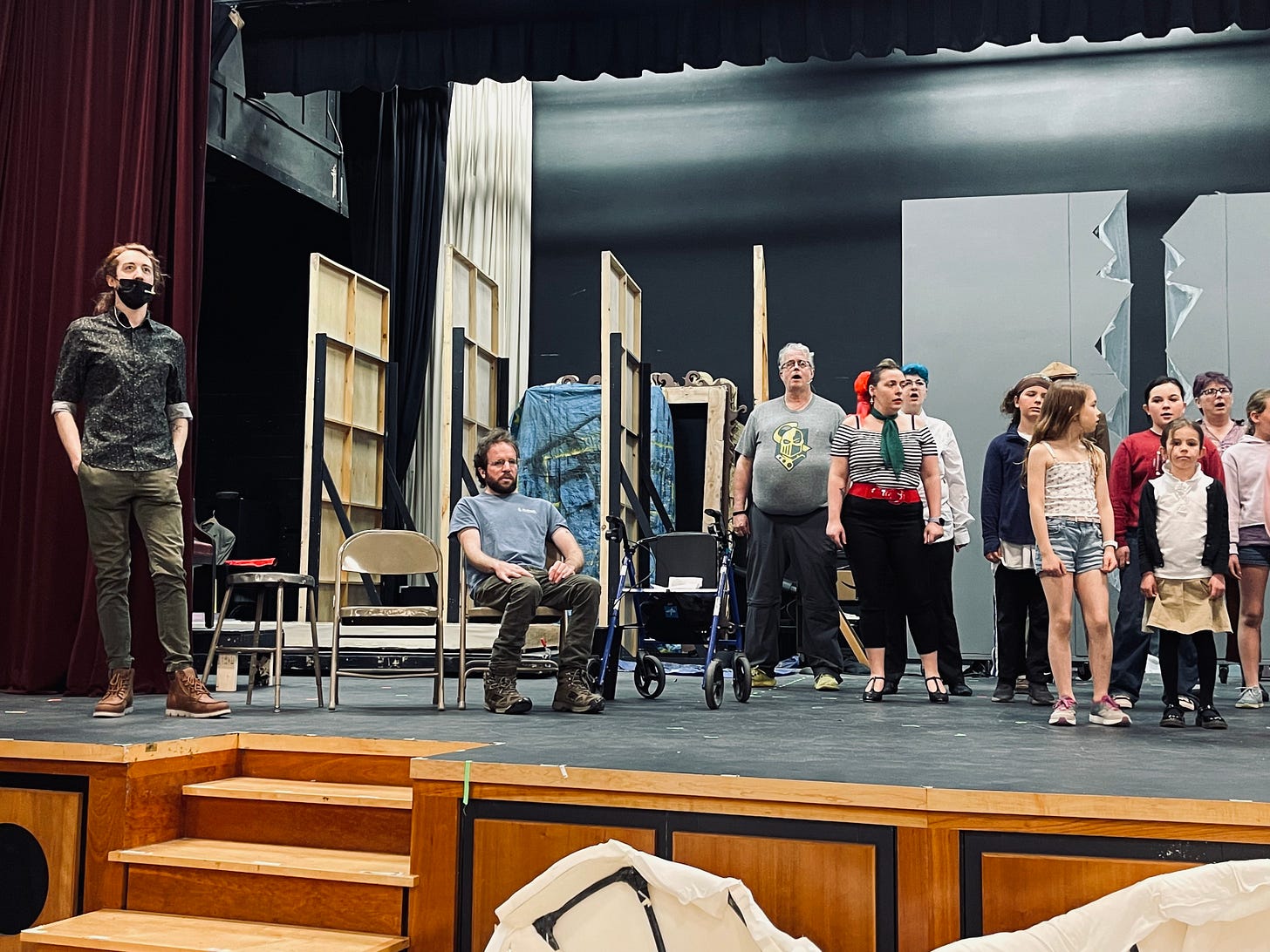 A first run-through rehearsal on Saturday afternoon at Mount Desert Island High School's theater, after a month-long hiatus where Mark Carignan jokingly said he "only practiced with myself," didn't dampen the obvious talent and zest of the cast or resonance of the musicals.
It began with the lead characters getting microphones on.
"Can I get all the principals back here, please, here? I need to mic you. No Doo-Wops!" Daxx Hochman yelled from the back of the MDI High School theater before rehearsal officially began. There was some turning around. There was some lifting of arms before Hochman sighed. "Ah, the magic of where to put the microphone."
"It can be on a waistband for now," one actor said.
"You're not wearing a belt, are you?" Hochman asked.
Doug Van Gorder who has been in 31 shows for ACT yelled, "Act one. Scene one."
"What are we doing?" someone called.
He repeated it. "Act one. Scene one."
And in the audience a child repeated, after a call for a need for a page turner for the pianist, "My mom is the page turner. My mom is the page turner. My mom is the page turner."
Van Gorder paced up the aisle and calls up, "Matt, are you God?"
Matt Hochman's voice came down from high up in the sound box, an echo. "I am. I will try to come in on cue."
The Worn Out Souls began to play. And then Matt Hochman's voice came down in the opening lines. The run-through had officially begun.
Instantly, the Doo-Wop Girls took over the stage in some exquisite blocking that never lets go even in an early run through.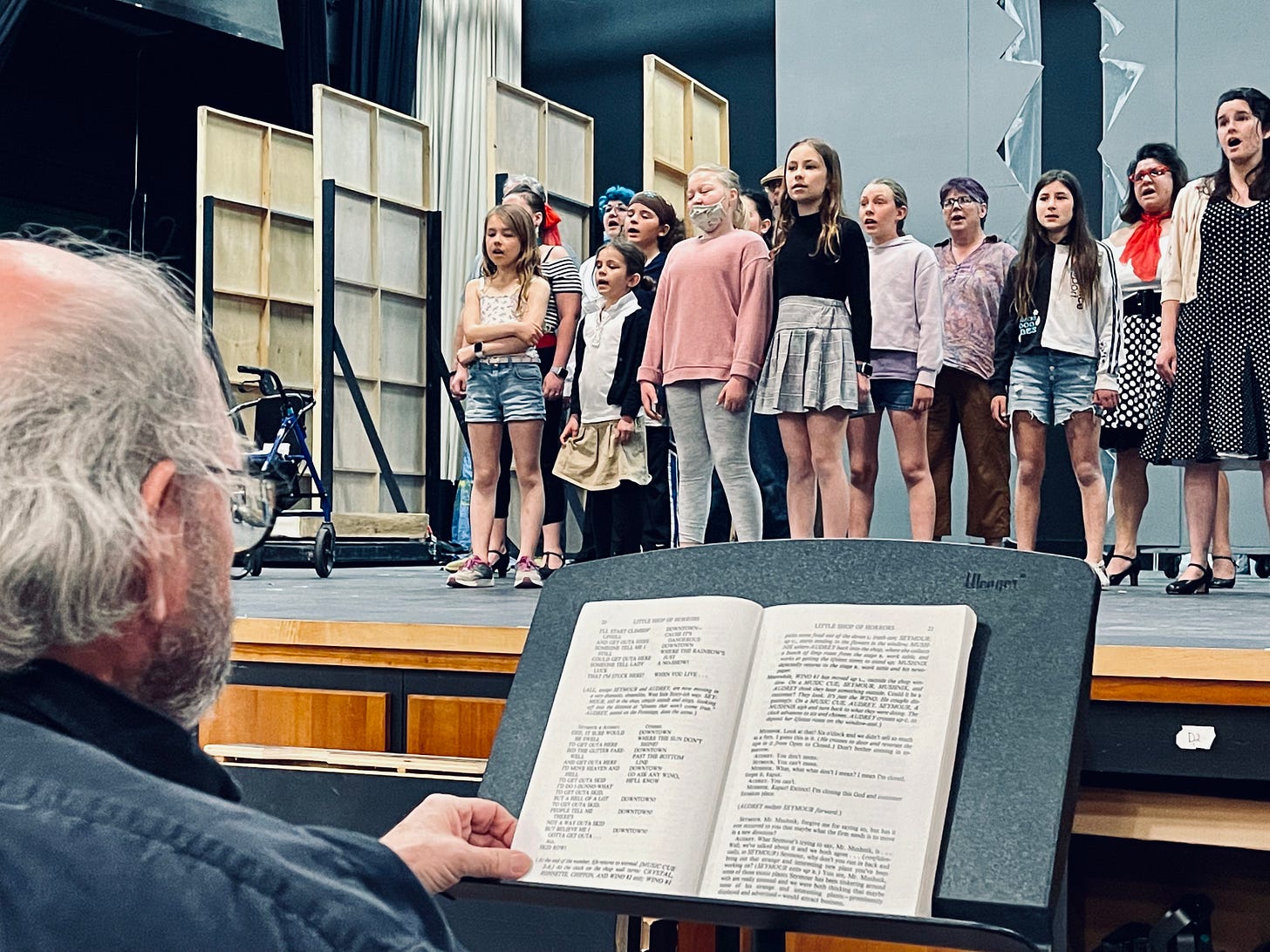 The magical "charisma" of Seymour's nerd is adorably played by Natalie Nelson, whose voice jumps into the staccato roundness with a delightful mix of articulation and gung-ho gusto. Plaintive, sincere, and tortured by love and morality, Nelson embodies the role.
The Doo-Wop girls of Deb Ashmore, Sonia Berghoff, Molly Dority, and Ally Jordan fill the stage with energy as they present a moral chorus of both empowerment and matchmaking and occasionally the desperation to get out of their own circumstances as they try to hook up the original human Audrey with Seymour.
And the original Audrey, the human Audrey, played by Jenni Mae Hopkins is hapless and broken, afraid of the anger of her semi-sadist boyfriend.
"Dump the chump," the Doo-wop girls tell her.
"Get another guy."
It's easier said than done. Audrey's dream of a sweet life with a toaster and a green yard evokes that traditional dream of what women were expected to want in decades before this one. She wants the "Pine-Sol scented air of somewhere that's green." Hopkins' angelic voice beautifully depicts that yearning.
Audrey's boyfriend, Orvin Scrivello, enthusiastically played by the stage-commanding Carignan insists he is not a monster as he sucks down some nitrous oxide and sings of abusing animals in his youth, which is why his mother guides him toward being a dentist.
Audrey 2 played by the gorgeously toned Josh Miller, whose baritone is like if a more polished John Gorka took to the musical stage instead of the folk music stage, commands attention with its deep resonance, menacing and beauty all at once.
Mr. Mushnik is played by Jonathan Bender, with a quirky cleverness and earnestness that works perfectly for the macabre.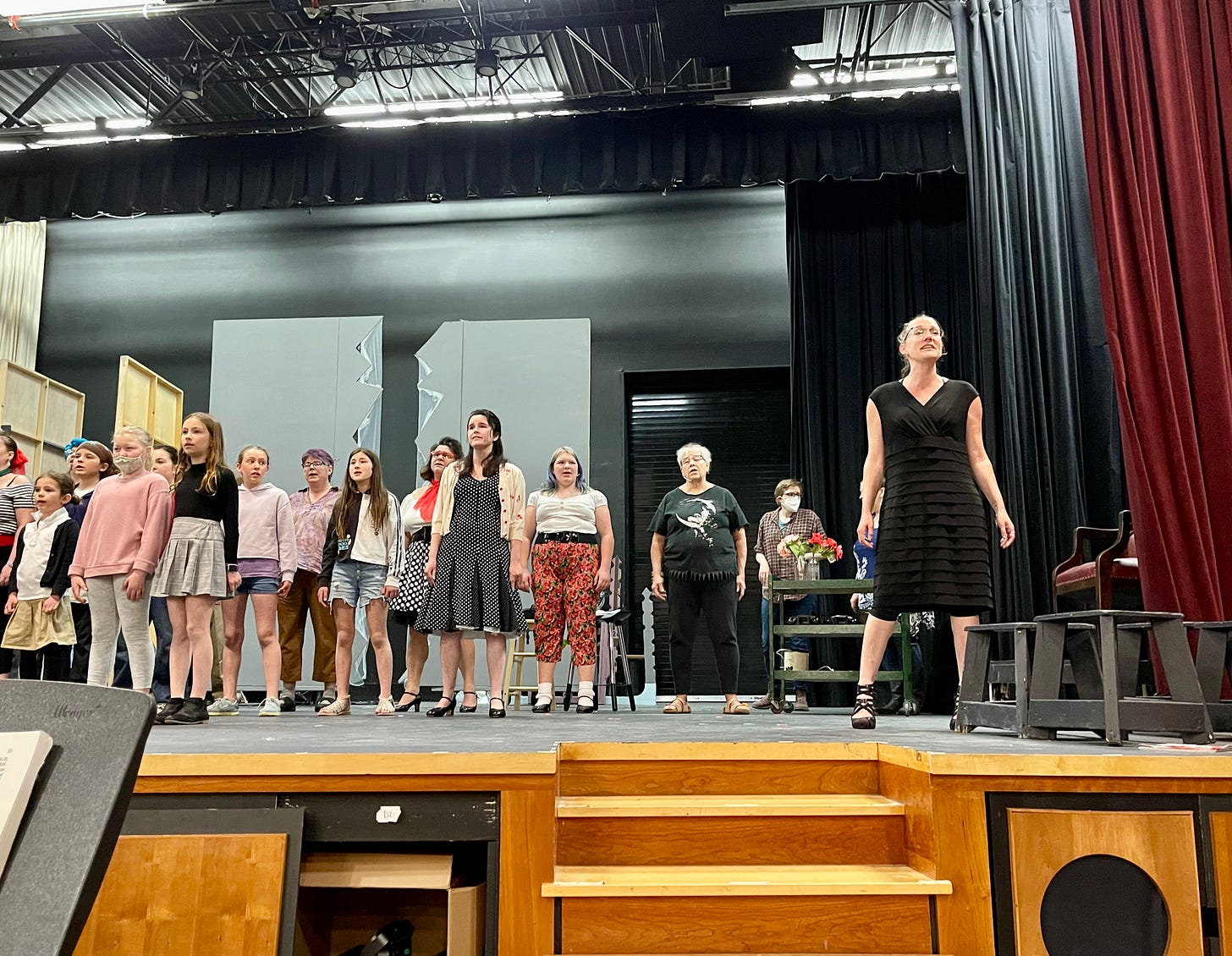 The music is a mix of old-time doo-wop, rock and Motown. "Skid Row (Downtown)", "Somewhere That's Green", and "Suddenly, Seymour" are some of the musical's standout songs.
Rose Iuro-Damon switches into three roles in one scene and makes an impact in each one, comically pulling out all the stops.
The set wasn't up yet because the group has to wait until Mount Desert Island High School is done with its own theater programs. And Young is building a large Audrey 2. The actual puppeteer is Christian Bureau.
The fabulous musical directors are Vivian Hyde and Sonia Berghoff. The band is the soulful and precise, The Worn Out Souls.
Both of Hochman's own kids are in the show. Jordan is her oldest and one of the Doo Wops. Daxx is her youngest. Daxx plays several roles (the interviewer, Patrick Martin, and a skid row bum. They are also the understudy for the dentist.
William Krason is the assistant stage manager.
The musical touches on violence, particularly in the form of domestic abuse. Hochman said that there will be domestic abuse hot line information and other information about that in the program.
"We're very aware," Hochman said of the trauma that audience members and cast might feel depicting themes like domestic abuse, murder, greed, and addiction. The materials in the program will hopefully be a resource to help and inform, a crucial part of making the community better and safer even as audience members, cast, crew and musicians get to dive into the world of campy horror. Together.
As the lyrics of "Somewhere that Green" hope,

"As the sun sets in the west
A picture out of Better Homes and Gardens magazine
Far from Skid Row
I dream we'll go
Somewhere that's green."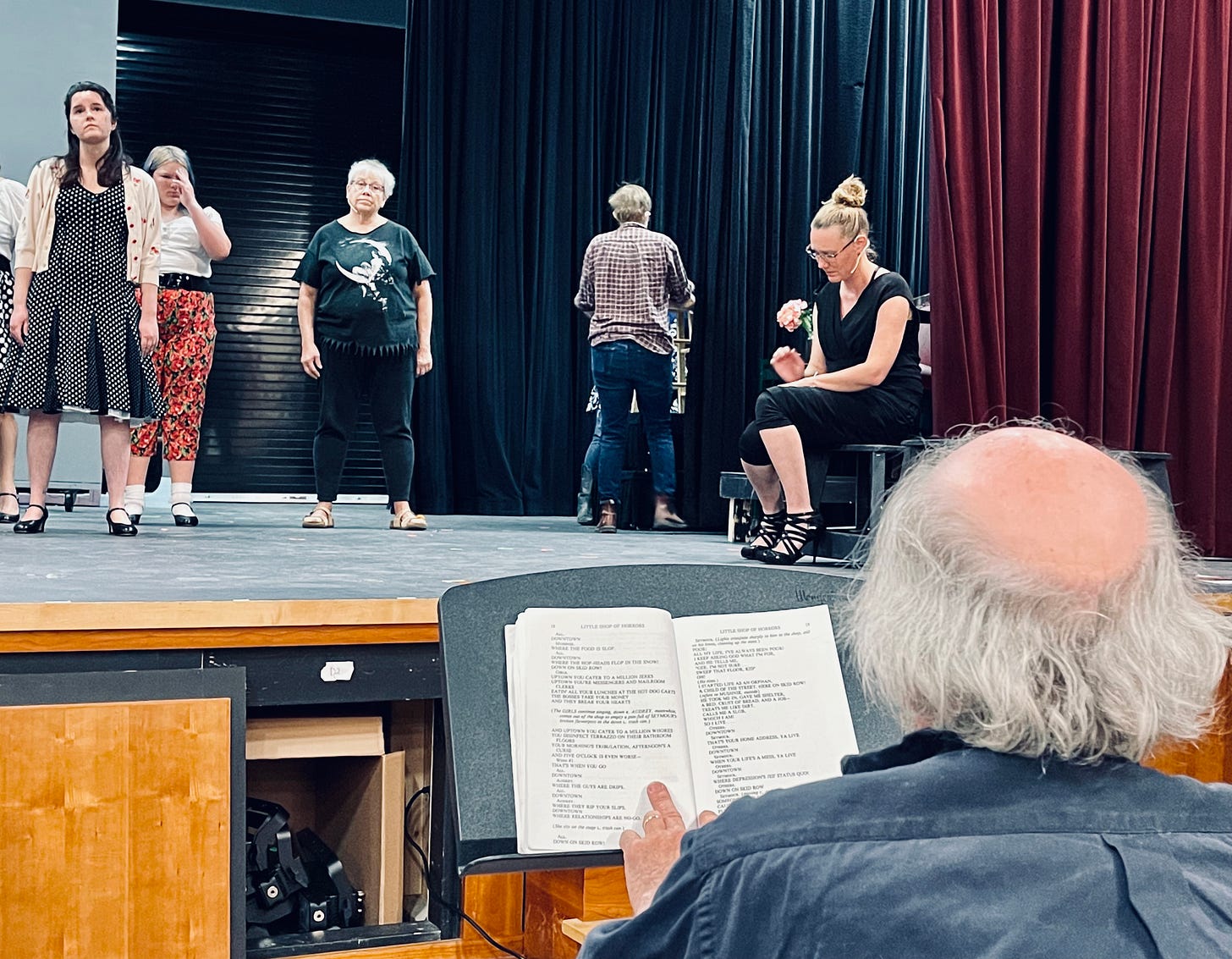 The musical premieres June 2 and 9 at 7 p.m, June 3 and 10 at both 2 p.m and 7 p.m. The musical will be performed at the Higgins/Demas Theatre at MDI High School. Auditions were in mid-December and the performances were postponed about a month due to COVID issues and issues with the heating in the group's winter rehearsal space. The show is produced by Erin Cough, the group's treasurer.
According to its website,
"Acadia Community Theater, or ACT, seeks to enrich the lives of individuals, families and the community by encouraging growth and expression in theater arts and by providing live performances on and around Mount Desert Island.

"In 1994 a group of teachers formed the "After School Players" to stage shows for and including children in the Mount Desert Island, Maine area. This group was subsequently renamed the Union 98 Teachers' Theater. According to an e-mail from Debbie Mountford, that first group included Mark Puglisi, Maryann Van Dorn, Debbie Mountford (nee Hacket), Paul Winkler, Paula Richardson-Gannon "and whoever else we could nab!"
"In 2000, the group formed the non-profit corporation Acadia Community Theater and shortly thereafter was recognized by the IRS as a 501(c)3 charitable organization. The activities of Acadia Community Theater are overseen by a volunteer board of directors."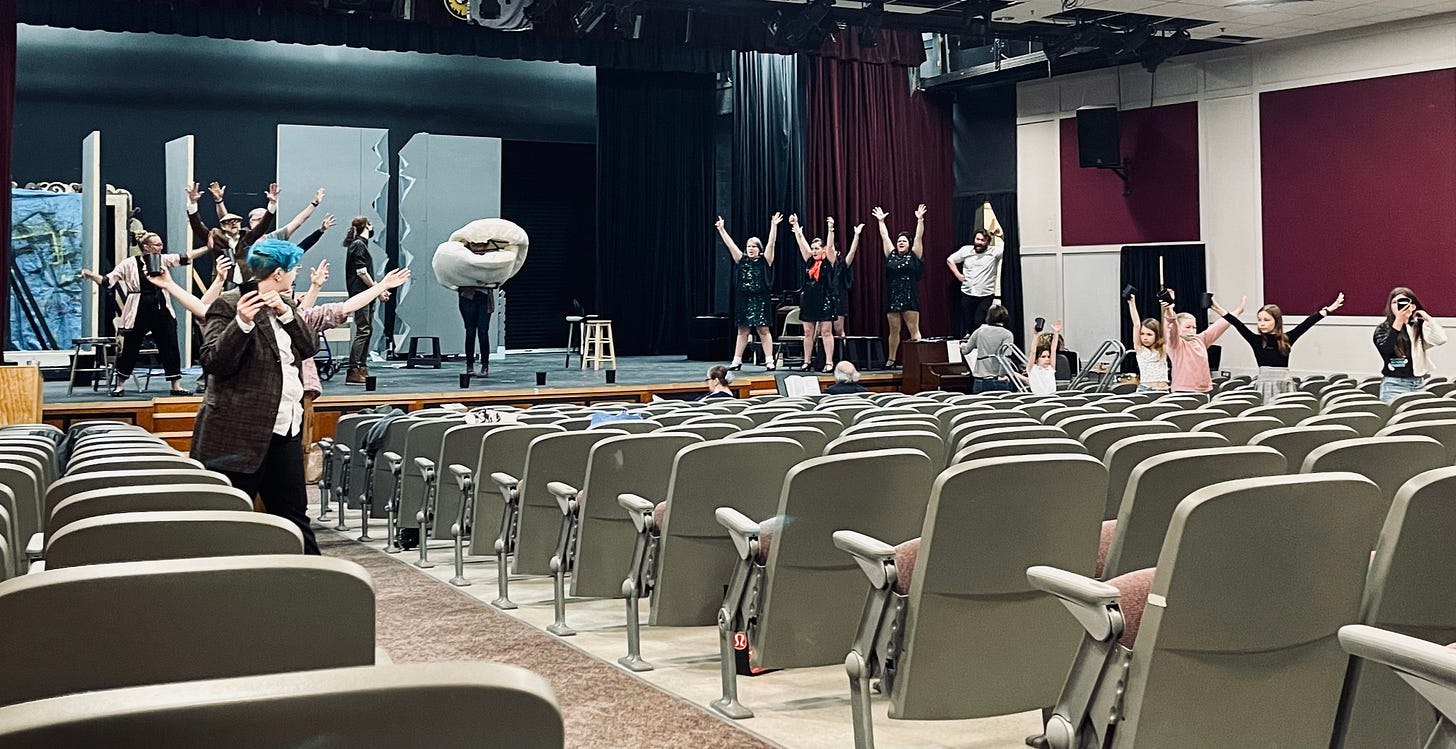 To find out more about Acadia Community Theater and/or donate, click here.
Lyrics for "Somewhere That's Green."
---
Bar Harbor Story is a mostly self-supported publication. To receive new posts and support our work, consider becoming a free or paid subscriber.