April 18
APR 18, 2023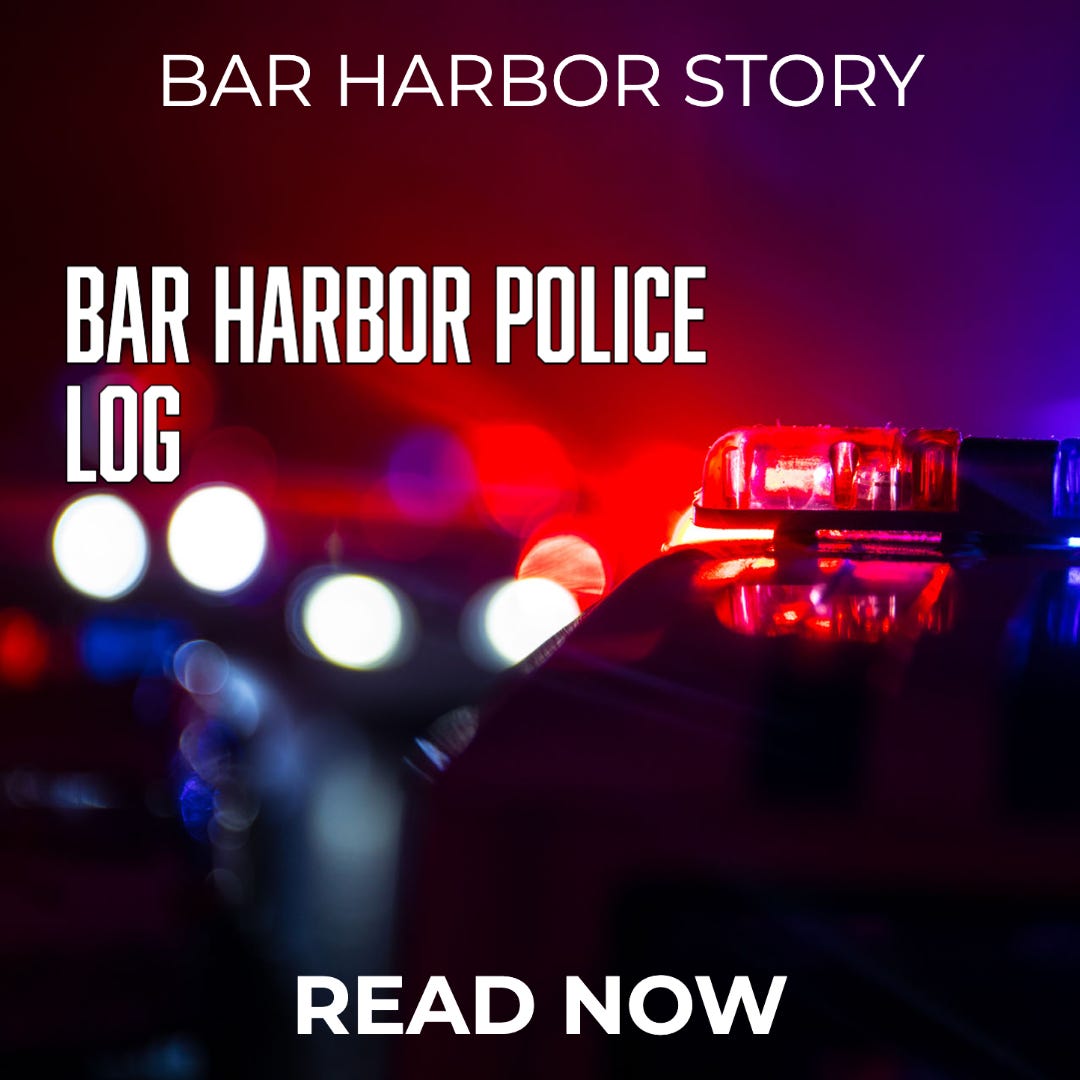 BAR HARBOR— Officer Stanwood assisted Acadia National Park rangers with a fatal climbing accident at Otter Cliffs where a young man fell approximately 25 feet on Friday afternoon. Bar Harbor police officers and fire department personnel as well as Acadia National Park rangers responded.
According to scanner traffic, Bar Harbor personnel were helping with an extrication off the Beehive on Tuesday afternoon as this story is going to press.
Officer Elias Burne and Ezra Hallett spoke to the juniors at MDI High School about life after high school.
The following incidents occurred in Bar Harbor last week according to the Bar Harbor police log, which is publicly released information.
---
Monday, April 10, 2023
Officers assisted the Bar Harbor Fire Department on a medical call.
Officer Liam Harrington responded to a noise complaint but could not locate the source of the noise.
Belinda Lawson, 69, of Seal Cove, was operating a 2022 Mitsubishi Outlander and was approaching a stop sign when she allegedly attempted to change lanes, allegedly striking a 2012 Ford Fusion operated by Richard Blaisdell, 76, of Bar Harbor. There were no reported injuries but the vehicles suffered reportable damage.
The police department received a motor vehicle complaint about a vehicle on Route 102, heading north off the island. The complaint was relayed to the Maine State Police as there were no Bar Harbor officers in position to locate the vehicle.
---
Tuesday, April 11, 2023
After conducting a motor vehicle stop, Officer Troy Stanwood summonsed Kayla Conley, 28, of Ellsworth, for allegedly operating a motor vehicle after driver's license suspension.
Officer Stanwood took a report of suspicious activity. The complaint was forwarded to another agency.
Brian T. Ireland, 36, of Ellsworth, was operating a 2015 Dodge Dart on Crooked Road when a deer entered the roadway in front of Ireland's vehicle. Ireland's vehicle suffered minor damages and there were no reported injuries.
Officer Kaleb Payson handled a complaint regarding a civil matter.
---
Wednesday, April 12, 2023
Officer Tim Bland assisted the Maine Department of Health and Human Services with a home visit.
Sgt. Leigh Guildford assisted another agency with trying to locate a subject.
Officer Jerrod Hardy took a complaint about a possible trespass issue and is investigating the complaint.
Lt. Kevin Edgecomb removed a tow strap from the intersection of Norway Drive and Eagle Lake Road and set it off to the side of the road.
Sgt. Guildford removed some drug paraphernalia from the side of a road.
Officer Hardy handled a motor vehicle complaint and spoke to both parties involved.
Sgt. Doug Brundrett assisted with getting involuntary committal paperwork signed for a patient at MDI Hospital.
---
Thursday, April 13, 2023
A resident brought some old ammunition to the police department to be disposed of.
Officer Stanwood responded to a complaint of a motor vehicle allegedly crossing the lines on the roadway and fluctuating its speed. Officer Stanwood was able to locate and stop the vehicle and after investigation it was found that the operator was not impaired but had been working all day and was tired. The vehicle operator was warned for their motor vehicle operation.
Officer Stanwood took a report of a dog in a hot car. Officer Stanwood found the dog not to be in any distress but did contact the owner of the dog.
A resident on the Indian Point Road reported hearing gunshots. Officer Hardy investigated and deemed the complaint to be unfounded.
---
Friday, April 14, 2023
Officer Stanwood conducted a property check at the request of the property's caretaker.
Assistant Harbormaster Chris Johansen had an email forwarded to him regarding an oyster pen that had washed ashore in Northwest Cove.
---
Saturday, April 15, 2023
Officer Elias Burne assisted an individual with fingerprinting for an application.
Officer Burne responded to a report of a vehicle stuck in the sand at the entrance to Bar Island. Acadia Towing assisted the vehicle.
Officer Burne conducted a welfare check on a subject.
Officer Liam Harrington took a noise complaint.
---
Sunday, April 16, 2023
Officer Harrington conducted a well-being check on a subject at the request of another person.
Officer Caleb Mora took a request from another agency to try and locate a group of missing people in an area of Bar Harbor. The area was checked and the group was not located.
After receiving complaints about vehicular speeding on Route 3 in the area of Schoolhouse Hill, Officer Stanwood conducted speed enforcement in that area and issued multiple warnings to vehicle operators for speed violations, expired inspections, and expired registrations.
Officer Burne responded to a report of a possible domestic altercation and found that it was only verbal in nature. The parties were separated for the night.
Officer Burne spoke to an intoxicated couple who then walked home.
Yohann A. Edwards, 36, of Bar Harbor was attempting to park a 2011 Dodge Van in a marked parking space at 315 Main Street and allegedly collided with the building. There was damage to the building and the van. Edwards was issued a summons for alleged failure to maintain control of a motor vehicle.
---