After Deployment Ben Noyes Wanted To Honor His Boss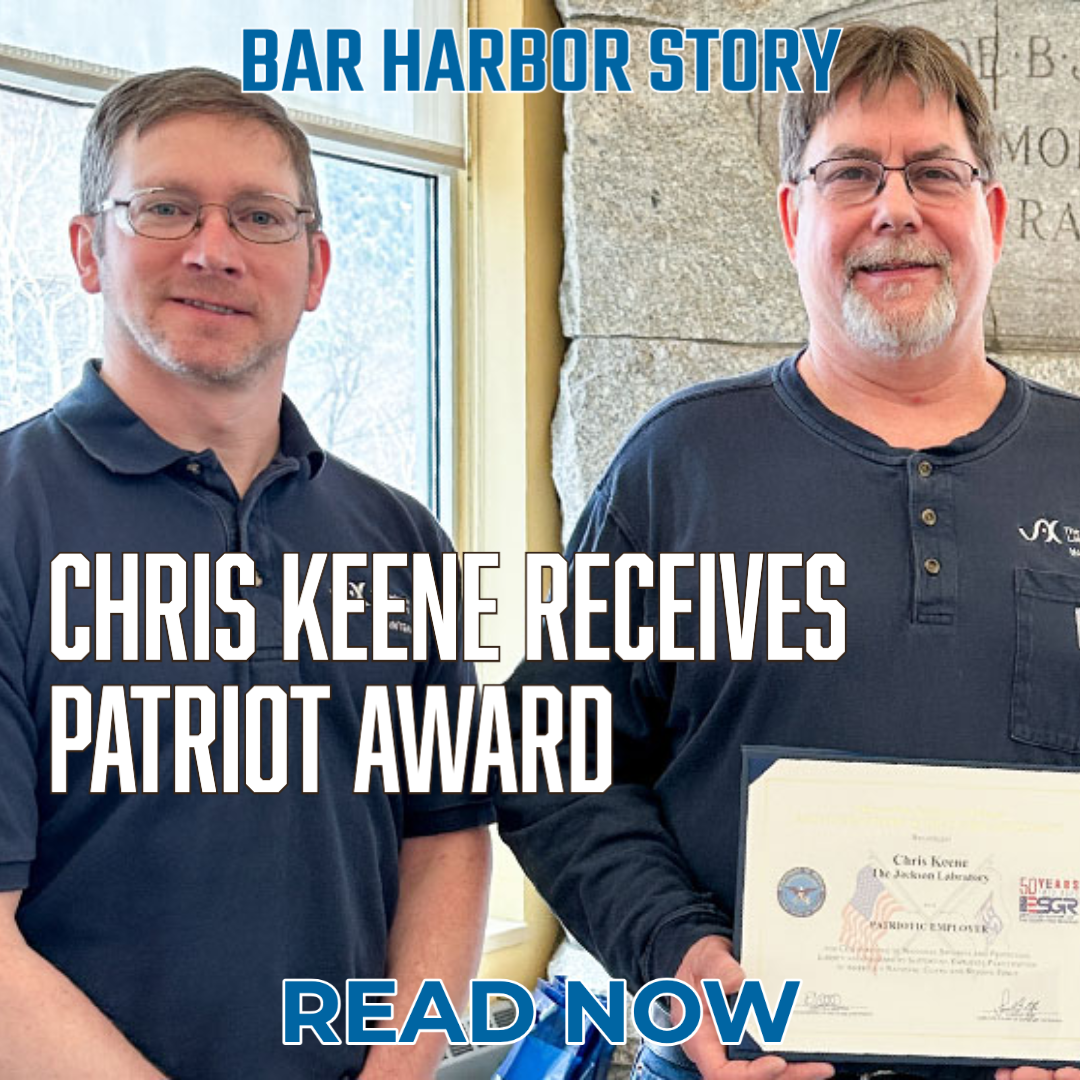 BAR HARBOR—The men, dressed in the navy blue shirts with the Jackson Laboratory logo and similar glasses, quietly sat in the front row at Roscoe's. Dozens of fellow employees sat behind them.
"I wouldn't miss this for the world," a woman whispered as everyone waited for the ceremony to start.
And as John Fitzpatrick, the lab's senior director of facilities services and a Bar Harbor resident made his way to the podium, another lab employee murmured, "Here we go…. Here we go…."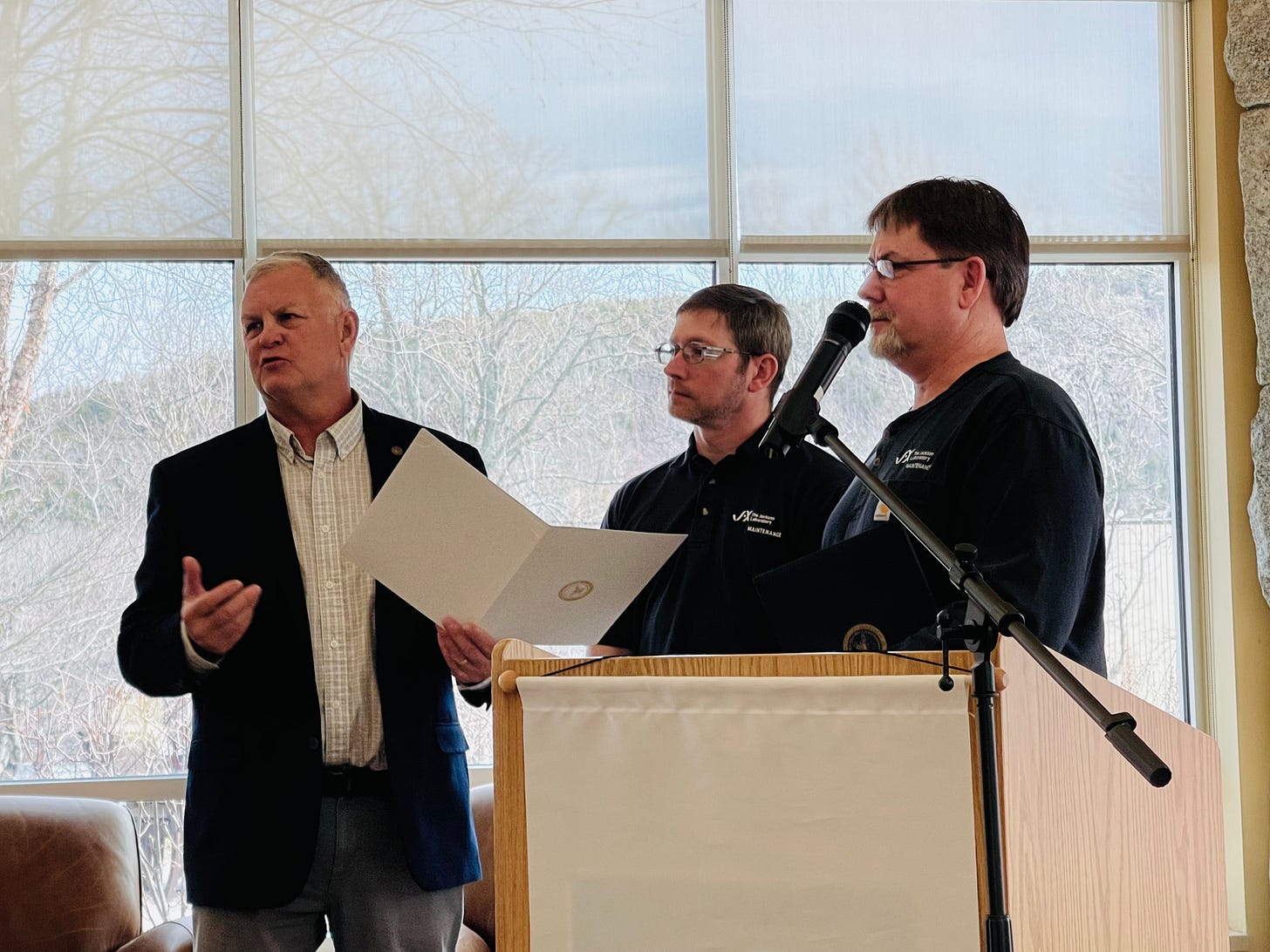 Fitzpatrick stood between the massive stone fireplace and the podium, facing those quiet men, and told the crowd that they were there to celebrate its own employees, not for years of service to the local nonprofit, not even for how well they do their jobs, but instead for being there for each other, for supporting the lab and the country and the community, and for their team members picking up the slack when one of their own, Ben Noyes, deployed to Iraq for multiple months. Noyes is a Jackson Laboratory automation technician II and E6 technical sergeant in Maine's Air National Guard.
During the Thursday afternoon ceremony, Chris Keene, Noyes' direct supervisor received the Service Member Patriot Award, which is awarded to a supervisor or boss who directly provided support to the member of the military that nominated him. Noyes was that member of the military.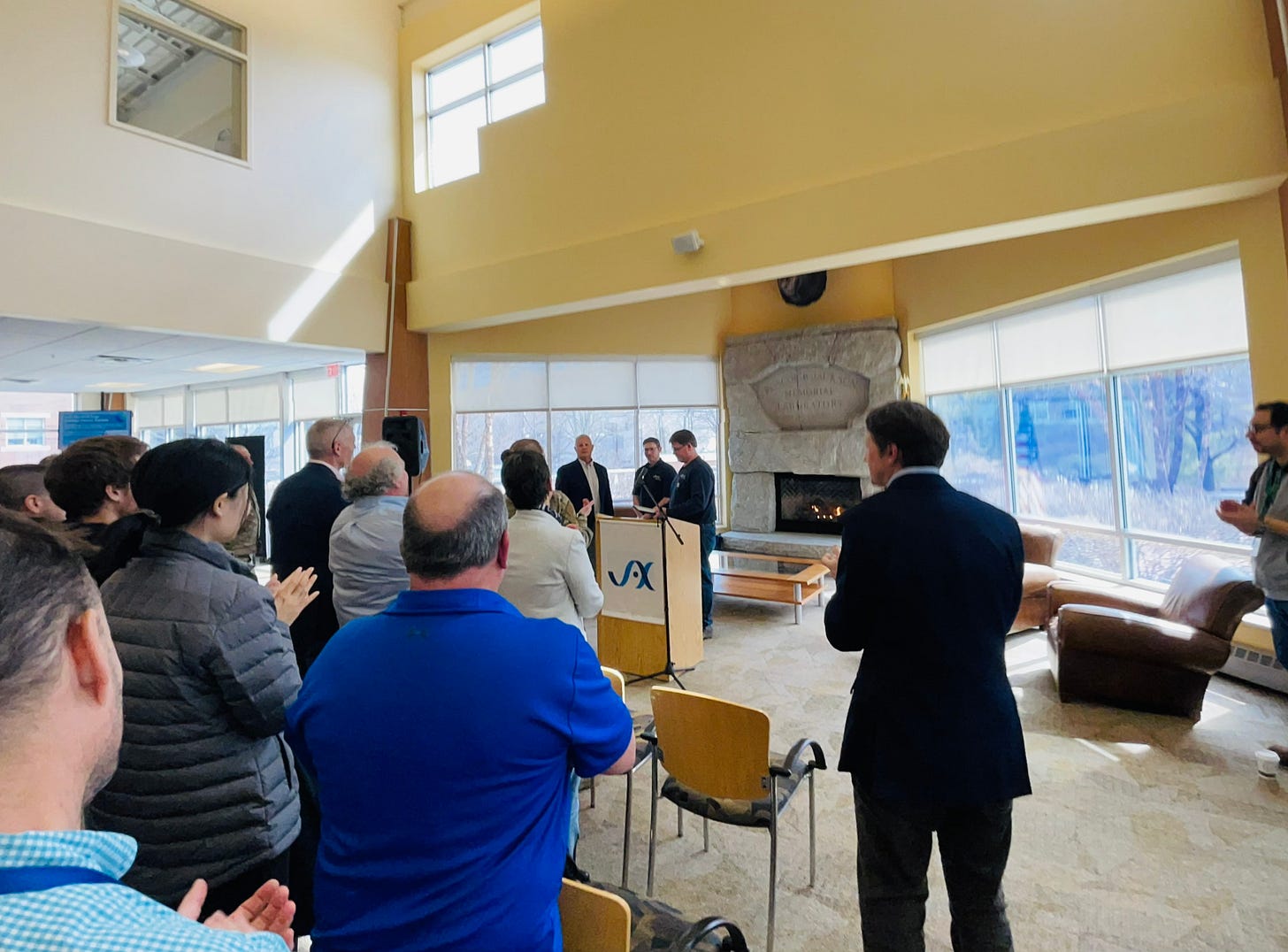 By the ceremony's end, everyone understood what Chris Keene's support and kindness meant for Noyes, the Air National Guard, and for his coworkers.
Some people quietly make a difference in the lives of their employees and the lives of their country every day. That effort was applauded Thursday when U.S. Army Brigadier General (Ret.) Dwaine Drummond presented Keene with the Service Member Patriot Award due to his support when Noyes deployed.
"Chris sets the bar for doing everything the right way," Fitzpatrick said of Keene. Keene (Navy) had also served in the military. Fitzpatrick also said that Keene was humble, compassionate, and supportive as a supervisor to his team.
Standing in front of the podium, Keene faced the group and said, "Thanks to the Jackson Lab that puts me in a position where I can make a difference."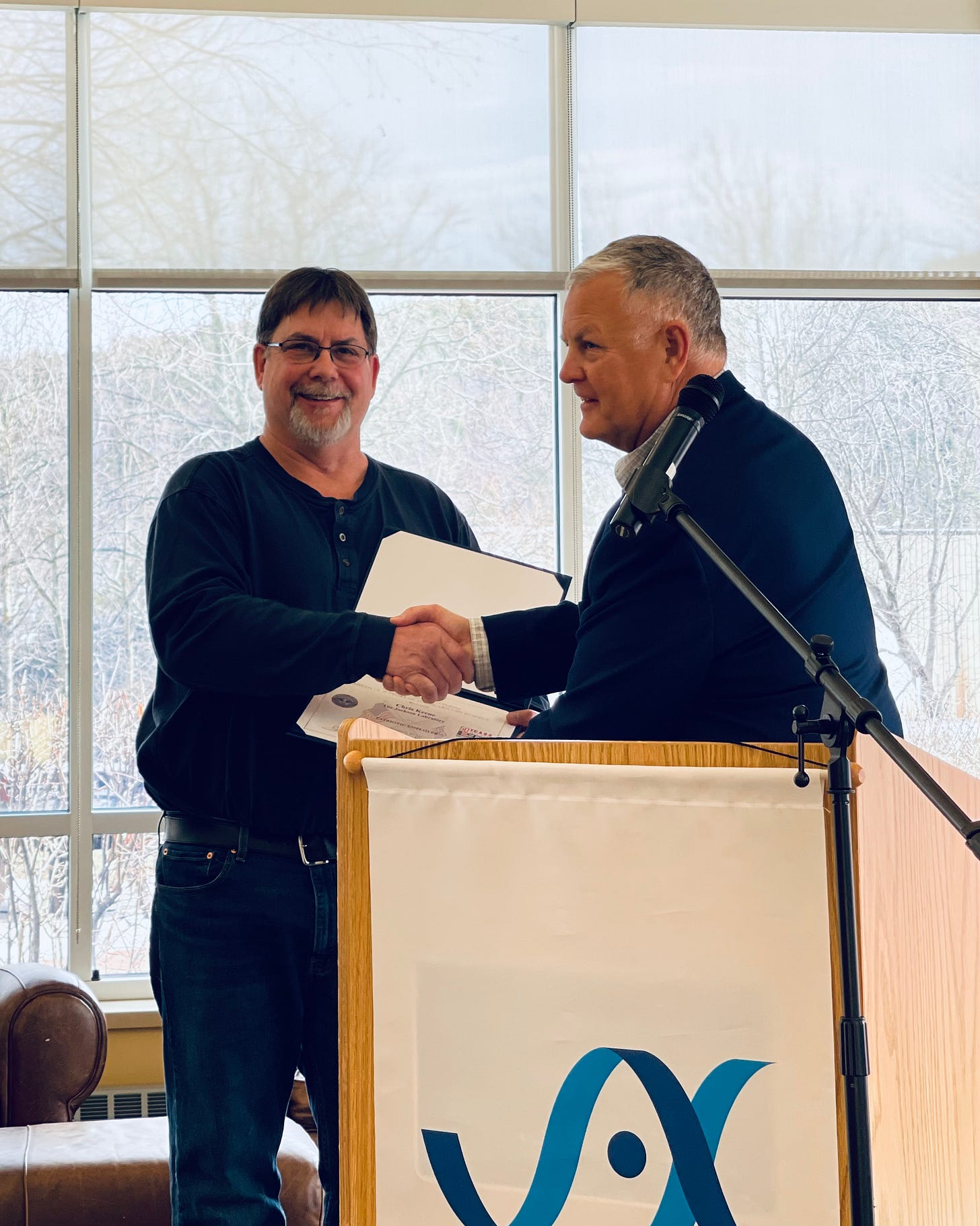 That sentiment echoed Drummond's who said, "We lose some of our service members because they don't get the kind of support needed in order to deploy. Ben wouldn't have been able to do this without Chris' support. I'm not surprised JAX provides this level of exceptional support to those who are deployed; the culture you have here makes this possible."
Noyes was able to tell Keene that he'd be deployed prior to his activation. Keene then reassessed needs and priorities with the team, knowing that they'd have to reorganize work and duties while Noyes served the country. The award was Noyes' way, and the Guard's way, of thanking Keene for his understanding and efforts.
"This 'thank you' award is not just for me, but for everyone on the crew that covered Ben's responsibilities in his absence. In addition, I want to make sure there's a big 'thank you' to Ben for helping protect our air space for all of us at home during his deployment," Keene said.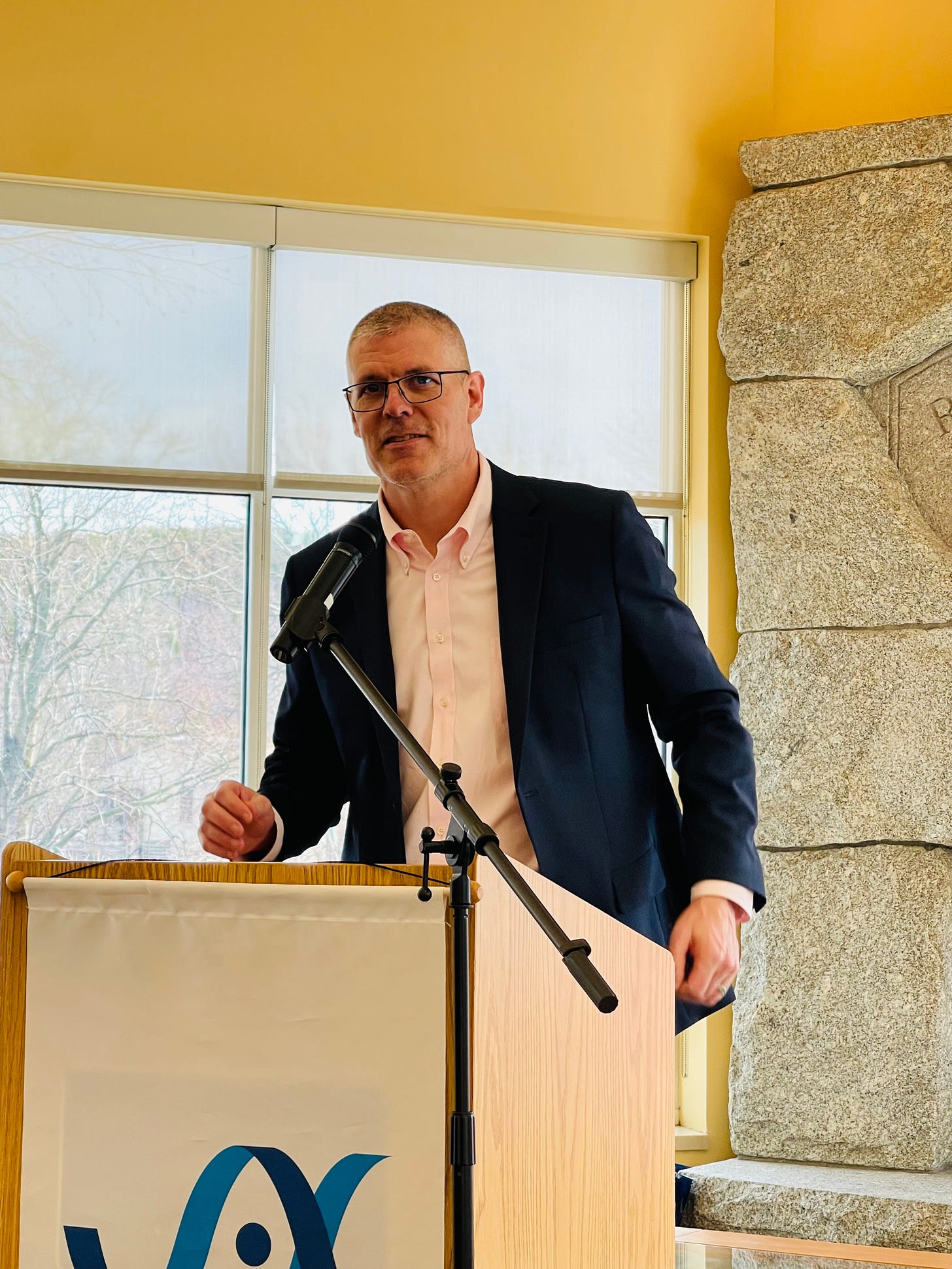 According to a Department of Defense website, "The Patriot Award reflects the efforts made to support citizen warriors through a wide-range of measures including flexible schedules, time off prior to and after deployment, caring for families, and granting leaves of absence if needed."
Approximately 70 people gathered for the ceremony, making it one of the, if not the, largest Drummond said he's ever attended.
"Chris and Ben shared with me how excited they are to have so many people here," Drummond teased. He added that he wasn't surprised that the lab had this kind of support and said it was one of the top employers in the state, if not the country, thanks to a culture that focused on being about "what you do and not how you dress."
Brendan Arbuckle, chief information officer thanked Noyes for his service before introducing Drummond, saying that deploying, leaving family, leaving work, coming back and being in civilian life again took a lot of adjusting and presented many challenges.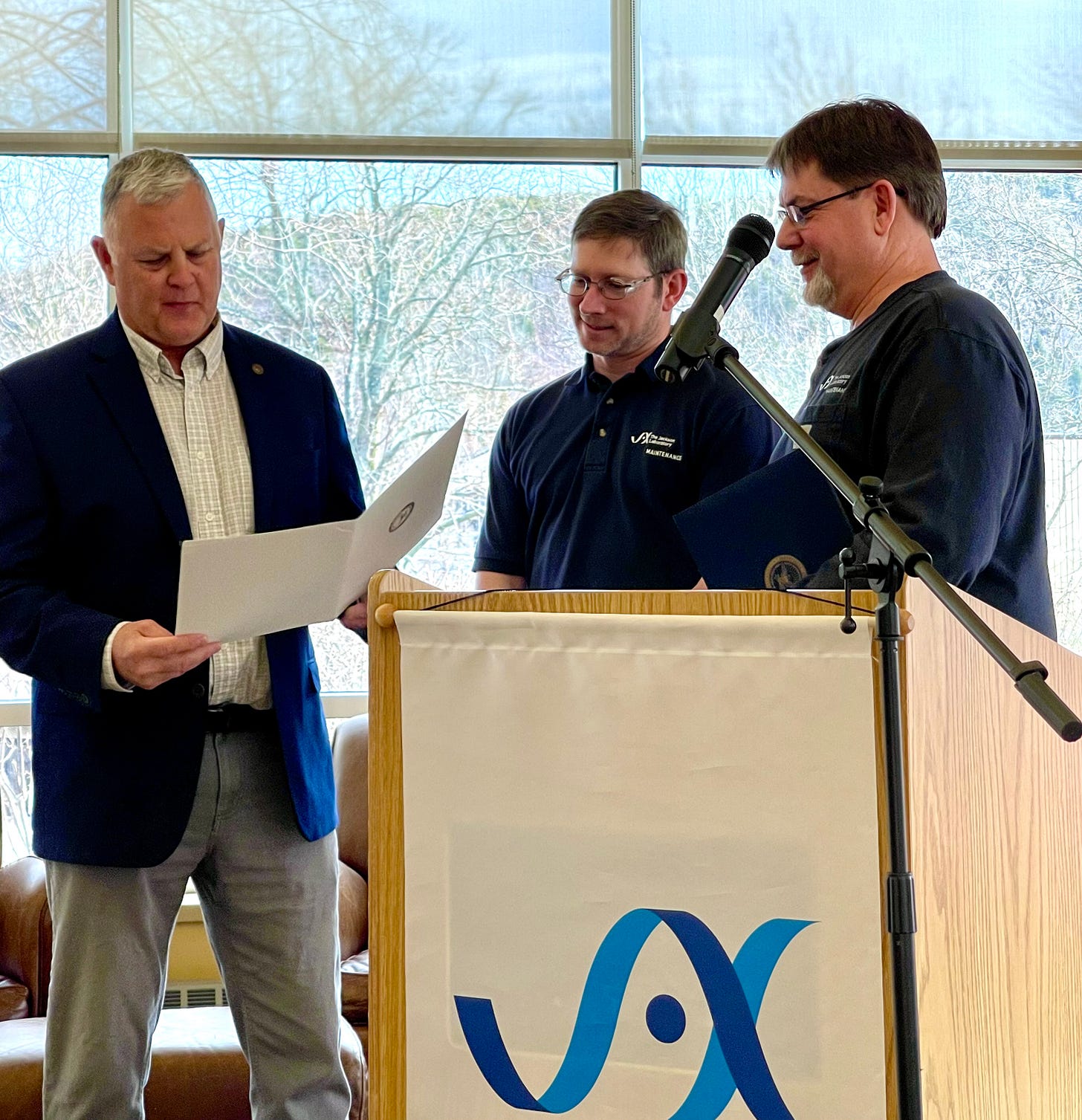 It takes a lot to appreciate having to drive to work via a Maine snowstorm, but after a deployment to Iraq, Noyes, however, appreciated it though he said it was the worst part of his return to the institution.
"It went as well as I could have hoped for. I live on the other side of Bangor, so the commute is 60 miles one way. Getting back into doing that every day wasn't easy. In Iraq I could bike the mile and a half from my housing unit to work every day. I did get soaked the one time it rained and took the van whenever there were dust storms, but it doesn't compare to my drive," Noyes said in a piece Sarah Baker wrote for the lab. "Fortunately, the drive was really the only hard part of getting back into work. Calibrations are always there, and calls keep me busy. People let me ease back into a routine and now it's like I never left."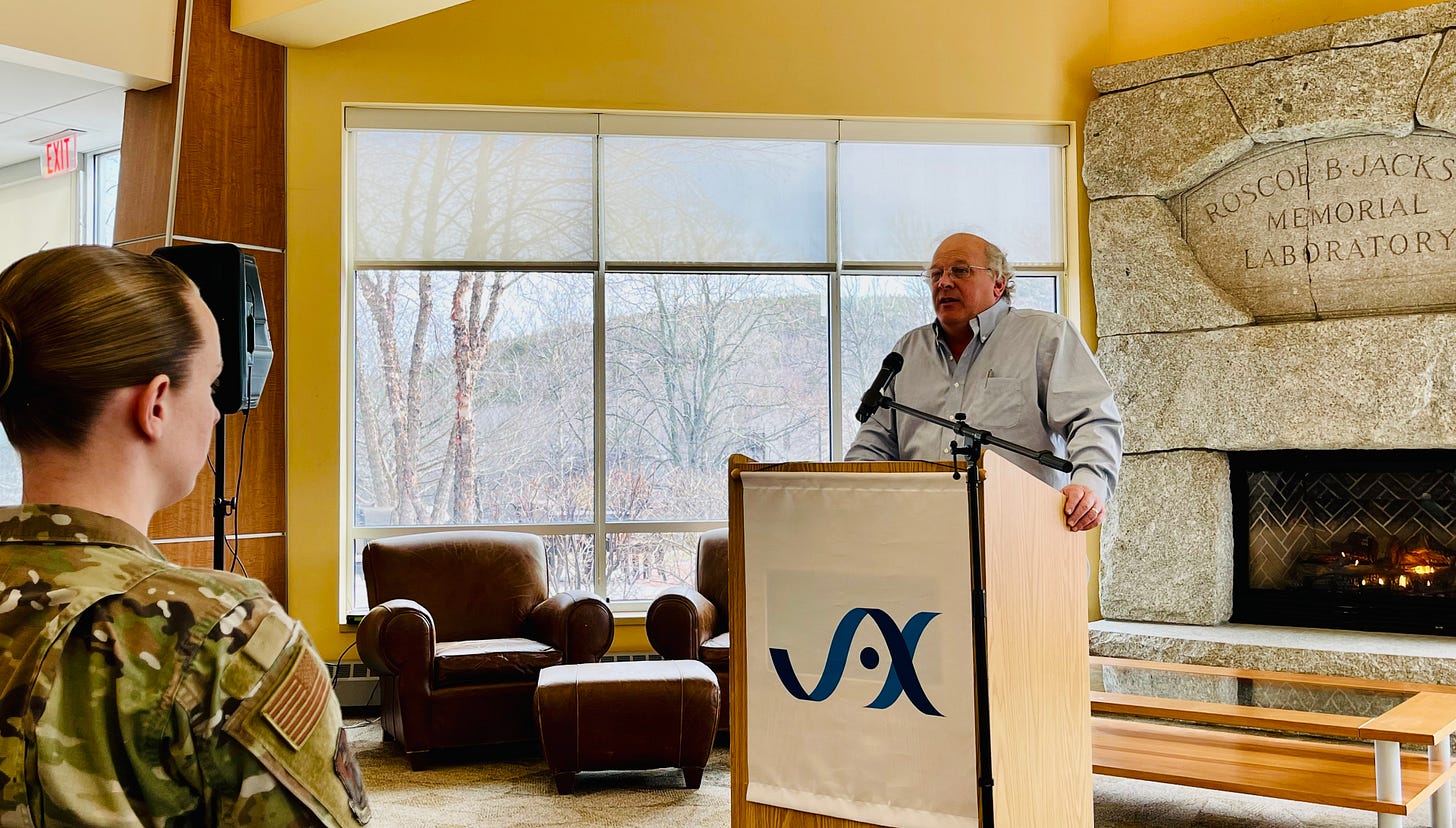 According to that same piece, "Noyes nominated Keene for the Service Member Patriot Award to show his appreciation for how understanding Keene has been with both his long absence and regular short time-off requests. When Noyes returned from his deployment, he had almost a year of Guard weekends to make up. In addition, his wife and children were finishing out the school year in France. He ended up taking all his banked vacation time to help them return to Maine, then made up his missed Guard time two days a week over a couple of months. Keene's support during this period was essential to Noyes' smooth transition back to work."
Smooth transitions. Quiet men. Supporting others. Those things don't always get the recognition or the awards, but on Thursday, they did, in a gathering that celebrated Keene, Noyes, their team and so many more.
Keene's family was also attending the ceremony. His son Lukas is currently a sergeant in the Army National Guard's 488th MP Company, which is based in Waterville, and attended as did Keene's wife, Kimberly Nesbitt Keene. Other special guests included members of the Maine Air National Guard: Second Lieutenant Alyssa Nelson and Chief Master Sergeant Grady Thurlow.
Keene is the supervisor of the facilities systems maintenance team and a MDI resident.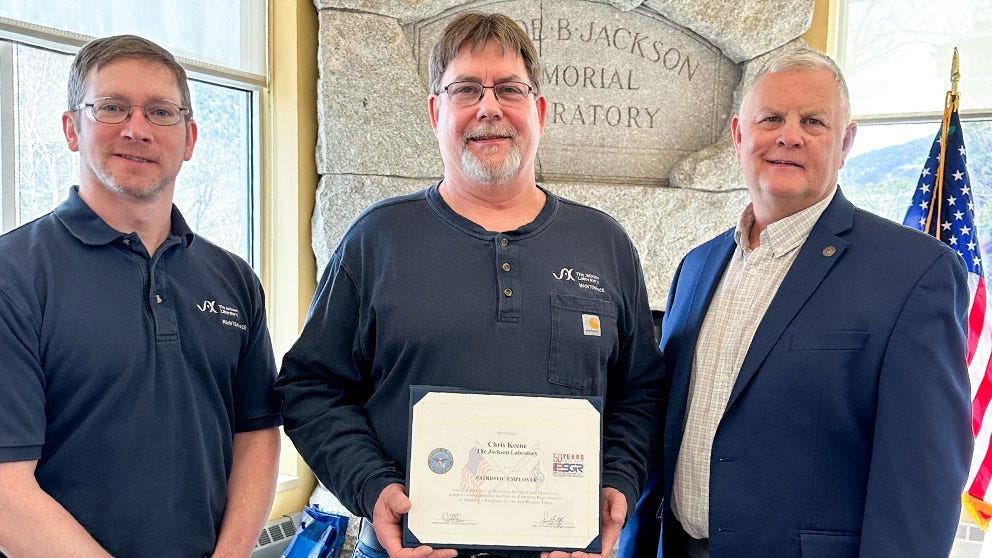 ---
LINKS TO LEARN MORE
https://www.esgr.mil/Employer-Awards/Patriot-Award
https://www.jax.org/news-and-insights/jax-blog/2023/April/chris-keene-patriot-award
---
Bar Harbor Story is a reader-supported publication. To receive new posts and support my work, consider becoming a free or paid subscriber.