Restaurants, Sidman Response, YW Buys Hamilton Station: it's a round-up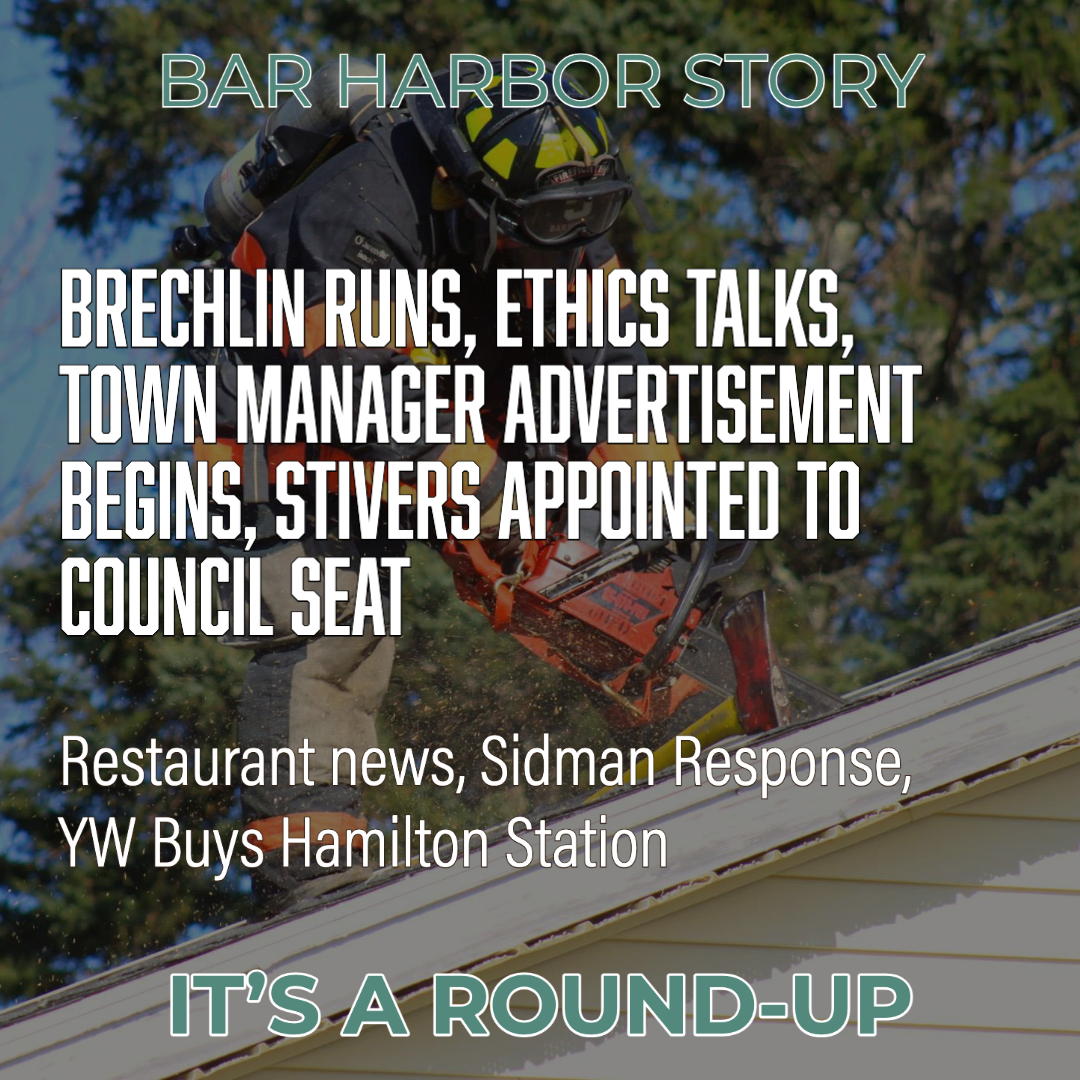 BAR HARBOR—Lately, the town news never seems to stop, and neither does the interest in being involved in the government aspects of it. To that end Earl Brechlin and Michael Kiers have taken out papers to potentially run for town positions. They join a large field of candidates that have signaled an intent to run.
Those that might potentially run for the three contested three-year council seats include: incumbent Council Chair Valerie Peacock; Councilor Erin Cough; former Communications Coordinator Maya Caines; President, Bar Harbor Chamber of Commerce Board of Directors Gary "Bo" Jennings; musician Cosmo Nims; Comprehensive Planning Committee Chair Kyle Shank, former Bar Harbor assessor and former Southwest Harbor Town Manager Justin VanDongen; and former Police Chief Nate Young.
The seats that are available are those of Peacock, Cough, and Jill Goldthwait.
There is also a two-year seat available because of Councilor Jeff Dobbs' resignation. Brooke "Zana" Blomquist, Brechlin, Keith Goodrich, and Charles Sidman have taken out papers for that position.
For the Superintending School Committee (Conners Emerson School) it's Misha Mytar and Robin Sue Tapley whose spots are available. Mytar has taken out papers. She had been appointed to the committee this year to fill out a resigning member's term. Kiers has also taken out papers for the seat.
For the Warrant Committee, the five members up for reelection are Carol Chappell, Kevin DesVeaux, Allison Sasner, Secretary Christine Smith, and Bethany Reece. So far, Chappell, Julia Cuchelo, DesVeaux, Shaun Farrar, Elizabeth Lemire, Sasner, and Smith have taken out papers.
No one has yet taken out papers for the position on the high school trustee board. Joseph Cough's term expires this year.
Several have already returned papers. Those include Caines, Shank, Blomquist, Sidman, Jennings, and Young.
There are no term limits and incumbents can run for reelection. Pulling papers is the first step in running for office, but people can take out forms, not return them and therefore not run.
There are also numerous board and committee vacancies. To start the application process candidates must fill out, sign, and return the Boards and Committees Application to the town clerk.
The following offices will be elected by the voters at the June 13, 2023 town election:
Bar Harbor Town Council Three seats – three-year term
Bar Harbor Town Council One seat – two-year term
Superintending School Committee Two seats – three-year term
MDI High School Trustee One seat – three-year term
Warrant Committee Five seats – three-year term
Nomination papers will be available in the town clerk's office beginning Friday, March 3.
The deadline for filing nomination papers with the town clerk is Friday, April 14, 2023 at 5:00 p.m..
See also the Elections-June page or call 207-288-4098 for more information.
---
J. CLARK STIVERS APPOINTED TO COUNCIL
Town councilors unanimously appointed J. Clark Stivers, a former councilor himself, to the seat of former councilor Jeff Dobbs at their Tuesday night meeting. Dobbs had suffered a heart attack months ago and had excused absences while recovering in the hospital.
Because of how short the amount of time is and because of all the things going on such as a town manager search and multiple lawsuits, Council Chair Valerie Peacock explained that the council wanted someone who had already served.
Vice Chair Matthew Hochman said that Stivers, who was sick and not at the meeting, was even keeled and had no agenda, and was a straight shooter—has been here before.
"I thought he was a very obvious choice," he said.
Stivers will be in Dobbs' seat for four council meetings and any extra meetings dealing with lawsuits and town manager search.
Stivers has to be sworn in before he assumes his duties.
---
TOWN MANAGER SEARCH
Peacock said that the advertisement for a new town manager to replace Kevin Sutherland who resigned in January is in the Maine Municipal Association's (MMA) hands. On Wednesday that advertisement was released.
The MMA's David Barrett gave councilors two options on how to structure the search and review of the resumes. The council picked the second of his options, which is as follows:
1. Council reviews resumes;
2. Council does first interviews;
3. Finalists head to a citizen/staff group for feedback to council;
4. Council performs a second interview and has a final decision.
The other option had the council creating a search committee while it did a first review of resumes and then that committee would have done the first round of interviews.
---
APPLL VS TOWN OF BAR HARBOR
As we reported Wednesday, after meeting with a town attorney in executive session Tuesday night, the town council released a statement about the court case against the town that deals with the cruise ship limit cap voted in last November. The town is defending the changes against the Association to Preserve and Protect People's Livelihoods (APPLL) et. al, which contends that the daily disembarkation caps of 1,000 are unconstitutional.
The statement reads verbatim:
"Motion made and unanimously supported by Town Council on Tuesday, March 21, 2023

"The Bar Harbor Town Council has participated in mediation for the motion for a preliminary injunction and are pleased to share that after several rounds of negotiations with all parties, the Court has issued an expedited scheduling order that achieves the Council's goals of getting an early and efficient trial so that we can get a final answer from the Court as to whether the ordinance is constitutional.

"If the case remains on track for a trial by July, the Council plans to enforce the Cruise Ship Disembarkation amendments to the Land Use Ordinance after the Court issues a final decision. Not enforcing the Ordinance while we continue to make rules means that we will operate under the published existing schedule for 2023 and the existing SOPs to manage ship visitation until a decision is reached. The 2023 schedule represents a 30% reduction of visitation from 2022 seasons.

"This enforcement approach is consistent with the Council's goals of getting certainty from the Court that the Ordinance is constitutional as soon as possible, preserving the Town's home rule authority to regulate cruise ship disembarkation, and minimizing the potential financial liability of the Town.

"We see this as an efficient, responsible, and pragmatic way to execute the will of the voters. In the interim, the Council has directed the staff to continue the rulemaking process so that we are in a position to enforce the Cruise Ship Disembarkation ordinance the day after the Court declares it constitutional—an outcome that we are working hard to achieve."
Last week, various parties involved in the lawsuit filed documents about their preferred schedules and Charles Sidman, the lead petitioner for daily cruise ship limits in Bar Harbor, filed a 20-page motion to dismiss the case, March 14.
Sidman had a response yesterday to the town's statement that he sent to Interim Town Manager and Finance Director Sarah Gilbert where he expressed his displeasure in the statement.
That response comes the day after another email by one of the petitioners strongly implored the council to disband the town's cruise ship committee and take all cruise ship related information off the town's website.
---
OTHER COUNCIL BUSINESS
ETHICS ORDINANCE
The town launched a Polco survey on Tuesday specifically about the town's ethic ordinance and there were already over 34 responses by the time of the council's Tuesday night meeting.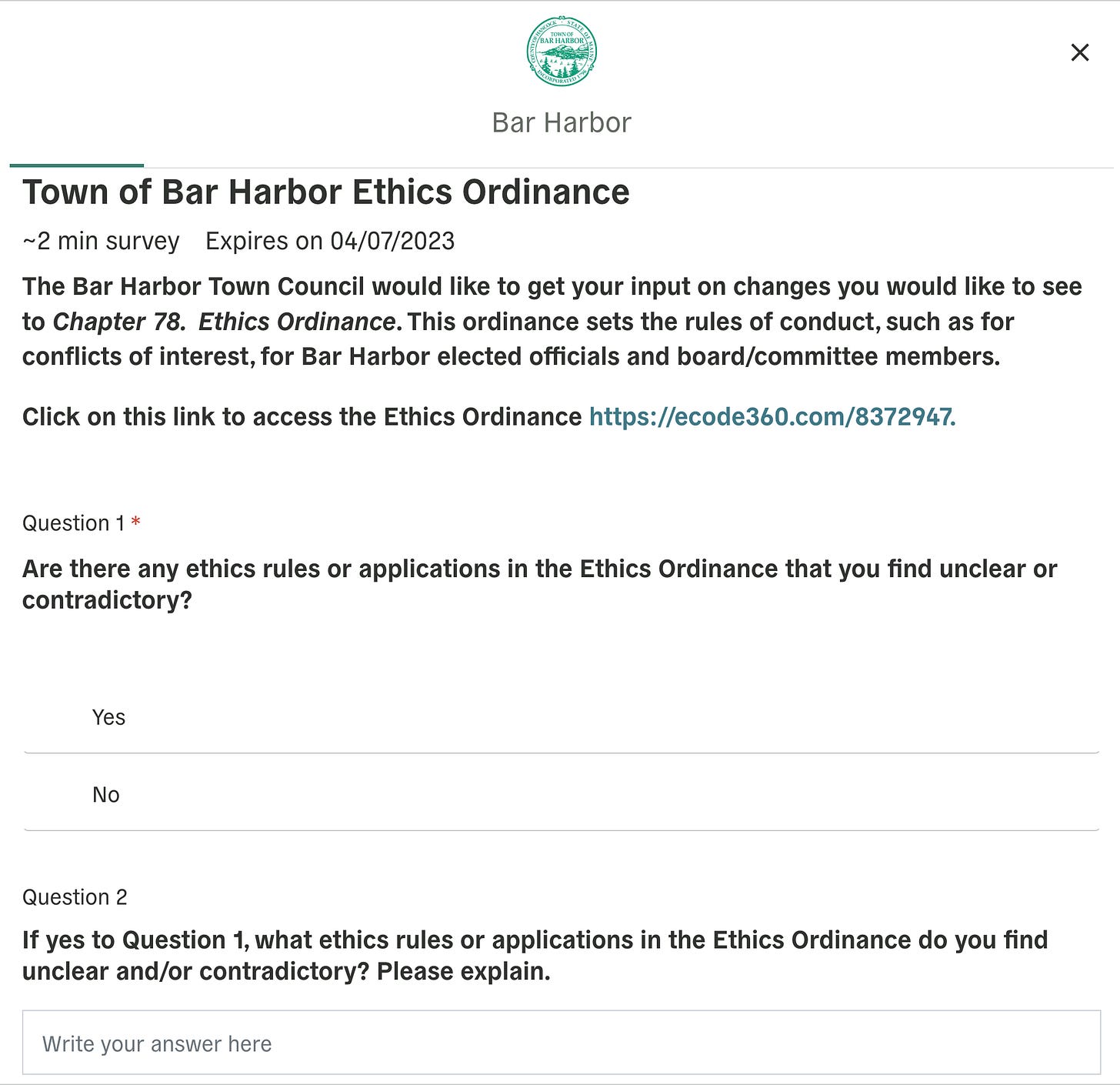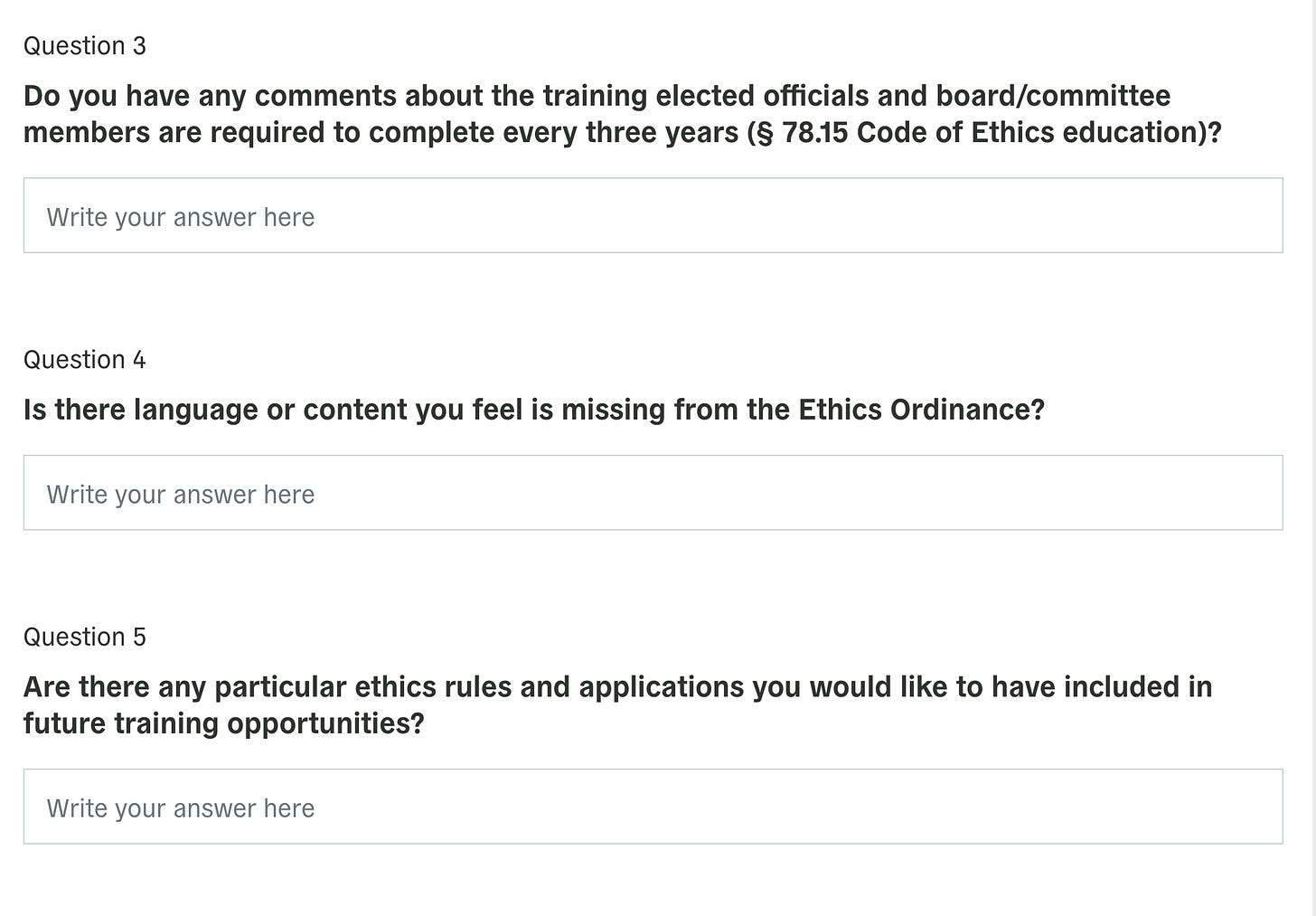 The council is looking for people who have had interactions with the ethics ordinance. They also wanted to supply people with an opportunity to speak at the council meeting. Two people did.
Planning board member and former councilor Ruth Eveland said that she's been involved in the Ethics Ordinance since its inception. Her concern is specifically about whether or not the concept of the appearance of a conflict of interest might not be adhered to enough.
"The problem I have found . . . people are seldom required to step aside." This, she believes creates a mistrust that hinders the work of a board or committee. "I think that better training is fundamental."
The appearance of a conflict of interest is basically just as it's written. It speaks to whether a reasonable person would feel that you have a bias or an unfair preference because of a factor. What a reasonable person is can often be disputed. Transparency is also often discussed when it comes to conflicts of interests within an ethics ordinance. This just means that someone is honest and open about what could be a conflict or what could be perceived as a conflict.
Anna Durand said that she believes that the ethics ordinance is fine as it is currently written, but there needs to be a plan or a will to enforce it. It has to be embedded into the culture of the municipality, she said.
Council Vice Chair Matthew Hochman would like concrete criteria about what is a conflict of interest.
The most recent public scrutiny has been about the Cruise Ship Committee and Warrant Committee in relation to the cruise ship caps which were voted in by voters this past November. The Warrant Committee is an elected committee. The Cruise Ship Committee is appointed and has set representation on it according to the town regulations.
This January, town attorneys wrote a memo specifically about the ethics ordinance, which is printed below. Now, the council hopes to create a survey in Polco via Town Planner Michele Gagnon with four open questions about potential issues or suggested changes in the town's ethics ordinance, looking for suggestions for training or education pieces. There will also be, according to Council Chair Valerie Peacock, a chance for public input before the council.
All the information gathered will be given to the town attorney. The council will look at the attorney's suggestions, come back to council and then the councilors will see if there are changes or refinements that can be put in place.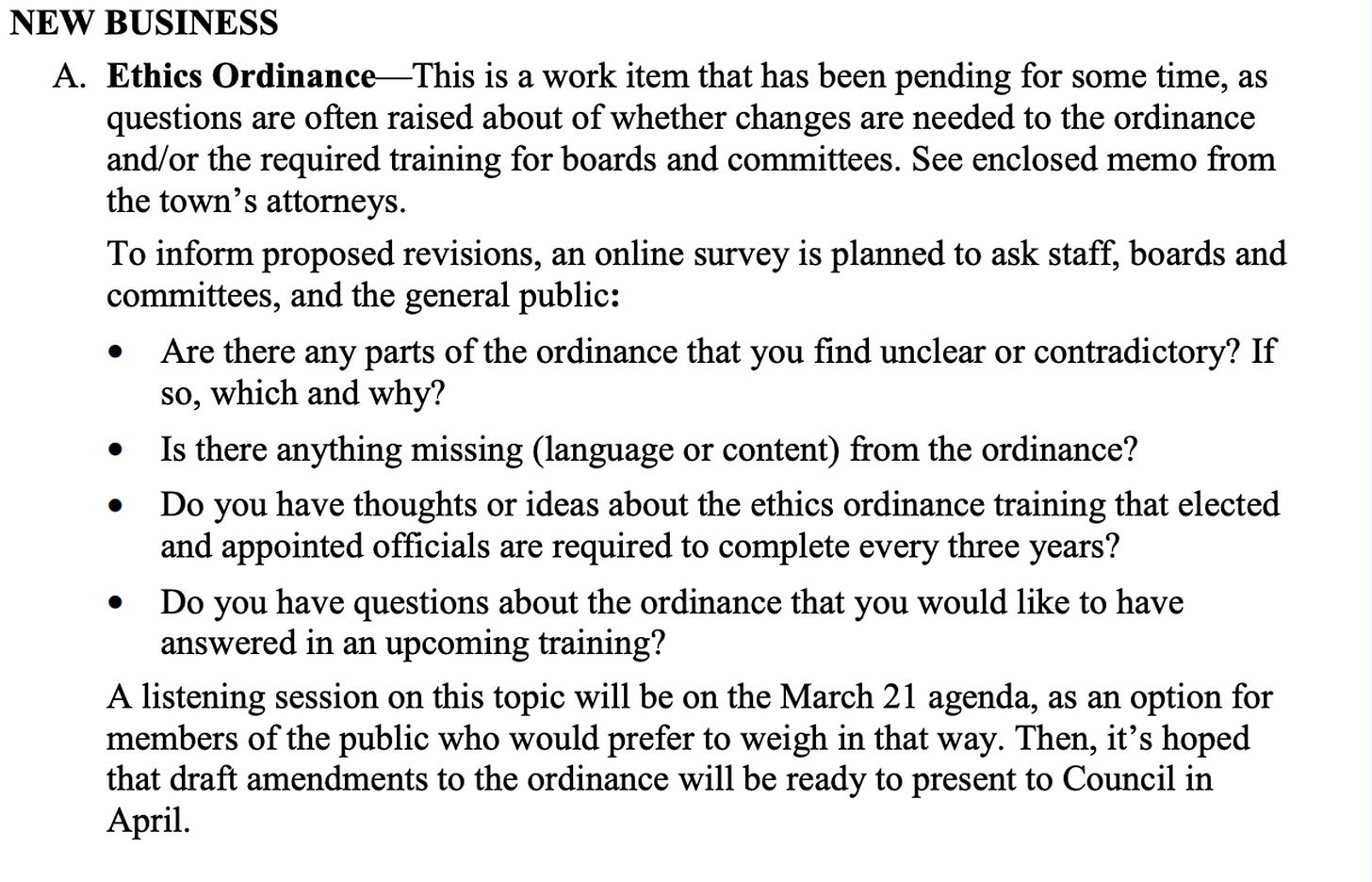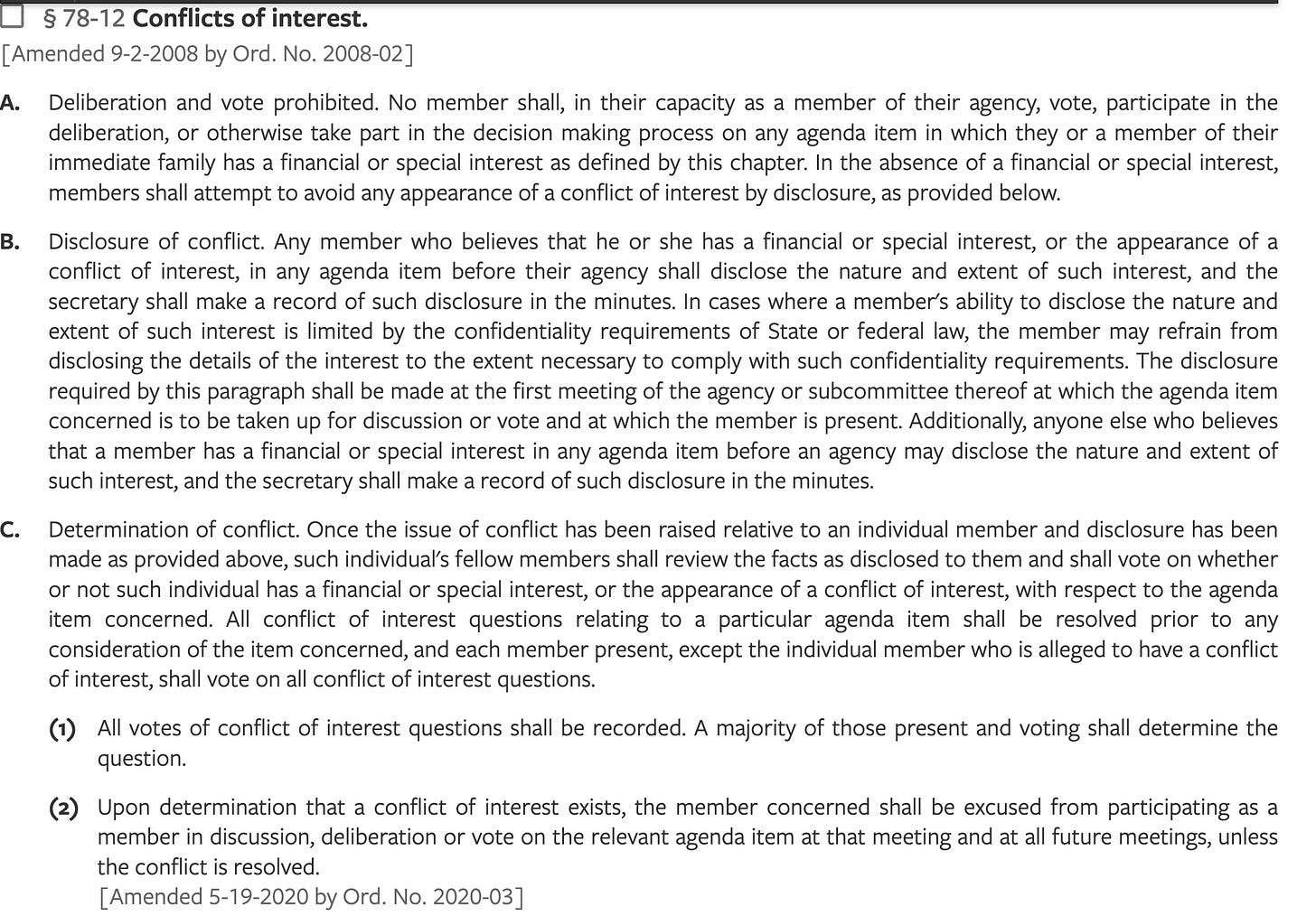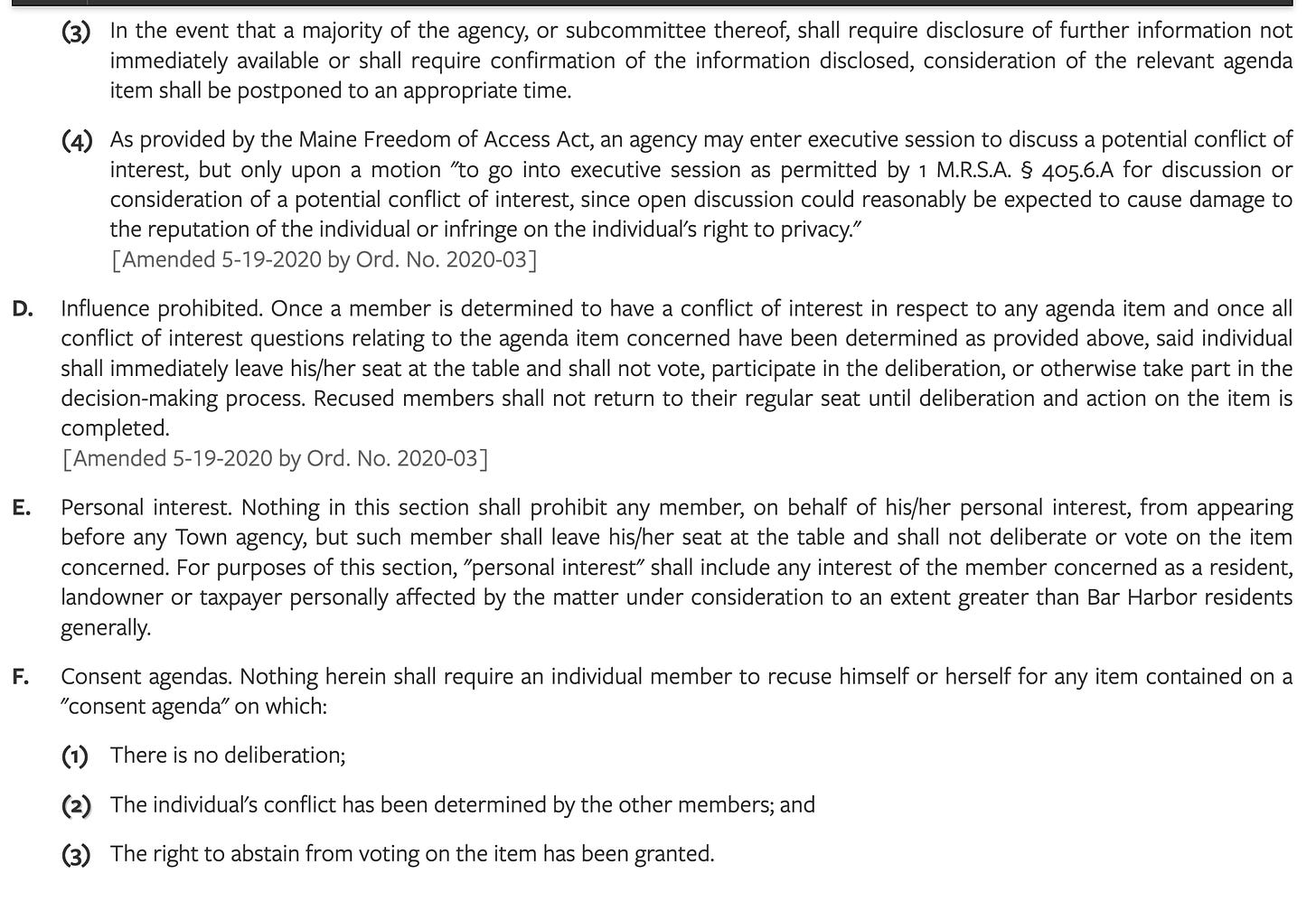 ---
SIAM ORCHID
Siam Orchid received a Class 3ad special amusement permit, which allows mechanical amplification and dancing. Goldthwait voted against. During discussion she mentioned that a resident asked for a lower level of licensing. Other councilors said that abutters have the requested license. Goldthwait said she wasn't sure that the system was working when trying to balance the needs of residents and the needs of businesses.
---
FIRE DEPARTMENT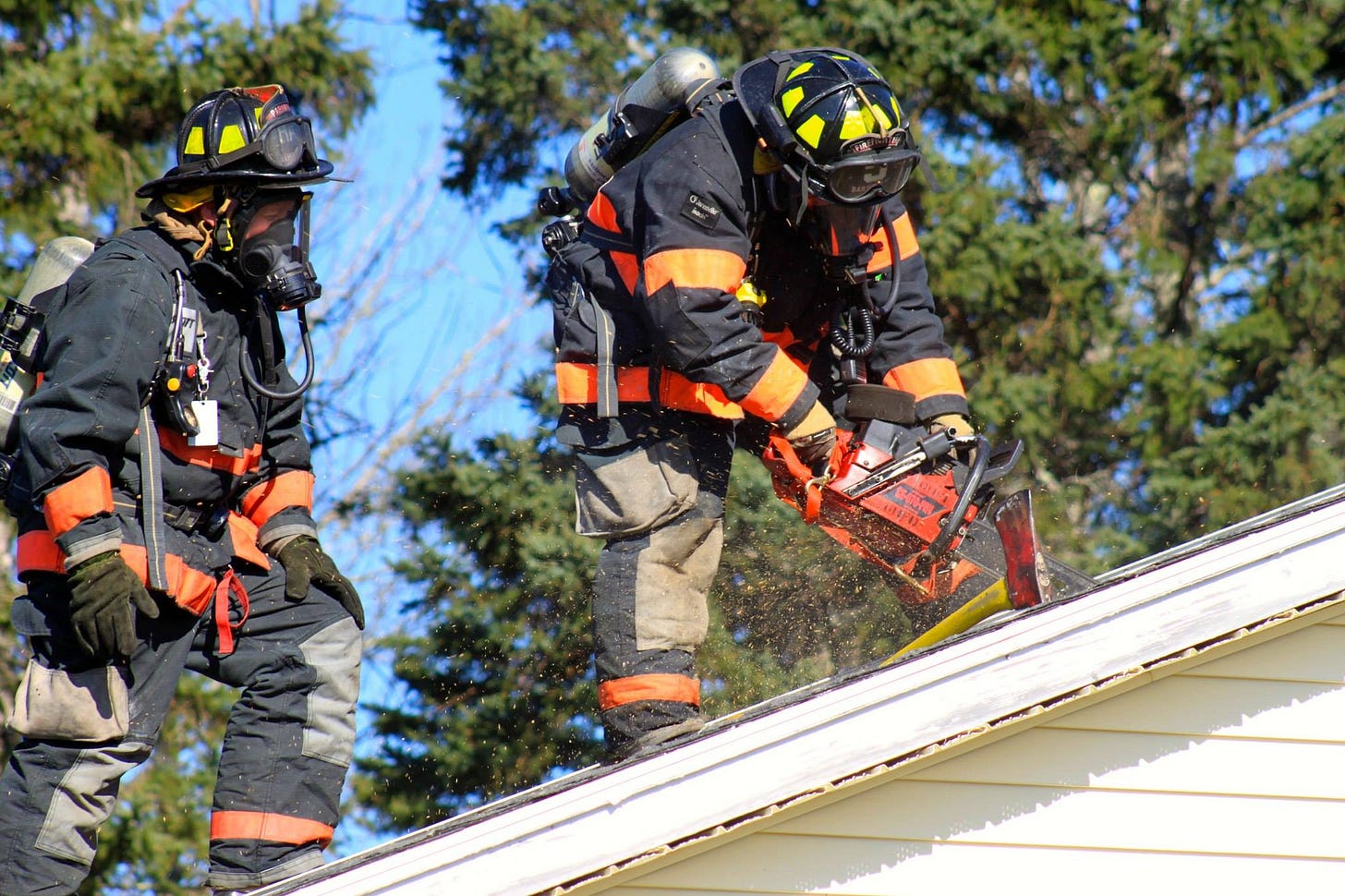 The council approved the Firefighters Union Maine updates to its retirement plan. The employer match increased from 11.3% to 12.8%. The employee match also increased. That increased from 8.9% to 9.3%.
---
LEARY'S LANDING
After a short discussion, the council approved Cody Gordon's request to renew Leary's Landing's lease of a piece of town land adjacent to the sidewalk at $20 a day, or $3,600 for the season. Gordon said he plans to have three four-top tables there this year. The council voted 4-2 to approve a two-year lease. Councilors Peacock and Minutolo voted against the lease.
---
TOWN MANAGER AND FINANCE DIRECTOR COMMENTS AND UPDATES
Sarah Gilbert said that the town did apply for a discretionary spending grant for the West Street gateway project for a $1.5 million, public use upgrade.
A traffic detour at 77 Cottage Street should be removed by May 15, but the parking spots in that area and sidewalk may remain closed longer.
During the consent agenda, the town authorized the transfer of union wages and refunded bonds from 2011 and 2013 to take advantage of lower interest rates.
Gilbert also gave an update on the eight months of Fiscal Year 2023. The legal line is overspent by 214% because of lawsuits against the town. "Public works is underspent due to engineering costs appropriated, currently not spent," she wrote. "(The town) may need to encumber those funds to FY2024."
All the payments in lieu of taxes, she said, came in early and had a total above the expected amount.
---
COUNCILOR COMMENTS
Goldthwait said that she was concerned that the school bond was being talked about as a secret ballot. The ballot process is the same as the ballot process is for elected officials or other bonds the town has voted on in the past. Similarly, she was worried that the term "Australian ballot" was unclear to voters. She also gave a brief synopsis of bills before the state legislature that the town might have extra interest in, including local option tax bills, the flavored tobacco bill that would prevent municipalities from banning flavored tobacco and a bill that deals with how towns can use parking fees. Councilor Friedmann said it would be great if the town council could work with the Bar Harbor Chamber of Commerce to get the state chamber to support a local option sales tax to help relieve the burden of property holders in town.
Hochman congratulated MDI Drama for its win at the regional competition and wished that they break a leg at the state competition this weekend.
---
OTHER TOWN NEWS
YWCA Buys Hamilton Station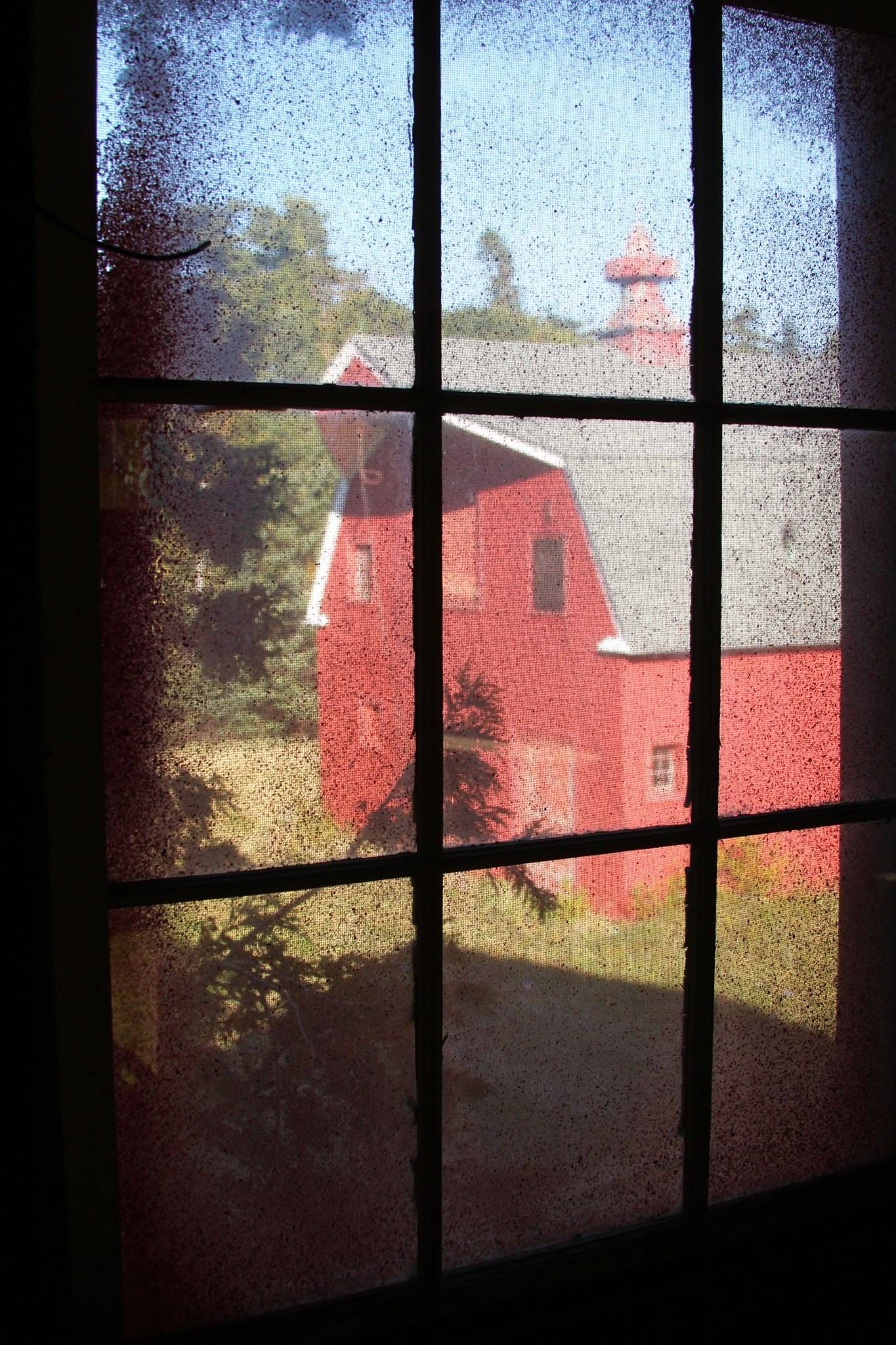 Hamilton Station, a 27-acre tract of land on Route 3 has a new owner and a new purpose.
The MDI YWCA announced yesterday that it has purchased the acreage. The organization will begin the planning process in late spring or early summer for a project at 891 State Highway 3 to include mixed use housing, as well as other potential uses benefiting the community.
The YWCA MDI's incoming Board President Ann Worrick said, "We are thrilled to be part of the solution in solving the housing crisis here on MDI."
According to a press release, "YWCA MDI is grateful for this opportunity to bring its mission alive in our community, and expresses appreciation for the generosity of the seller, Shaw and Gott, LLC, and Kim Swan, broker/owner of Swan Agency Real Estate."
The Y's mission is to eliminate racism and empower women. Its main building on Mount Desert street provides lodging for women. According to its website, "Founded in 1904, we are the only remaining YWCA in the state of Maine offering lodging, providing it to approximately 125 women and girls each year. Our lodging is subsidized to continue keeping it affordable for the low-income, the vulnerable, and seasonally employed women who are racially and ethnically underrepresented."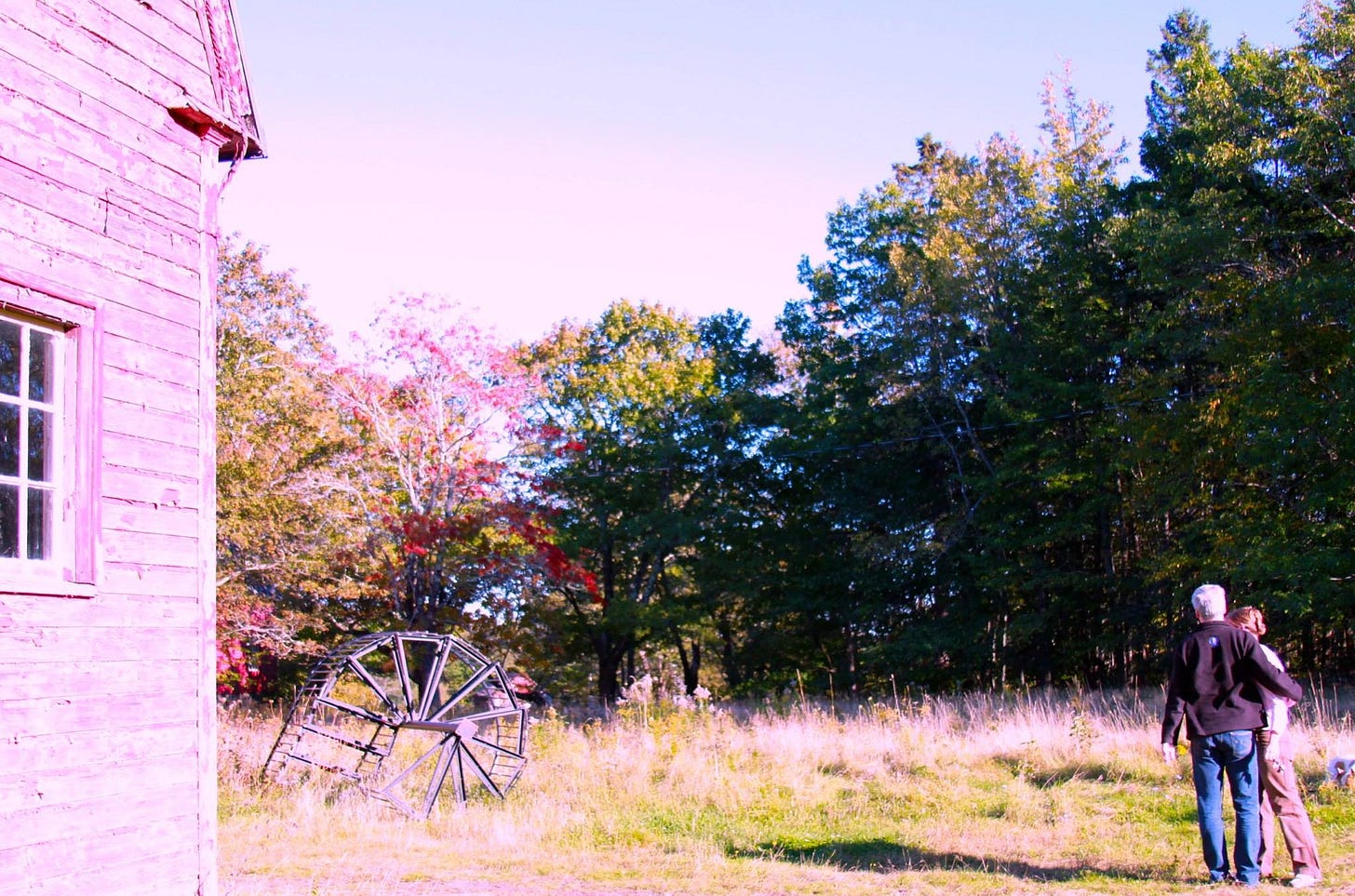 ---
THE THIRSTY WHALE AND BRASSERIE LE BRUN
Heather Sorokin and Basil Eleftheriou have sold the Thirsty Whale Tavern on Cottage Street to Mike Rosa, a summer resident of Northeast Harbor. According to the Mount Desert Islander, the interim manager is Mikael O'Donnell.
The Islander also reports that Brasserie Le Brun will open at 74 Cottage Street in June. The site is the former location of the Bar Harbor Times. Michael Boland, Zach Firestein and Kat Dougan have partnered and the restaurant will focus on French cuisine and local ingredients. Firestein and Dougan had been part of Hearth and Harbor. Boland's establishments include Havana, Choco-Latte and the Chart Room.
---
Links to Learn More
Ethics, Council Candidates, and Public Image
BAR HARBOR—At Tuesday night's meeting, the Bar Harbor Town Council quickly mentioned updating the town's ethics ordinance, which has come under public scrutiny multiple times in the last decade. The most recent public scrutiny has been about the Cruise Ship Committee and Warrant Committee in relation to the cruise ship caps which were voted in by voters …
14 days ago · 2 likes · Carrie Jones
---
Bar Harbor Story is a reader-supported publication. To receive new posts and support my work, consider becoming a free or paid subscriber.