Horns, burnouts and bells for a man who seemed to always be there when you needed him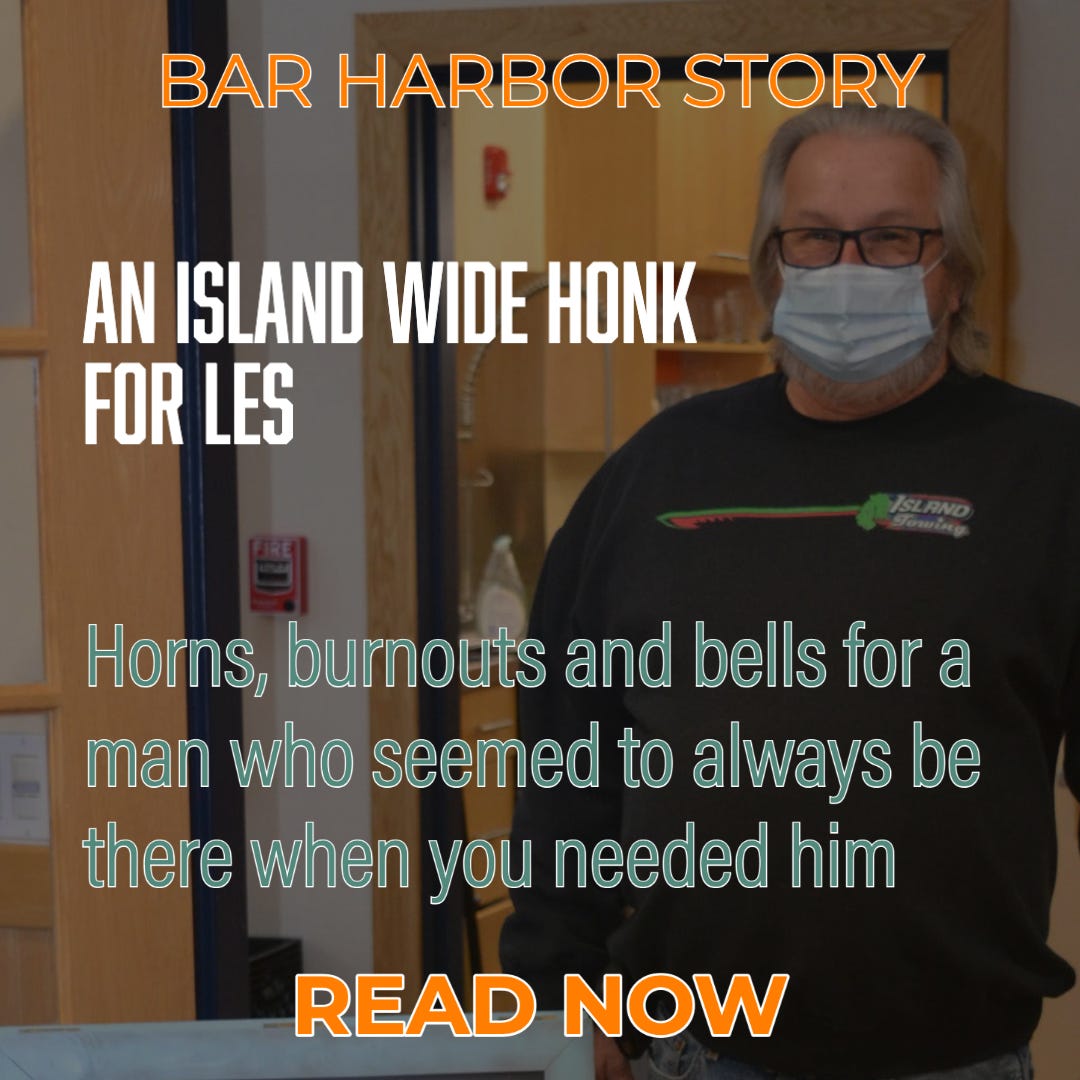 BAR HARBOR—This Monday at noon people stepped into their garages and opened car doors. Some saw the clock on the dash. Some set an alarm to make sure they remembered. Thanks to on-call firefighter Andrew Flanagan, the town's bells at Town Hill chimed from high up on the roof. People in cars, vans, and trucks laid on the horn to commemorate a man who had come to the aid of so many islanders in the years he was here. Les Foss died last week, but the good he did lives on.
A large part of Les Foss' life was spent helping others in trouble. The owner of Island Towing & Auto Repair, he hauled people out of snowbanks, brought totaled cars to their final resting places. He went to 1 a.m. accidents, cleared roadways, changed tires, fixed engines and would haul off your clunker when there were just no miles left. He was the man who got you out of a jam. He was the man who would chat to you about engines or the weather or motorcycles or trucks.
But Les took his kindness one step further. A neighbor's tree falls on their lawn. He was on it. Someone's plow guy doesn't show up and their driveway needs a plow. He was on it. Someone he knows needs a ride to another town because their car was broken? He was on it. Single mother, working hard to survive? He'd probably give you a discount. I know he did with me.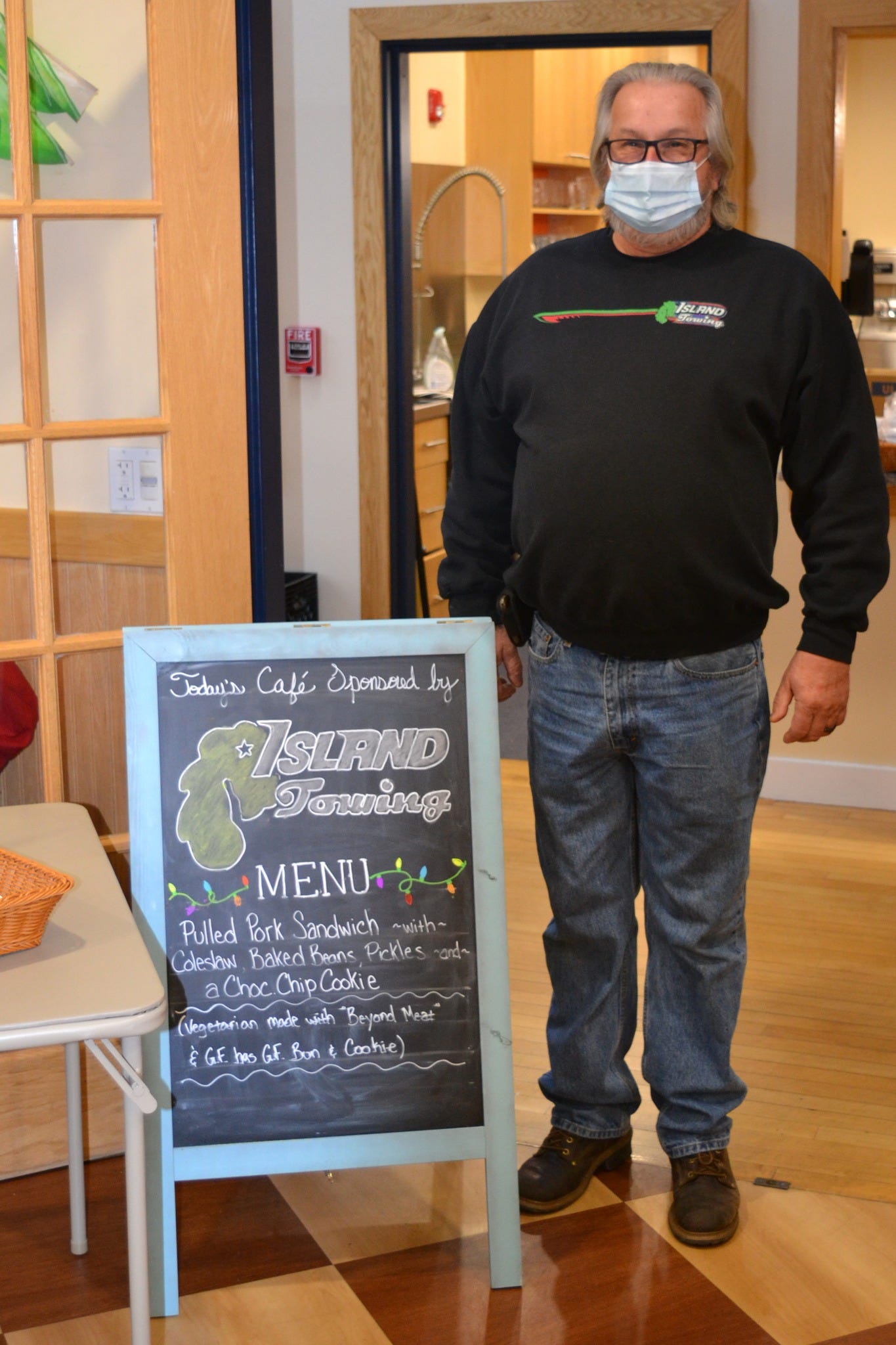 One time when I was dispatching in Mount Desert during a snowstorm, Les waited for me to get off work so he could lead the way for me back to Bar Harbor, a task the public works guys did in town often, too. I drove a Mini Cooper then, and he didn't trust the clearance. It was either that or he'd have to haul me out later, he teased.
That was Les. He'd be kind to you if he wanted to, no matter what, quietly taking in your life story and your problems as he tried to figure out your needs. That's what this world needs more of and it's what we all should celebrate.
A long time ago, my small, talkative, hobbit dad who was a mechanic and a truck driver in New Hampshire, was visiting, and he insisted we stop in and talk with Les because he'd taken care of me one time. Secretly, I think it was because my dad loved engines and thought he'd find someone else who loved engines, too. Les was probably busy, but he entertained my dad for at least an hour that day, making a friend that he never met again. But so often when my dad called he'd say, "How is that Les? What a guy. What a nice guy."
Les created a legacy of helpfulness and kindness with seeming ease and thinking skills that made him more than memorable. It made him a guide post. My small interactions with him are drops in the bucket compared to the kindness and heart and help that he gave over and over again to others.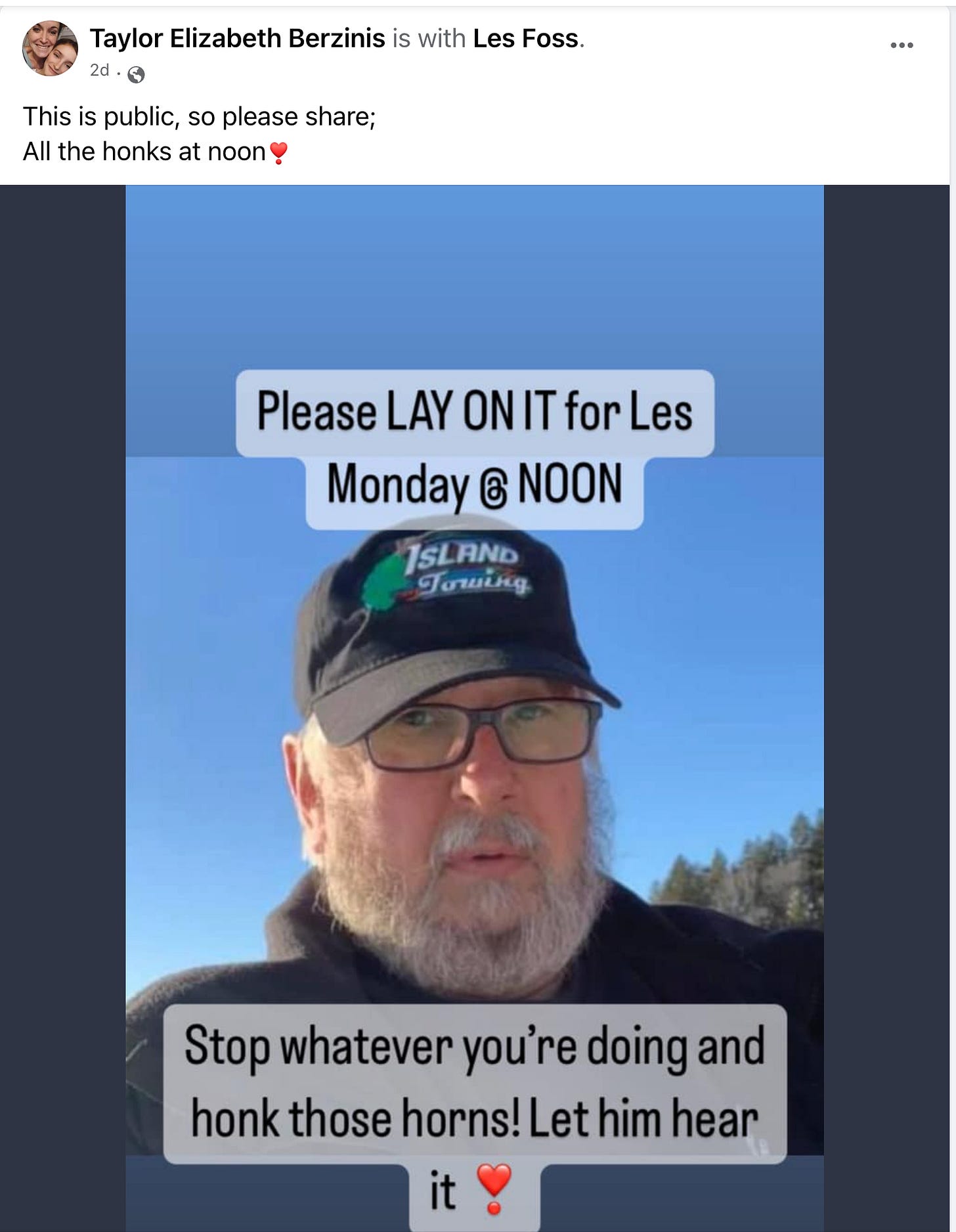 Les was part of the Bar Harbor Bronco rescue in April 2022, and he was the problem solver when a SUV ended up stranded way too far out and away from the bar. They used airbags and floated the SUV to more solid land. He was part of many rescues and some moments where there was no hope for rescue. He saw a lot: the best of the community and the worst of it.
Les' Island Auto crew were in charge of a few community café luncheons at the Neighborhood House. After one, he wrote, "I so enjoy meeting each and every one that comes by as well as being able to work side by side with all the volunteers. Cannot wait to do this again!"
Les worked hard and played hard, entwining his heart and empathy with everyone he met.
As one woman on Facebook wrote, "He rescued me over and over and over again and did it with such kindness."
That's why Taylor Elizabeth Berzinis posted on Facebook asking everyone to not light a candle for Les and his memory and his life that he spent so much of giving to all of us on this island, but to lay on their horns to show their love and recognition and respect for someone who worked so hard for all of us.
"No matter where you are or what you're doing," she wrote, "near or far, on island or off, home, work, the grocery store . . . Lay on it for Les, please. Let him hear it."
---
RESOURCES
For those of you with Spotify, this is a playlist that Gary Allen played during the Bronco rescue when Les was being interviewed by tv reporters.
https://open.spotify.com/embed/playlist/2rLadc3K14KzSYyLUECLNc
---
Bar Harbor Story is a reader-supported publication. To receive new posts and support our writing about our community and the people in it, consider becoming a free or paid subscriber. No pressure about that though. Not ever. And maybe, even though it's not Monday, lay on the horn for Les and the people like him: the people who quietly do good without fanfare every day.