Some of the athletes need help getting there
BAR HARBOR—This weekend the Acadian Youth Sports (AYS) Cheer Team hit zero, taking home a first-place banner from their first regional varsity cheer event and a coveted trip to the Quest National Cheering Competition in Orlando. Now, the problem is getting them there.
The team never expected this might happen. Now, they are scrambling to find money to make sure that all the cheerleaders can go to the March 10 and 11 event that is so soon they have no time for regular fundraisers.
According to its website, "The Quest Recreational Championship is the most competitive and prestigious end-of-season event for recreational & youth cheer."
Teams earn bids to compete during seasonal Varsity Spirit events throughout the country. It features the nation's best recreational teams.
AYS Cheer engages kids between five and 14. There are 40 cheerleaders and of that 40, 19 trying to raise $1,000 each to go the March 10 and 11 event.
Coach Jenny Saunders now has the mission of getting those girls there.
"The normal cost with the Quest discount is actually quite a bit higher as this would be staying on Disney property," Saunders said. "Some amazing parents and I have been working on other options to bring down the cost and make this more obtainable for more kids and families. With lots of searching we got the price down to $1,000 to pay for accommodations, airfare, park passes and entry fees per cheerleader. This does not include any family members."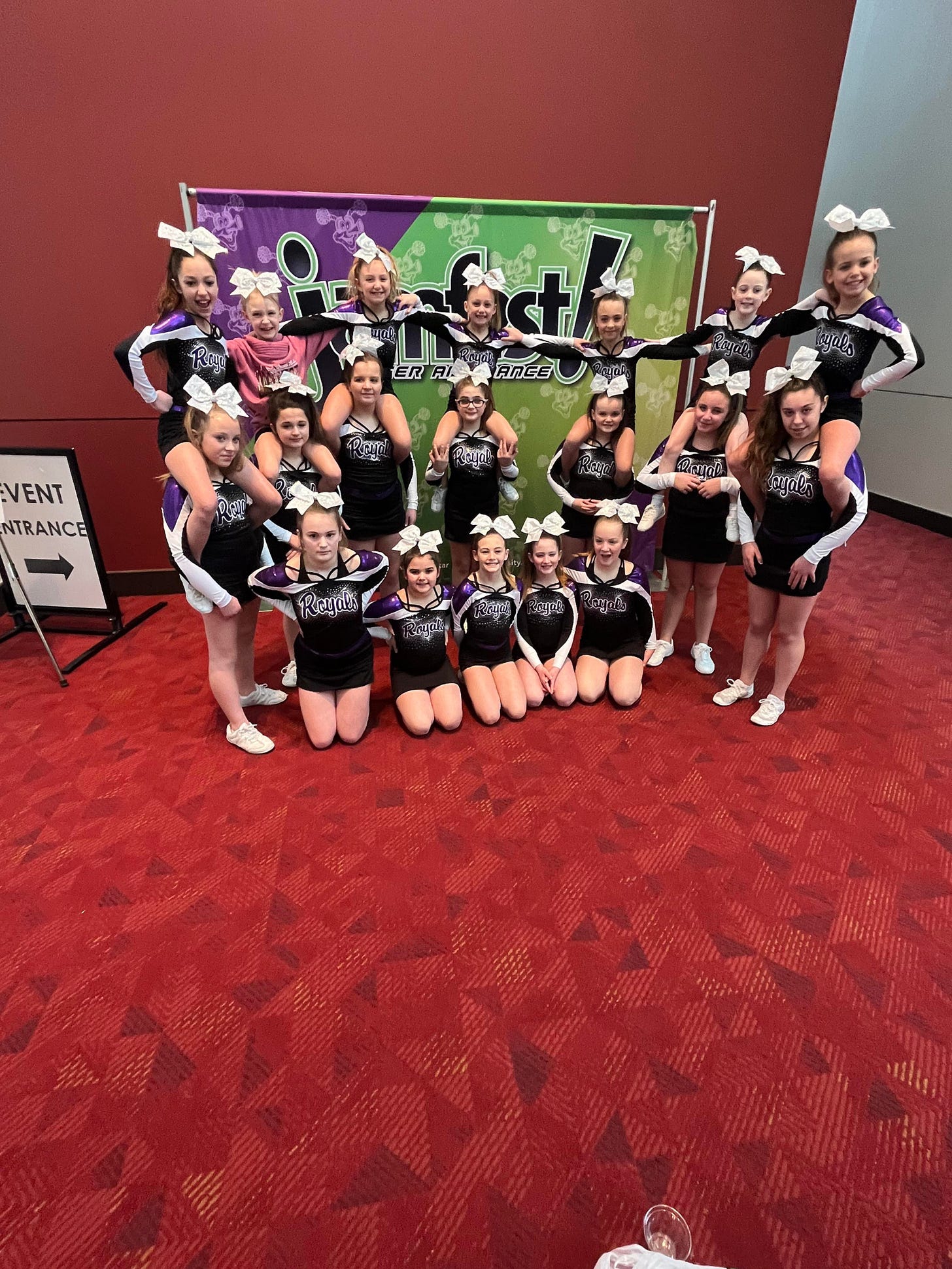 That's still out of reach for some of the kids on the squad, which is why the group is accepting donations. In just a few hours some members of the community have stepped up. AYS is sponsoring a cheerleader.
"Then we had Timberland Campground. Colton and Morgan Sanborn came in with an amazing donation and a challenge to other businesses. We have had a few others be very generous," Saunders said. "Of course, we could use more funds, but there are not enough words to truly show our appreciation for those that have donated and given your support. It really means the world to these girls."
Saunders coaches the team and Emily Miller is the assistant coach. AYS is a nonprofit youth organization with a goal of never turning anyone away and giving kids a fun and safe place to learn sports and play. Cheer is a part of the organization, which also includes baseball, softball, basketball and golf.
It's a special organization that also helps maintain and improve the town's athletic fields off Park Street. Cheer is an important and growing part of the organization even as participation at the school level dwindles.
"Acadian Youth Sports Cheer Program has been an amazing addition to our youth sports programming," said Board President Tony McKim. "Jenny Saunders, our board member heading up AYS Cheer has been phenomenal with the kids and this program. As school programming has shrunk and shrunk for cheer, our program has expanded. Providing kids this valuable experience fulfills so many objectives for us at AYS, but more importantly, helps our community of kids continue to thrive."
The Mount Desert Island High School's cheer team did not have a season this year because there weren't enough students to participate. There were only five. The team did compete in 2022. It did not for two years prior to that because of COVID-19.
At the time, the high school's athletic director Bunky Dow told the Mount Desert Islander's Zachary Lanning that there is a large trend of less girls participating in all sports on Mount Desert Island.
The declining high school numbers buck a nationwide trend. According to Statistica:
"The number of Americans aged six years and older participating in cheerleading amounted to approximately 3.47 million in 2021, up from 3.31 million a year earlier. The sport reached its lowest point of the decade in 2011, when less than 3.1 million enthusiasts in the United States."
Cheer is about more than competition. It's a sport that requires trust and commitment and strength, physical fitness and synchronicity as bases hold flyers aloft as they perform stunts. Teams have to perform in synch. Kids are responsible not just for their own safety, but for teammates.
"I have been coaching for more than 15 years now and what keeps me coming back is always the kids. There is nothing better than a kid that is unsure of themselves, can't find their niche come alive with confidence as they reach new skills and goals. Cheering like many sports teaching discipline, responsibility, team work, leadership. Often times you will see a child become successful in cheer that leads to more success in the classroom and academics," Saunders said. "I have had many girls move on to compete in college, national competitions, and business, but it never gets old seeing a kid excited when they get their cartwheel. It takes a lot of work and practice but there is so much joy to be had. It fills your soul in a way nothing else can."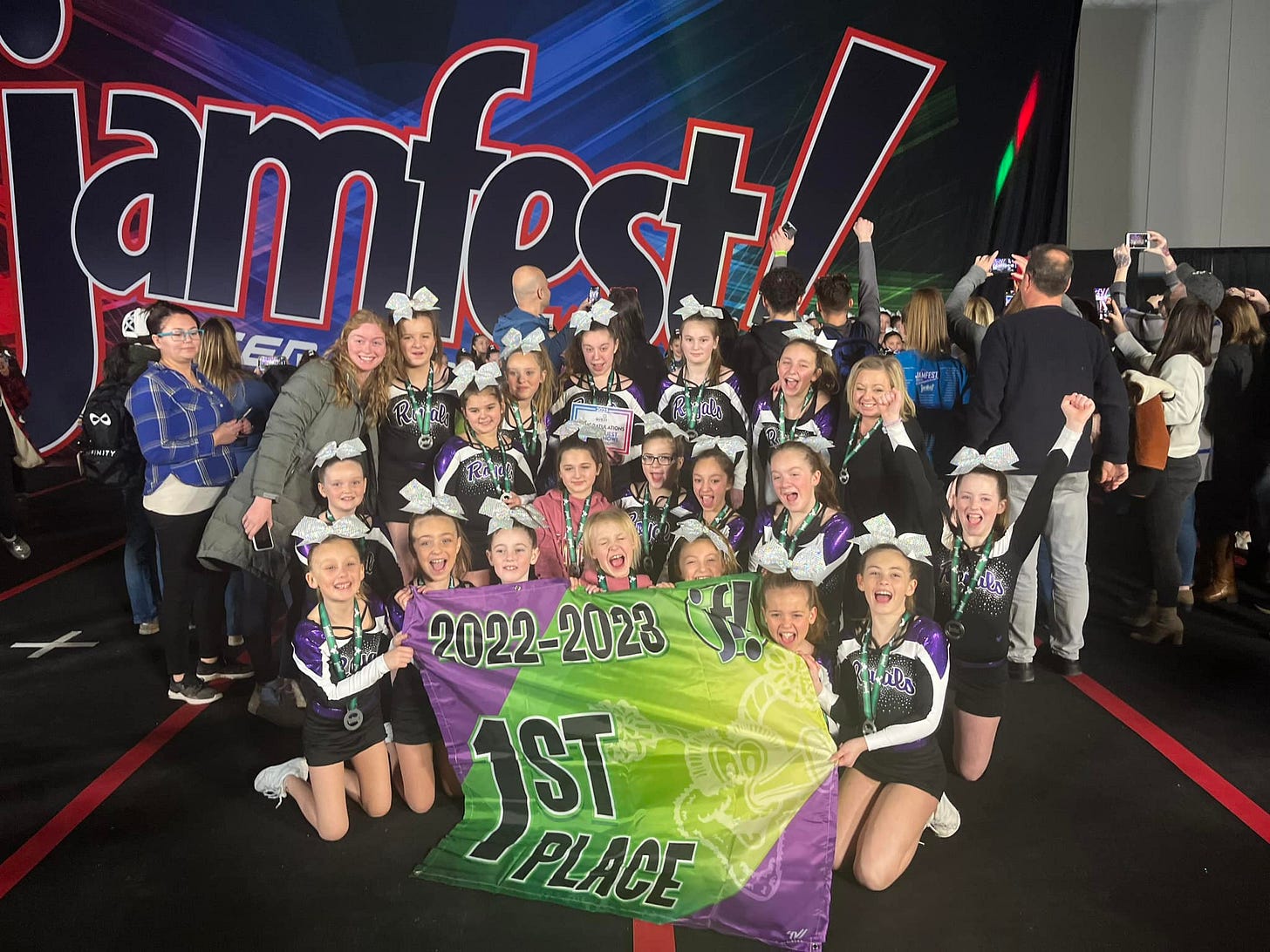 At this weekend's competition, the cheerleaders performed better than Saunders expected and received the bid for Disney. Getting to go would mean a lot to them, Saunders said.
"These girls have worked very hard. Some of them I have had for years. Being able to compete at The Quest would be momentous for this group of girls. To go as a team, as friends would mean so much to them," she said. "I truly can not believe how supportive the parents have been. This is really exciting and the biggest thing in these girls' world."
According to Varsity, cheerleading has benefits that help build the athletes own strengths, but also help build community.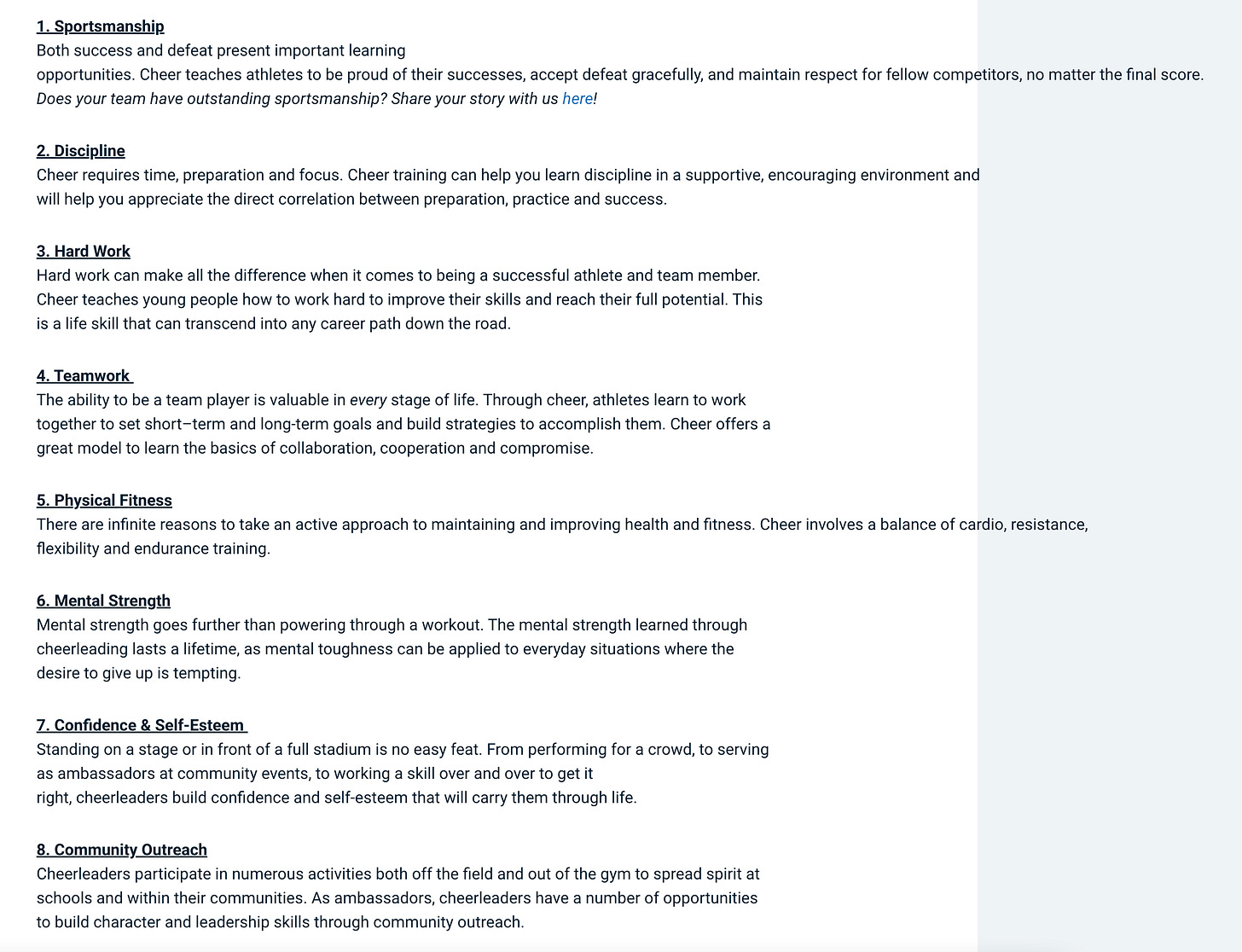 And according to Saunders and McKim, the possibility for the athletes to go to Disney—all of them, not just the ones whose families can afford it—will make a difference in their lives and their confidence.
"It is just really special to have these kids with talent be recognized and have a chance to compete on a national stage–in Disney. What a dream come true for these girls," she said.
Now they have to make sure that all the girls' dreams do come true. Businesses like the Sanborns' have stepped up. AYS has stepped up. Saunders Marine Services has stepped up. Now, Saunders and her team is hoping a few more in the community can help out and get those girls there.
"Because of community generosity they have been given an opportunity that they otherwise would not have had. Now they will have memories to last a lifetime. That is priceless," Saunders said.
"Truly, it takes a community and I am so thankful," Saunders said.
---
To help get some of the girls to Disney:
On Venmo, look for @acadian_ys
Or head to the team's GoFundMe.
---
LINKS TO LEARN MORE
https://www.mdislander.com/sports/cheering/mdi-cheer-season-canceled-due-to-lack-of-participants/article_8c0bc9ac-9748-11ed-9004-8bc27b5ad921.html
---
Bar Harbor Story is a reader-supported publication. To receive new posts and support our work, consider becoming a free or paid subscriber. Thank you so much for being here with me AND for being a part of this community.