Rangers make local impact in more ways than one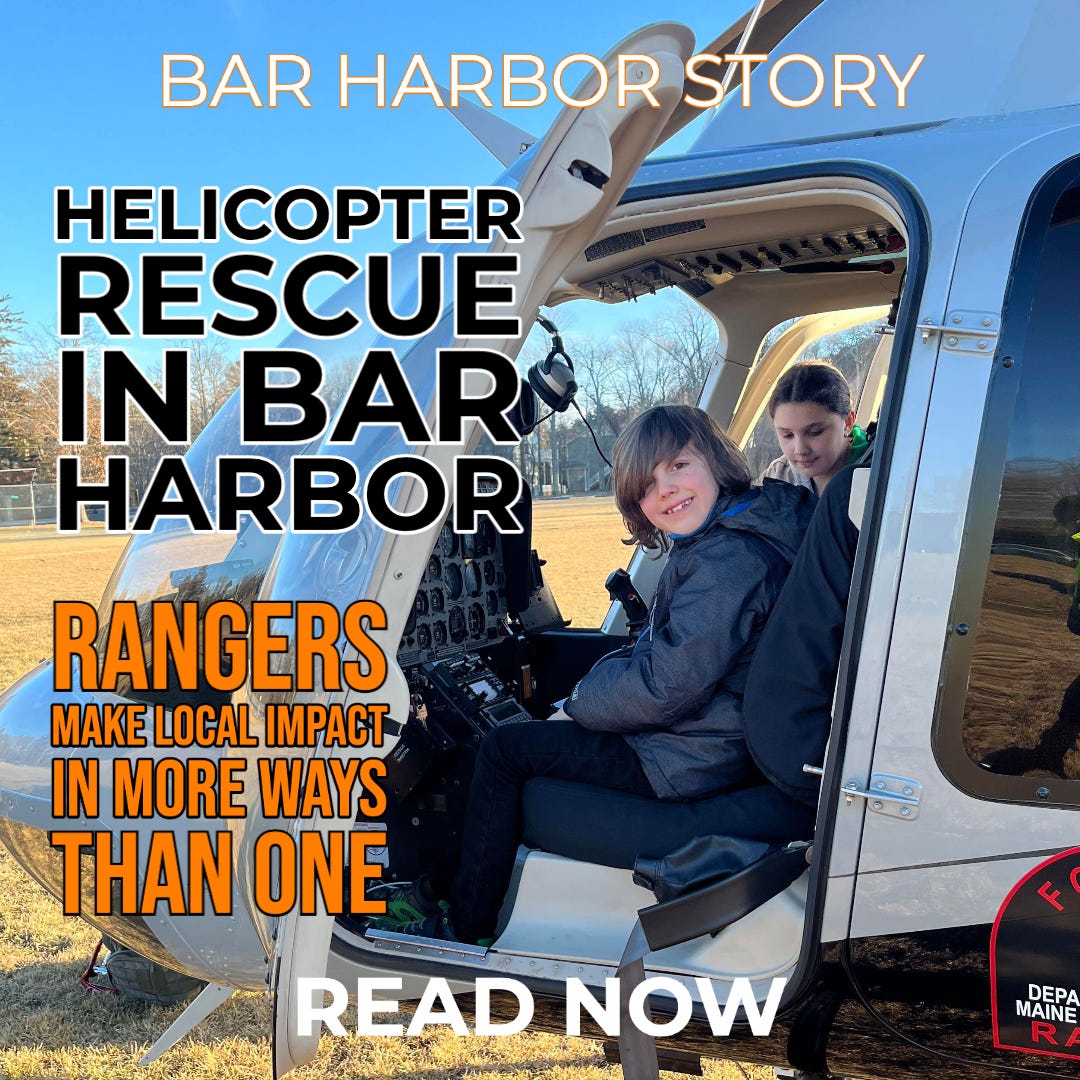 BAR HARBOR—The Maine Forest Ranger rescues injured hikers and climbers every year. This week, one of those injured hikers was an 11-year-old child who injured their lower leg at the top of Dorr Mountain. Ice necessitated a helicopter rescue as the child's parent walked down the trail with an Acadia National Park ranger.
While rescuers were preparing in one helicopter, another helicopter was also on the town's athletic fields across from the MDI YMCA on Park Street. That helicopter was attracting a lot of attention from vacation campers at the Y. One of those vacation campers was seven-year-old Sam Tadenev who was on the second floor.
"When I came to pick him up from vacation-week camp at the Y on Tuesday, I saw that there were two helicopters on the ball field, and Sam was watching them from the big window on the second floor of the Y," Sam's mother Abby Tadenev said.
"When we came outside, we stood in front of the building for a moment, watching the crew prepare and one helicopter take off with two rescuers dangling at the end of a cable," Abby related.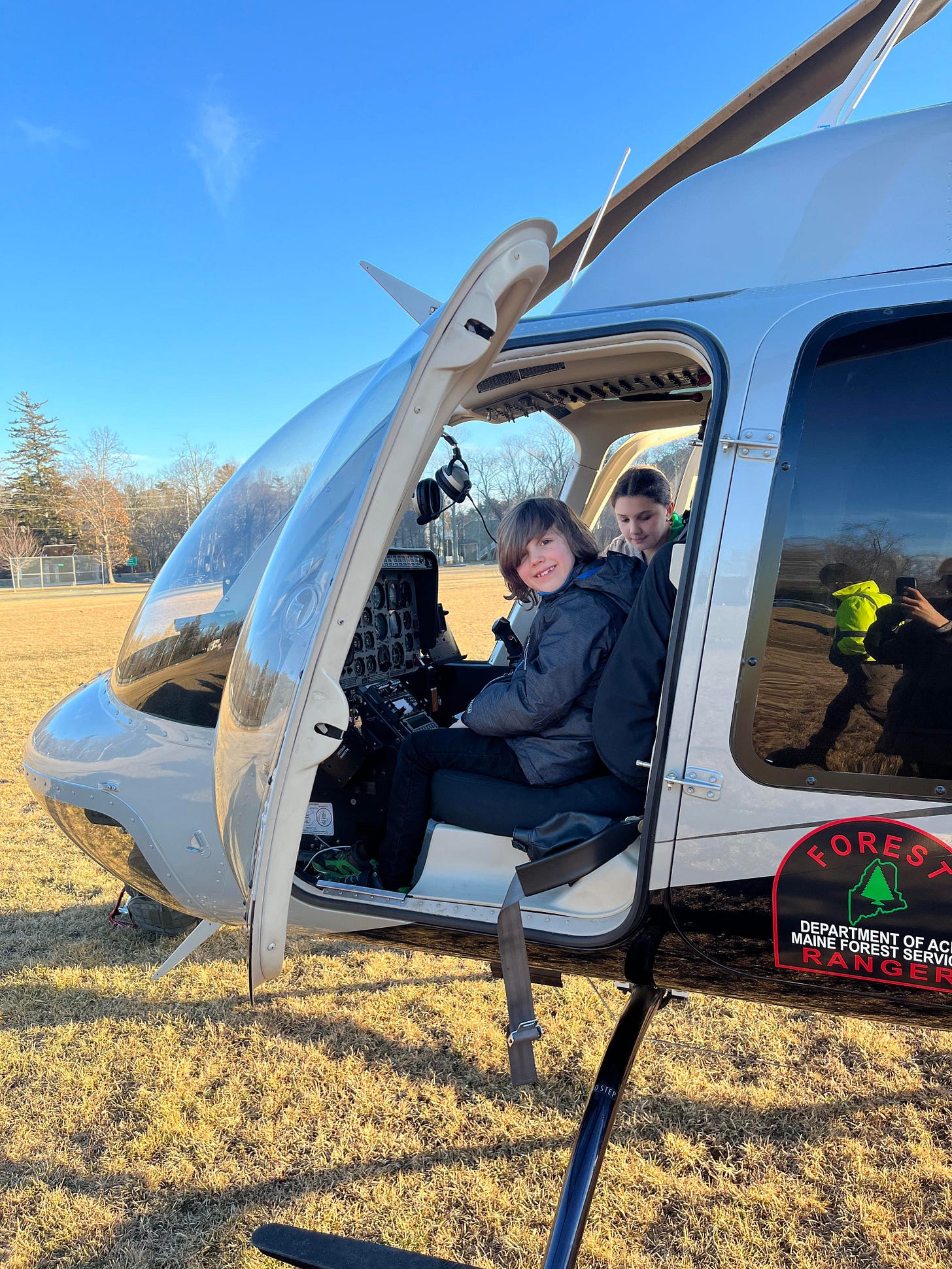 Bar Harbor emergency staff also secured the field for the forest rangers, which is a lot of lights and uniforms and big pieces of transportation equipment. It's a process that enraptures a lot of adults, too. The Tadenevs watched.
"Then another crew member came up to us and invited us to come over and check out the other helicopter that was still on the ball field," Abby said. "He also told us that the injury was relatively minor, which was a big relief."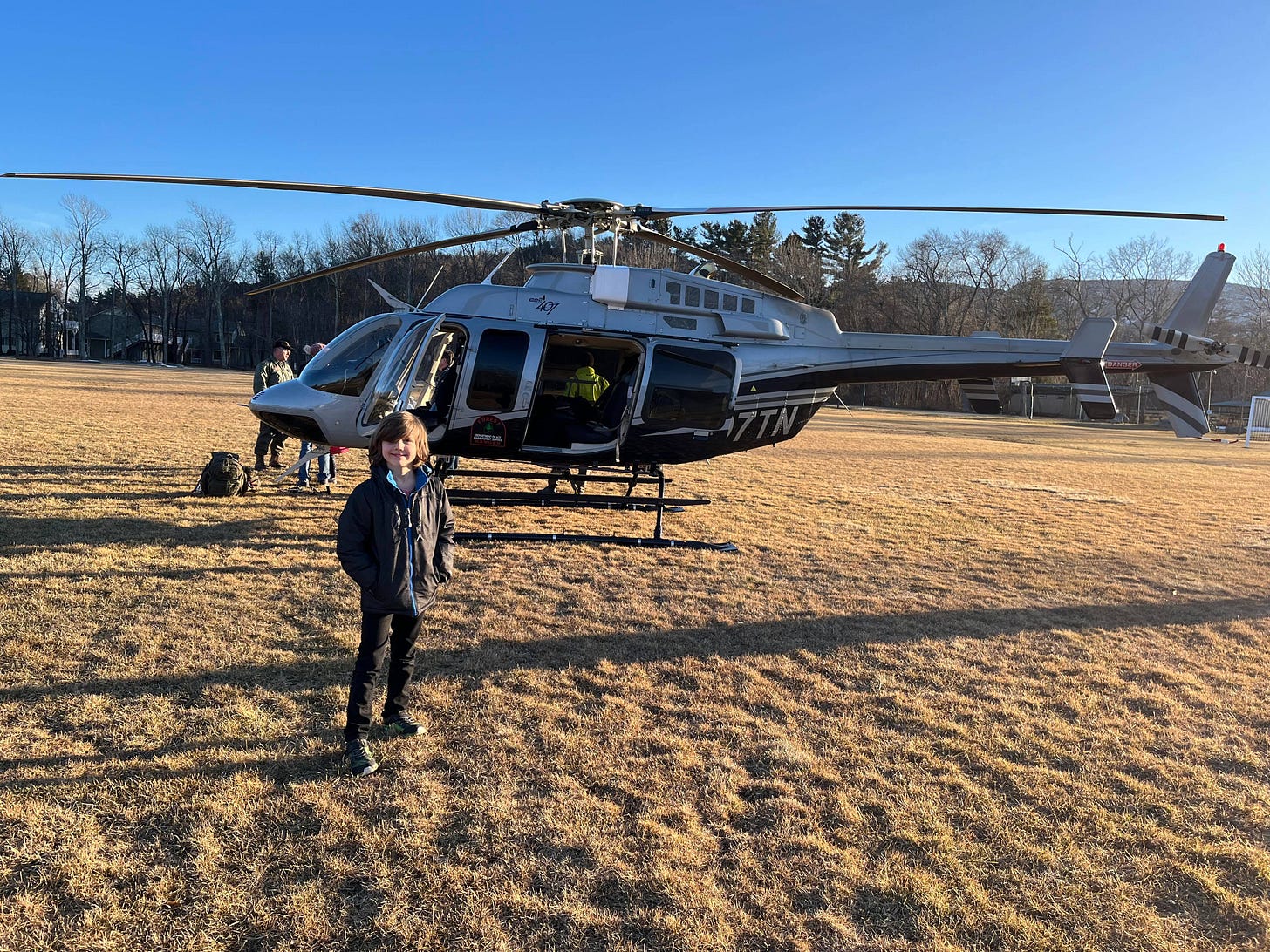 Sam and his mom and others learned about some of the different parts of the helicopter, what training and education was needed to become a helicopter pilot.
"They even let Sam sit in the cockpit," she said. "It was amazing to watch the other helicopter return from Dorr Mountain, with the injured party and his rescuers suspended below. They were then lowered safely to the ground."
Sam agreed, "It was really exciting that I got to sit in that helicopter, because normally people don't even get to see those helicopters, and I got to be in it! So that was really exciting."
Sam also said that the view from the second floor of the Y was really cool, but it was equally cool being inside the helicopter.
Maine forest rangers like those that visited Bar Harbor via helicopter this week are with the Maine Forest Protection Aviation Branch. They train mostly biweekly. They usually make it to the scene of the rescue within an hour and head to places that ambulances and crews have a harder time or impossible time reaching. Those helicopters that Sam and other island kids saw rescue one of their own on Tuesday performed 22 search and rescue operations in 2020.
This August the organization received a Bell 407 helicopter that replaced one that was over 50 years old. The branch also performs firefighting and fire detection services, aids agencies such as Maine State Police, game wardens, marine patrol, and others.
According to a press release from Governor Janet Mills' office,
"The Forest Protection Aviation Branch flies more than 400 missions per year, transporting firefighters and thousands of pounds of supplies, and dropping water on fires.

"In 2021, the Maine Forest Service dropped more than 91,000 gallons of water on fires and carried 269 firefighters. In addition to firefighting, the fleet has conducted 104 aerial inspections of logging sites 22 interagency searches or manhunts with Maine State Police, Game Wardens, and local fire departments. The Aviation Branch also utilizes aircraft to assist other agencies with transport for important scientific sampling and surveying efforts that help conserve and maintain the state's natural resources."
According to its website, "The mission of Forest Protection is to protect Maine's forest resources and homes from wildfire, respond to disasters and emergencies and to enhance the safe, sound, and responsible management of the forest for this and future generations."
That enhancement happened in Bar Harbor this week, not just for the child the rangers rescued, but also for the ones they interacted with.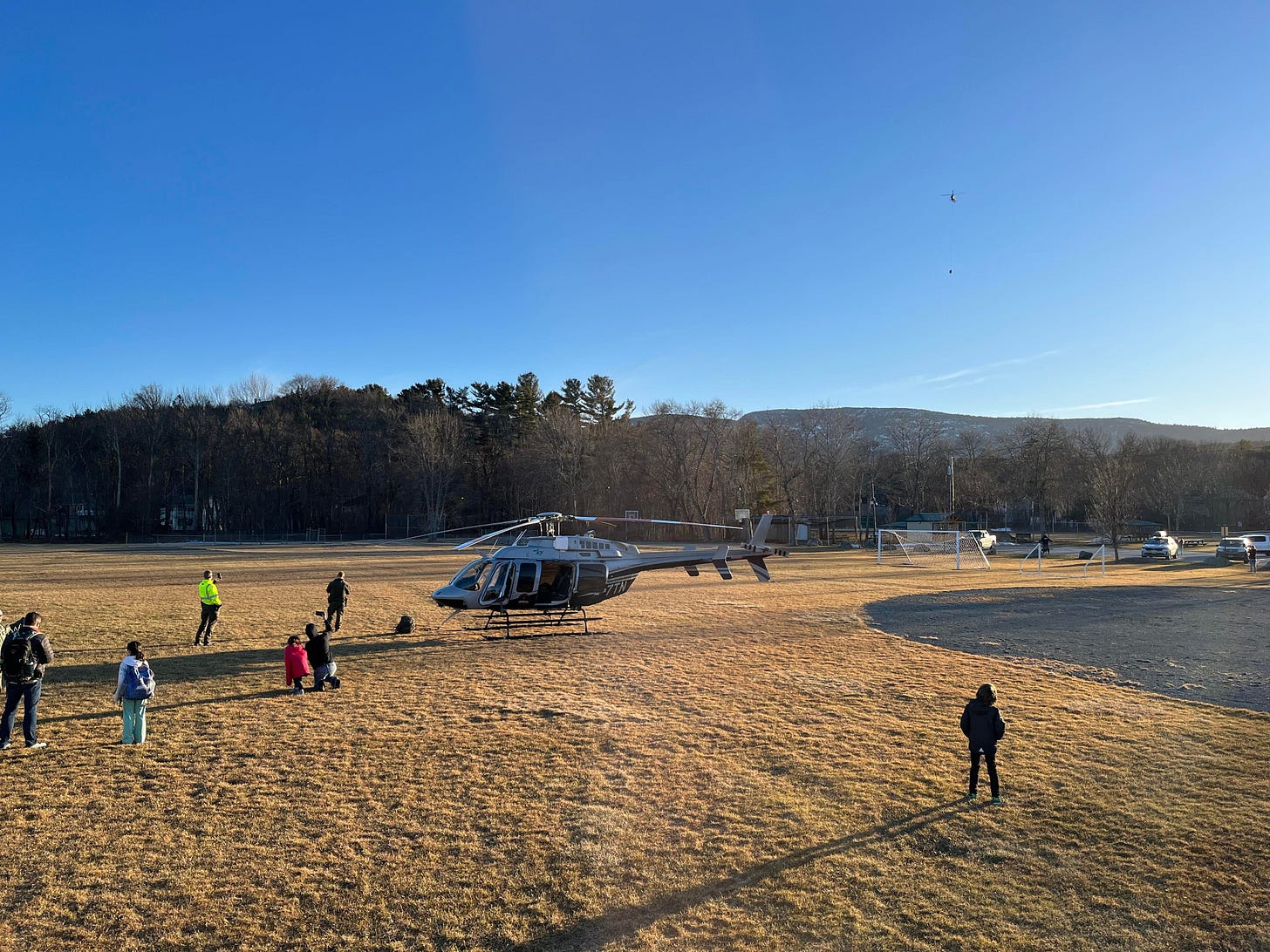 ---
LINKS TO LEARN MORE
https://www.maine.gov/dacf/mfs/index.shtml
https://www.maine.gov/governor/mills/news/old-town-governor-mills-unveils-states-new-helicopter-fight-forest-fires-assist-search-rescue
---