How a Bean Supper Can Teach Us All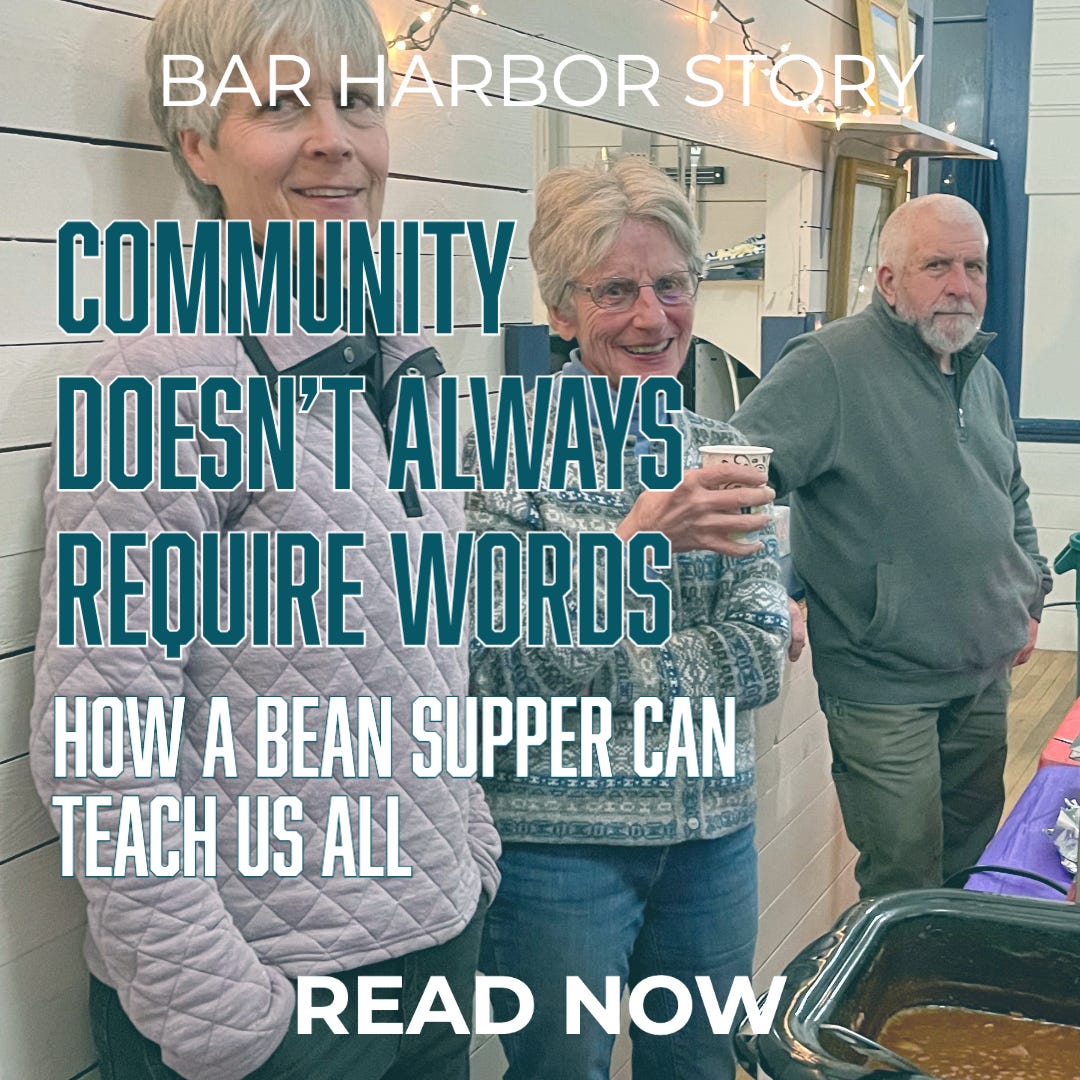 BAR HARBOR—A pat on the back. A hug hello. Talking about the weather, gossiping about neighbors who are in California. Donating extra money to a 50-50 raffle. They are all tiny acts of kindness that when put together in an old town schoolhouse on a Saturday evening create something called community.
Community is a complex word; it's almost more of a feeling than a definition, but it's what the Town Hill Village Improvement Society hoped to build up at its Saturday night baked bean supper, which was by donation, and staffed by volunteers that provided beans, hotdogs, rolls, coleslaw, dessert and laughs.
"It's supposed to be 30 or 40 tomorrow."
"Get much snow your way last night?"
"A centimeter."
The conversations, punctuated often by short sentences and the zip of back-and-forth couplets created part of the ambiance at the Town Hill Village Improvement Society's bean supper fundraiser Saturday. People passed by an ambulance idling outside the bay door of the old white building that the society rents to the town to use for $1 or so. That same building stores the playground's little free library books that wait for their turns in the little free library. It has hosted council meetings and chili suppers. It is a place that's meant for community.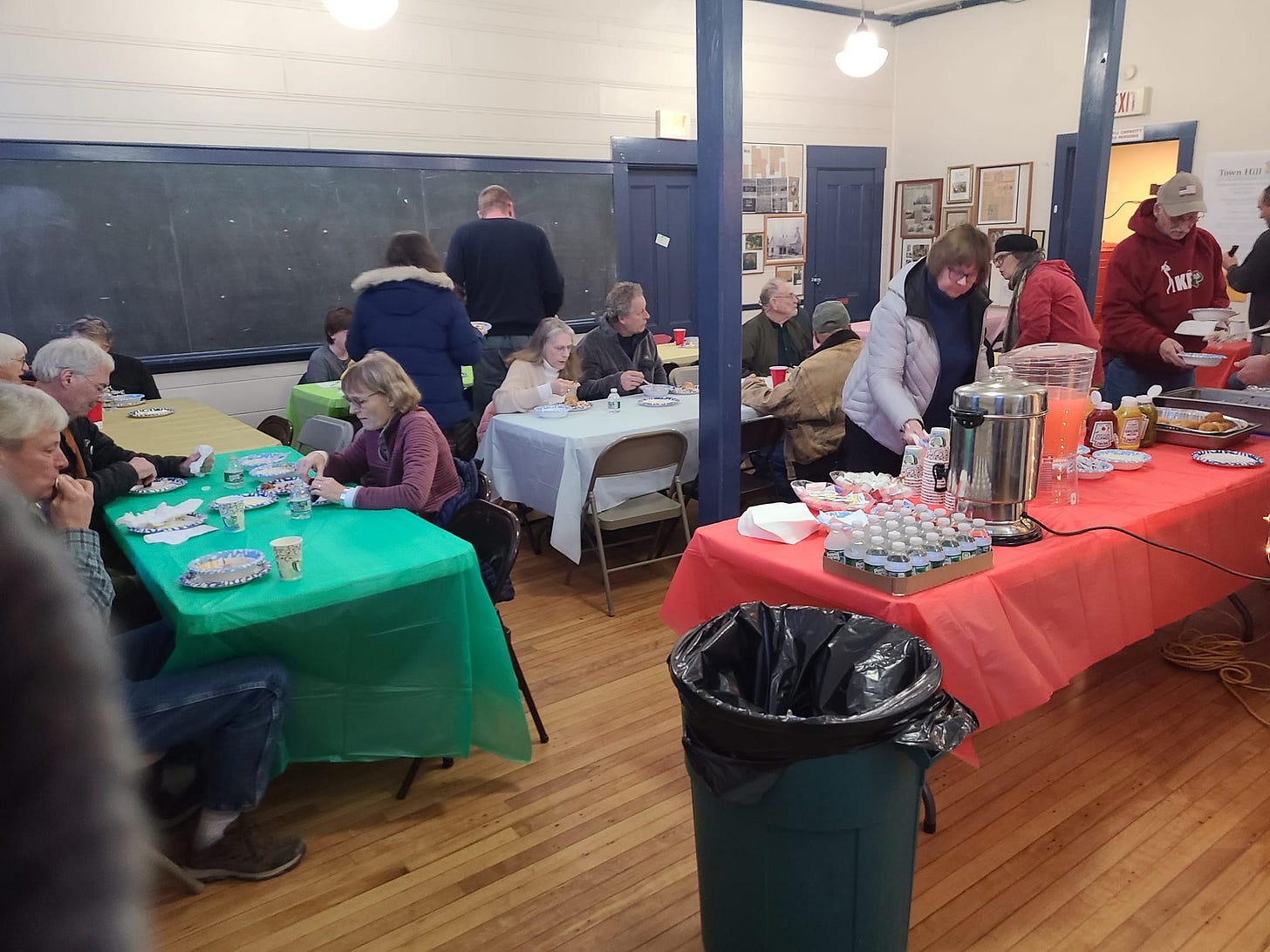 "She was down in Connecticut."
"Was she?"
"Well, I started taking pictures . . . ."
"Have you heard about that fella, up to Southwest?"
People shouted out their hellos across tables, waving hello with their hands or their plastic spoons covered with bean residue. Some huddled over their bowls, quietly eating in the companionship of others. Community doesn't always require words.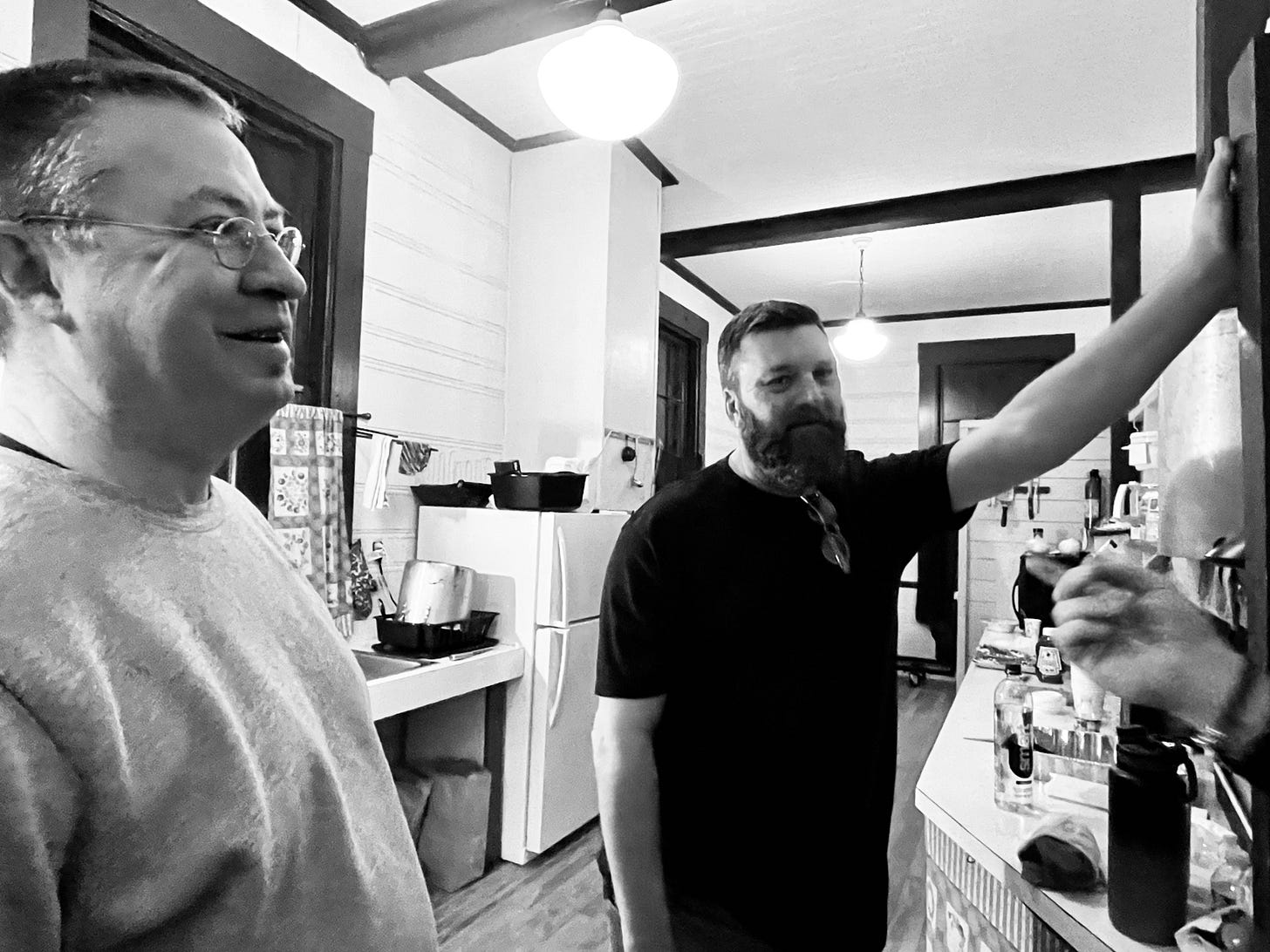 According to a piece by David M Chavis and Kien Lee for the Stanford Social Innovation Review,
"Community is not a place, a building, or an organization; nor is it an exchange of information over the Internet. Community is both a feeling and a set of relationships among people. People form and maintain communities to meet common needs.

"Members of a community have a sense of trust, belonging, safety, and caring for each other. They have an individual and collective sense that they can, as part of that community, influence their environments and each other.

"That treasured feeling of community comes from shared experiences and a sense of—not necessarily the actual experience of—shared history. As a result, people know who is and isn't part of their community. This feeling is fundamental to human existence."

Psychologist David McMillan says that there are four criteria to creating community: You have to feel like you belong, and that you matter to the group. You have to feel like the other people in that group will also meet your needs and that you share an emotional connection via experiences or history or being in the same space.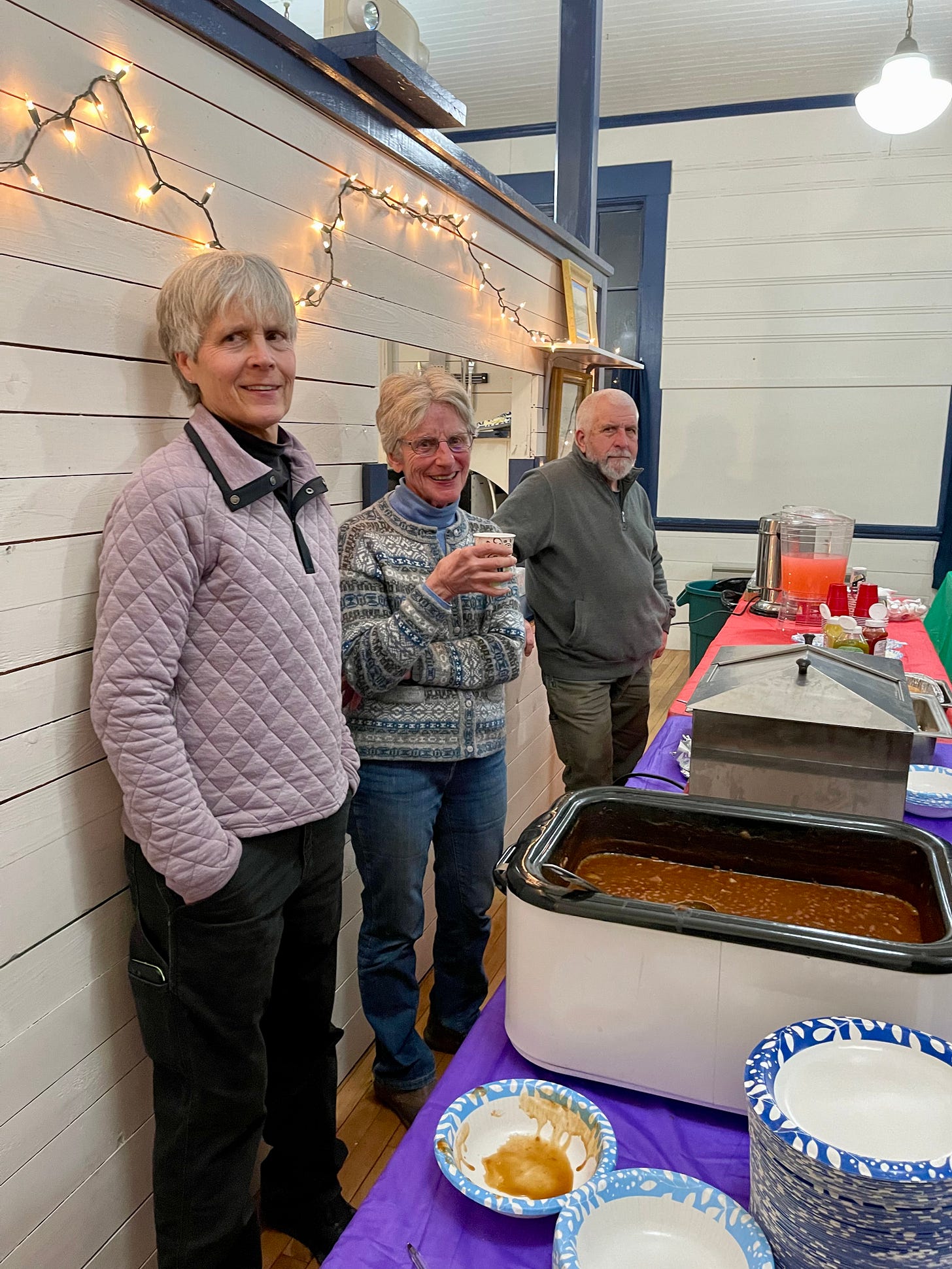 "I haven't seen you in decades," one woman said to a man talking to others, his forearms on the pastel yellow tablecloth as Town Hill Village Improvement Society Vice President Christopher Walsh handed out coleslaw, standing next to other volunteers doling out hot dogs and baked beans.
"Look at you," another woman exclaimed to a man as he walked in. He smiled awkwardly and shuffled closer.
They seem like little acts, but put together those moments become something bigger in a country and town where the decline of community is often decried.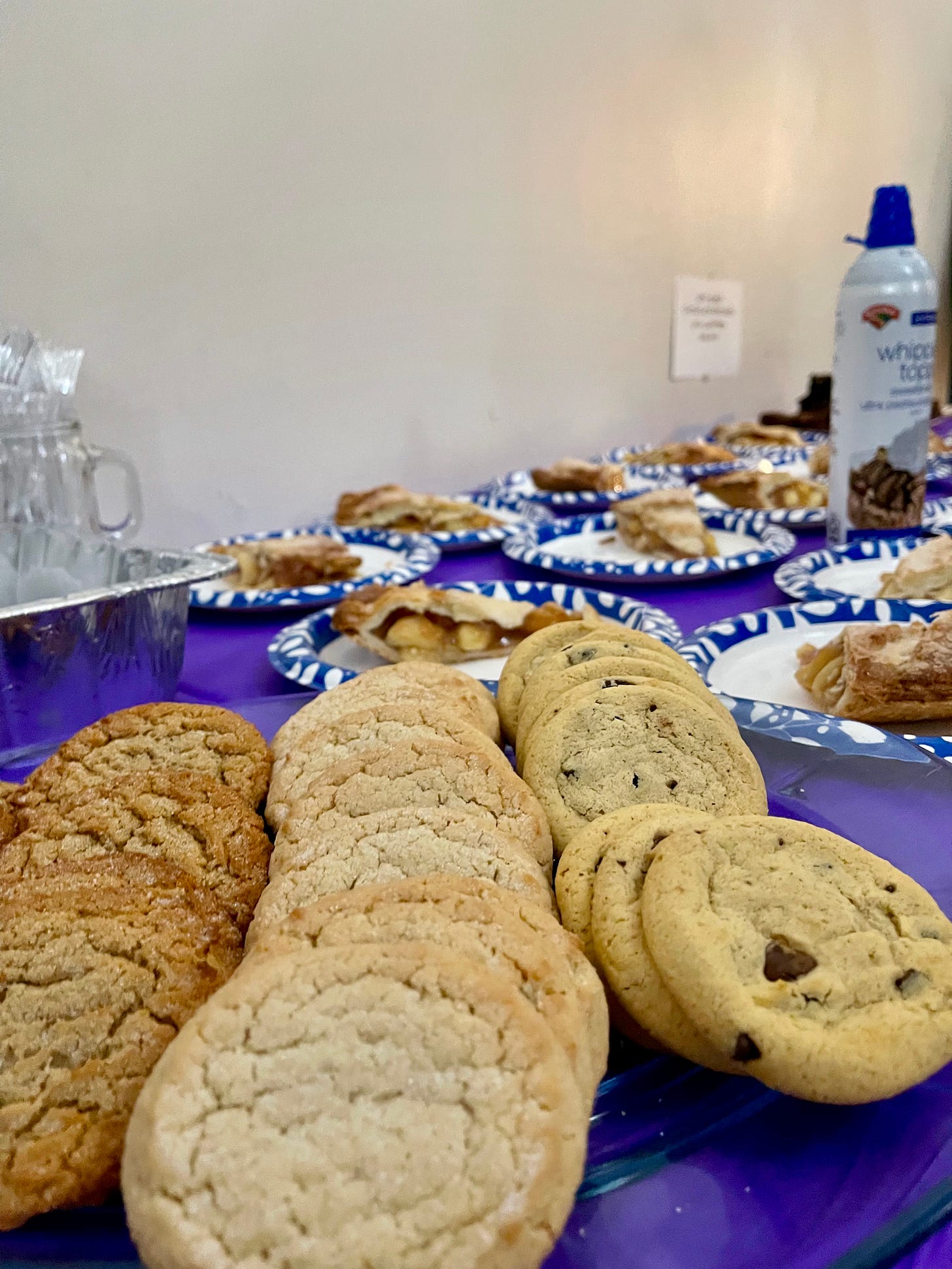 In a 2021 article Dora Mekouar writes for VOA,
"We really have moved much more towards a national community and I think even things like social media have abstracted us so much from our local communities, that we've been moving steadily towards a much more kind of nationalized community," says Brad Birzer, a professor of history at Hillsdale College.

"We used to think of the community good as a local thing, and now we tend to think of it as the whole country. So, we've definitely nationalized, to a certain extent, in our thinking, and the way that we govern ourselves."
It doesn't have to be that way, one man at the event believed. Community, he said, can be made one step at a time, one connection at a time.
That's what the supper was about.
"This isn't about making money," President Perry Moore said though they did receive just under $500 in donations and 50/50 tickets. "It's about making community."
Walsh agreed before he proudly introduced his mom who not only worked wonders with the baked beans but was keeping herself busy by straightening out the books for Town Hill's Little Free Library. The money for those books came from the Stephen and Tabatha King Foundation, a project of past president Carol Vreeland-Null.
Down on the floor in front of the old wooden bookshelves, in a nook space by the kitchen, she organized and sorted, straightening book after book. Her act of kindness was her focus.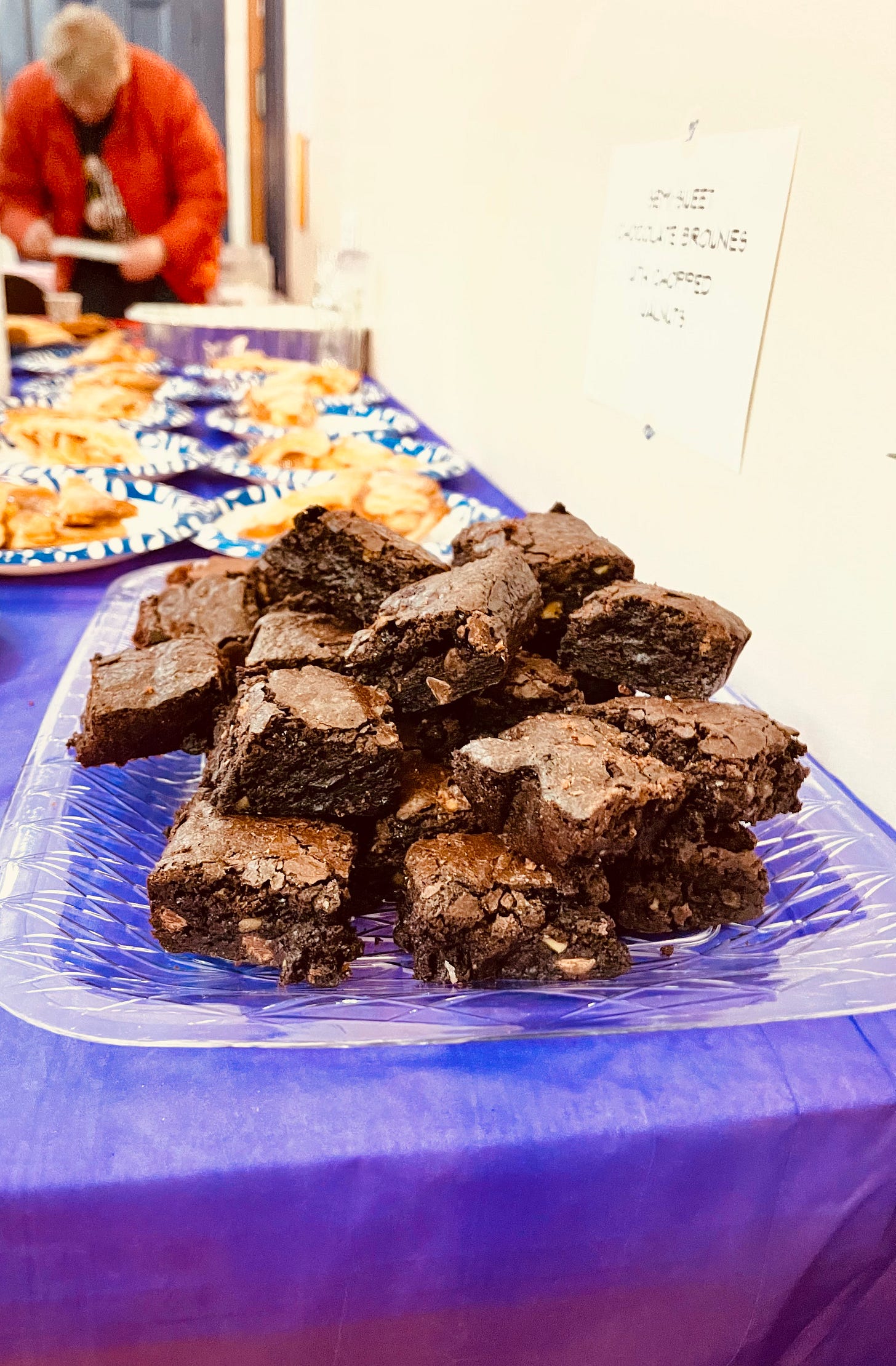 After the event, Moore called Lori Bartlett who was dispatching at the town's public safety building and arranged for the extra food to go to the fire, police, and ambulance crews. Rob Jordan won the 50-50 raffle and donated it to the playground fence project, a cause campaigned by Emily Anne Pepper, a local mom.
"Town Hill Playground is nestled between two active parking lots and is less than 100 yards from busy ME-102. Without near-constant vigilance, a child could be seconds away from major injury. By building a fence, we can prevent an accident from happening," Pepper said.
It's easy to dismiss good stories in a community as PR or dismiss stories that treat people as humans rather than as occupations as fluff; it's easy to become addicted to the adrenalin rush that happens from being aggrieved, and anger is obviously an important instrument in positive change. But anger isn't all a community is. A community is about sharing meals, sharing stories, creating connections. A community is about sharing knowledge, not for influence or power, but for good, sharing it because you care about how the other people in your community will fare.
As Matt Rofa wrote for weelunk,
"Community: a culmination of communication and unity. Get out from behind your computer/tablet/phone and start talking to real people instead of avatars. Use technology to improve community not corrode it. When we serve our community well, we build a community for life."
The Town Hill Village Improvement Society is doing just that, one supper, one baked bean, one brownie, and one conversation at a time.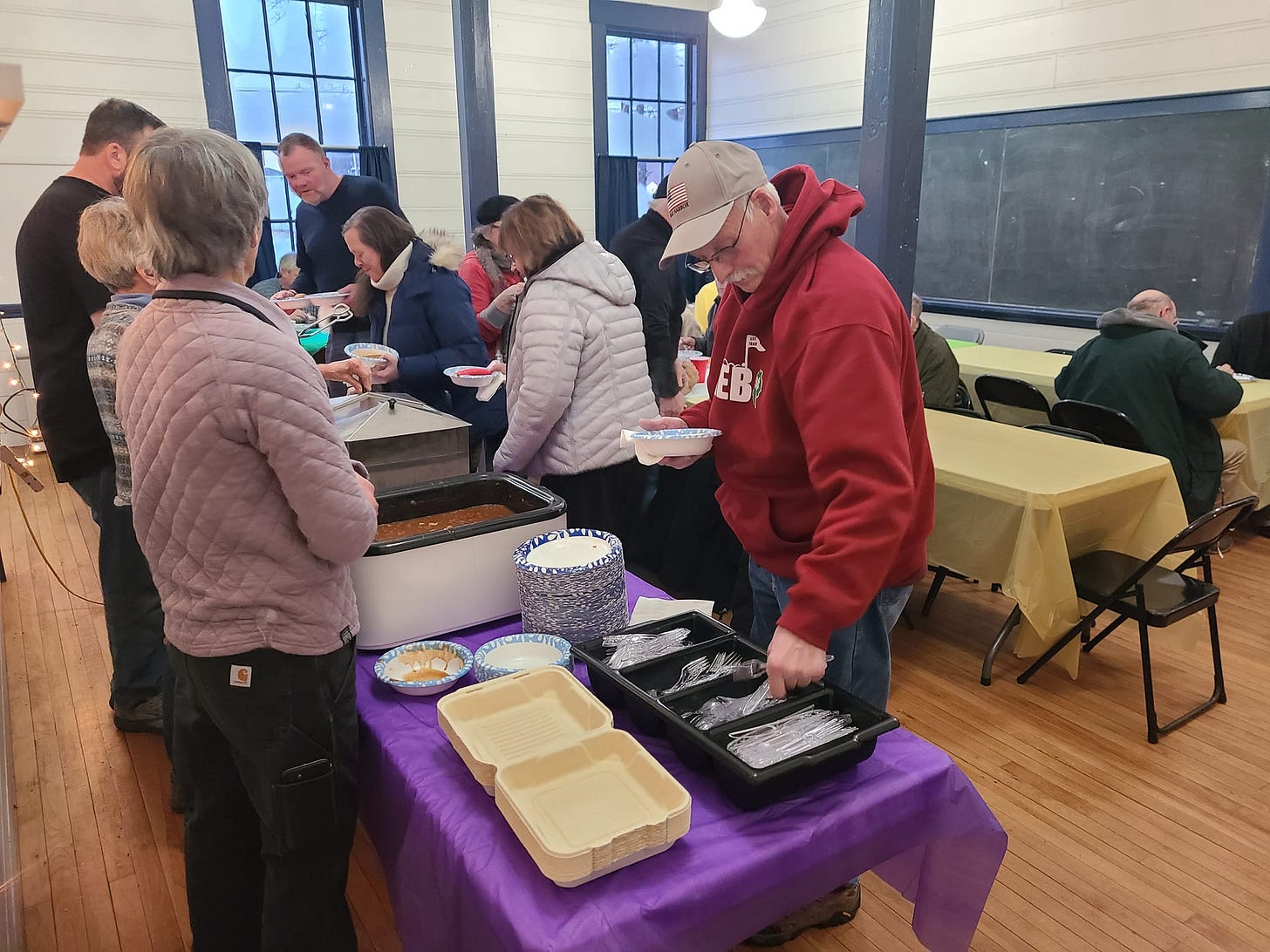 ---
OUR SOURCES AND LINKS TO LEARN MORE
https://www.voanews.com/a/usa_all-about-america_are-americas-communities-vanishing/6204030.html
Our earlier story about the Town Hill VIS, the bean supper, and its request for money to help upkeep Town Hill cemeteries, the roof of the hall, and other projects.
Our earlier story about the fence project.
The next meeting of the society is March 22 at 6 P.M. at the hall. It is open to the public.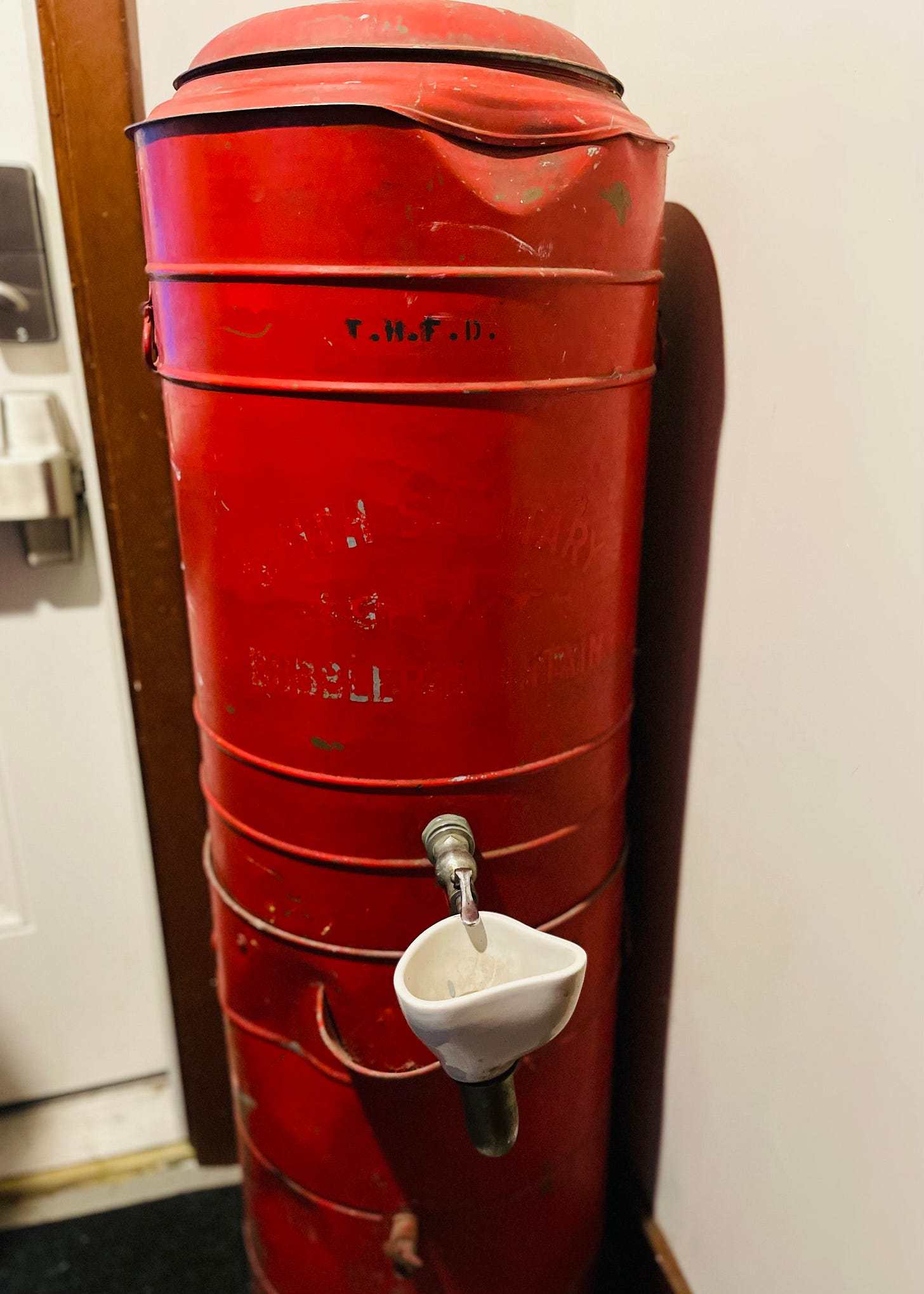 ---
RESOURCES TO LEARN MORE ABOUT VIS
To contact us by email:
townhillvis7@gmail.com
Street Address:
1328 State Highway 102
Bar Harbor, ME 04609
To make a donation please contact them here.
Its Facebook page is here.
This story has been updated to include that Carol Vreeland Nuff was the inspiration behind the King Foundation grant, the names under one of the photos and an updated meeting date.
---
Bar Harbor Story is a reader-supported publication. To receive new posts and support our work, consider becoming a free or paid subscriber. Thank you so much for being here with us!