Time would support academic, behavioral, and socio-emotional support needs of all students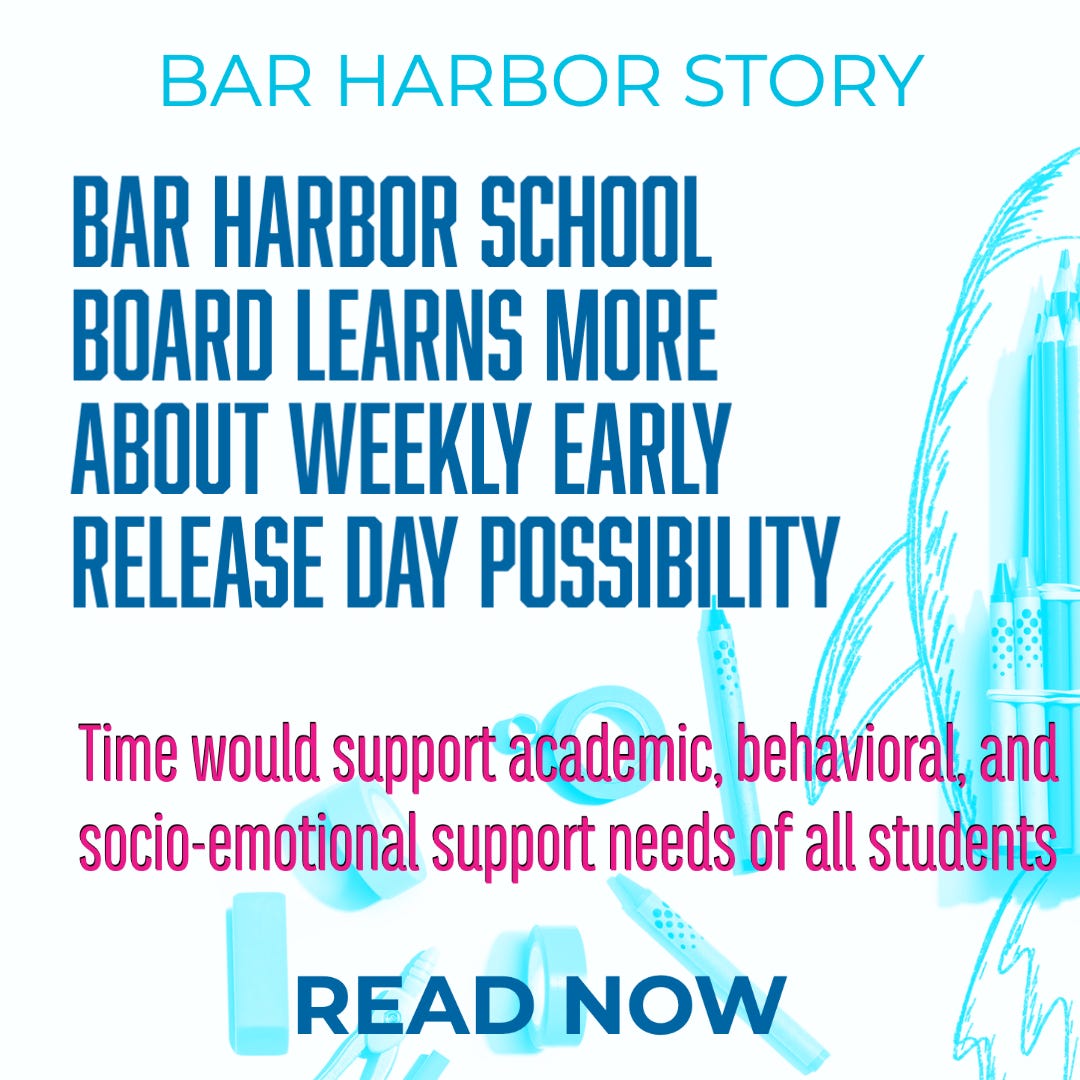 BAR HARBOR—The Bar Harbor School Committee met in the lower building's art room on Tuesday because the upper building's library was still closed to the public because of structural issues.
Superintendent Michael Zboray made the case for a weekly early release day, which would decrease the school hours in that day by 90 minutes. Zboray presented the idea at last month's AOS 91 board meeting and is now discussing the possibility with each of the island's school boards, excluding the high school board.
"We got a lot of great feedback. That was sort of the purpose to gauge the temperature of the group," Zboray said of the initial all AOS board meeting. The implementation would be district wide for k-8 schools.
On Tuesday, he brought Dean of Curriculum Julie Keblinksy to help him explain the need.
The proposal is to release students early once a week so that the entire staff can use that 90 minutes to work in teams to meet the individual needs of students that might need extra help. These students aren't necessarily part of special education, but would benefit from individualized attention that is covered under MTSS, a program that involves multi-tiered systems of support.
MTSS is defined in the pre-kindergarten through grade 8 early release rationale memo as "a framework that utilizes data-driven decision making to support the academic, behavioral and social-emotional learning needs of all students. It involves a tiered approach, with universal supports provided to all students (known as Tier 1), targeted supports for students who need additional assistance (Tier 2), and intensive supports for students who require more significant interventions (Tier 3)."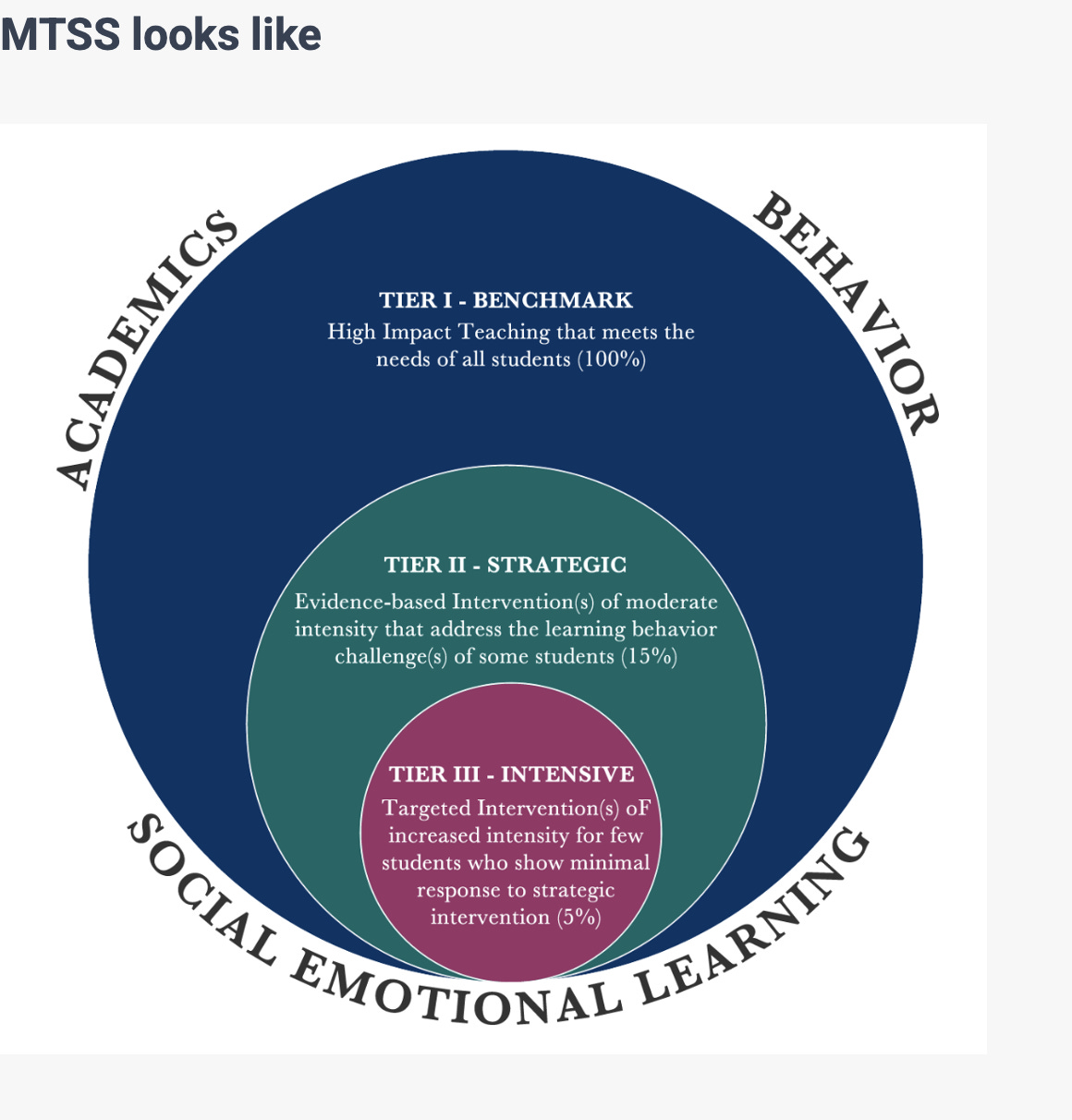 The memo says that the systems of support concept can be a bit complicated and explains further:
"First, an MTSS meeting is focused on addressing how the best educational practices are being carried out for all, and then the specific needs of students who are struggling academically or behaviorally. This requires a deep understanding of best practices and individual students' needs, as well as the ability to analyze data and make evidence-based decisions about how to support students.

"Second, an MTSS meeting involves a team of professionals with different areas of expertise, such as teachers, special education teachers, school psychologists, and other support staff. This team must be able to collaborate effectively and communicate with different professionals to develop the comprehensive plans necessary for supporting students.

"Third, an MTSS meeting requires a high level of organizational skill and attention to detail, as the team must keep track of students' progress and make adjustments as needed.

"Overall, an MTSS meeting requires a complex and nuanced approach to addressing student needs. It also requires strong collaboration, communication and analytical skills from all parties involved. As such, an MTSS meeting requires dedicated time, organization-wide focus, and preplanning to coordinate and develop the expertise required for the implementation."
To meet benchmarks requires a lot of individualization, Zboray said and it often requires MTSS team work. The classroom teacher might need to meet with ed techs, other teachers, and school social workers. To do that, currently, the teachers need to leave regular class time, which leaves students with substitutes, or they might hope to flag someone down in a hall, which many at the school board meeting believed is untenable.
It takes a lot of thoughtful planning about how to plan that extra instruction for MTSS, Zboray said.
Time to put the MTSS structure in place is limited within the school day.
Keblinksy said that it's really about strengthening the school's systems approach. This is harder to do in schools where there isn't a lot of staff and less flexibility, she said. Ellsworth schools currently have weekly early release days.
Board members worried about a potential decrease in instructional time if early release days are approved. However, Zboray and Keblinksy said that is already happening as teachers are pulled out of their rooms during instructional time to work on these issues with other staff.
Principal Heather Webster agreed, saying that currently, it's inefficient. Teachers and staff are trying to catch people in the hallways. "It ends up impacting all the kids in the classroom."
Board members also worried about the increased load on parents who would potentially have to find safe places for their children an extra 90 minutes a week.
Zboray said he has reached out to the Y, Neighborhood House, and Harbor House to see what the capacity would be to support parents. They would also have to see what the actual need is.
Vice Chair Marie Yarborough wondered how to go back from the change if it was implemented. "Are we ready to say that this is forever and for now that our school system only has school 4.5 days a week maximum?" she asked.
She also referenced a pre-Covid survey sent out to parents about this, which didn't have a no half day option. She worried about the relevance of the survey now.
The previous curriculum coordinator had created a survey for parents to determine community support. The memo reads, "The pre-COVID data shows positive agreement to support an early release schedule to achieve better student outcomes."
She added that she isn't questioning the work needs to be done, saying that Bar Harbor schools get "the neediest of needy" students and that those students need assistance.
There is a high referral rate, Principal Heather Webster agreed.
What does this do to parents? What kind of burden are we putting on parents? Yarborough asked. "It would be such a huge burden if I had children that I had to care for." Anything that we do in the school calendar is very impactful to women, she said, who tend to be the main caregivers. She said she wished they could pay teachers and staff to work for that extra 1.5 hours instead.
"We have this school that is crumbling around us and we are talking so much about what we are hoping and praying about what our community will do," she said, referencing the Conners Emerson rebuild project and a potential $64 million dollar bond. She wondered what the community would think if they hear that the kids are only going to school four and a half days a week.
If there was an option where the kids didn't have to leave the school, she would be 100 percent on board, she said.
"It's a little more than four and a half days," that students would still be attending school each week, Zboray said. "It's one and a half hours." He also said that all the administrators across the district supported the idea.
Webster said that she 1,000% supports the idea. "It's really tricky to find times when the right people have times together. The big piece of the puzzle is having the interventionist talk to the teachers."
The 90 minutes each week would be split into three 30-minute meetings of people diagnosing the right ways to help the students and the correct steps to handle it.
Every teacher is connected to a student with these needs, Keblinsky said.
"We're talking about every single member of our community," Webster agreed.
New board member Misha Mytar said there are other important aspects of community building that happen at the school for students as well as after-school activities on Wednesday, which Yarborough also mentioned. Zboray said they haven't determined yet all those aspects of the plan.
"Not being in school triggers not doing other things," Yarborough said, stressing that half days often influence students seeing a movie in the morning or after-school practices being cancelled. "It has a domino effect."
Mytar said it would be good to see how much time the students lose with their teacher currently.
There would still be professional days, which are contractual. This change, if implemented, would not replace those days, but it would replace the once a month early release on Fridays.
"We want kids to get what they need," Keblinksy said.
---
Bar Harbor Story is a reader-supported publication. To receive new posts and support my work, consider becoming a free or paid subscriber. Thank you so much for being here with me.