Manager's Budget and Cooperating Agencies also make requests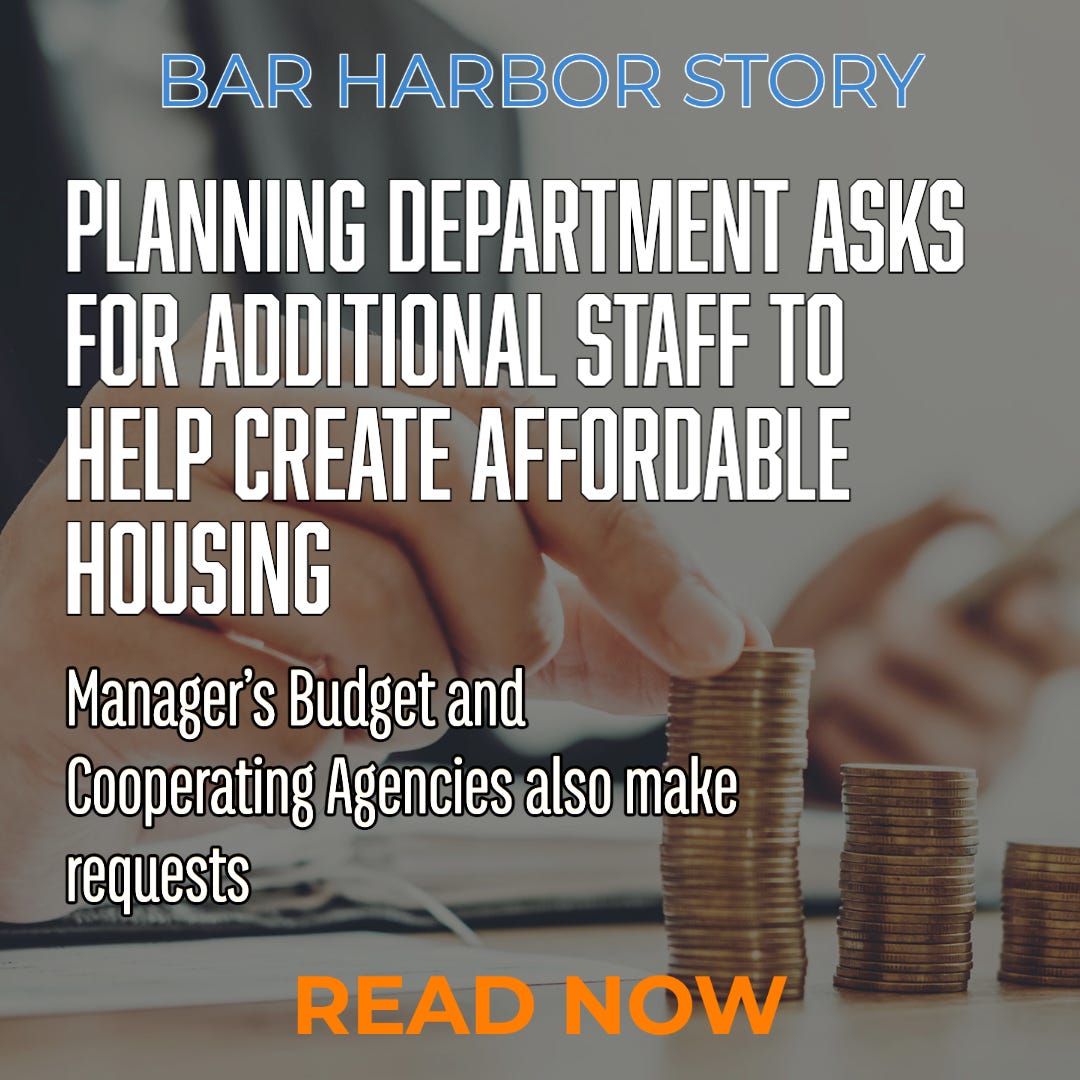 BAR HARBOR—A joint Town Council and Warrant Committee heard budget presentation on Thursday evening and the beginning of the meeting was delayed for a bit as councilors and committee members declared conflicts of interests. Those conflicts prevented them from discussing the aspects of the budget that they had a conflict with.
Councilor Jeff Dobbs was excused from the meeting because he's recovering from a heart attack.
The first conflict was declared by Ezra Sassaman, whose girlfriend, Maya Caines, is the town's communications coordinator. The motion that said he did have a conflict of interest failed, by a split vote. It was not a roll call vote.
Next, Councilor Joe Minutolo disclosed a conflict of interest with the planning department. His partner is town Planning Director Michele Gagnon. The council voted unanimously that he did have a conflict of interest.
Councilor Erin Cough disclosed that she had a conflict of interest with the cooperating agency Bar Harbor Historical Society where she is employed. That agency is asking for funds. The council unanimously voted that she did.
Warrant Committee member Caleb Cough suggested he had a potential conflict interest because his stepmother, Erin Cough, had a conflict of interest. That passed by a 7-6 vote.
Warrant Committee member Eben Salvatore asked if the conflict of interest vote carries throughout the entire budget process, not just for that night but for the entire subcommittee process. Town Clerk Liz Graves said that most votes are yes or no on changes. Those votes would be obvious if that conflict persists. Still, at succeeding meetings, it would be good to redeclare the conflict, she said. Those with conflicts of interest can vote on the entirety of the budget.
Councilor Cough quickly asked about the motions that were passed since Caleb Cough has a conflict of interest though he doesn't live with her, while Sassaman did live with Caines.
The committee moved to vote again on Ezra Sassaman's potential conflict. This time the vote was 11-2 that Sassaman had a conflict.
PLANNING BUDGET
Gagnon gave an overview of what the planning department had done in the year. They staffed 74 meetings in 2022 and 76 project applications that require staff review, reports, and decisions.
Next, she discussed the strategic work plan. The document lists actions that the planning staff believe will help move the needle and make positive actions for Bar Harbor's future. There are four service enhancement requests that were identified as needs.
HOUSING AND COMMUNITY PLANNER
In the recently completed housing analysis, it's mentioned that to keep pace with current and future housing demand, Bar Harbor needs more than 600 new dwellings.
"There's an amazing amount of work to be done to deal with the housing problem," Gagnon said. "Housing is unlike any other good or commodity. You can't just simply ramp up housing production."
To deal with that work, she is asking the town for a housing and community planner.
Bar Harbor's average work force is 5,400 people. Two-thirds live outside of Bar Harbor. People live further and further from Bar Harbor and closer to other employment centers such as Ellsworth, Bucksport, and Bangor, she said. The lack of housing could mean a decreasing amount of people to work in area businesses.
Councilor Gary Friedmann asked what the housing planner would do. Gagnon said the person in that position would work on inclusionary housing programs and the definition of affordable housing for Bar Harbor. The planner would develop a program focused on community housing and create an amendment to the ordinance to allow that program. The town would have to decide if this should be a mandatory or voluntary program, the price point, and define affordability. Then they'd have to determine how a fund would be created and utilized. They'd have to deal with regulation and dealing with partners outside of the town government to get those programs in place.
STAFF PLANNER, SOFTWARE MODULE and COMPREHENSIVE PLAN
The staff planner requested for this upcoming year was taken out of the town manager's recommended budget and Gagnon is asking that it be put back in.
The staff planner, if approved, would increase time spent on developing plans and programs, would research and write ordinances as well as work on public engagement and outreach.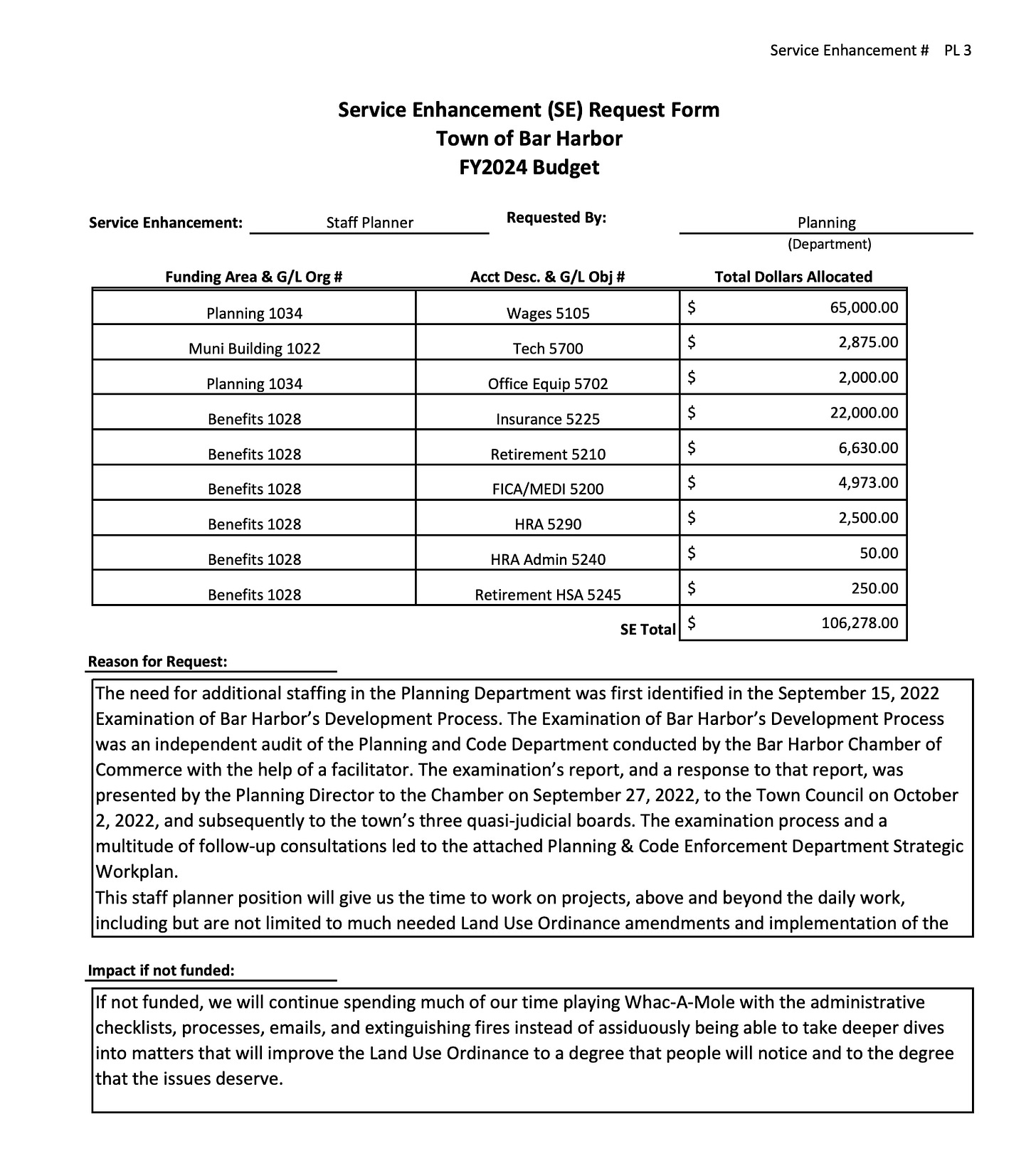 The planning department is also asking for a $5,000 recurrent annual fee for a software program's specialized planning module.
The department also asked for the funds to finish paying for the town's comprehensive plan, which is already in process.
"I have never been so nervous presenting a budget in my entire life because I have never had such big asks in my entire life…. I recognize the magnitude of what I'm asking tonight. We did not do this lightly," Gagnon said. She emphasized that the asks are coming because of the town council's focus on the housing problems as well as the comprehensive plan's study on housing issues and affordability, as well as the planning department's man-hour needs to get the work done on those issues on top of its current workload.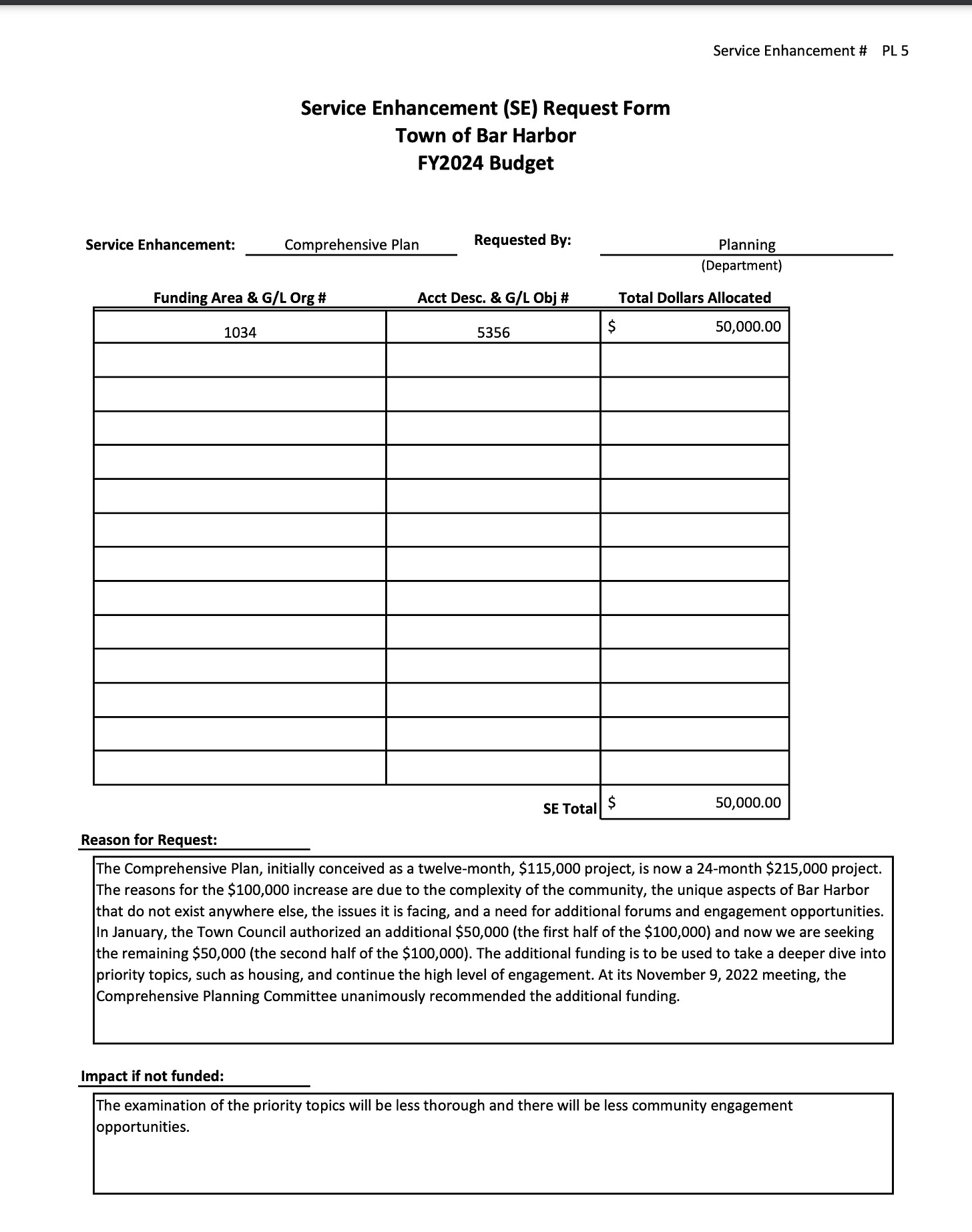 TOWN MANAGER BUDGET
DATA ARCHITECT
The town manager's budget, created prior to Kevin Sutherland's resignation last week, asked for a data architect and some other service enhancements, said Interim Town Manager Sarah Gilbert. She presented the budget as is.
The current assessor, Steve Weed, also works as a GIS coordinator. There's not enough time to complete that job and the assessor job. The position would help with the downtown infrastructure and the work that needs to be done.
Friedmann said he was looking for rationale for a full-time person during a tight budget year.
A data architect uses GPS data to map things such as infrastructure (like manholes). The process ends up showing all the things on paper maps in an electronic form. Councilor Jill Goldthwait wondered if there was a way to do that via outside contracts.
CES Engineering could be contracted out, Gilbert said. She would look into the difference in cost.
Under the plan, the assessor would be a part-time position. There is also an advertisement for an assistant assessor, which would be a part-time position as well. A new staff member was just hired and will start on Monday, that staff person is full time.
Cough said if this is a GIS position, she's unsure why it's in the manager's office, not the assessor's office. She also suggested contracting the work out. She thinks there might be some restructuring needed in the assessing department.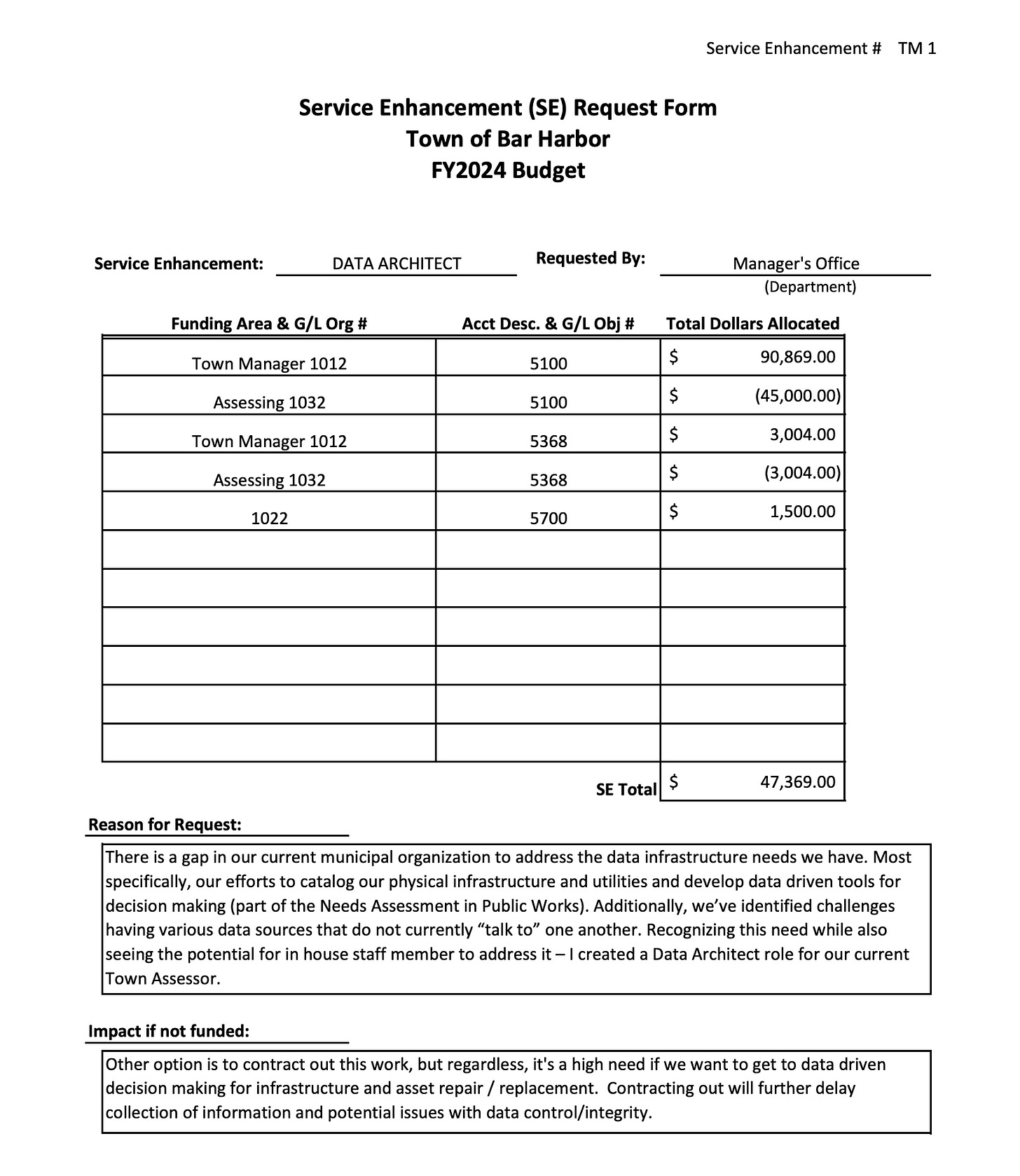 ENERGY MANAGEMENT SOFTWARE
There is a $6,200 ask for energy management software. Councilor Cough asked if they could get a grant for that. Gilbert said she'd check on it. It would help alleviate the data entry done by the town's sustainability coordinator, Laura Berry, who was hired this year.
COMMUNITY ENGAGEMENT
Another ask was for $15,000 for community engagement.
"This feels wholly inappropriate," Councilor Cough said.
Goldthwait asked what sort of events were being hosted. The current communications coordinator was unable to be there at the meeting and Gilbert did not know the answer.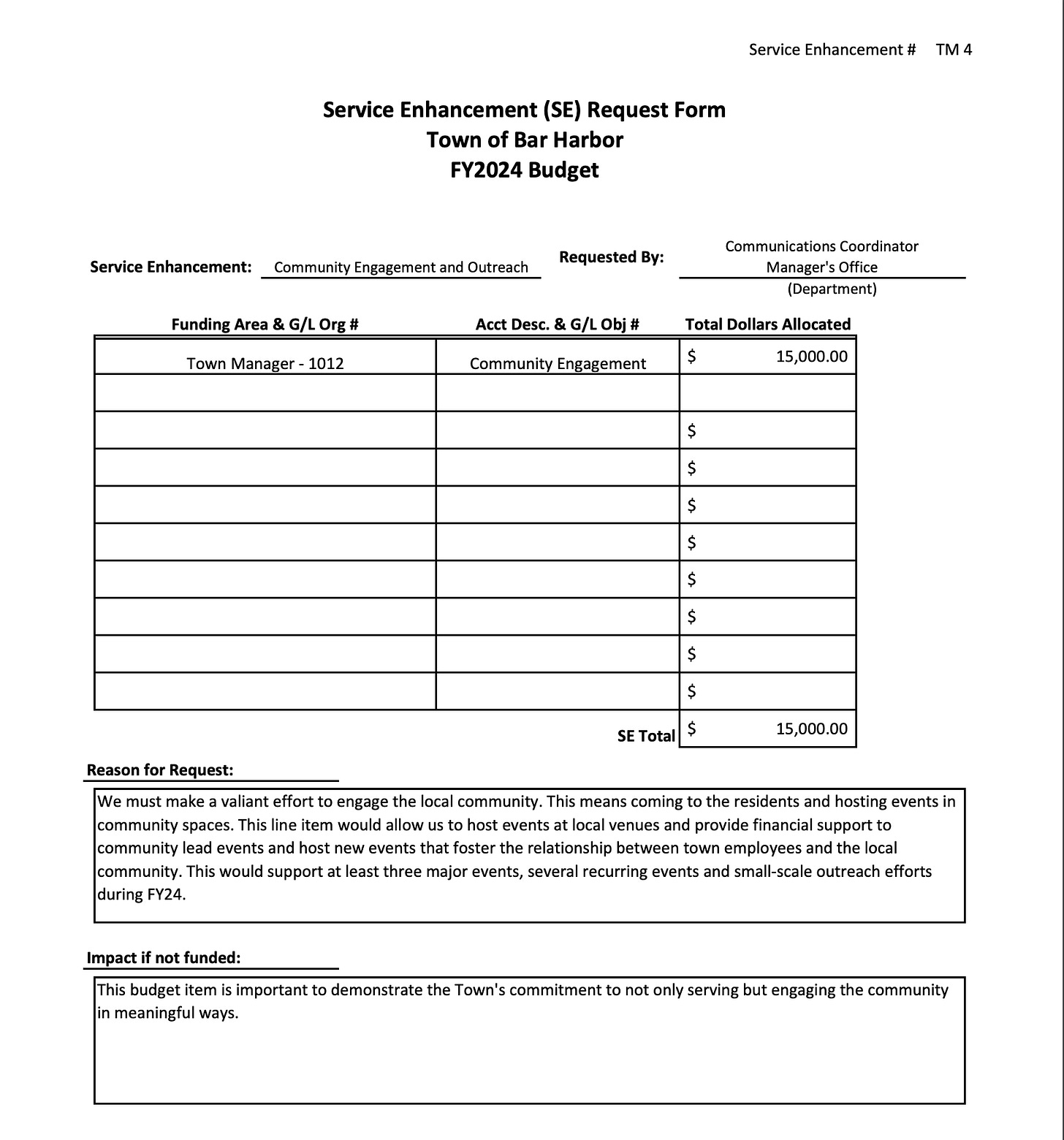 CLERK AND ELECTIONS
Town Clerk Liz Graves gave a rundown of her department, which will have increased mailing costs for the elections.
There has been an uptick in general assistance this year. There has been a bit of emergency heating assistance happening, she said.
FINANCE DEPARTMENT
Gilbert quoted the last finance director and her mentor, Stan Harmon who said, "Watch the pennies and the dollars take care of themselves."
The finance officer helps the town and school budget of $40 million.
The department has withdrawn its service enhancements requests.
COOPERATING AGENCIES
The town asked the five cooperating agencies that requested significant increases to give three-minute presentations. At the moment, the budget is flat for all cooperating agencies and that would have to be increased by the council or warrant committee, Graves said.
The Bar Harbor Historical Society is mostly funded through donations, and there is some funding from ticket sales. There are more than 75 volunteers and many of their programs are free. They want to offer more educational opportunities and field trips for local school children, which is why they are asking for an extra $1,000 to increase the town support to $3,500.
Maine Family Planning WIC program is asking for $1,450 to help fund the increased number of participants. There are currently 29.
Downeast Community Partners is asking for increased support for a total of $10,620 due to increased need for support. They currently help 36 Bar Harbor residents with heat, which they believe represents about 5% of the service's value.
The Mount Desert Nursing Association serves 100 Bar Harbor residents (1,800 visits a year) and is asking for $9,000. Bar Harbor residents represent 43.75% of those the agency serves.
The Town Hill Village Improvement Society has a memorandum of understanding with the fire department about the firehouse in Town Hill. Vice President Christopher Walsh said that they need to hire an engineer to go in and check out that building, which has multiple issues. That MOU is up for renewal this September.
In the 1947 deed, it states that if the organization disbands for two years, the hall and fire station come back to the town. The group is looking for help for engineering costs for Bar Harbor's real estate, Walsh said. The group also took on the care of the church on the Crooked Road. The church's basement has flooded multiple times. They also take care of the nearby cemetery, which has had burials for 190 years and now has tree growth which is infiltrating the graves. The organization is requesting $3500. They also support the playground and ballfields in that area, performing groundskeeping for those and the cemetery.
---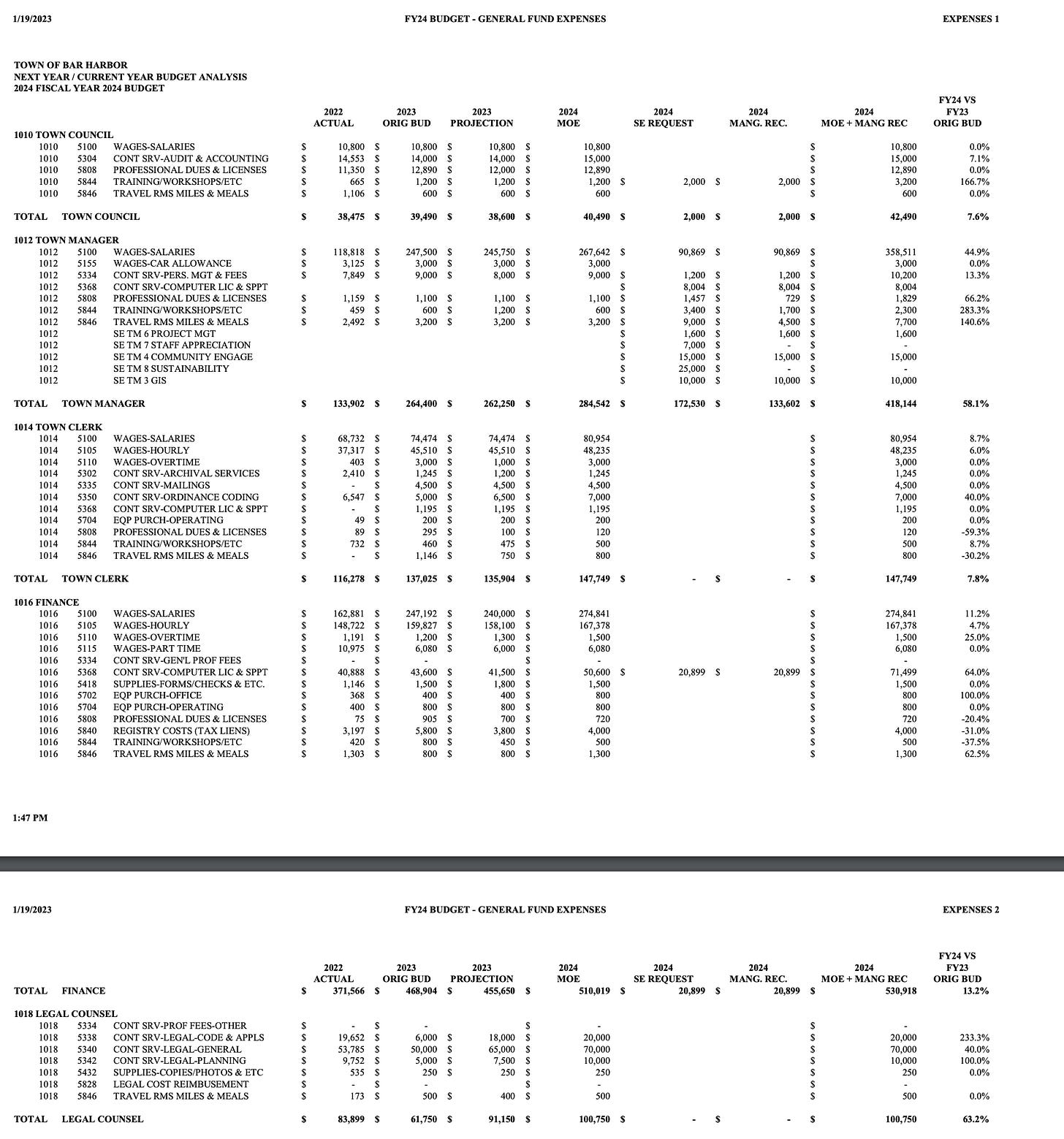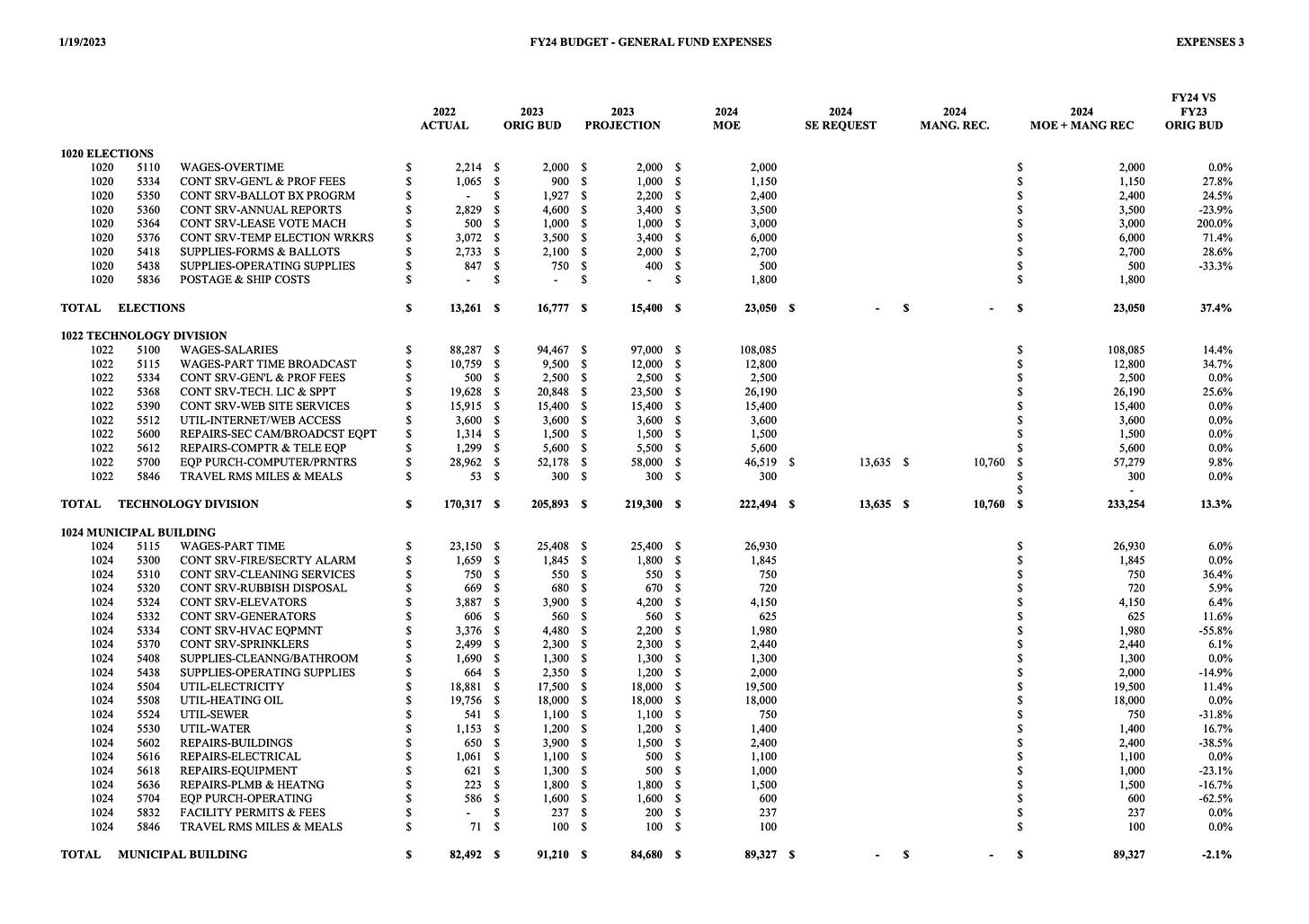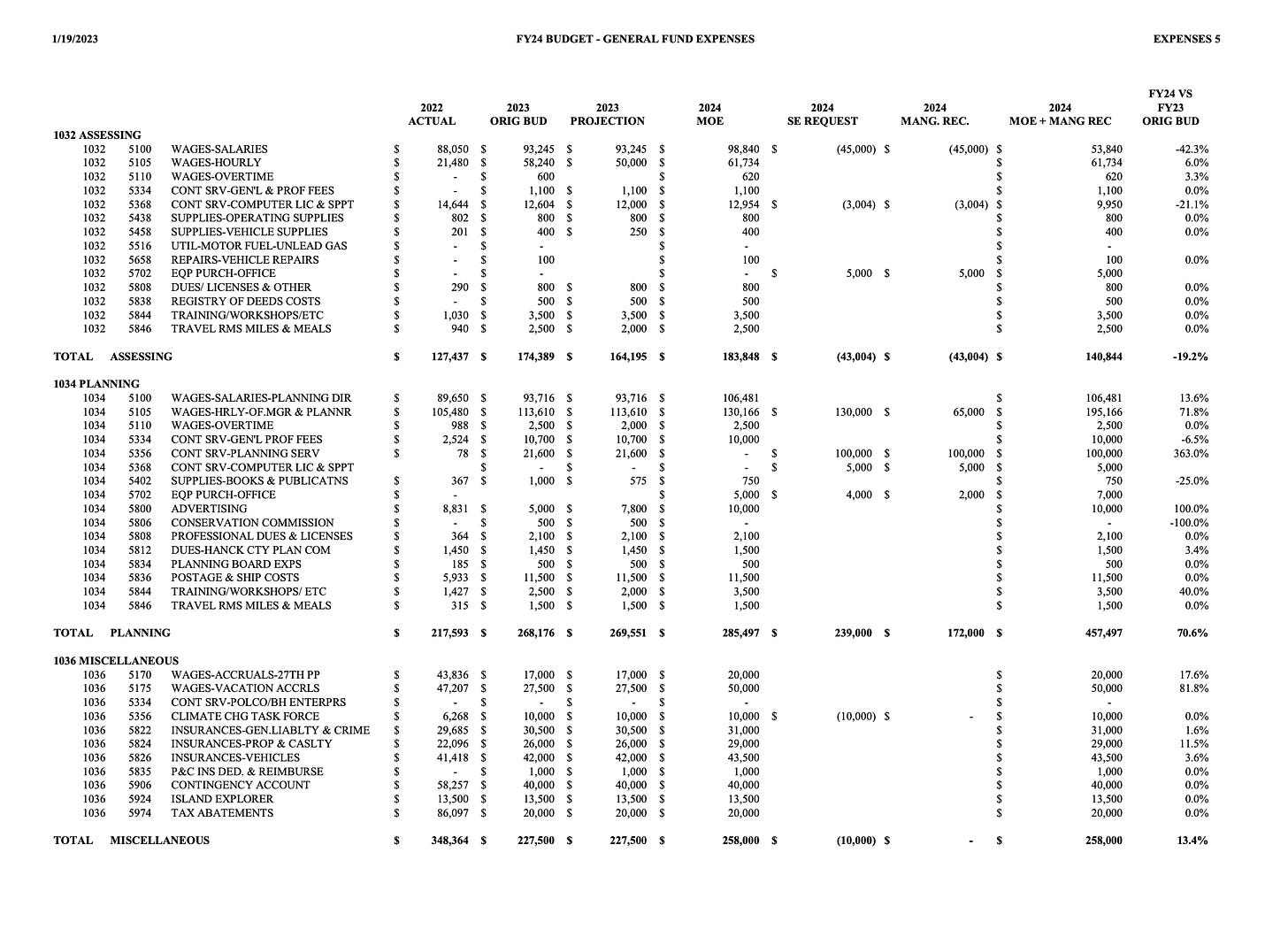 ---
LINKS TO LEARN MORE
---
Bar Harbor Story is a reader-supported publication. To receive new posts and support my work, consider becoming a free or paid subscriber. Thank you so much for being here, and please don't attack other humans in the comments.