Citizens' Initiative Lead Petitioner Asks To Be Part of Court Case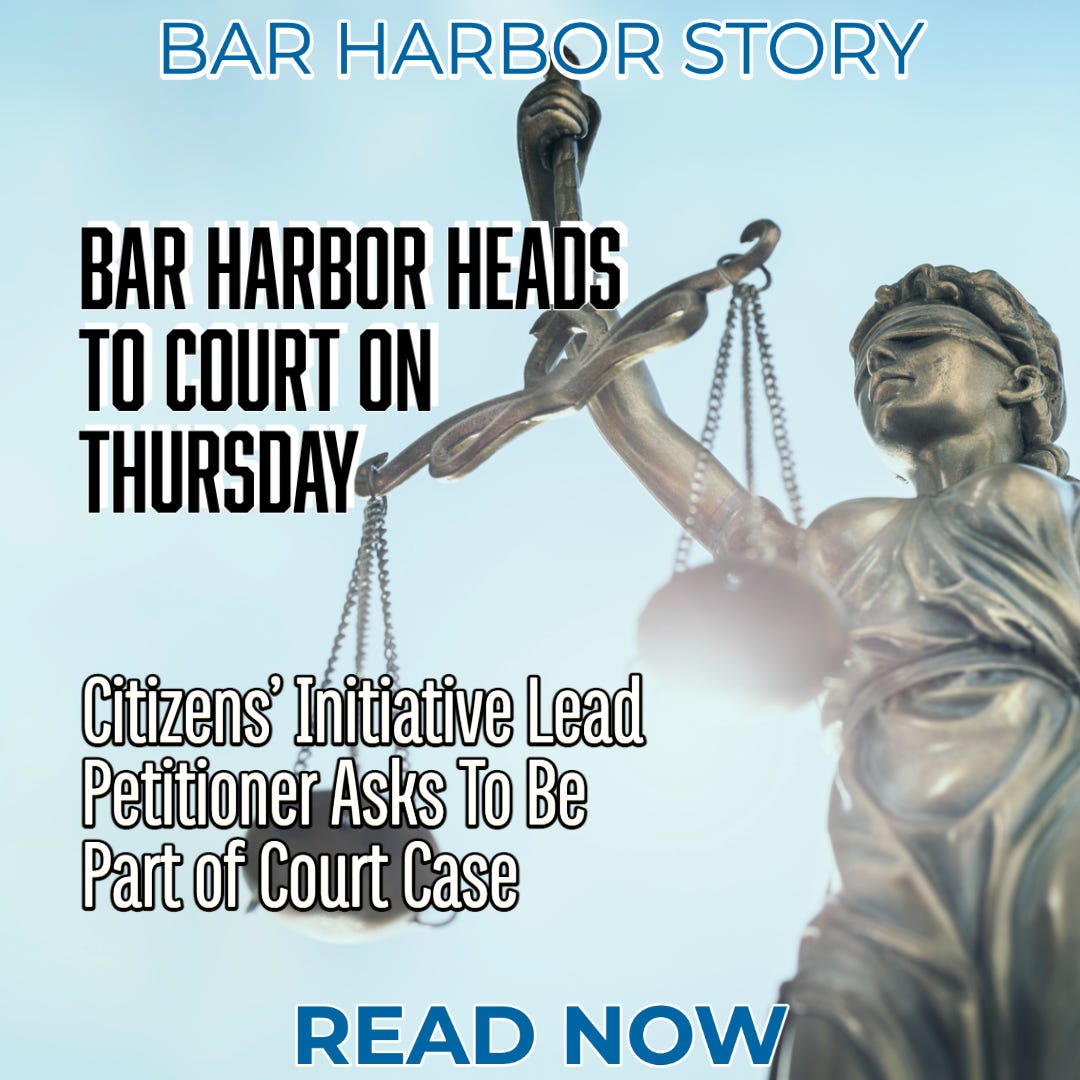 BANGOR AND BAR HARBOR—According to its published agenda, the Bar Harbor Town Council will head to Bangor Thursday morning for an executive session with its town attorney "for the purpose of discussing the litigation and engaging, through counsel, in a settlement conference concerning the pending motion for a preliminary injunction."
The litigation refers to APPLL et al v. Bar Harbor, which opposes the town's new daily cruise ship caps which were voted for by citizens in November after a citizens' petition led by Charles Sidman. The suit by APPLL (Association to Preserve & Protect Local Livelihoods, a new nonprofit organization) and several businesses that deal with the cruise ship says that the move is unconstitutional. The new rules created fines for disembarkations of over 1,000 each day.
An article in the Mount Desert Islander by Victoria DeCoster writes that Sidman "filed a motion to intervene in a lawsuit challenging the new restrictions."
Sidman is asking to intervene or be a "friend of the court" if he's not allowed to intervene. He has already launched a crowdsourcing site to help him fund the move. The Penobscot Bay and River Pilots Association also filed a motion to intervene, but in support of APPLL's case.
According to Merriam-Webster Dictionary, a friend of the court or amicus curiae is, "one (such as a professional person or organization) that is not a party to a particular litigation but that is permitted by the court to advise it in respect to some matter of law that directly affects the case in question."
This week, the Bar Harbor Town Council decided to mediate the lawsuit's requested injunction. That injunction pauses the caps and ordinance's other aspects until the court makes a decision on the case. If that mediation is passed, the town's earlier (this fall) memorandums of agreement with different cruise ship lines will take place during the court's decision making process, rather than the more restrictive cap passed by voters. The town's earlier agreements were put in place in fall 2022 and also restricted visits, but were based on lower berthing capacity and monthly visits rather than daily caps.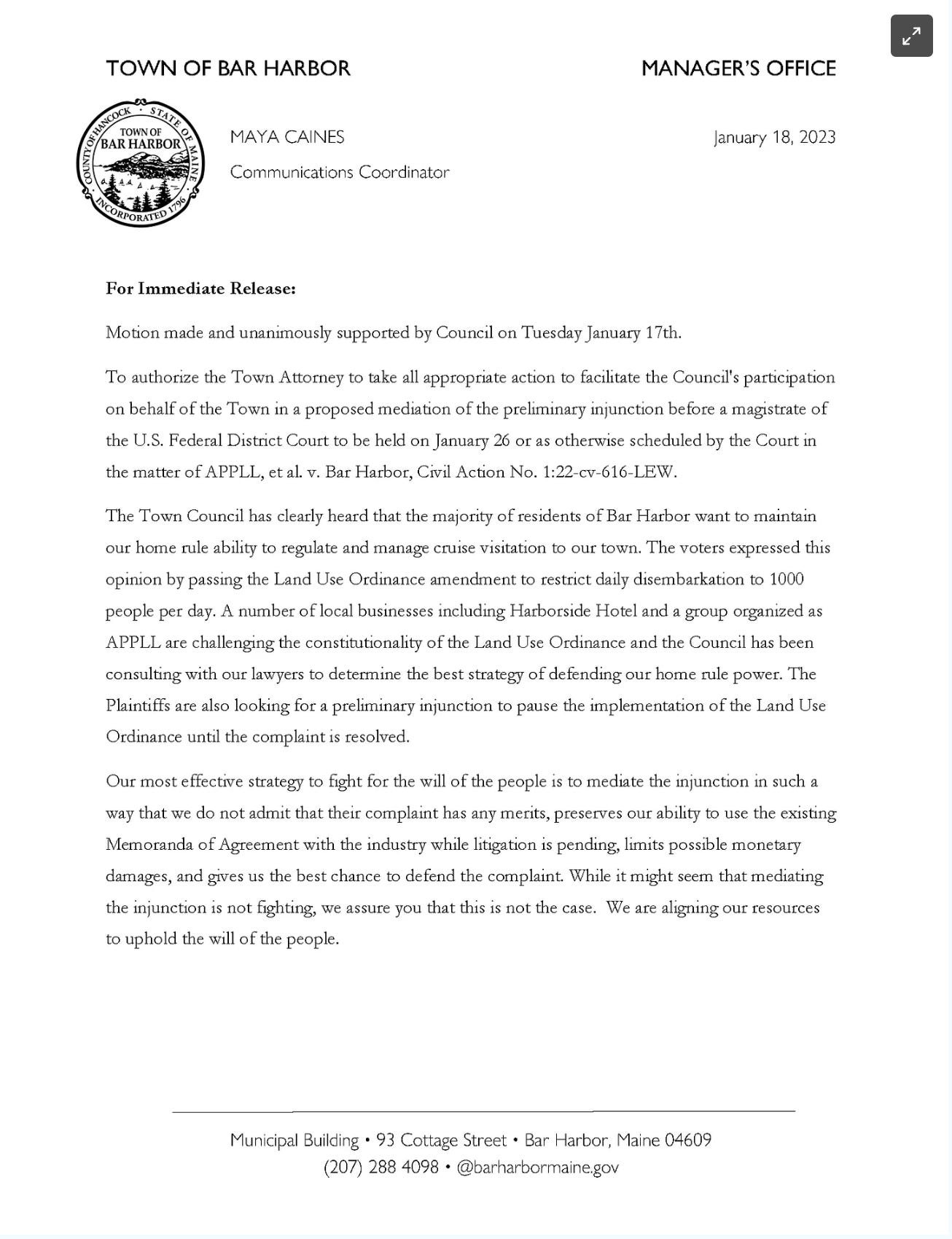 According to the upcoming agenda, "Upon entering executive session, the Town Council will relocate to the Margaret Chase Smith Federal Building and courthouse. Any members of the public in attendance at Rudman Winchell will be asked to leave the conference room and may return when the Council returns to the conference room to exit executive session. Members of the public are not permitted to attend the executive session at the courthouse."
Rudman Winchell is the office of the town's attorney.
---
MORE INFORMATION ON THE MEETING
Time: 8:00 AM - 11:00 AM
Location: Bangor office of Rudman Winchell law firm, ground floor conference room
Address: 84 Harlow St
Bangor, ME 04401
Link: Zoom webinar link
---
REFERENCES AND LINKS TO EARLIER STORIES
https://www.mdislander.com/news/tourism/petitioner-files-to-intervene-in-cruise-ship-lawsuit/article_58657080-98fb-11ed-8181-4316285c7aa0.html
http://barharbormaine.gov/268/Cruise-Ship-Committee
PILOTS ASSOCIATION ASKS TO JOIN LAWSUIT AGAINST BAR HARBOR'S CRUISE SHIP CHANGES
https://trellis.law/motion-type-dictionary/what-is-a-motion-to-intervene-complaint-in-intervention-28
https://www.merriam-webster.com/dictionary/amicus%20curiae
Town Council Authorizes Town Attorney To Mediate Cruise Ship Lawsuit Injunction
BAR HARBOR—The Town of Bar Harbor is looking to mediate an injunction in a lawsuit against the town's new cruise ship caps. The injunction would pause the new rules. After an executive session during its regular Town Council meeting Tuesday night, the Bar Harbor Town Council has released a statement via the town's Communications Coordinator Maya Caines…
3 days ago · 1 comment · Carrie Jones
You can see the filing to U.S. District Court
here, https://drive.google.com/file/d/1ajLq2XsSGMq11d2PIgx5x5amUOwfYJLn/view
For more information you can visit the APPLL website at www.appllbh.org
For our earlier story on the lawsuit, click here.
To check out the "Protect Acadia From Cruise Ships" fundraiser on GoFundMe, click here.
---
Bar Harbor Story is a reader-supported publication. To receive new posts and support my work, consider becoming a free or paid subscriber. Thank you for being here with me. We value your opinions and appreciate you.