Town Manager Drafts Ordinance Based on Bangor's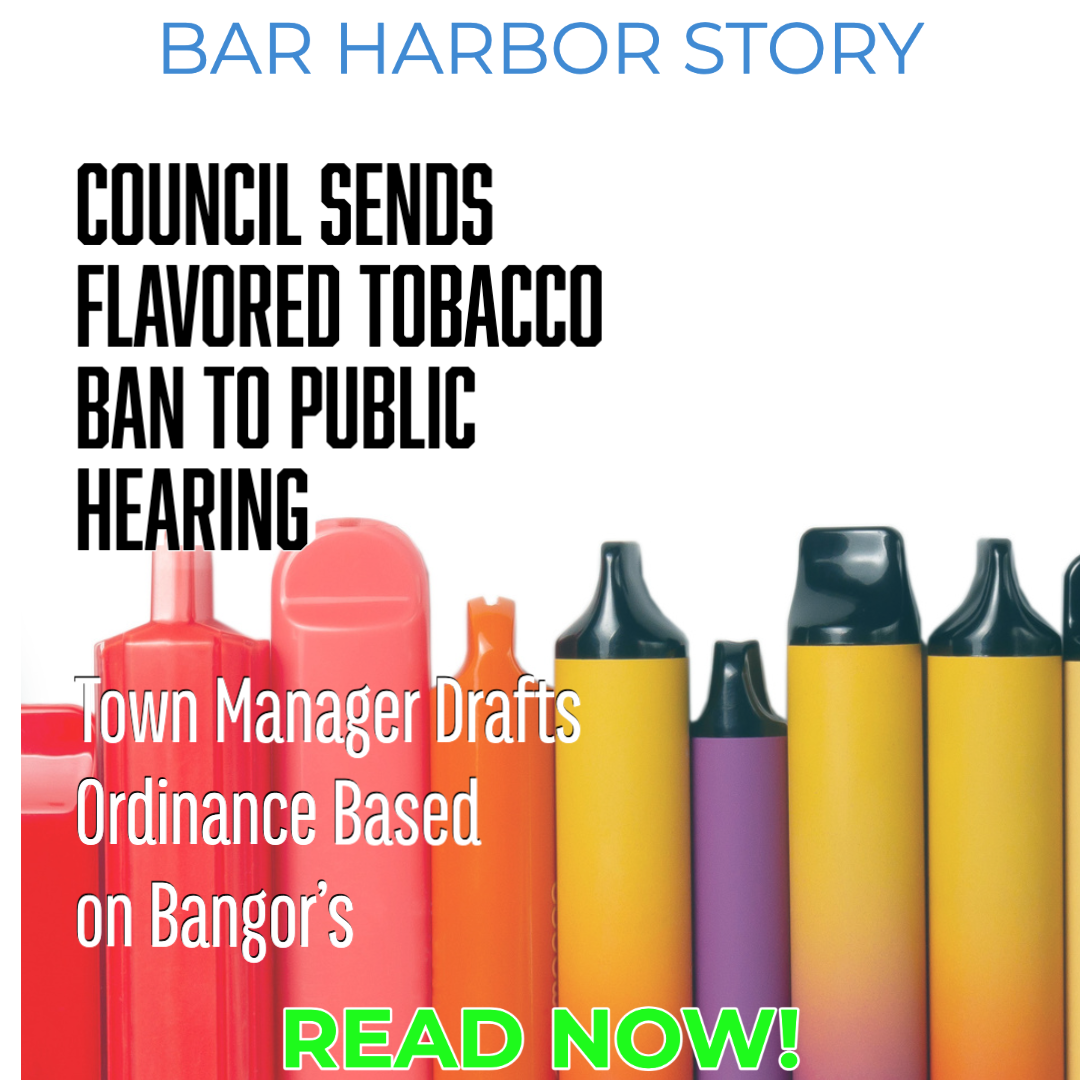 BAR HARBOR—A split council approved 5-1 sending a potential new town ordinance banning flavored tobacco products to public hearing in March. Councilor Erin Cough voted against the move. Councilor Jeff Dobbs had an excused absence due to medical reasons.
Cough had multiple objections. She said if the ordinance was about the health implications, then it should cover all tobacco and nicotine products not just flavored ones. She also said that the town needs to think about how it legislates people's choices about what they put in their bodies. She added that there is already a state law that prohibits the use of tobacco products by people under 21.
Vice Chair Matthew Hochman said that he is also nervous about impinging on people's civil liberties, but he is in favor of moving the potential ordinance to a public hearing so that he can hear from the public's opinion. That hearing will be during the council's meeting on March 7. Council meetings begin at 6:30 p.m. and are held at the Bar Harbor Municipal Building on Cottage Street.
During the Tuesday meeting, Cough also worried about making the ordinance a toothless law when there is already a $500 state fine for merchants selling tobacco products to minors. The town ordinance would add an additional $50 to $100 in a 24-month period. She added that the ban focuses on the flavored products that are more enticing to minors, but said that there are flavored alcohol products that are also more enticing, but those aren't also being banned.
Councilor Jill Goldthwait said that this ordinance could be done quickly and with fairly good support in the community. If the council wanted to expand it to all tobacco products at a later date that could be done, too.
Town Manager Kevin Sutherland took the Bar Harbor ordinance language directly from the Bangor ordinance language, which made it the town manager's job to enforce (or his designee). The council voted to tweak the language to have the police chief or police chief's designee be the ordinance's enforcer.
At the Town Council meeting earlier this month, Councilor Gary Friedmann introduced Arthur Blank, former CEO of MDI Hospital and Friends of Acadia Board member to discuss the potential town ban of flavored tobacco products.
"This is a significant issue particularly at the high school right now," Friedmann had said.
Blank had said that slowing the spread of nicotine addiction was going well until recently, and that this was partially true because the tobacco industry has been able to market its design and product to kids. "It's become a major challenge for the high school as well as others."
One way of dealing with it is to get the products out of the stores in town, he said.
According to the Federal Food and Drug Administration,

"Flavors are added to tobacco products to improve flavor and taste by reducing the harshness, bitterness, and astringency.

"However, the use of flavors in tobacco products raises important public health questions. For example, FDA is aware of early reports that some flavors could help adult cigarette smokers switch to potentially less harmful tobacco products. On the flip side, research has shown that sweet-tasting flavors are particularly appealing to youth and young adults.

"FDA has already banned cigarettes with certain kid-appealing flavors and has announced that it plans to propose tobacco product standards to ban menthol as a characterizing flavor in cigarettes and ban all flavors (including menthol) in cigars.

"In April 2021, FDA announced its plans to propose tobacco product standards within the next year to ban menthol as a characterizing flavor in cigarettes and ban all characterizing flavors (including menthol) in cigars."
Julie Daigle, community health and development coordinator for Healthy Acadia was the main presenter at that meeting and extolled tobacco's addictive properties especially on people under 24.
"If you don't start when you're a young person, you're probably not going to start at all," she said, stressing that she believes that tobacco companies know this and have developed 15,500 flavors to market to kids.
---
LINKS TO LEARN MORE
To read the draft ordinance and council minutes, please see the Town Council packet.
For our original article with FDA footnote links and graphs, click here.
---
Bar Harbor Story is a reader-supported publication. To receive new posts and support my work, consider becoming a free or paid subscriber. Thank you for being here and feel free to share your thoughts! And thank you for your support. I'm just one person doing this and I'm trying my best, but I am definitely not going to be perfect.