Senior X Program at MDI High School Revamped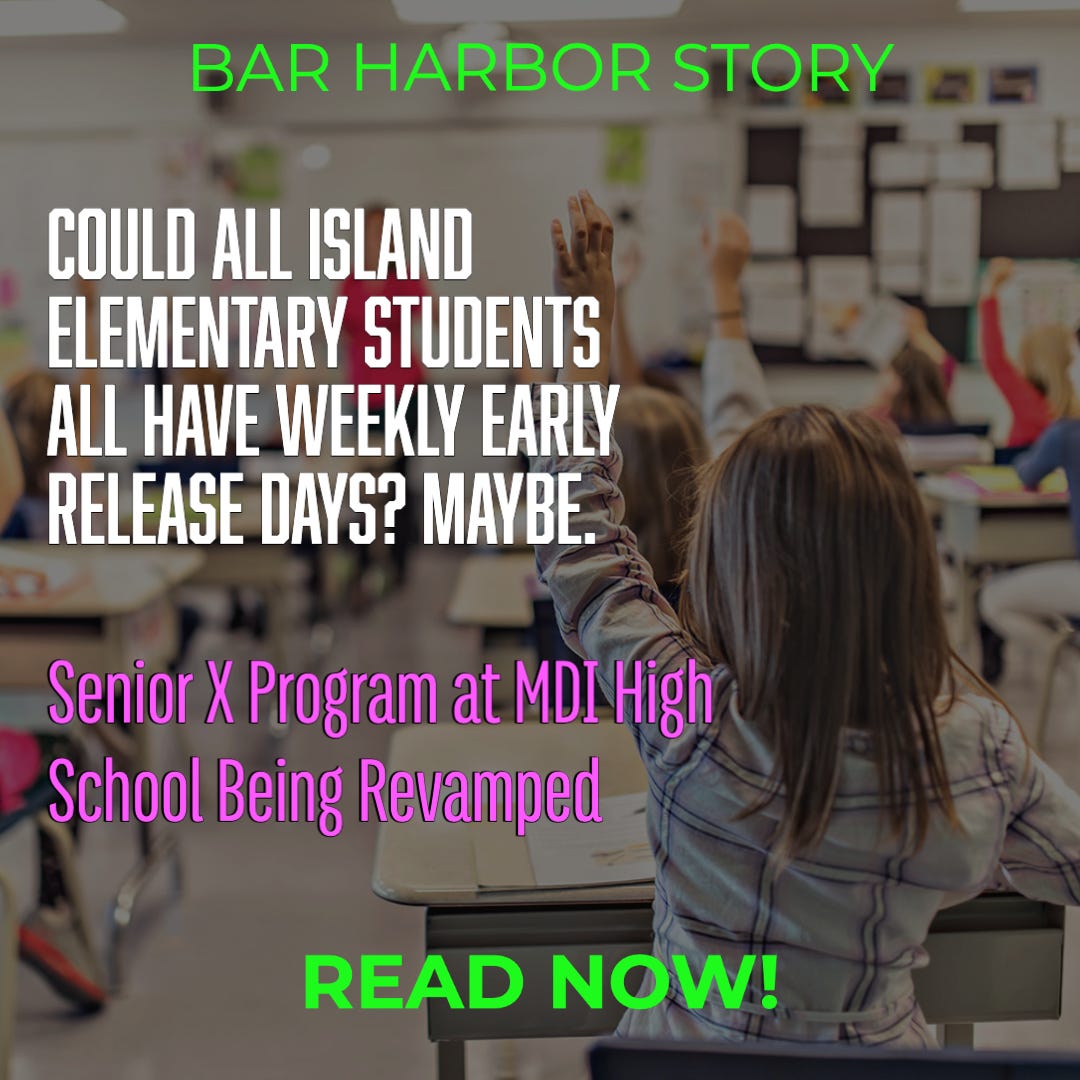 BAR HARBOR—A potential plan for elementary schools across the district to be released early every week to give teachers at those grade levels an equal amount of training and learning time that occurs at the high school level was not met with resounding support at the meeting of the Mount Desert Island Regional School System Board Monday night at the MDI High School library.
School Superintendent Michael Zboray brought up the discussion about dismissing elementary students an hour or so earlier every Friday. That discussion is in very early stages. And he said he wasn't quite ready for feedback on it.
High school students already get out around 2:15 p.m. on early release days, which is about an hour early. There are currently early release days worked into the elementary school calendar, but they are not every week. One board member said that had been a compromise about two years ago and that the feedback from the community had been voracious. Zboray said that he would find the data and bring it to the board about the prior change.
Board members worried what would happen to students who didn't have places to go on early release days. One board worried about the equity for kids who have no place to go other than an empty house.
"We can't keep people from working their jobs," Tremont School Board member Keri Hayes said.
Bar Harbor Conners Emerson School Committee Vice Chair Marie Yarborough said she doesn't remember any community support from that earlier attempt.
"I can't remember the last time our kids had a full week of school," Yarborough said. She said she wasn't currently supportive of changes to the calendar verses systemic changes to get teachers the time they need to plan and learn. She said she acknowledged the problem but questioned the solution. Others said that consistency is helpful for families and students.
Ellsworth, RSU 24 and Union 93 all utilize early release days that support teaching and learning, Zboray said.
Hayes said that if the district is providing a safe place for the kids during that early release time it could be an opportunity to offer more for the kids, but the question becomes where to find the resources to fund that. One board member suggested arts programming could be a possibility. Another suggested supervised play.
No action was taken because the discussion was in its preliminary stages.
SENIOR X AND GRADUATION STANDARDS
Speaking of changes, Dean of Curriculum Julie Keblinsky, spoke of potential changes to Mount Desert Island High School's Senior X project and graduation standards.
For years, the high school had a senior exhibition where seniors explored an area of interest and reflected on the process. Many students find mentors in the community and present at the end of the project to classmates, staff, and community members.
It initially started with a lot of funding to support projects, Keblinksy said. "We had a long history of amazing events." The community was involved. There was mentoring. "It's something that our school has been proud of."
"It's also a huge investment," she said.
When the program was developed, the high school community decided that they didn't want a diploma that was only a bunch of credits, but focused more about the meaning behind the diploma.
Proficiency based education started when the state created requirements and standards.
"We performed really well," Keblinsky said.
MDI High School's college entrance rates in Maine private schools increased as it focused on meeting those state-created proficiency-based standards. Now, she said, that they are wondering if that traditional way is the best. There's no technology standard, nothing about digital citizenship in those state requirements and standards.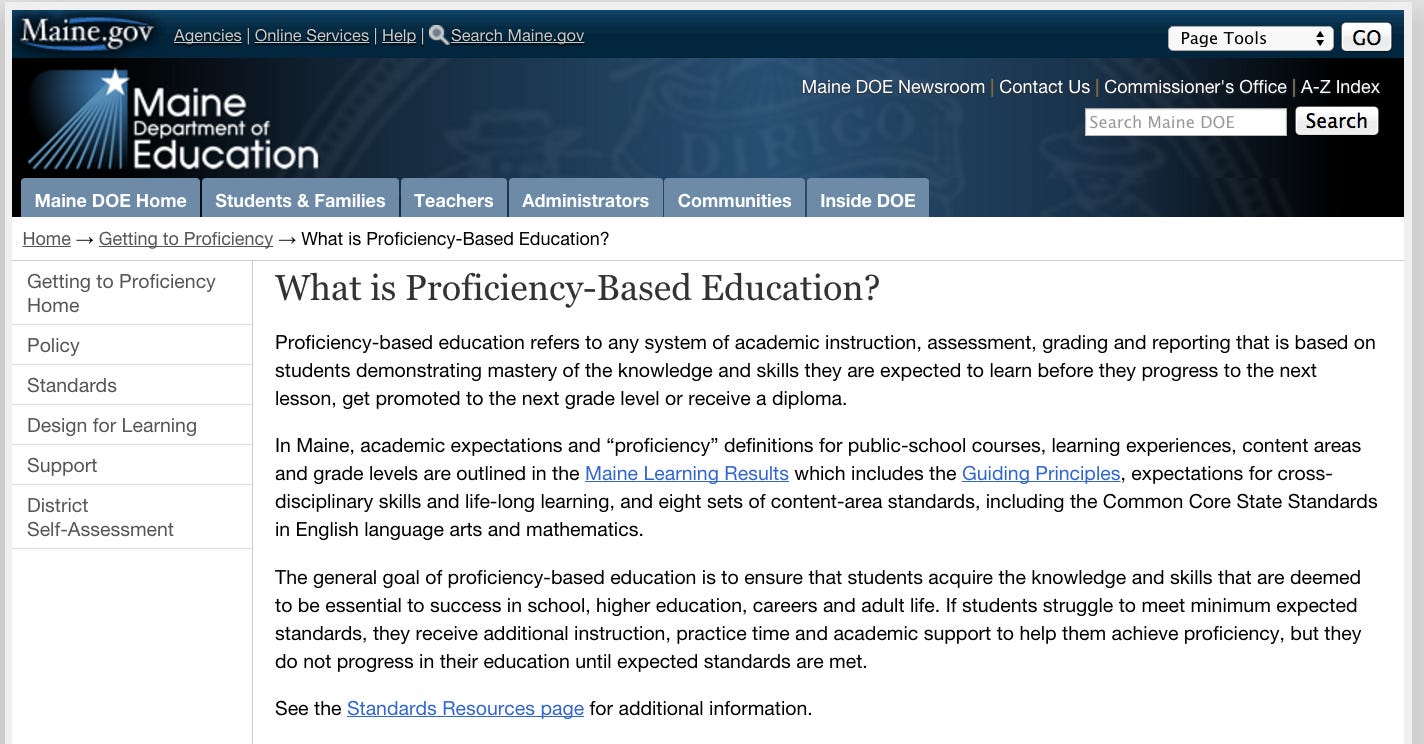 "We're starting to think (about) whether or not these standards are as relevant anymore," she said.
There was discussion about these things prior to the COVID-19 pandemic. With Senior X, they had a lot of data and feedback that said, "Yes, we do want to continue with this." The staff then made adjustments to improve the program, but everything was suspended for three years. Again, because of COVID-19. However, many teams at the high school met over the summer. She's been working with ten other teachers who are passionate about making changes. They are also looking into what the school community as a whole wants its graduates to look like.
Keblinksy said that currently the Senior X program is leaning toward a community focus rather than a student focus, and the exhibition could have a different driving focus.
Hayes said she hopes the community aspect of Senior X remains.
"It was always such an amazing opportunity to see what the kids are doing," she said. "I was blown away by some of the presentations." And even the ones that weren't as amazing, she said, people could see the leap the learners performed.
"It was a true celebration," Keblinsky said.
REORGANIZATION UPDATE
An op-ed is going into the Mount Desert Islander this week about the why of reorganization. The letter was sent to staff before that. There was some conflicting information about forming the organizational structure, and the subcommittee is waiting for attorney feedback. The current focus is on communicating to the public the reasons why this reorganization is important.
The state law mandates that the Reorganization Planning Committee is formed and defines the parameters of that committee's makeup. The committee's role is to take the AOS recommendations and decide what is brought to the voters of each town involved for approval or disapproval.
BUDGET
The Mount Desert Island Regional School System Board meeting Monday night began after an executive session about collective bargaining before segueing into a public comment session about thirty minutes later.
At its last meeting, the board unanimously approved the FY '24 budget for the amount of $2,531,456. The annual budget meeting is scheduled for January 19, 2023, and at that point it will also vote on a central office budget.
COMPULSORY ATTENDANCE POLICY
The committee also approved revisions to its compulsory attendance policy. Much of that was taking out gender-specific language. It also adds language about the discontinuation of home instruction as well as education disruption.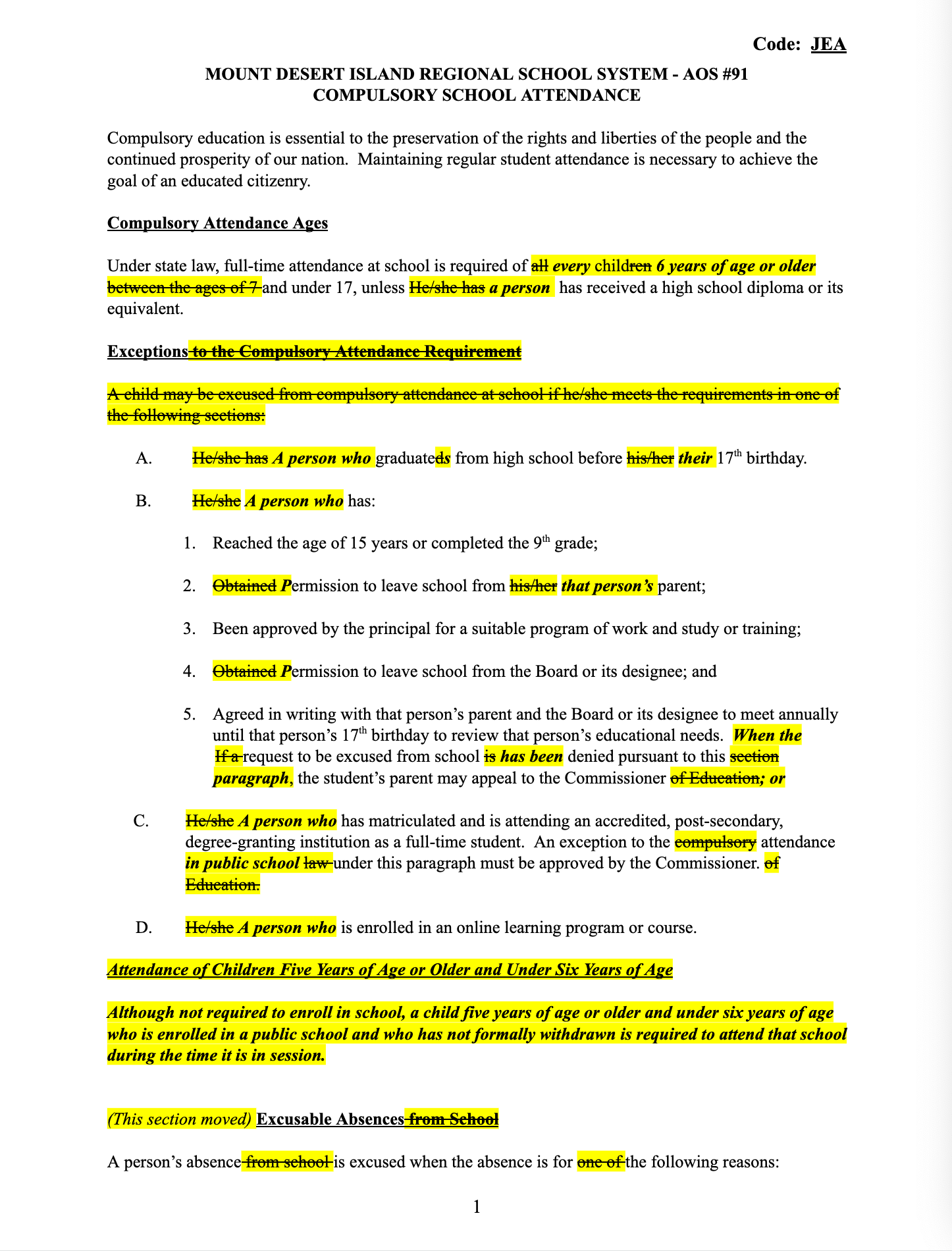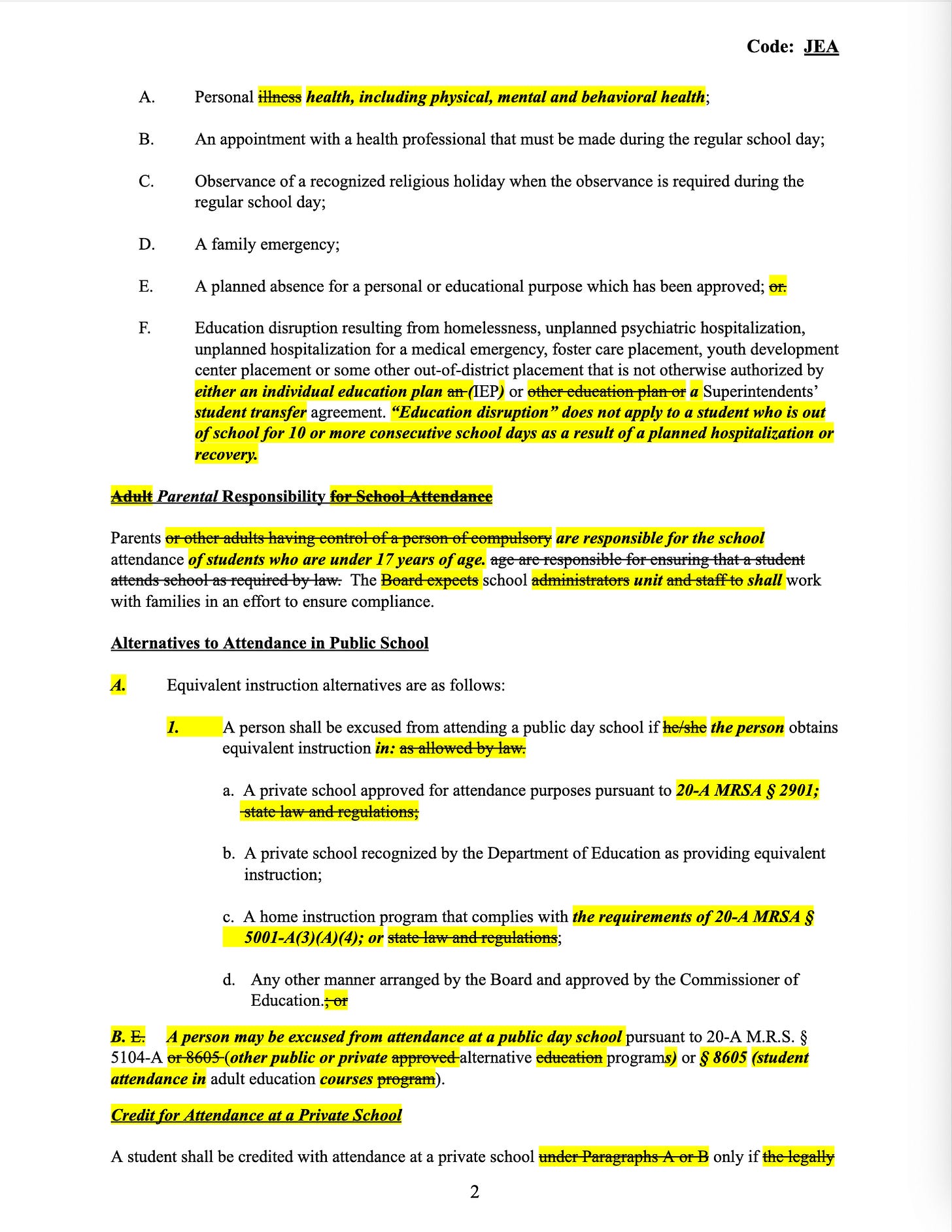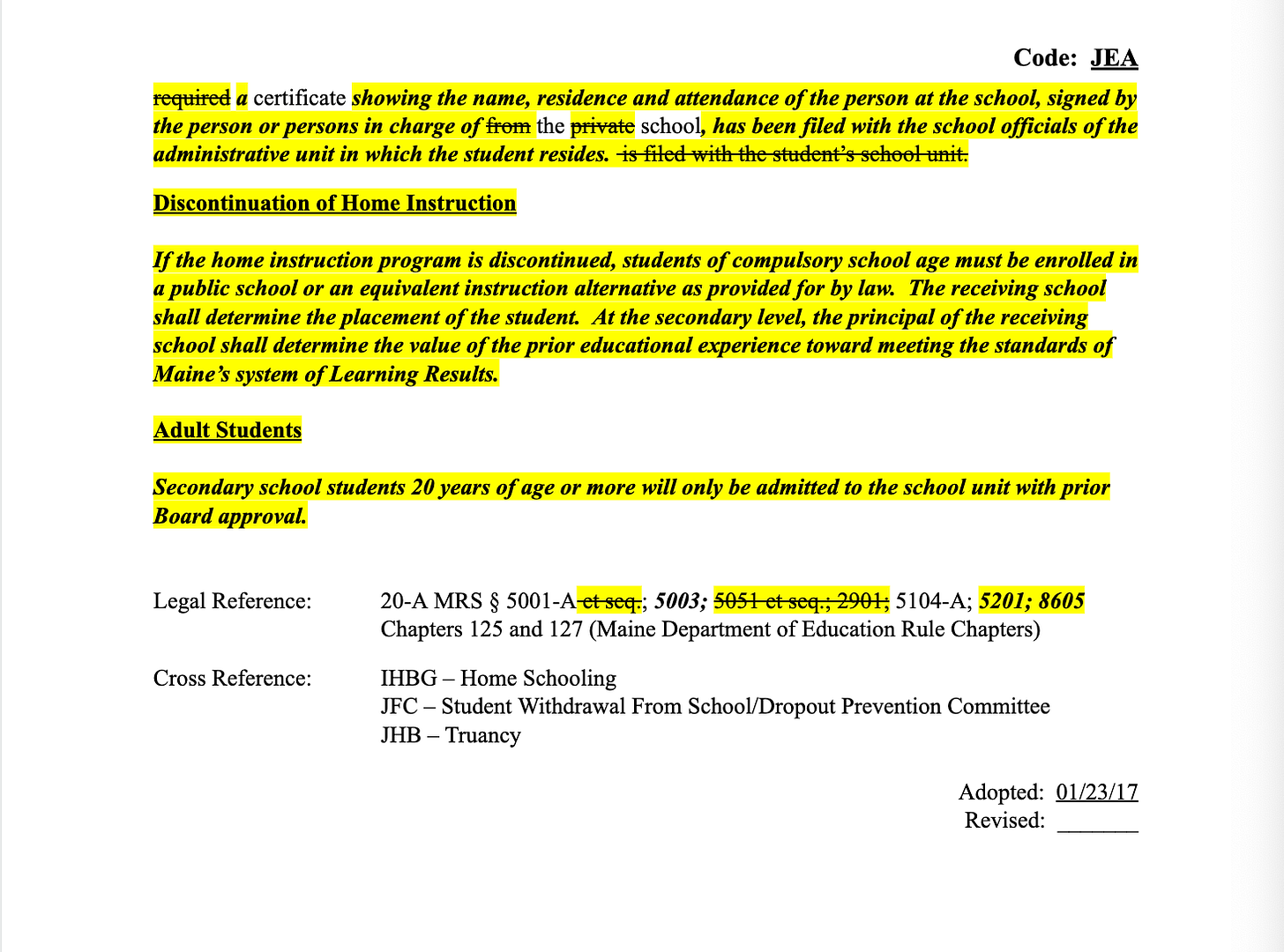 ---
LINKS TO LEARN MORE
https://docs.google.com/document/d/1yswvJDoLMg3X6XlP6ZgbtNCOEH8bfGX_XFCmNKaq9hE/edit
https://legislature.maine.gov/statutes/20-A/title20-Asec1461.html
---
Bar Harbor Story is a reader-supported publication. To receive new posts and support my work, consider becoming a free or paid subscriber. Thank you for being here!