Turkey comeback currently a success story anyway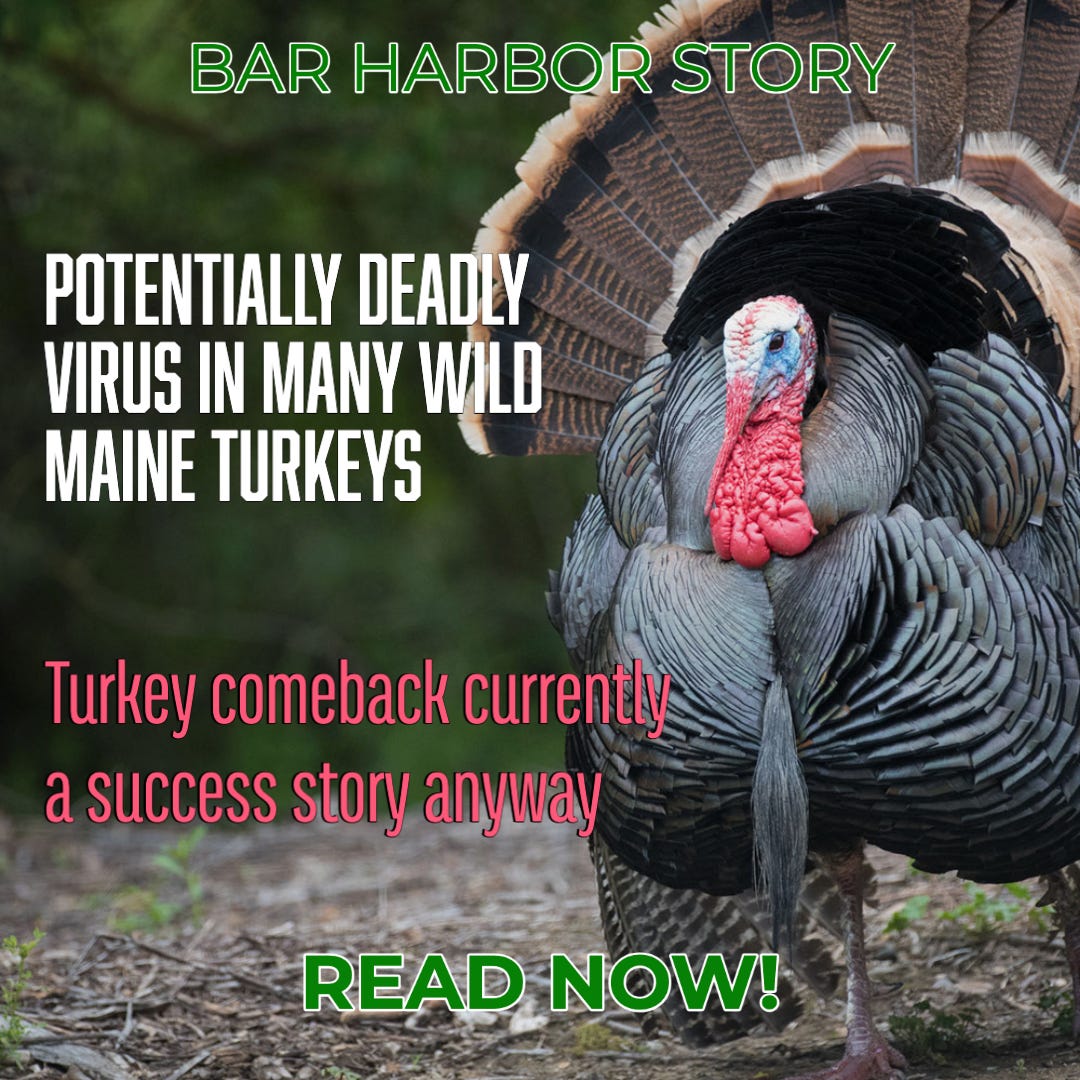 BAR HARBOR—They hang out by the Glen Mary wading pool; chill in front of Acadia National Park barricades, tromp down the roads, forests and lawns of Bar Harbor, but a new study shows that a potentially lethal virus is in many of Maine's wild turkeys.
In a come-back-story for the ages, wild turkeys returned to Maine and New England 50 years ago after being as scarce as a Big Foot sighting. In the 1970s wild turkeys were reintroduced to Maine and when that happened, they brought the lymphoproliferative virus (LPDV). A team at the University of Maine, led by Stephanie Shea, has tested 699 turkeys between 2017 and 2020, 59 percent of the turkeys had the virus. None of the turkeys had symptoms.
The LPDV virus has jumped to domesticated turkeys in Europe and Israel. It is most likely transmitted via direct contact. It may also reduce the number of eggs that infected birds lay. The mortality rate is somewhere between 15 and 25 percent. It does not impact human health.
Allen Starr, an assistant regional wildlife biologist for the state said that the turkey's repopulation in Maine is a "biological success story," that didn't require a lot of captures and relocations. The Maine Department of Inland Fisheries and Wildlife is still trying to get an understanding of exactly how many turkeys there are and where. That effort began in earnest in 2019.
It's estimated that there are 50,000 wild turkeys in Maine. Some believe that's too many due to damaged blueberry crops and turkeys' potential to carry viruses and bacteria that could be transmitted to domesticated poultry. It is not known if they are currently carriers of disease to non-wild populations.
A press release put out by the University of Maine says that it isn't just LPDV that's in the wild turkey population,
"Of the 699 wild turkeys researchers sampled, 3.4% tested positive for Salmonella pullorum, 16% were infected with REV; and 74% tested positive for Mycoplasma gallisepticum. Co-infection rates for LPDV and Salmonella pullorum, REV and Mycoplasma gallisepticum were 2.6%, 10% and 51%, respectively."
"This study provides valuable information on the prevalence and co-occurrence of multiple pathogens of concern in wild turkeys, data that are important for understanding how pathogens affect turkey population dynamics and for assessing potential risks to Maine's poultry industry," said Pauline Kamath.
According to Cornell University's Wildlife Health Lab,
"In wild turkeys, the virus may be associated with skin nodules on the head neck and feet, possibly in combination with poxvirus infection. In examination of wild turkeys submitted to the NYS Wildlife Health Program, a high number of birds (more than 60% of adults) carry the virus, but actual lesions are rare. The impact on the population is unknown."
According to Cornell University's Wildlife Health Lab,
"Lymphoproliferative Disease (LPDV) is a type-C retrovirus associated with tumors in a number of organs in domestic turkeys (Meleagris gallopavo). It is known to infect wild turkeys across the United States, but clinical cases appear to be rare in infected birds.

"Chickens are also susceptible to LPDV. Ducks and geese are not susceptible to infection, implying the virus may be limited to birds in the order Galliformes."
It's estimated that prior to New England's colonization by Europeans, there were 10 million wild turkeys in the land between southern Maine and Florida, all the way west to the Rocky Mountains. As the land was deforested, particularly in New England, the birds lost the safety of the trees and the food sources of acorns and chestnuts.
Initial attempts to bring the turkey back to Maine happened in 1942 with a Swan's Island release of 24 birds. They didn't like island life. More efforts in the 1960s focused on Bangor and Windham. The turkeys weren't into those places either. In 1978, Maine finally succeeded when 41 wild turkeys were turkey-napped from Vermont and let go in York and Eliot. Scientists started taking those turkeys further and further east. And many have finally taken to island life on Mount Desert Island.
---
MORE BIRD NEWS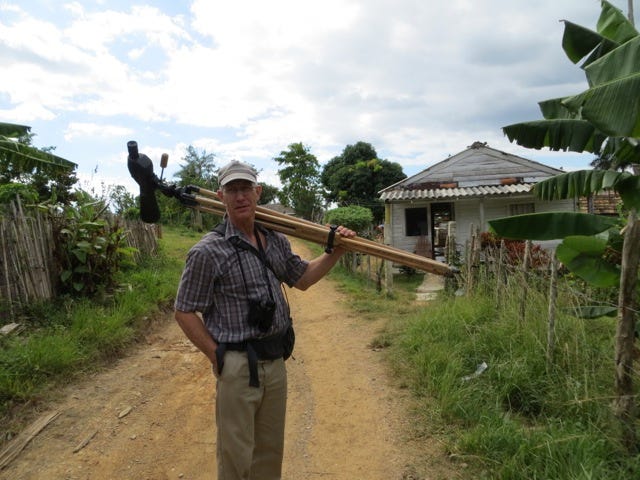 The Jesup Memorial Library will host a talk with Michael J. Good on Thursday, January 19th at 7 p.m..
Good will present on birds of Acadia National Park and Mount Desert Island. Good is an Ornithologist/Biologist/Naturalist and the founder of Maine's first Acadia Birding Festival. As a registered Maine guide, Good has been guiding professionally for many years through his company Down East Nature Tours, LLC which focuses on avian ecology in the Gulf of Maine bioregion.
Good was the founder and one of six participating organizers developing the Penobscot Watershed Eco Center in Bar Harbor, Maine which focused on river and stream restoration and the importance of sea-run fish for the healthy Gulf of Maine. He founded and directed the Warblers and Wildflowers Festival (1998-2007) and in 2008 organized a committee. From the work of this committee, the event evolved into the Acadia Birding Festival, currently in its 24th year. He has over 35 years of experience studying the birds of North America and brings a wealth of knowledge about Neotropical migrants and the avifauna of the Eastern United States.
This event is a hybrid program and registration is required to attend either in person or on Zoom. Register at jesuplibrary.org/events/birds or email eventsignup@jesuplibrary.org
---
REFERENCES AND LINKS TO LEARN MORE
https://wgme.com/news/local/potentially-lethal-virus-is-infecting-maines-wild-turkeys-domestic-turkeys-poultry-lymphoproliferative-virus-lpdv-northeast-plant-diagnostic-network-university-of-maine-disease-tumors-lesions-lack-of-coordination-and-lethargy#
https://www.maine.gov/ifw/blogs/mdifw-blog/efforts-determine-maines-wild-turkey-population
https://cwhl.vet.cornell.edu/disease/lymphoproliferative-disease
---
Bar Harbor Story is a reader-supported publication. To receive new posts and support my work, consider becoming a free or paid subscriber.