Chamber Director Says Goodbye to Bar Harbor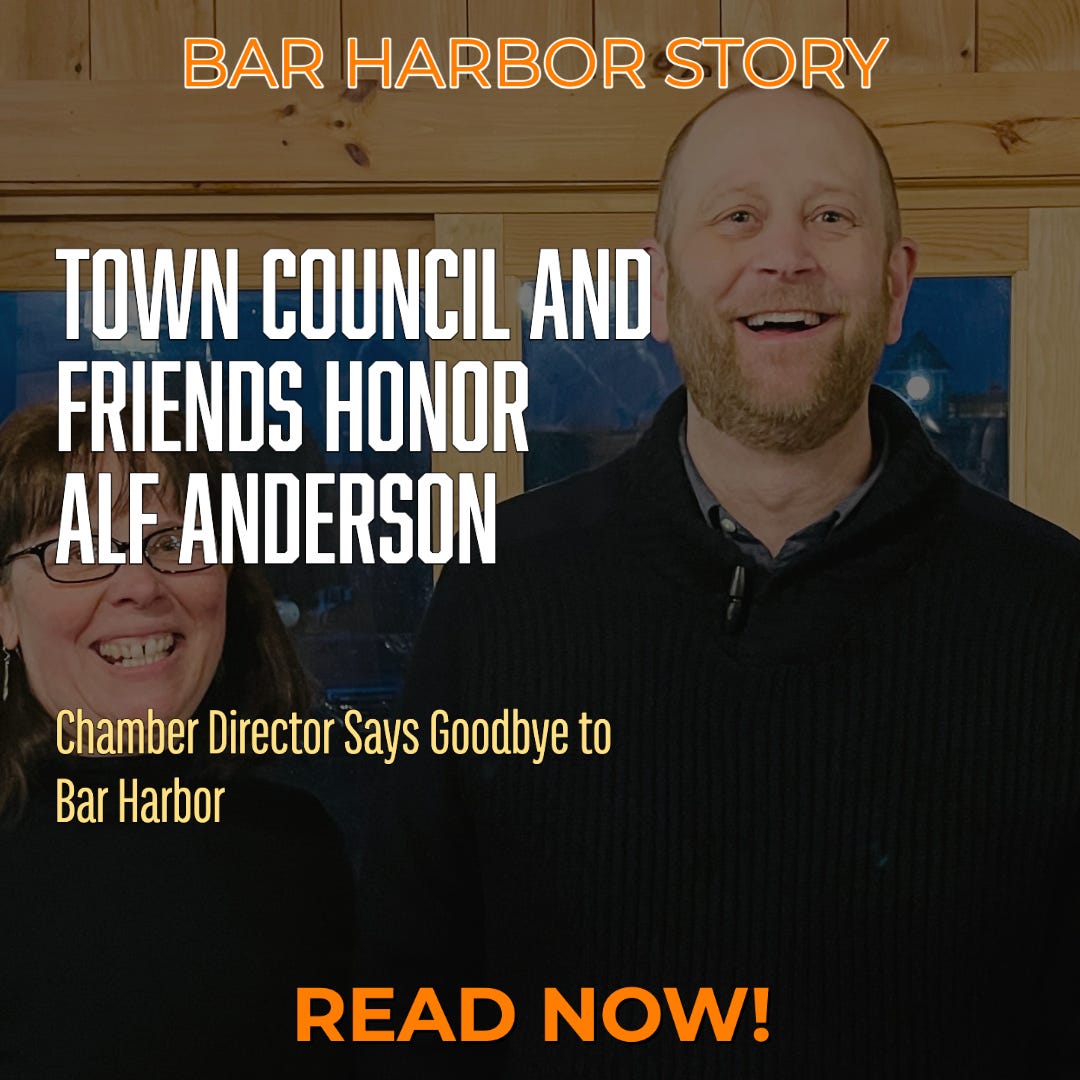 BAR HARBOR—At Jack Russell's Steakhouse last Tuesday afternoon, Alf Anderson stood in the center of a room full of people: tall, quiet, smiling, thinking, and listening.
For seven years the Bar Harbor Chamber's Executive Director has done the same thing. Sometimes he sat. Sometimes he stood. Sometimes he walked around the streets of Bar Harbor. Sometimes he organized parade floats. Sometimes he made sure a child didn't get bashed by a bed careening down Cottage street. Sometimes he patiently waited for his turn at the podium in the Town Council chambers. Sometimes he stood behind a microphone, bending a bit because of his height, or he sat at a desk or conference table, but he was always listening, smiling, and thinking.
Tuesday afternoon, at his own farewell party, he was doing the same exact thing, treating each person's story and voice with respect as they thanked him for all he'd done for them or for the community.
The image for the farewell gathering asked people to gather together to "say goodbye for now" to Anderson, who has helmed the chamber for seven years, including through a pandemic.
Former Chamber president Nina Barufaldi St. Germain said that it was a delight to watch Anderson bloom as a human during his time as a chamber employee, dealing with each transition and task.
"Each time you have leveled up. You have just consistently leveled up," Barufaldi St. Germain emphasized.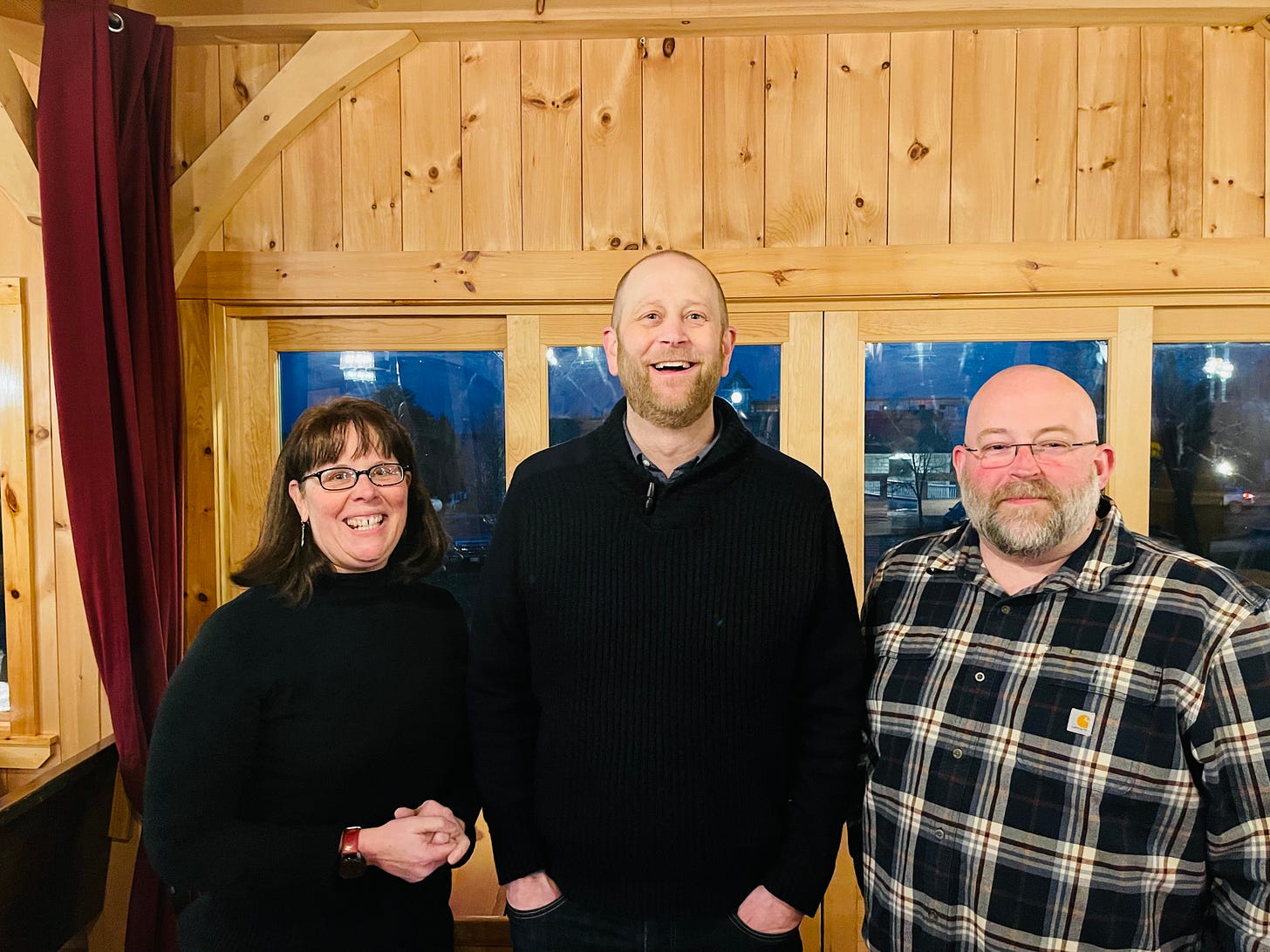 In a December 19 message to Chamber members, Anderson said, "I will take countless memories with me and always look back on this time with pride. It has been a pleasure working with you all and it has been an honor representing the Bar Harbor business community."
Anderson and his wife Heather are relocating to southern Maine. He said in October that moving was a difficult decision, but they both knew that they needed to be closer to their families.
Bo Jennings, general manager of the Side Street Café and chair of the Chamber's board said, "Alf is one of the genuinely good guys. Since the first day I met him, you could tell how much he cared about the community, as well as all of the businesses he served. One of his greatest strengths is how thoughtful and intentional he was with every project or obstacle he faced. I can't fathom anyone else leading the Chamber through so many recent hurdles, including a worldwide pandemic."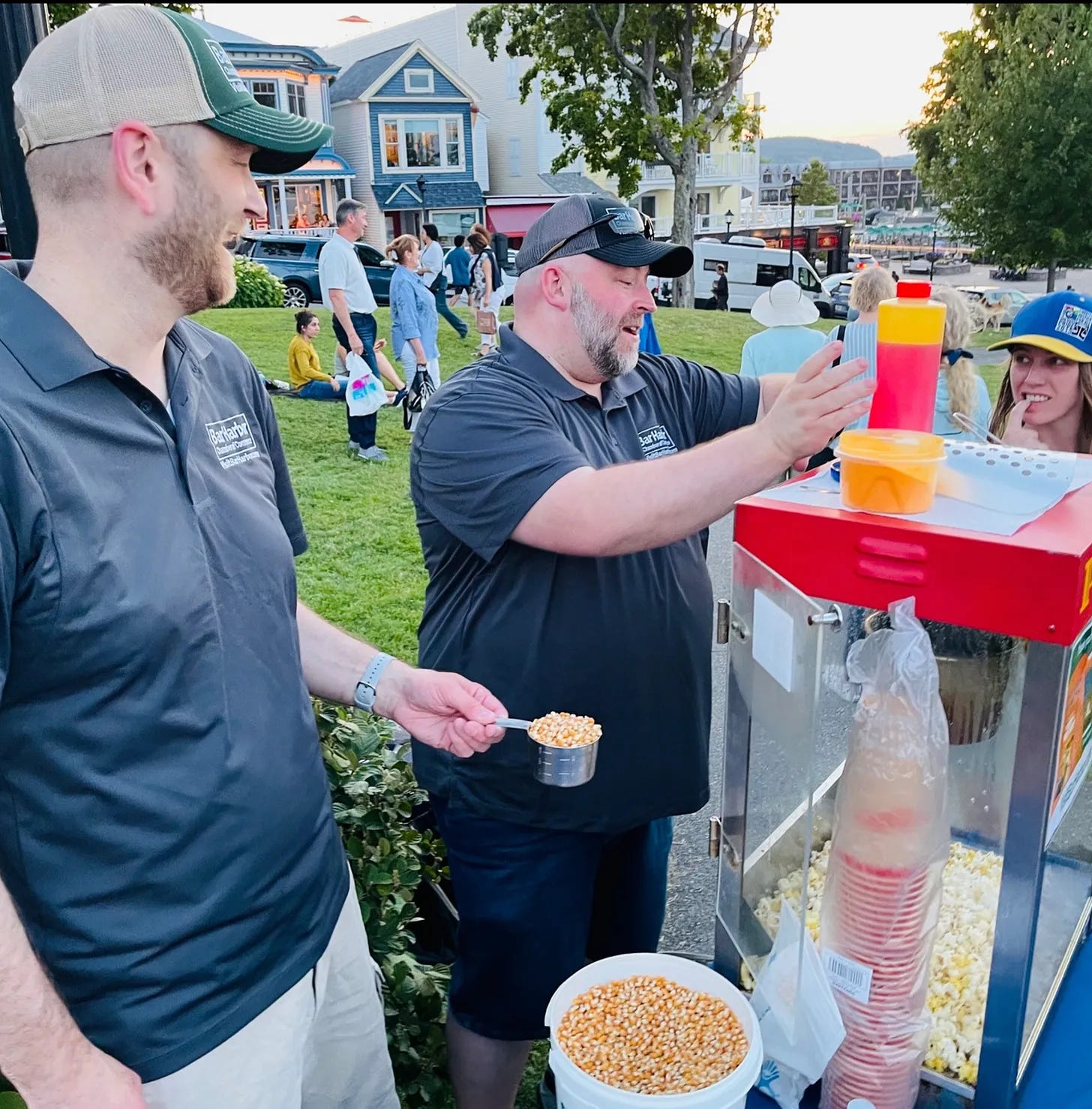 The chamber hired Anderson as an events manager in 2015. He previously worked 15 years in the sales and marketing industries. In less than a year at the chamber, he was promoted to director of sales and marketing. Anderson became executive director in 2019.
The Mount Desert Island Hospital proclaimed him Community Partner of the Year in September 2022 for his efforts "leading the Downeast COVID-19 Task Force and finding creative, safe solutions to encourage commerce and support local businesses during the pandemic," a press release read.
Jennings said, "Alf has done so much for Bar Harbor, the Chamber (and its members), as well as the residents of this community, and we can never thank him enough!"
RESOLUTION
The Bar Harbor Town Council agreed with Jennings' assessment. At their Tuesday night meeting, council members unanimously approved a resolution honoring Anderson.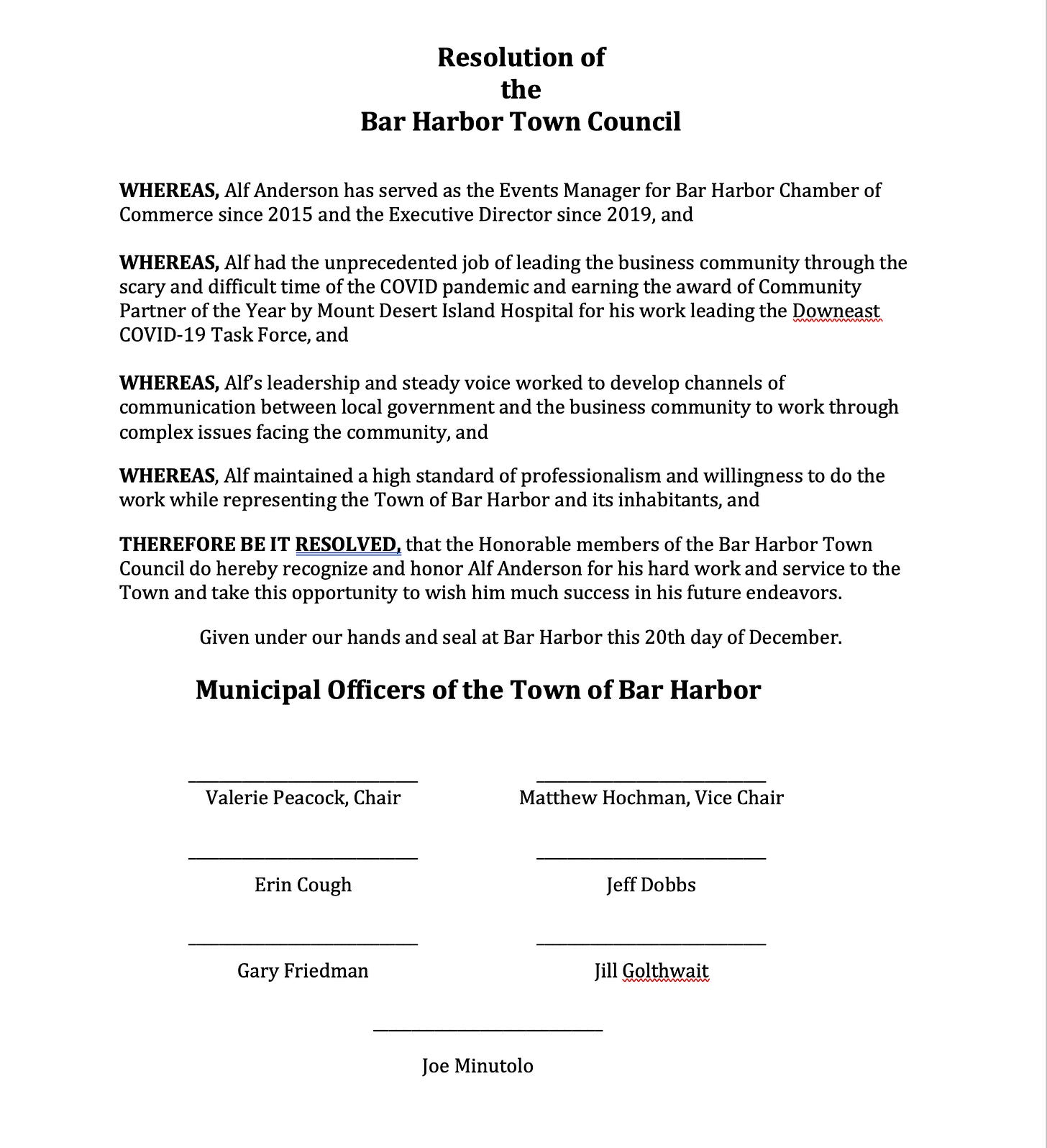 ---
THE INTERVIEW
Anderson was kind of enough to allow the Bar Harbor Story to interview him this week.
When you got to Bar Harbor before you were in charge of the chamber, what was it that grabbed you and made you think, "Yes, this would be a cool place for Heather and I to live?" Wait. Did you come up here for your job or Heather's?
We had vacationed here in 2005 (our first vacation as a couple) so my exposure to Bar Harbor was very minimal before we had the opportunity to move here. In 2013, my wife Heather accepted a position with COA and I was in a career transition. We both made the trip from our home in Salem, MA for her interview and got to get another glimpse of the community. The vibrant downtown district, the friendly reception we received, and, of course, Acadia National Park, were the things that really stood out to us. So, we decided to make the leap and it was one of the best decisions we've ever made!
As a Chamber Director you have to moderate a lot of different perspectives and opinions within your members, but also you have to be the liaison to the town government, the public and the community. And you did that astonishingly well. Do you have any hints for achieving that level-headedness and kindness that you always brought to discussions.
I believe the key to this role is to be a good listener. There are a lot of different constituents that we serve here at the Chamber and I've always tried to be deliberate in my decision making so that all sides of an issue can be weighed before moving forward. I also have a calm demeanor that has served me well throughout my career, especially during difficult or contentious discussions here in Bar Harbor. I owe my sense of kindness to my mother who is one of the most giving and generous people you'll ever meet. Watching her knit hats and donate them to the local hospital for newborn children and bake cookies for the entire neighborhood has always inspired me.
The Chamber also has a ton of fun events. Did you have a favorite?
This is like picking your favorite child or pet! I love them all! But, I do always have the most fun during the Pajama Sale and Bed Races event. There is just so much joy and creativity on display that morning and it makes me happy. No matter the challenging topics in the news, whether the person in their PJs next to you is a longtime resident or a visitor from out of state, we all come together and cheer on those bed race runners. It is just fantastic and always makes me smile. I'm also really proud of the work our staff does to make all of the Chamber events happen for our community. We are a small but mighty team for sure!

2023 Bed Race photos: Carrie Jones
Is there something that happened during your time at the Chamber that you are the most proud of?
I am extremely proud of the work the Chamber did during the COVID-19 pandemic. Our entire community—businesses, MDI Hospital staff members, residents, and everyone in between—banded together to ensure we were all as safe as possible. The work that was done by the Downeast COVID-19 Task Force (of which the Chamber is a member) was extraordinary and, without a doubt, saved lives. As Chamber director, I did all that I could to communicate with the business community so that they could welcome guests safely. Our Safe Bar Harbor campaign helped spread the word about the safety measures available to businesses, residents, and visitors including masks in mailboxes throughout the town and the bulk availability of masks for frontline workers thanks to MDI Hospital. This is the work that I am most proud of from my time with the Chamber.
There's been a lot of talk in the community about what makes Bar Harbor special. That's obviously hard to define, but it seems to me that part of what the Chamber does is help define it and share that specialness to the world. Can you say what it is that makes Bar Harbor special to you?
The two things that make Bar Harbor so special are the people and the park and they are very closely tied to one another. Many of us choose to live here because of the town's proximity to Acadia National Park. Many of us first arrived here as tourists and fell in love with the location. And now we passionately protect our location. The people who choose to live in and visit Bar Harbor are deeply committed to this place and that makes it very special.
Is there anything else you'd like to say?
I never saw myself working for a chamber of commerce. I didn't even really know what they did for a community before I started working for the Bar Harbor Chamber. What I know now is that a chamber of commerce can be a vital part of making a town (or region) feel like a community. During my time at the Chamber, I have done all I could to support the businesses that we represent while also highlighting the importance of a vibrant business community to supporting a year-round population.

Living here year round is a privilege, in many ways, because we get to enjoy the beauty of this island while really getting to know our neighbors, classmates, and coworkers. It also means being outnumbered by non-residents during the peak tourism season and the challenges that can bring. I've always viewed those privileges and challenges as all part of the balance of life on Mount Desert Island. I know that push and pull is perceived differently by each of us, but it doesn't mean any of us loves this place any less. So, I encourage everyone to keep in mind that their love for Bar Harbor, Acadia National Park, and Mount Desert Island is not greater than anyone else's, and we're all trying to make this place better in our own way. That will require compromise, and that's not a bad thing.
Is there anything that you want to say about your staff?
While my leaving the Chamber will create a hole that needs to be filled within this organization, I feel OK about it because of the great staff members who are already here. Melanie Graten and Chris Graten have been with the Chamber for a number of years, so their institutional knowledge will be invaluable during the transition to a new executive director. They are also two of the hardest-working people I've ever met, so I know the work of the Chamber will continue to get done.

Aubrie Boyce is the newest member of the staff and has already shown an aptitude for event planning and execution so the Chamber's events program will continue to serve our business members and the community. Most of all, I will miss working alongside these three great people who I have become close with over the past eight years!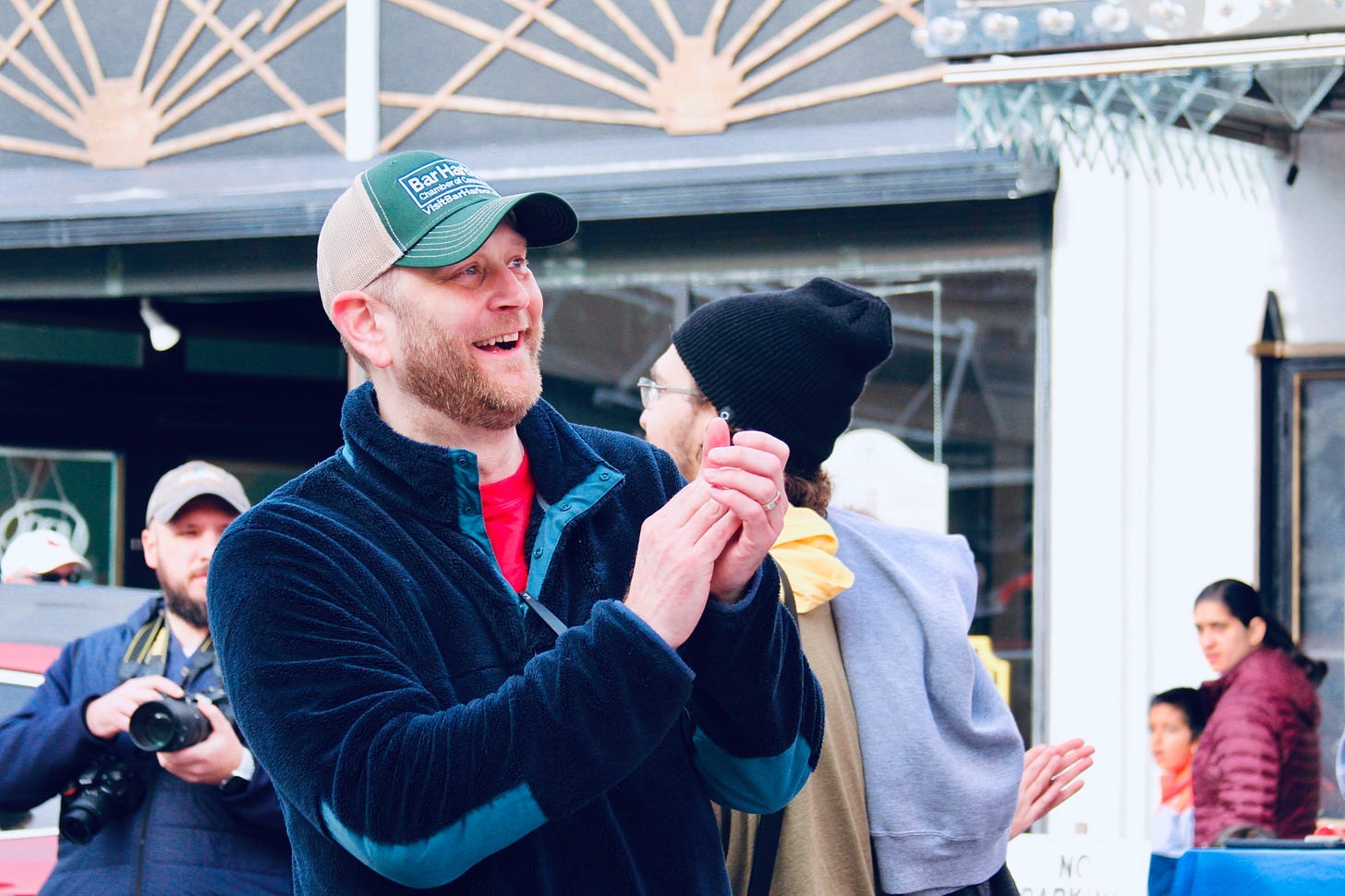 ---
Bar Harbor Story is a reader-supported publication. To receive new posts and support my work, consider becoming a free or paid subscriber.