30 Percent of Conners Emerson Students Were Too Sick for School Friday
BAR HARBOR—The Conners Emerson School did not open today, Monday, December 12 because 30 percent of the students were out absent on Friday. According to a brief sent out by the school, the administration has "been in continuous communication with the Maine CDC due to our outbreak status and it is their recommendation that our school buildings be closed for a period of 3 days in order to help break this cycle of illness. This will allow our custodial team time to disinfect and deep clean our buildings and give our staff and students time to rest and recover."
Not just students were out on Friday. Twenty percent of staff also did not come in due to "respiratory illness, flu-like symptoms, and/or being Covid-19 positive." The increase in those cases throughout the week was deemed significant.
Principal Heather Webster thanked everyone Sunday for their understanding and wrote on the school's website, "We look forward to seeing everyone Tuesday all rested and ready to learn!"
The increase in illness and absences is substantial at the Bar Harbor school, but it is not the only place seeing an uptick in sickness.
A NYT newsletter released early Monday morning said that "Covid no longer plays the dominant role that it once did in most of our lives. But the risk of Covid—and other viruses—persists."
It also states that Covid-related deaths and hospitalizations have increased in the past couple of weeks. Flu cases have also increased. R.S.V. cases may have peaked.
The last updated data for the week ending December 3, classifies Maine as very high for flu activity level.
Currently, Americans who have hit their 65 birthday make up 90 percent of Covid deaths. Covid cases and hospitalizations increased over 25 percent in the last 14 days throughout the country. This is a smaller surge than last winter at this time.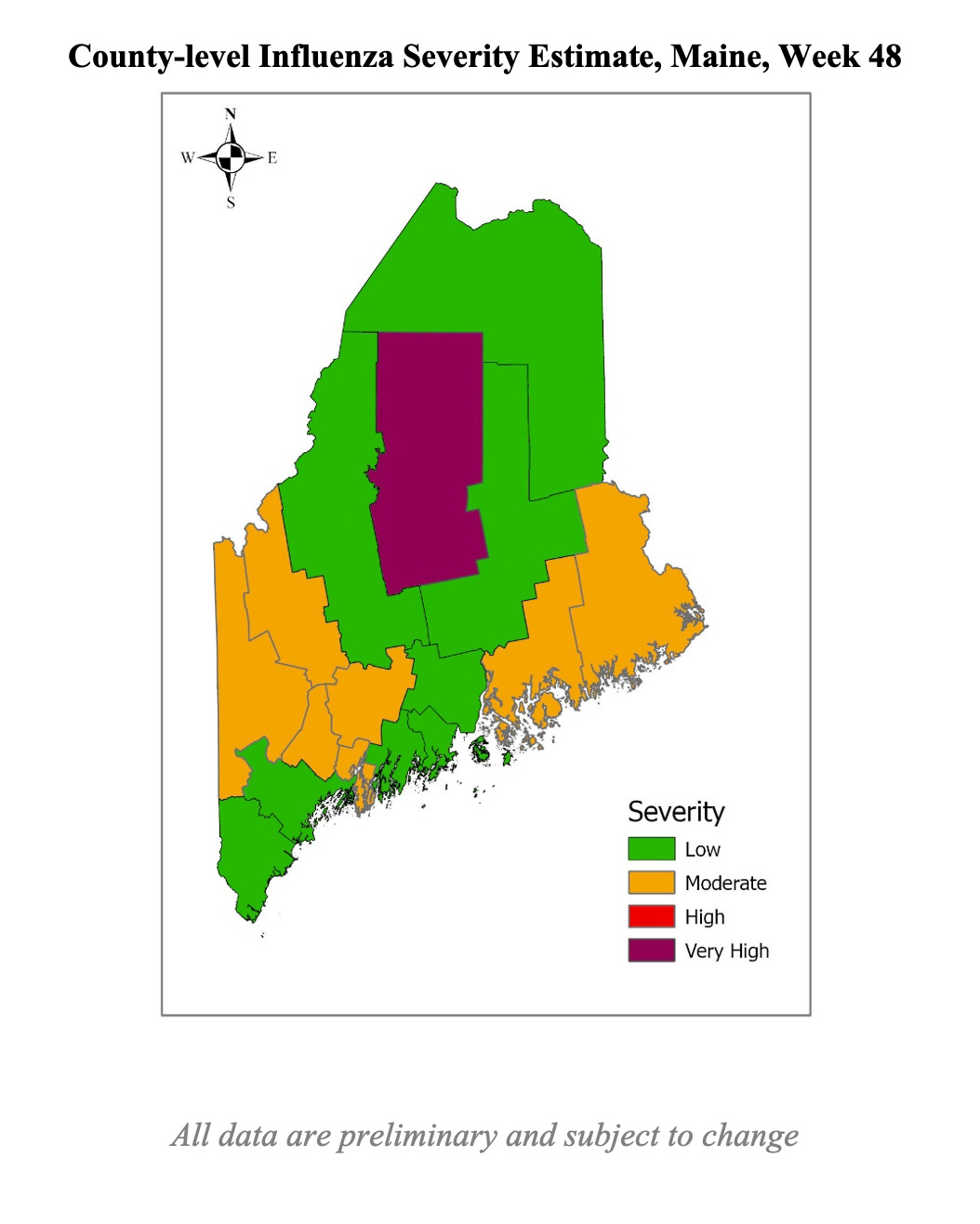 Maine has seen a 68 percent change in daily average cases in the past two weeks. The rest of the country averages out a 56 percent change. The daily average of hospitalizations in Maine is 128, an increase of 4 percent. The daily deaths average is 7 or .52 per 100,000 according to the Times data which is gleaned from state and local health agencies and governments, U.S. Department of Health and Human Services and the Center for Disease Control, and Census Bureau.
"The combination of flu and Covid for older people is going to mean a pretty tough winter for hospitals," Dr. Céline Gounder of the Kaiser Family Foundation told the Times. "People talk about patients in the hallway—that was not uncommon, actually, before Covid. We're going to see more of that."
---
CES CARES PROGRAM
The Conners Emerson PTA is looking for help for the CES CARES PROGRAM.
"We have some families in our CES community who struggle over the winter months. In 2018 the PTSA introduced CES CARES, a program that distributes gift cards to help support CES families in need. The holidays are a perfect time to spread goodwill, so if you are able, please consider making a donation to lend a helping hand to members of our CES family. 100% OF YOUR DONATION will go towards purchasing gift cards to be distributed before the holidays to those families who could use some extra support at this time.

Please send donations to the school in an envelope marked "CES CARES" with a student, or mail donations to:

Conners Emerson School

Attn: PTSA

11 Eagle Lake Road

Bar Harbor, ME 04609

Checks can be made out to "CES PTSA" with "CES CARES" in the memo.

Thank you for supporting our school community!"
---
COOKIE EXTRAVAGANZA!
The Annual Cookie Extravaganza for teachers and staff will be on Tuesday. December 20!
For more information and to sign up to provide 2 dozen cookies, please click here: https://forms.gle/szmgmt6UMJ2BVvtV6
---
LINKS TO LEARN MORE
Coronavirus Map and Case Count in the U.S.
Maine Weekly Surveillance Reports (for flu)
---
Bar Harbor Story is a reader-supported publication. To receive new posts and support my work, consider becoming a free or paid subscriber. Thanks for being here!