April Cough McGuire and Matt Cornish co-conspire to make the season bright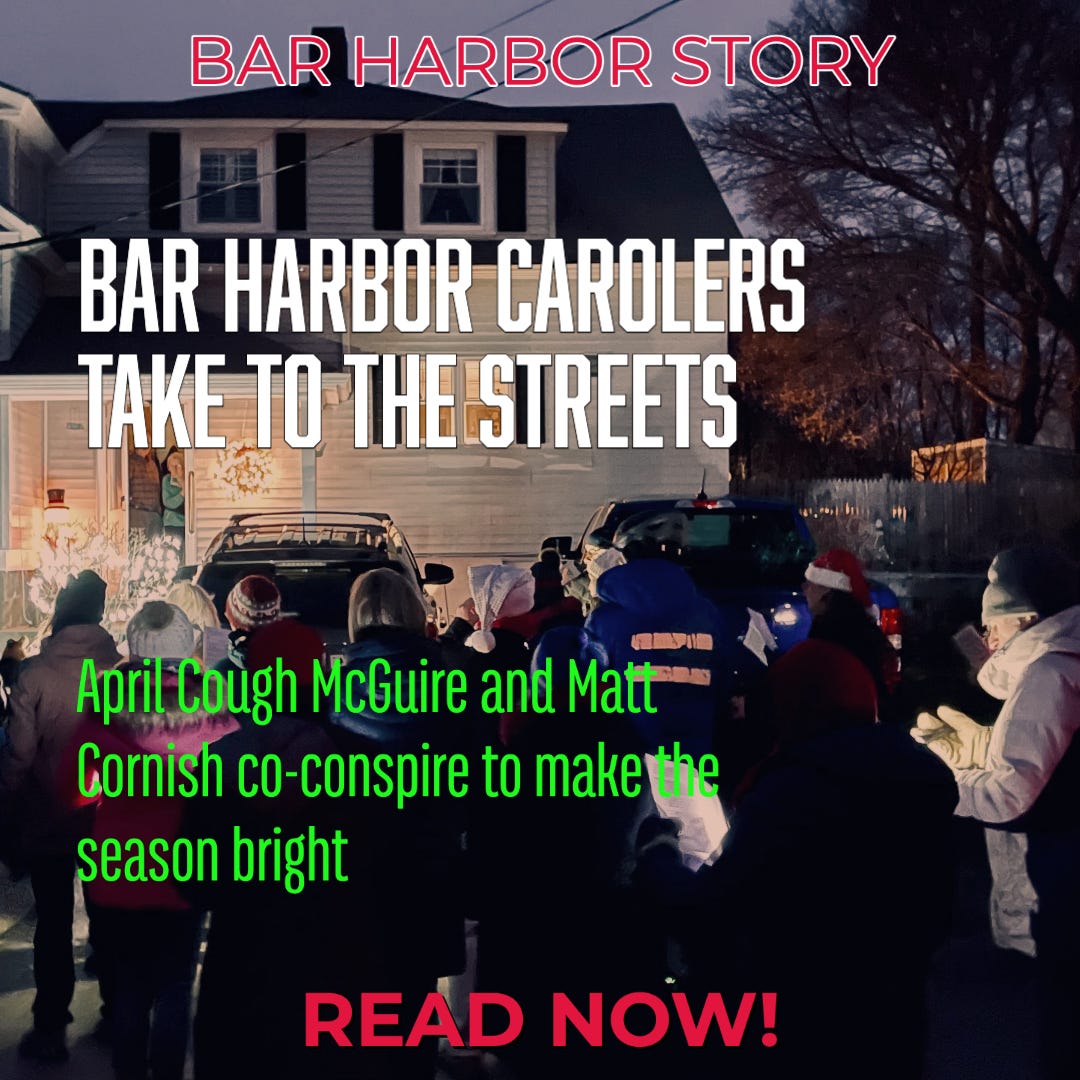 BAR HARBOR—If you are lucky enough to live near the MDI YMCA and were home Sunday afternoon, you might have spotted a horde of people walking through the streets, standing on sidewalks and in less travelled roadways, mouths open and eyes wide despite the chilly temperatures.
No, it wasn't a zombie horde.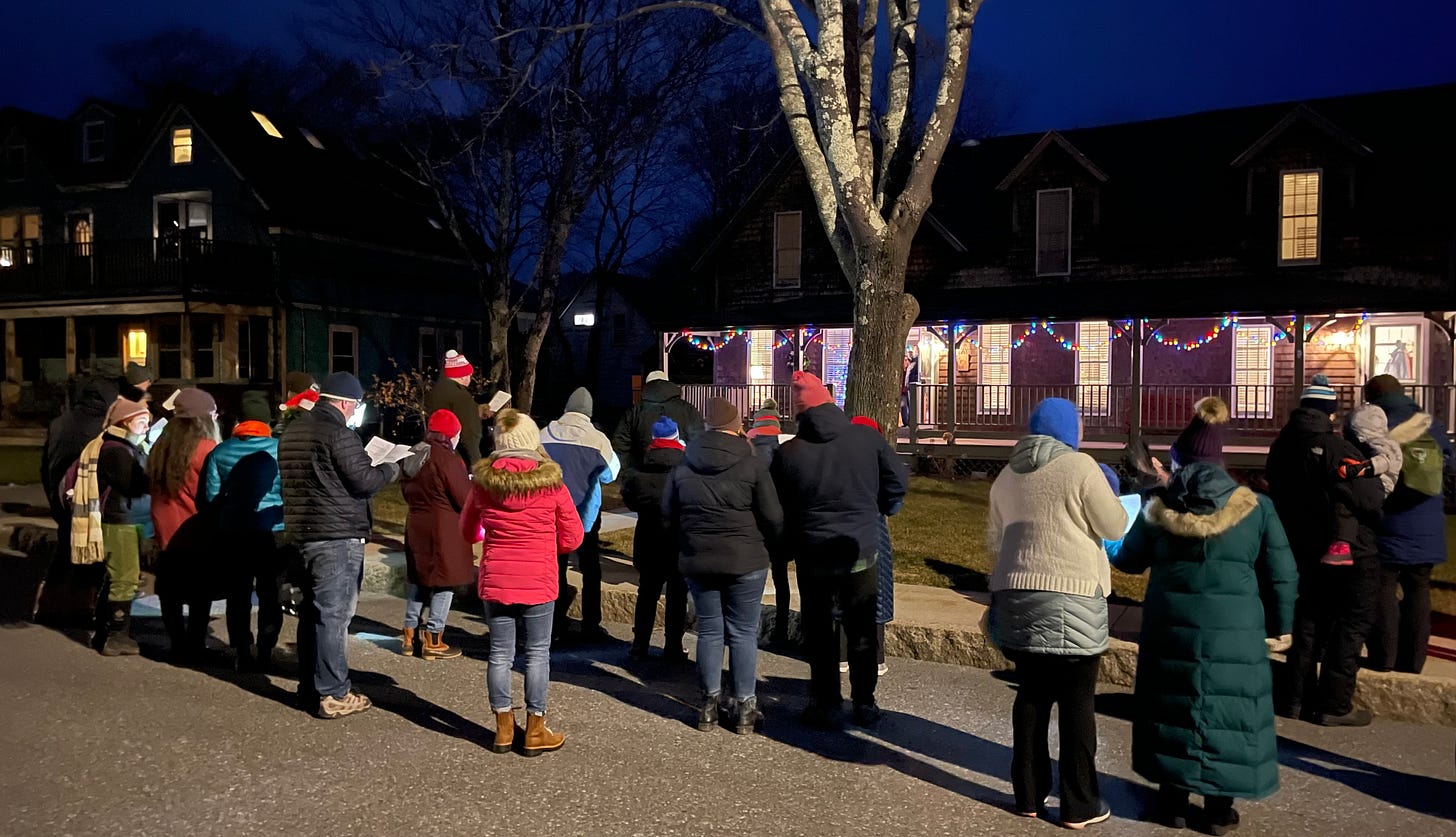 They were Christmas carolers walking the streets together after meeting at the YMCA's front entrance at 4.
According to Rev. Rob Benson, pastor of the Bar Harbor Congregational Church, April Cough McGuire inspired the event and was assisted by co-conspirator Matt Cornish. After call-outs on Facebook proclaiming the event was open to everyone, a cast of dozens trod, rolled, skipped and walked down the dark Bar Harbor streets bringing joy and song.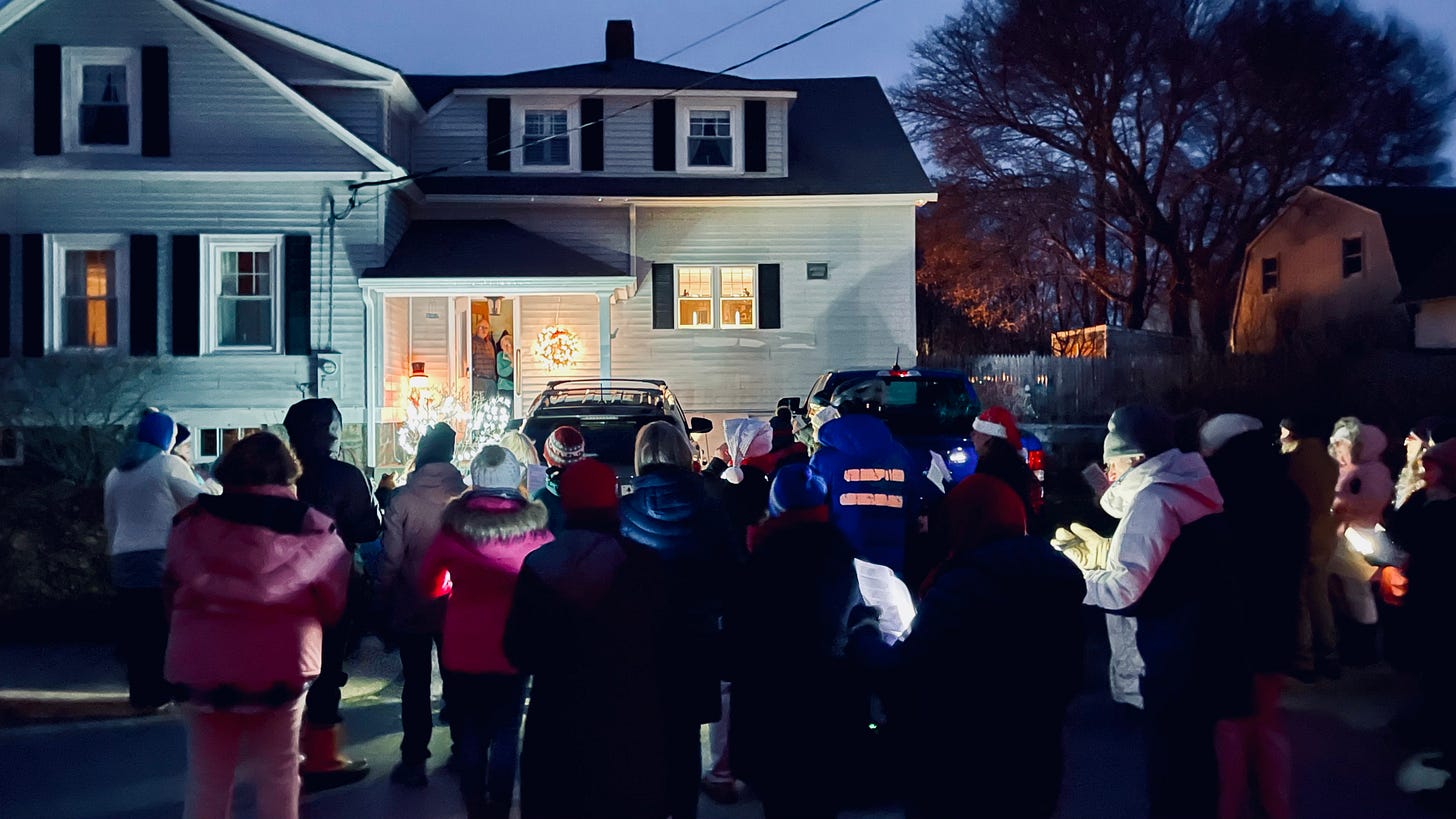 Benson said, "(There was) such palpable kindness and joy." There were "faces both familiar and new; folks peering curiously, cautiously out their doors (who knocks on doors anymore anyway?) People who actually sound really great singing together!"
Singing realtors and a Bar Harbor Chamber president and shower singers caroled as did children in strollers and walkers. Bundled in parkas, hats, gloves and scarves, the group began on School Street and meandered through Ledgelawn Avenue and the neighborhoods.
The kindness and joy of the holiday season permeated the quiet, off-season streets. Pew Research reported back in 2017 that about 16 percent of Americans go caroling. It's an ancient tradition.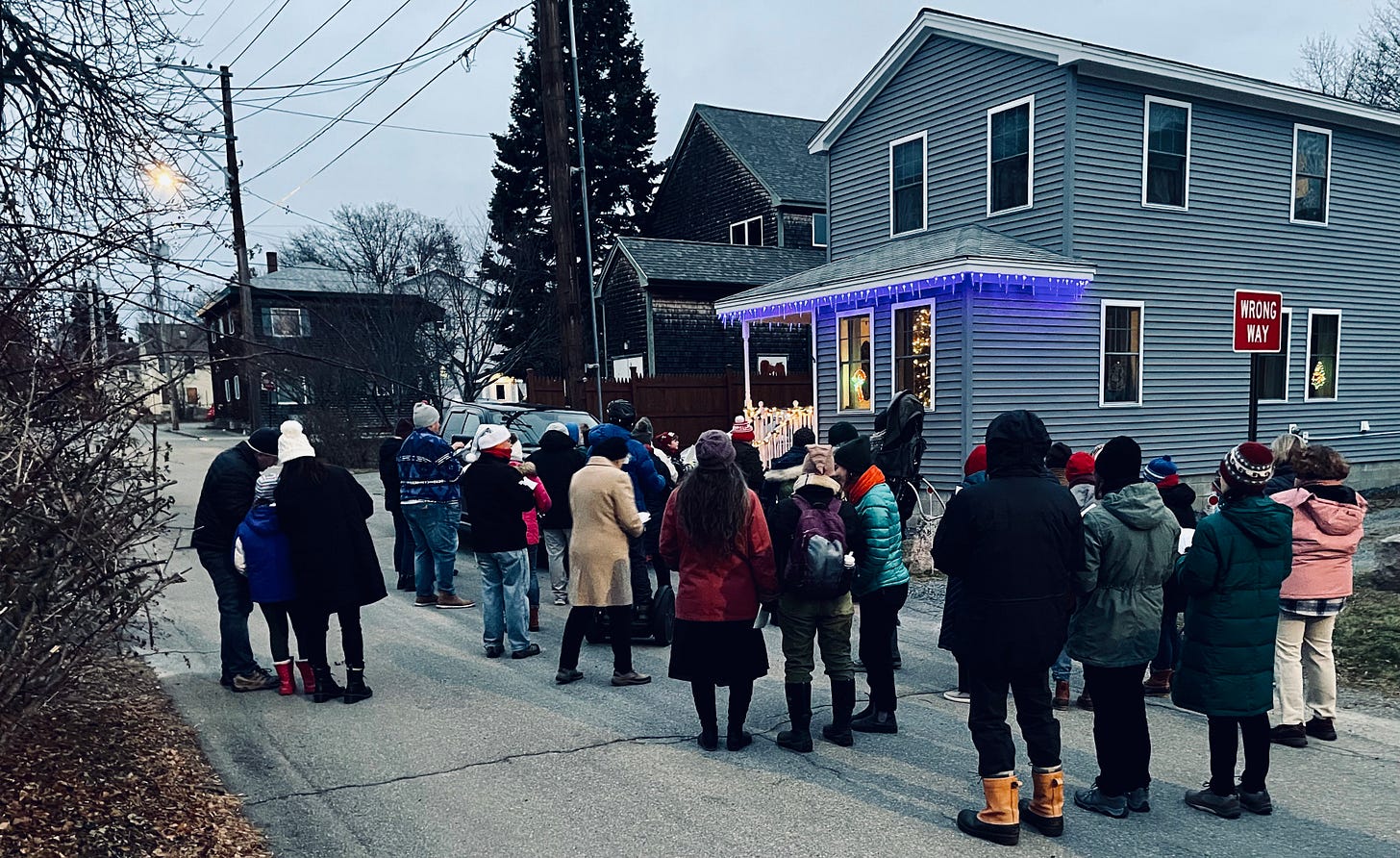 According to Arcadia Publishing,
"An early version of caroling dates back to the 13th century. It began in the oral tradition, but didn't always involve Christmas or even singing. In its earliest days, wassailing involved people going house to house giving out well wishes during the colder months. In some places "wassail" was also commonly used to describe a hot and thick spiced beverage given to travelers during the winter to help keep them warm. If the drink sounds familiar, it's not a coincidence. This medieval spiced drink is the great-great-great grandfather of a modern classic, eggnog.

"Singing remained separate from Christmas until Saint Francis of Assisi began incorporating similar sayings and songs of well wishes in his Christmas services. He encouraged the members of his church to embrace music during the holiday season. Saint Francis' method was a hit, and soon enough people began taking the songs home to enjoy with their families.

"These songs stuck to their oral traditions for several hundred years, being passed down from family to family, until some were finally collected, written down, and published in 1582. This helped to solidify the songs in cultures across the world. Soon, they migrated from the church and became a staple activity in holiday celebrations. While most popular carols have been given a modern spin from their former medieval tune, they continue to bring the warm wishes and comfort of the holiday season."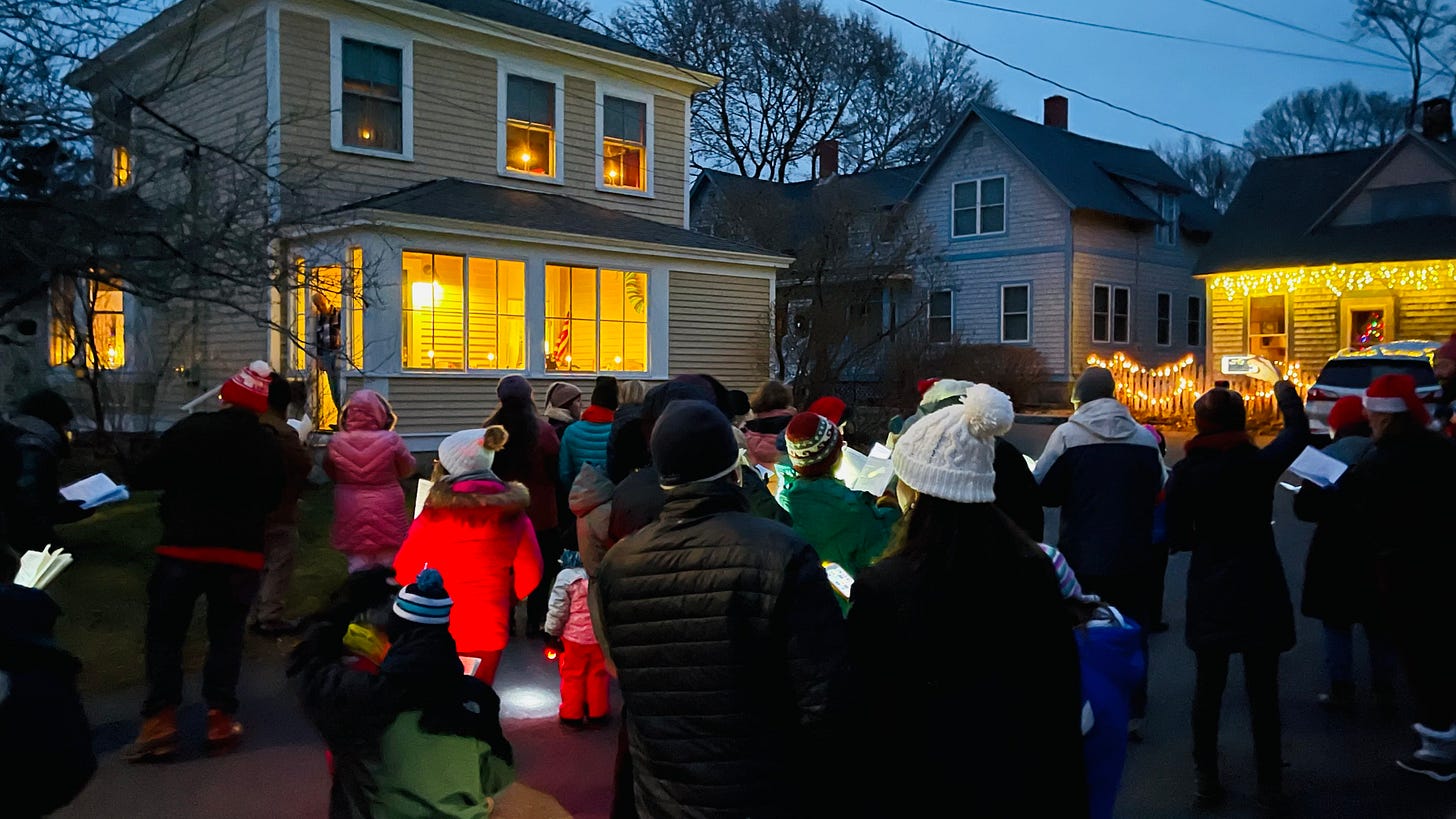 Centuries ago, caroling had a dance element too. There was choreographed cavorting that occurred with the singing. That, however, is an element that has not yet resurged.
Maybe next year?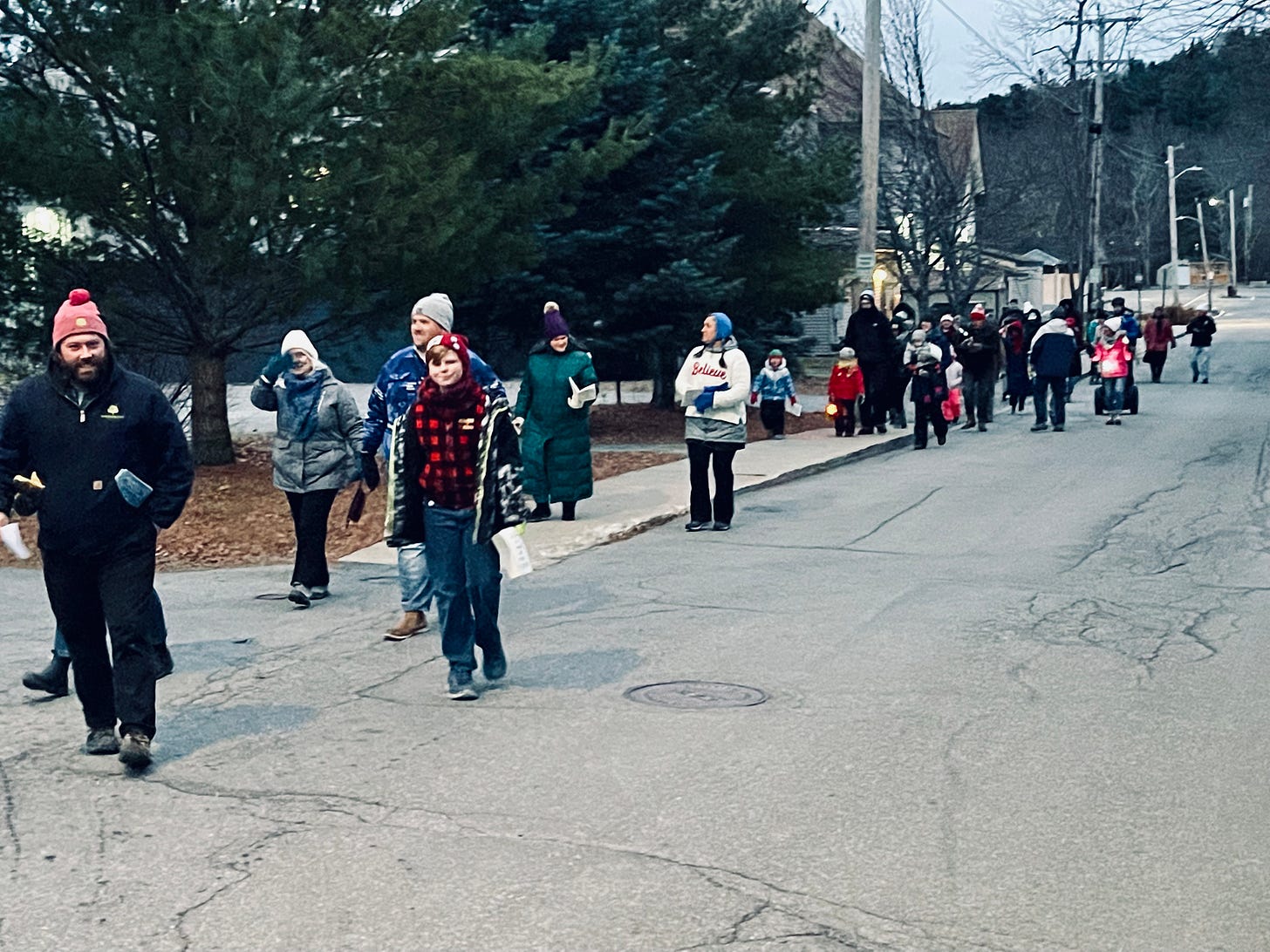 ---
LINKS TO LEARN MORE
https://www.grunge.com/260670/the-bizarre-history-of-caroling/
---
Bar Harbor Story is a reader-supported publication. To receive new posts and support my work, consider becoming a free or paid subscriber. Thanks for being here with me!