Witham Family Hotel's Free Charitable Christmas Celebration Brings Full On Cheer To Locals and Continues to Provide Long After Event Is Over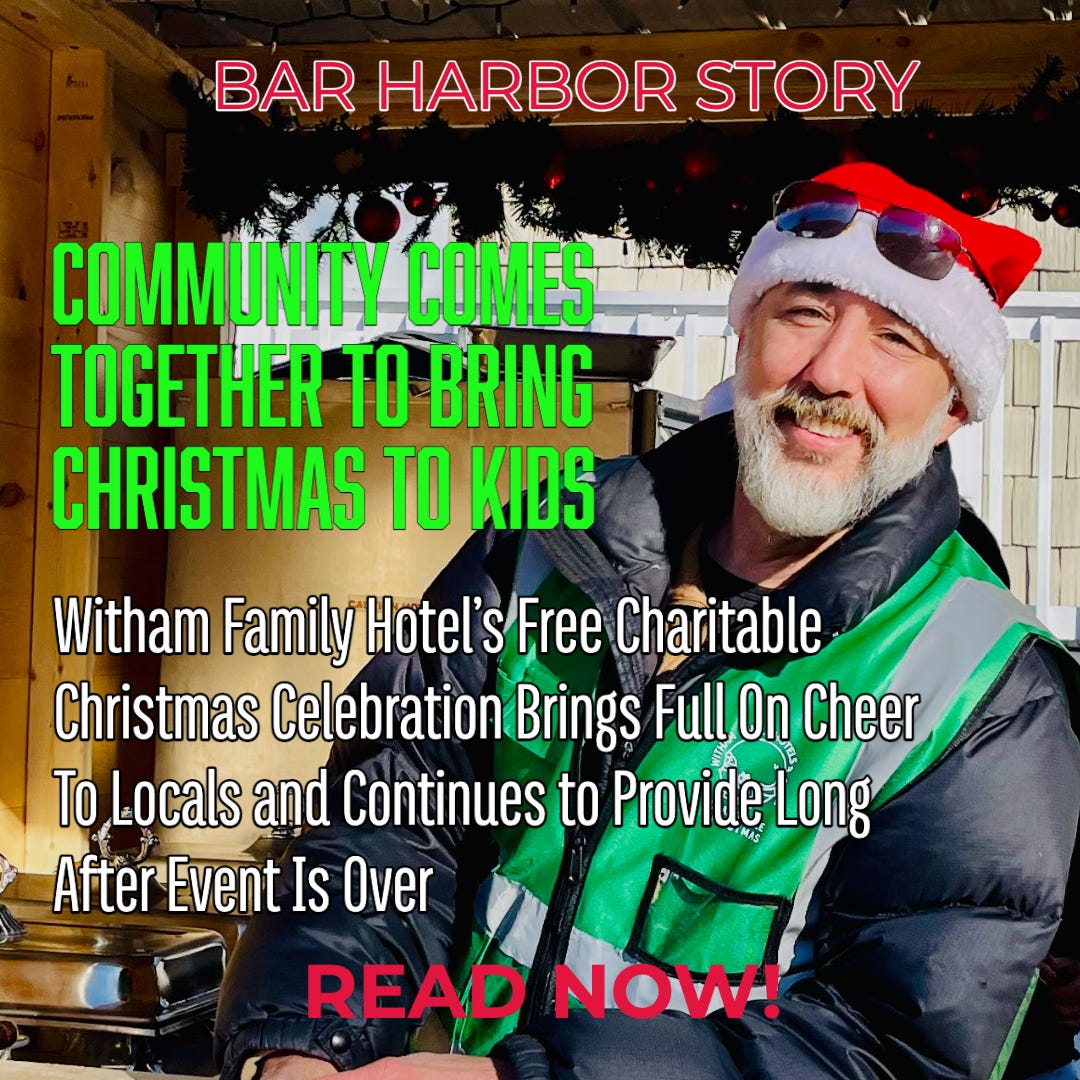 BAR HARBOR—"Are those reindeer?" one mom crooned to her newly walking toddler as they came down the stairs of the Atlantic Oceanside.
"Yeah," her daughter whispered.
"Are those Santa's reindeers?" the mom asked as they came to the bottom of the steps.
"Ye-ah." Her daughter's eyes grew even bigger as she gazed on the two reindeer in their enclosure.
"Do you want to go say hi?"
She nodded her head.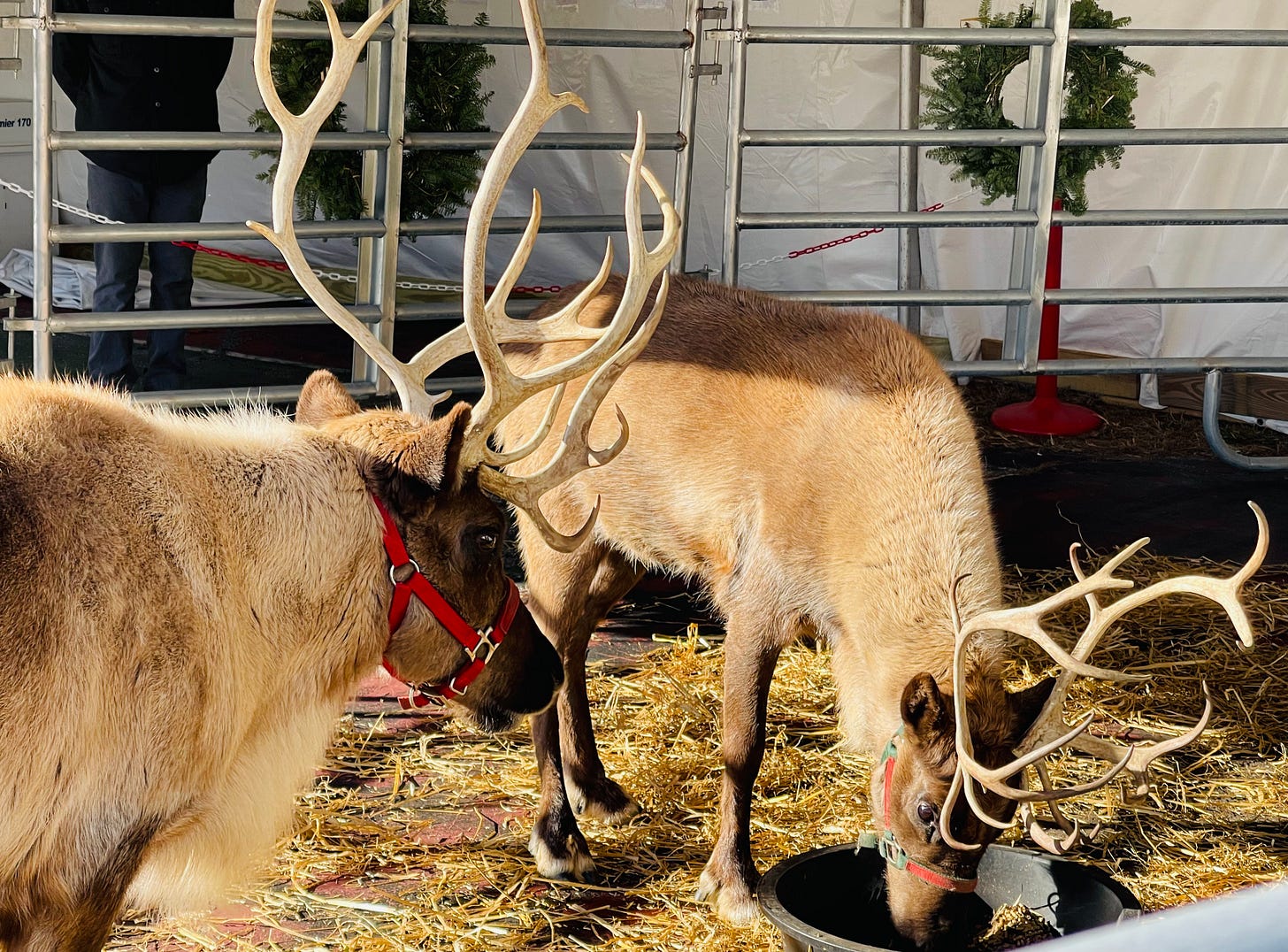 Santa's reindeer were just one of the many awe-inspiring and memory-making moments at the Witham Family Charitable Christmas Celebration on Saturday. According to Bar Harbor Inn's General Manager Jeremy Dougherty, there will be truckloads of presents that have been collected at the event. Those presents for local children are brought to Maine Seacoast Mission and dispersed to local charities so that kids can have presents for Christmas.
With the help of more than 50 volunteers, Santa, Mrs. Claus and two reindeer came to the Atlantic Oceanside on Saturday.
Those volunteers were Witham Family Hotels employees and family members. Many worked on the event all week and braved the cold temperatures between 10 a.m. and 2 p.m. Saturday.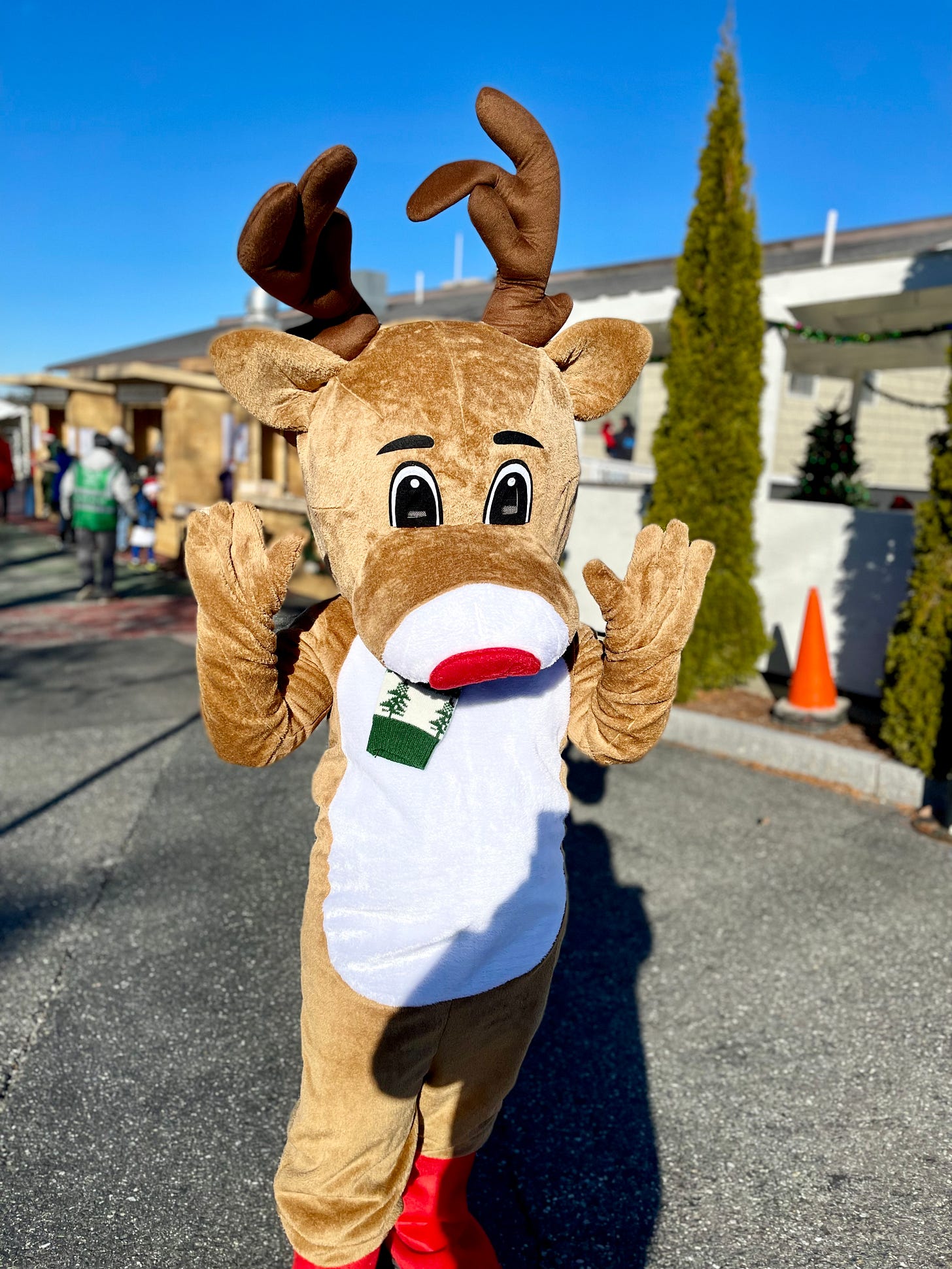 "I'm smiling on the inside," said a bipedal reindeer posing for a photo.
The reindeer wasn't the only one smiling at the event which brings gifts to local charities for Christmas. The cheer was evident on everyone's faces, kids, families, staff and volunteers. Many volunteers said that it was David Witham's favorite event. He wasn't alone in his happiness.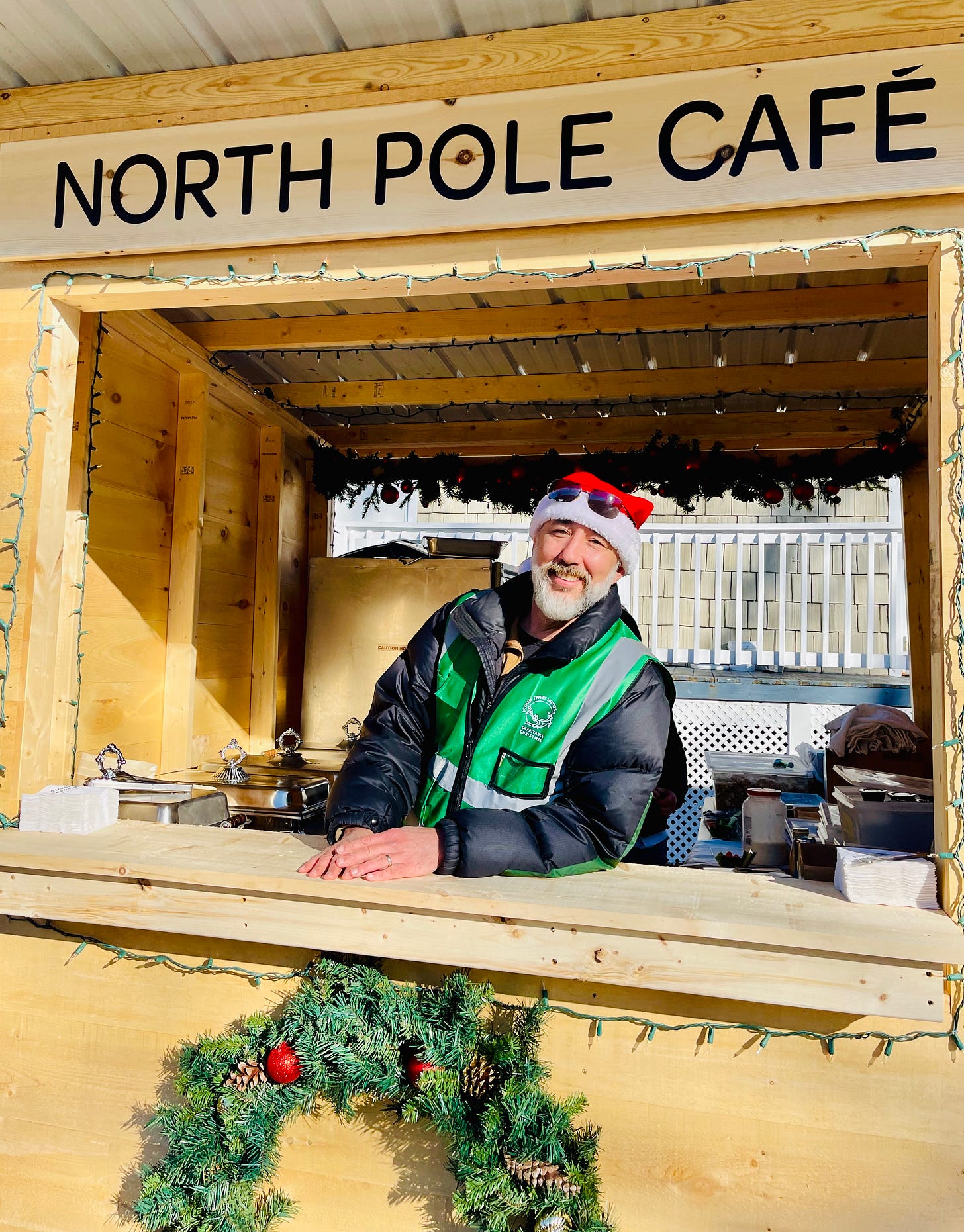 "It's fun," said Jay Payne from his spot at the North Pole Café. He said that after being home for so long people need Christmas, the joy of sharing, the extroversion that comes from seeing neighbors and kids happy and full of wonder.
The event started at 10 a.m. and by 11 there'd already been 230 guests. Dougherty guessed there might be more than 400. Some of those guests posed with Santa. Some participated in a scavenger hunt. Others sipped hot chocolate, dropped off donations, decorated cookies or made Grinch ornaments, sticking green pompoms inside of plastic balls to display on the tree.
Employees from one of seven different hotels do different tasks. For instance, Bar Harbor Inn's chef Zach Dallesandro and his team focuses on food. The reindeer travel from the North Pole obviously, but have a stop in Turner, Maine where they spend most of the year when not visiting Bar Harbor or being with Santa. Others decorate. Others keep the fire pit safe. Others watch the reindeer. Others help kids decorate. All have fun.
"Each year we try to do more and more," Dougherty said.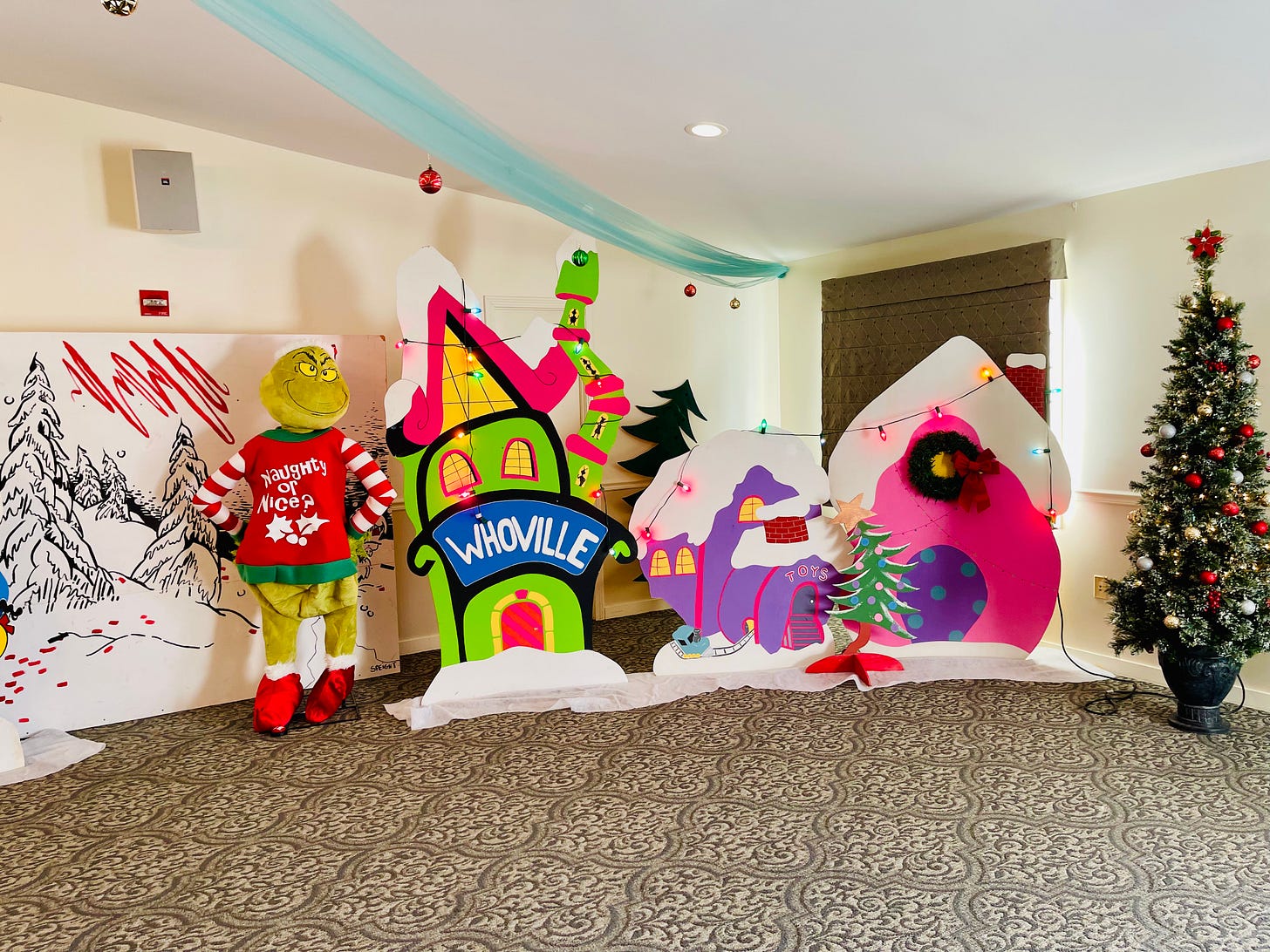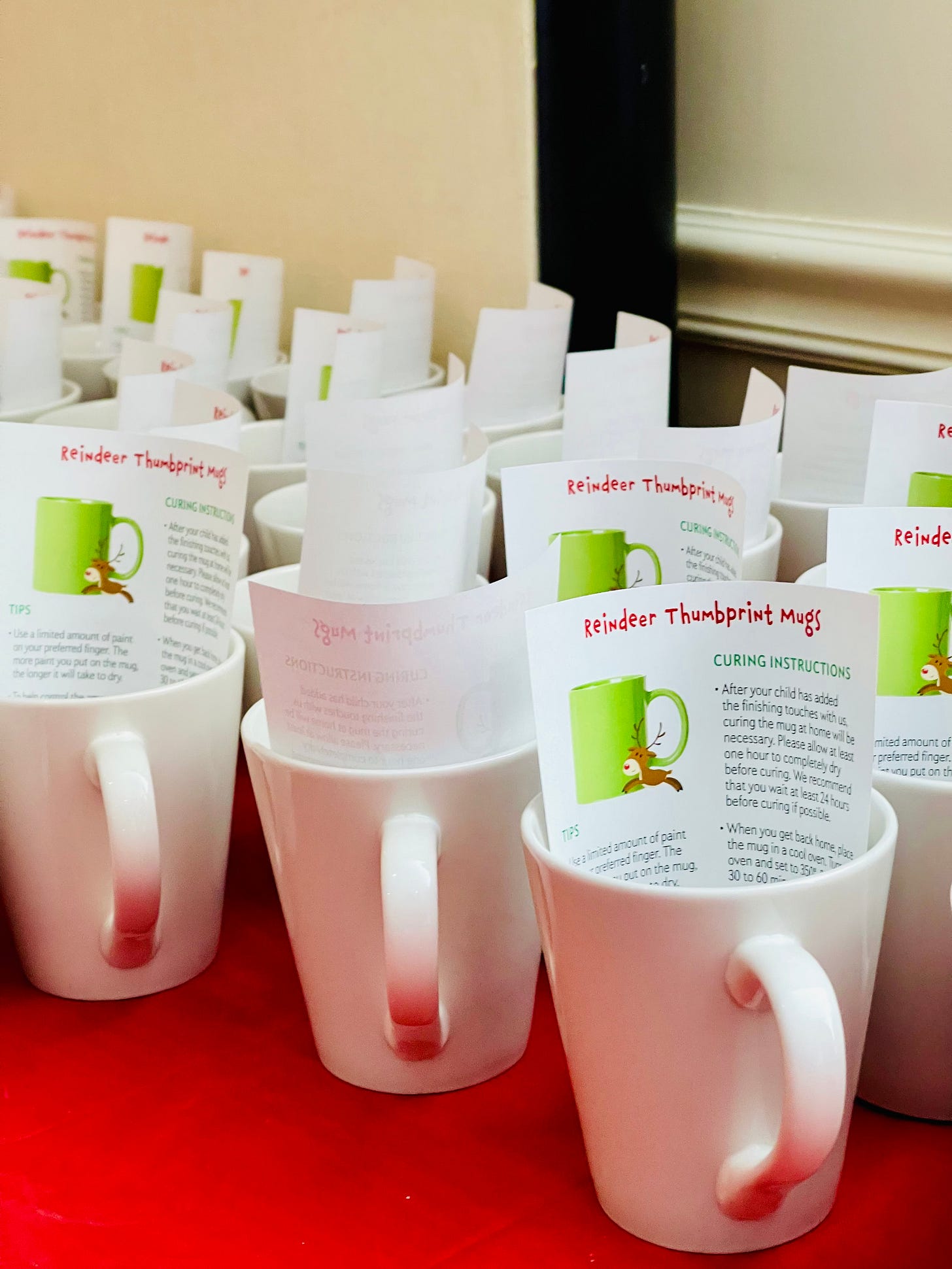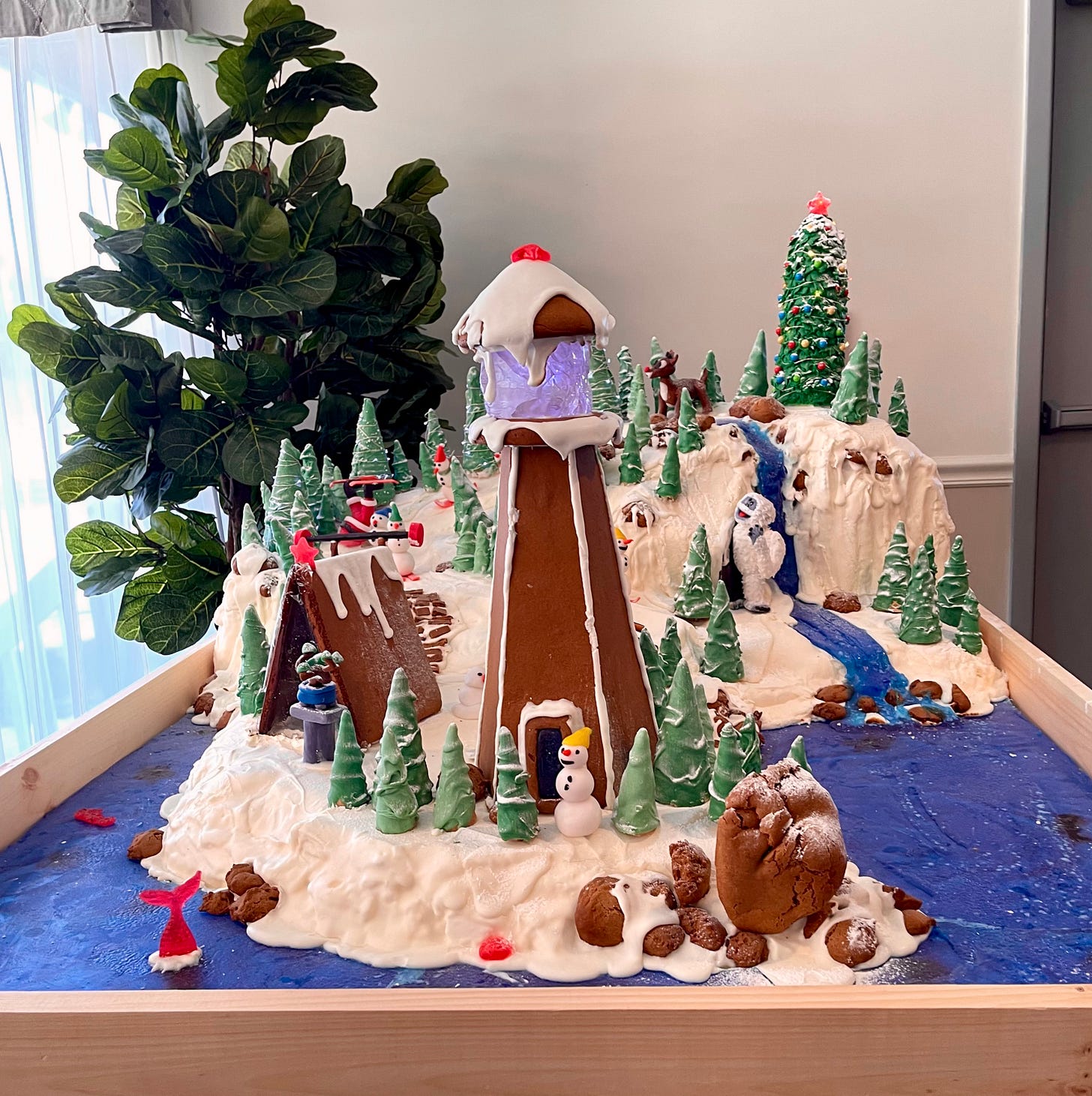 This year, an addition was German Christmas festival style wooden booths for hot chocolate, raffle tickets and food. Those booths were built specifically for the event.
The scavenger hunt featured riddles like "I am round, made of snow, with a button nose and a happy soul. I am?"
According to the Witham Family Hotels Charitable Christmas Facebook page,
"While all events are FREE for the Witham Family Hotels Charitable Christmas event on Saturday, December 10, 2022 – We do ask, if you are able, that you bring a new, unwrapped toy to donate to Maine Seacoast Mission or a gently used warm winter coat for H.O.M.E. Inc."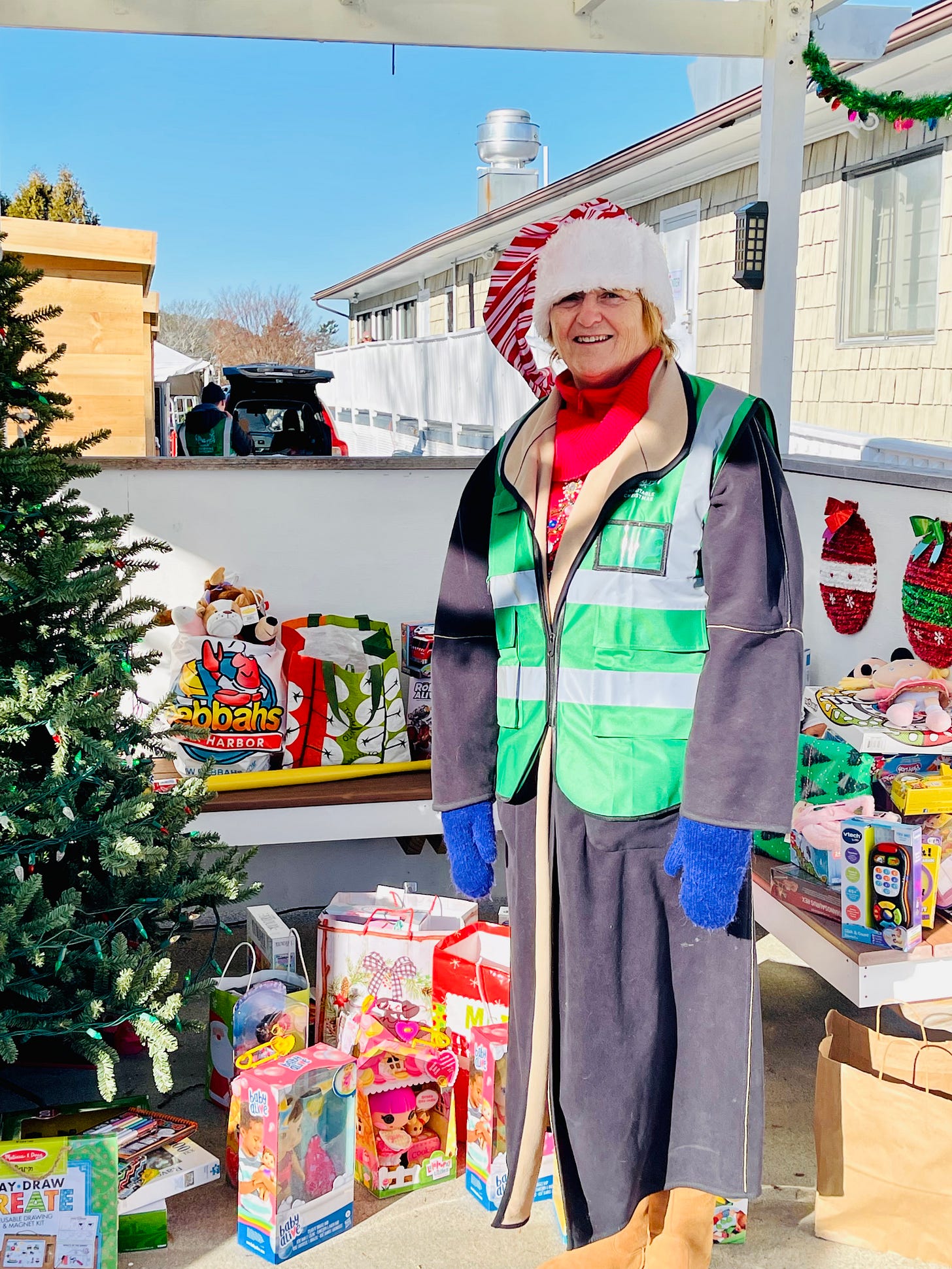 It was Lee Fopeano's first year volunteering at the event and despite temperatures in the upper twenties, she was enthusiastically smiling as she accepted donations of toys and coats. "The kids are so happy," she said.
And that seemed to make everyone else happy, too.
And that? That is really what the spirit of Christmas is supposed to be about.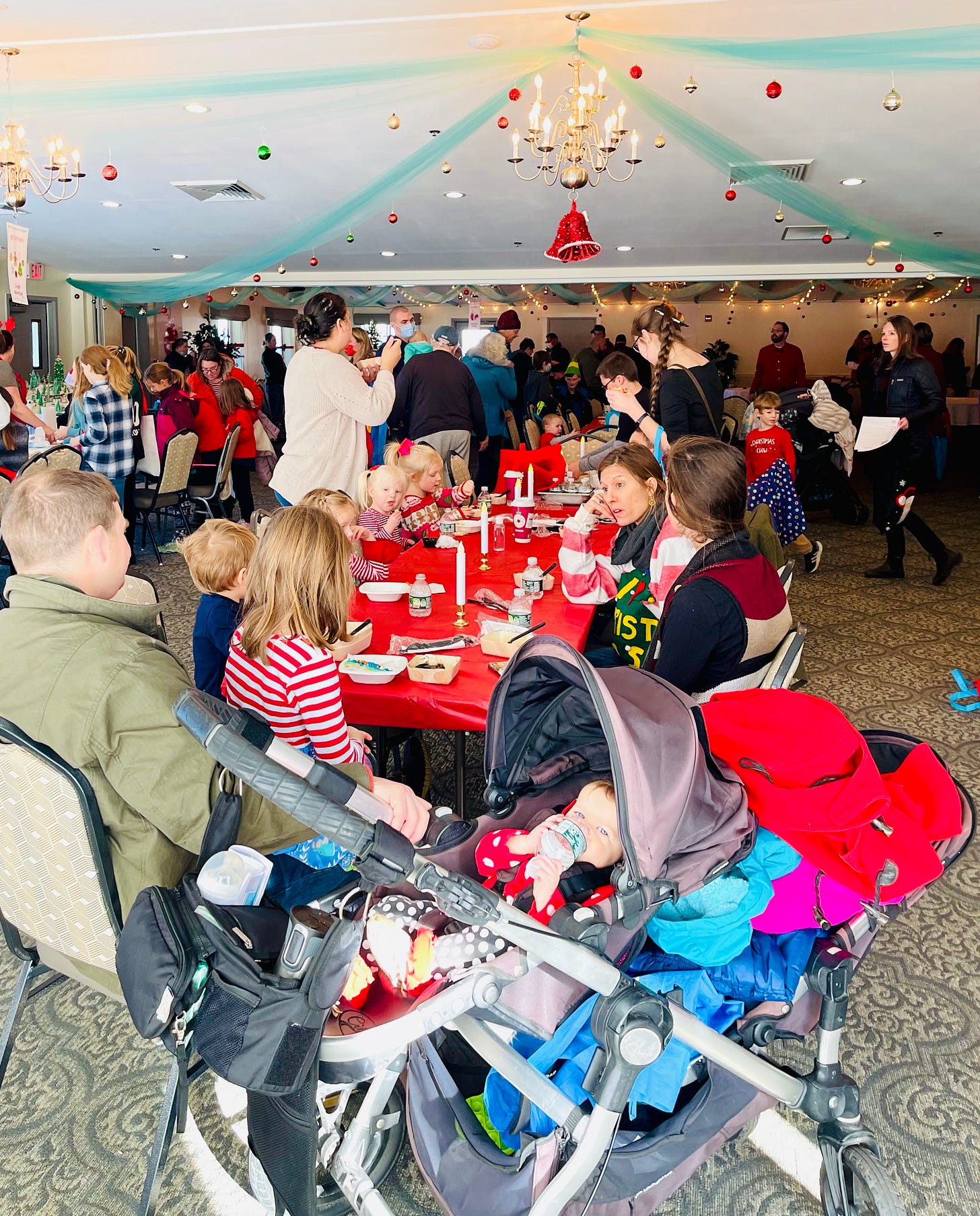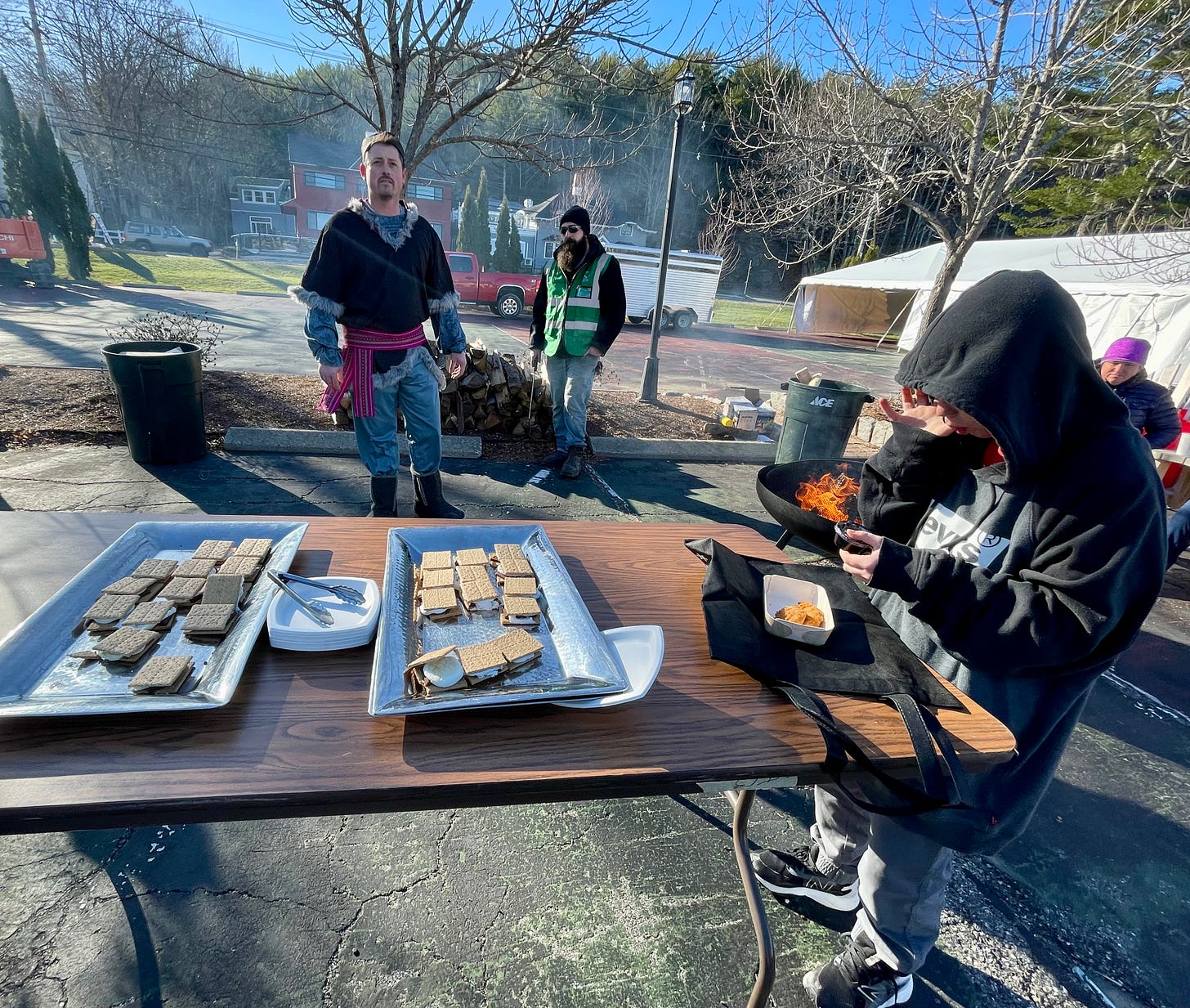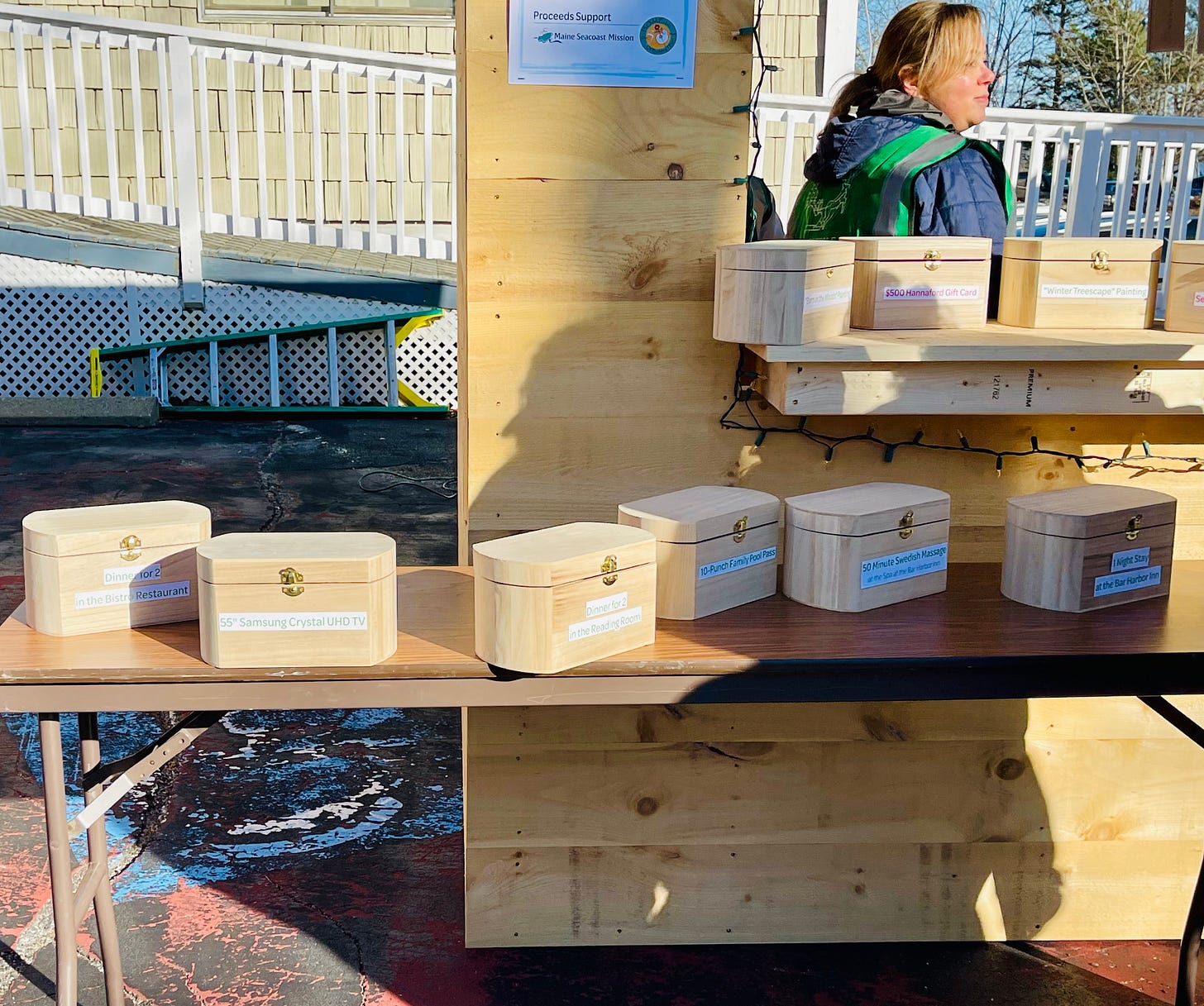 ---
LINKS TO LEARN MORE
https://www.facebook.com/events/704187457733101/?active_tab=discussion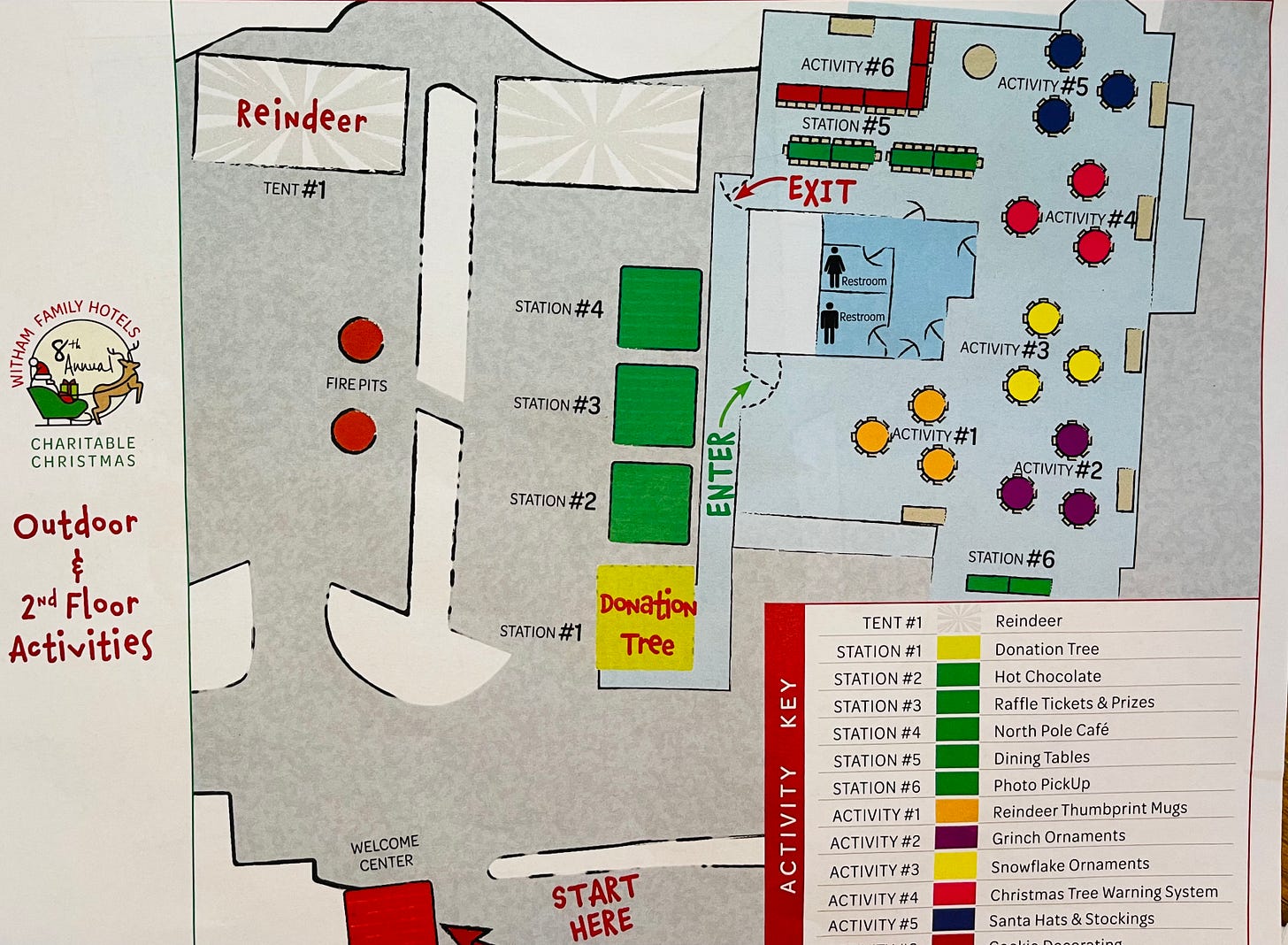 ---
ABOUT WITHAM FAMILY HOTELS CHARITABLE FUND
Witham Family Hotels Charitable Fund was established in 2017 to carry on the philanthropic legacy of hotelier David J. Witham. The Fund is dedicated to supporting local and regional organizations who provide valuable charitable services to our community. Monetary support of the Fund is provided by Witham Family Hotels, a Maine hospitality company based in the Acadia National Park area.
---
Bar Harbor Story is a reader-supported publication. To receive new posts and support my work, consider becoming a free or paid subscriber. Thank you so much for being here!