Town Council will also discuss potential new long-term rental housing ordinance at its October 18 meeting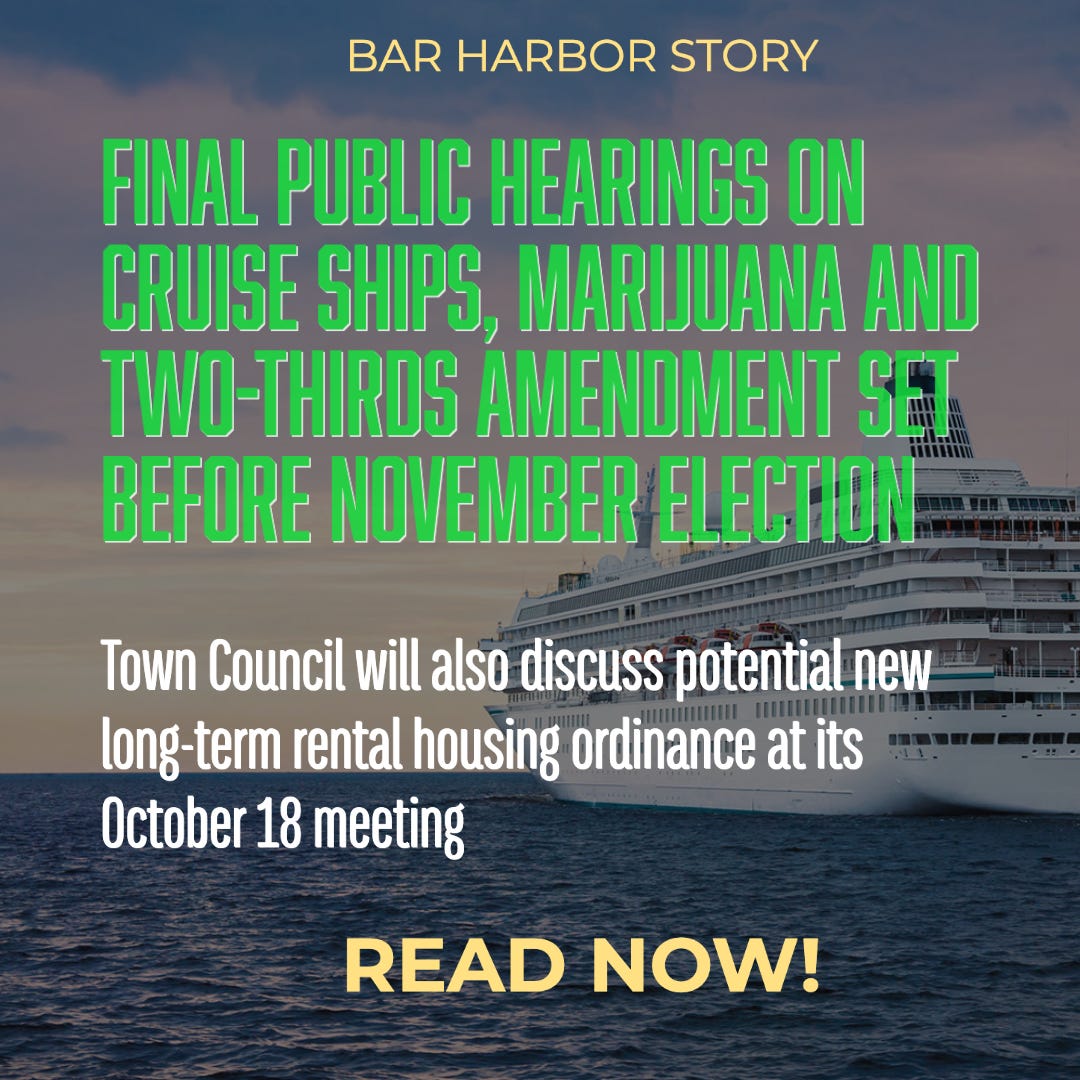 BAR HARBOR—The Bar Harbor Town Council has plenty on its plate at its Tuesday, 6:30 p.m. meeting. That plate includes public hearings on all the Land Use Ordinance Amendments and Marijuana Stores Licensing Ordinance as well as on enacting a Long-Term Rental Housing Ordinance. There also could be an amendment to the Long-Term Rental Registration Task Force's bylaws. And Finance Director Sarah Gilbert will review the highlights of the first three months of fiscal year 2023. Councilors could also approve a new emergency operations plan and discuss potential changes to winter overnight parking and further tweak the personnel policy.
The meeting will be streamed and also open to the public. It occurs in the Municipal Building on Cottage Street across from Hannaford's.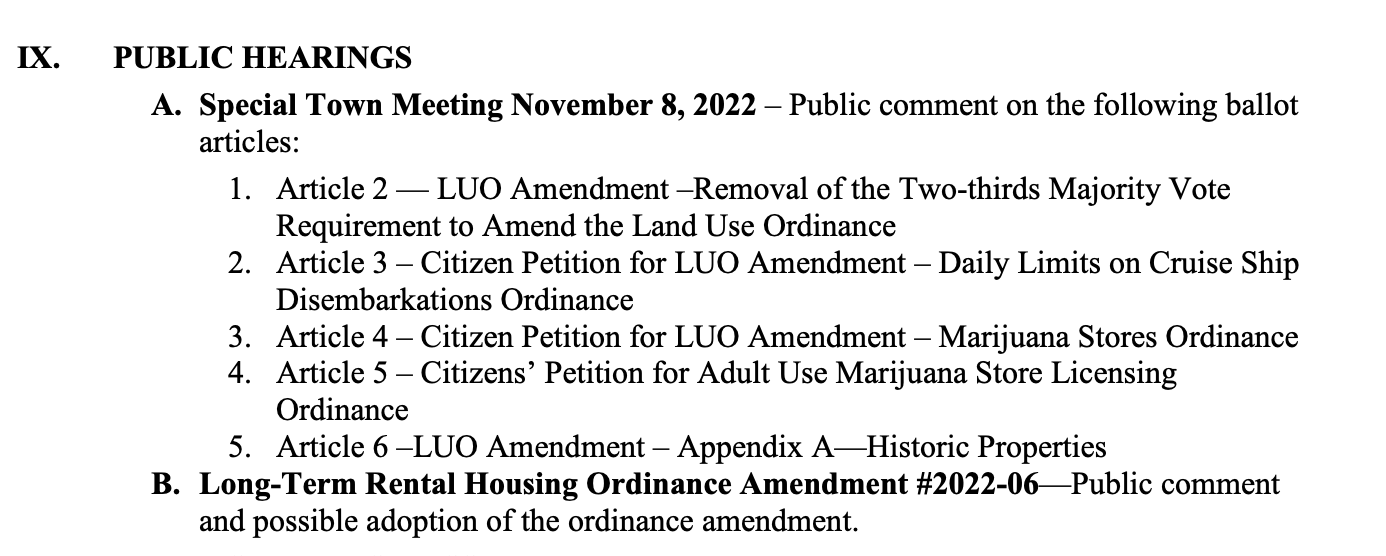 TWO-THIRDS AMENDMENT
The first public hearing is about the potential removal of the two-thirds majority voting requirement at town meetings to amend the town's land use ordinance. The warrant article would allow Land Use Ordinance amendments a simple majority vote rather than two-thirds majority to change the town rules if the Bar Harbor Planning Board (which hears the proposed amendment first and has a public hearing) votes against the adoption of the change. If the planning board is in favor of the adoption, it currently just needs to pass via a simple majority vote at the town meeting. This would not change.
What actually is a land use ordinance? One of the simplest definitions is from Law Insider and it's "an ordinance or regulation of general application adopted by the municipal legislative body which controls, directs, or delineates allowable uses of land and the standards for those uses."
CRUISE SHIP PETITION
The petition was organized by resident Charlie Sidman and calls for limiting the number of disembarkations of cruise ship passengers to 1,000 a day. It also creates a new set of procedures for permits that property owners in town can be issued to accept disembarking passengers. If voted in, the system would require the town's harbormaster to create a reservation system for transporting passengers off cruise ships and also creates a counting mechanism. Then the town's code enforcement office would have to ensure compliance. Lack of compliance would be $100 per passenger who wasn't authorized to disembark.
The town recently enacted an entirely different cruise ship management plan which focuses on limiting cruise ship disembarkations via agreements with the cruise lines and using lower berth capacities (the number of people sleeping on the ship) as a counting mechanism. Currently, this plan has prevented 40,000 passengers from visiting Bar Harbor.
MARIJUANA RETAIL STORES
The third big issue is the citizen petition to amend the Land Use Ordinance concerning marijuana retail stores within Bar Harbor. If approved, the petition would define retail marijuana stores and "place them in specific districts" according to the town manager's packet notes.
Those places where they may be allowed (if placed on the town warrant and approved by voters) are the four districts that currently allow retail stores (Bar Harbor Gateway, Downtown Village I, Downtown Village II, and Downtown Village Transitional), but would also create a new zoning district whose "boundaries are not defined" according to the warrant article. That new undefined district would be called Shoreland Development III.
The material provided by Town Manager Kevin Sutherland states that this portion of the petition may be not be able to be enforced if it passes because of the lack of boundary definition, and he writes that there are other issues involving the failure to strikeout old language in the current land use ordinance.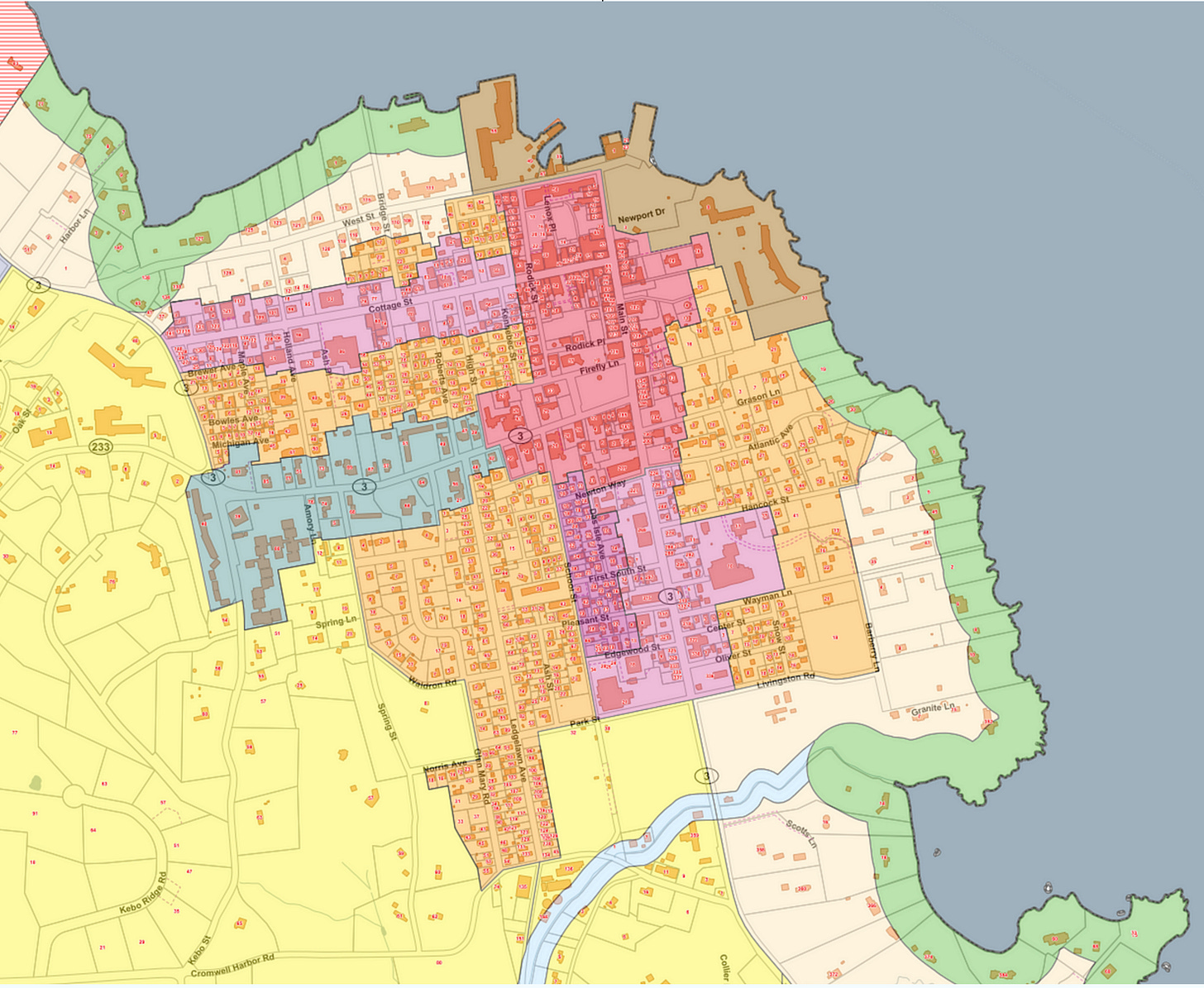 The Downtown Village I and II districts are both where most of the town's retail and restaurants are. The Downtown Village Transitional is edged by School Street and Edgewood and includes portions of Des Isle Ave, First South, and Pleasant Streets. It currently has little or no retail though it is an allowed use.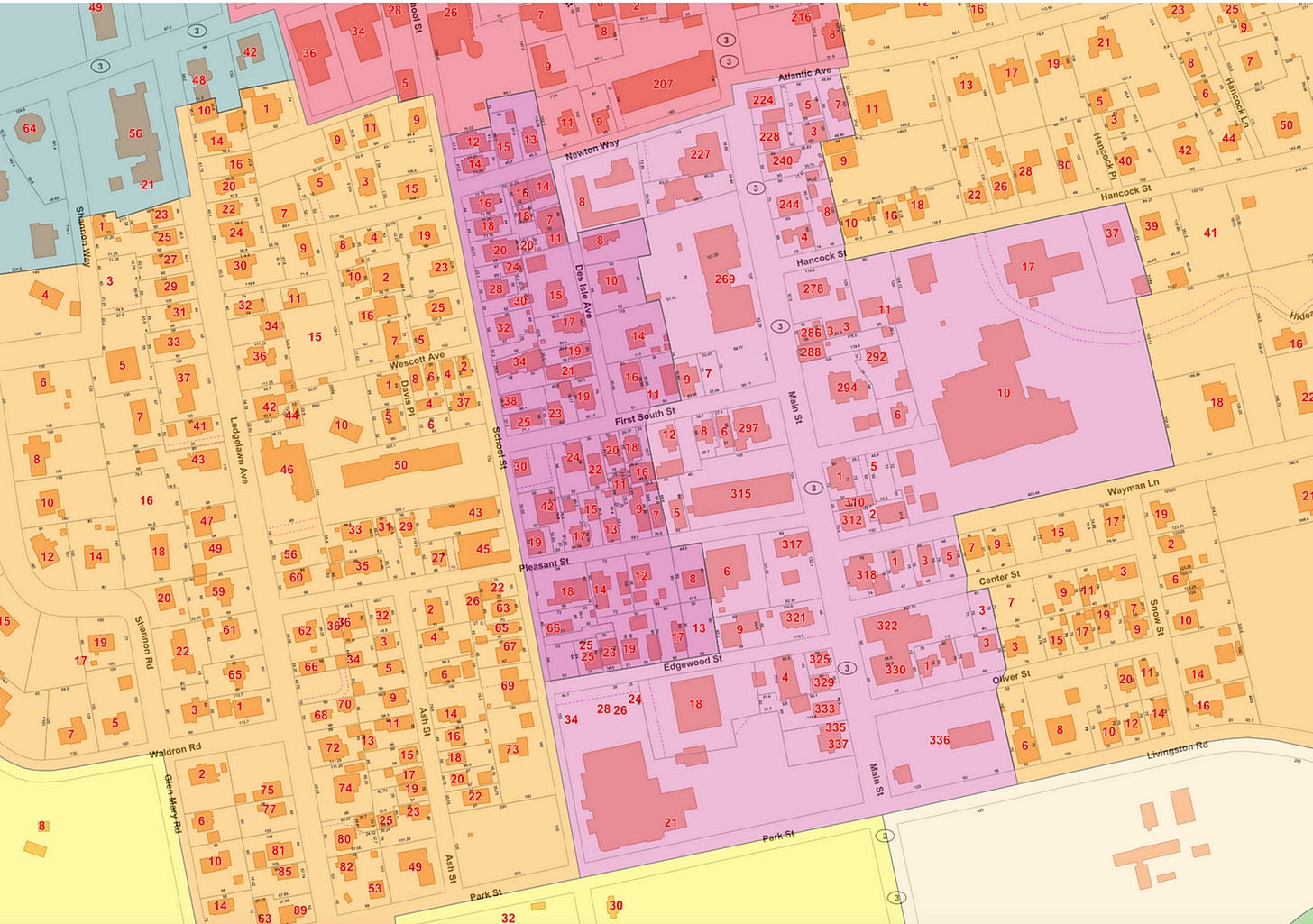 The Bar Harbor Gateway district runs along part of the Route 3 corridor into Bar Harbor proper.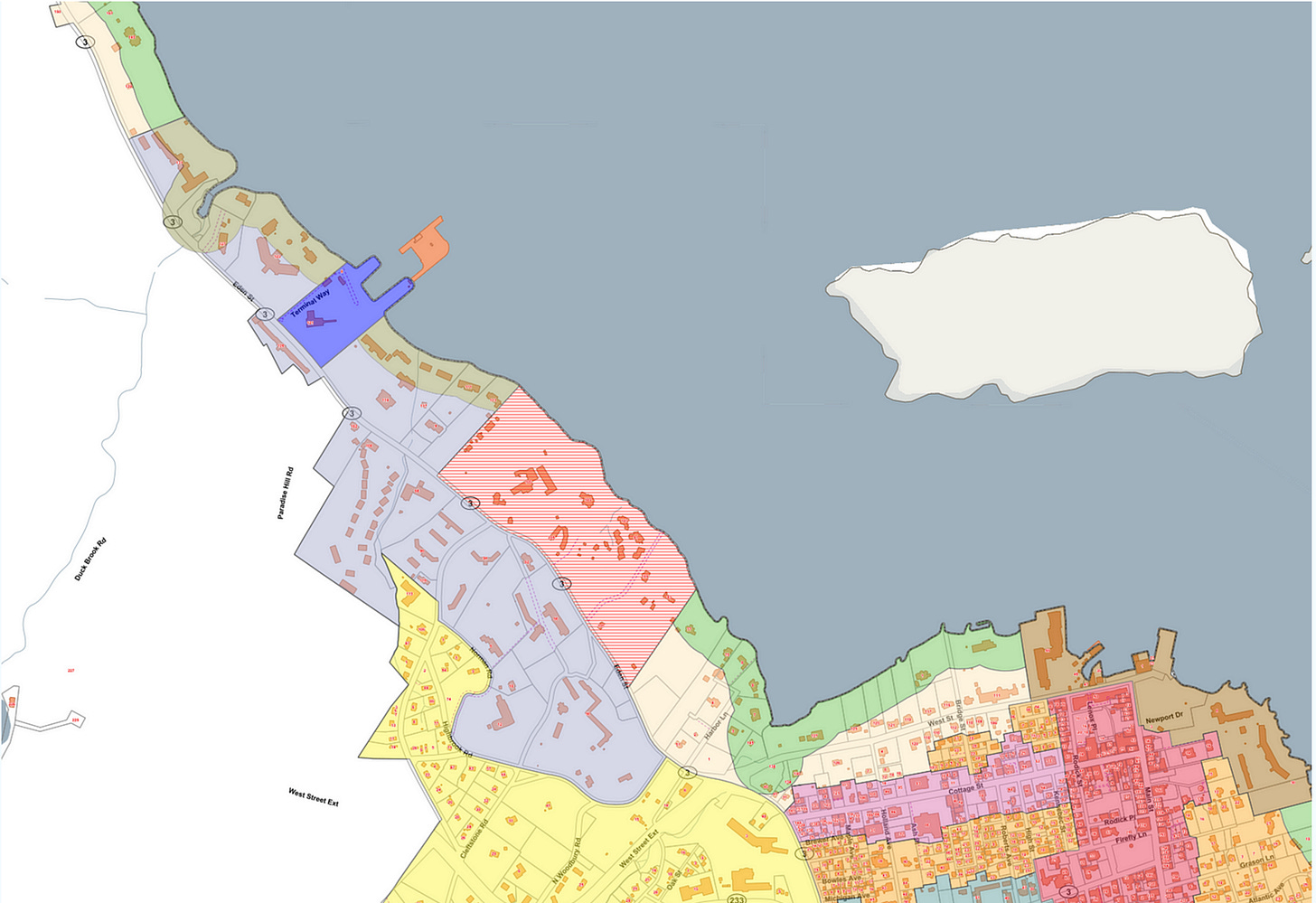 There is another citizen petition specifically about marijuana stores licensing. The council must also approve (or not) for it to go onto the November warrant where voters will decide its fate.
According to the warrant:
"This ordinance licenses adult use marijuana stores. It does not allow for cultivation, manufacturing or testing facilities. It allows for up to two adult use marijuana stores in Bar Harbor. Such stores must be operated from a permanent location. Sales may not include the use of vending machines, drive-through/drive-up windows, or delivery services. Adult use marijuana stores cannot be located within 1,000 feet of the property line of a preexisting public or private school serving children from prekindergarten to grade 12. Two licenses, one from the State of Maine and one from the Bar Harbor Town Council, must be secured in order to operate an adult use marijuana store in the Town if Bar Harbor. The processing fee for the town's license is $250 and the fee for the town license itself is $1,250. Applicants who wish to operate an adult use marijuana store must be at least 21 years of age and a resident of the State of Maine. Applicants must divulge if they hold, have held, and/or have had any such licenses or similar licenses denied, suspended, or revoked from any town, city, or state. If a licensed adult use marijuana store is sold, the purchaser would be given preference to obtain a new license and continue operations."

"Adult use marijuana stores may be open for business only between the hours of 10:00 a.m. and 8:00 p.m. Security measures must include security surveillance cameras and an alarm system."
DESIGN REVIEW BOARD APPENDIX A
Later in the agenda, councilors will potentially sign an order placing LUO Amendment Appendix A: Design Review Board. It is part of an annual review about the historic properties in the Design Review Overlay District.
LONG-TERM RENTALS
A public hearing will occur about the potential Long-Term Rental Housing Ordinance. The purpose of the ordinance is to create a registry of long-term rental housing, which is defined as "any dwelling unit that is rented or available for rent for a period of thirty consecutive days or more, in exchange for compensation."
The ordinance would require that property owners submit a yearly application for each dwelling unit they are renting. Registrations would expire each year on December 31. There would be no fee to register, but there would be a scaled fee if the property owner failed to register. That cost would be $50 if it is filed in March; $100 if filed between April 1 and July 31; and $200 if filed between August 1 and December 31. The properties would not have to be inspected.
For the task force to continue its work and to give the town the appropriate amount of time to gather data and information, the Council may vote to allow the task force to reconvene in January 2024 rather than have the task force dissolve.
WINTER OVERNIGHT PARKING
According to an October 12 memo written by Police Chief Willis, at the request of Councilor Matthew Hochman, Willis looked into ways "to improve upon the town's on-street parking ban during the winter months." Willis wrote that both he and the town's Public Works Director Bethany Leavitt find these changes "feasible."
a. Residents and visitors apply for free winter overnight parking permit via the town's IPS system. Permit holders would have to have "an actively monitored email account" so that messages about parking would be received in a timely manner.
b. The permit would then enable holder to leave vehicles in parking lots and public streets overnight.
c. When snow removal is necessary, the system would alert overnight parking permit holders that "parking will not be allowed during the anticipated snow removal days and times in named places."
For those changes to occur the town's Vehicles and Traffic Ordinance and Permit and Paid Parking Policy would both need to be updated.
APPOINTMENTS
Councilors will also consider three appointments, all of the candidates received votes of 2-0 from the Appointments Committee, which consisted of Hochman and Councilor Jeff Dobbs. Councilor Jill Goldthwait was absent.
Nathan Young is up for the Board of Appeals. Mike Rogers is up for the Design Review Board and Micala Delepierre is up for the Harbor Committee. Except for Board of Appeals, there was only one applicant for each position. There were two for the Board of Appeals.
FISCAL YEAR 2023
Gilbert provided a memo to Town Manager Kevin Sutherland, councilors and department heads about the expenditures so far. A few highlights are below, but the entire memo is in the council packet, beginning on page 9.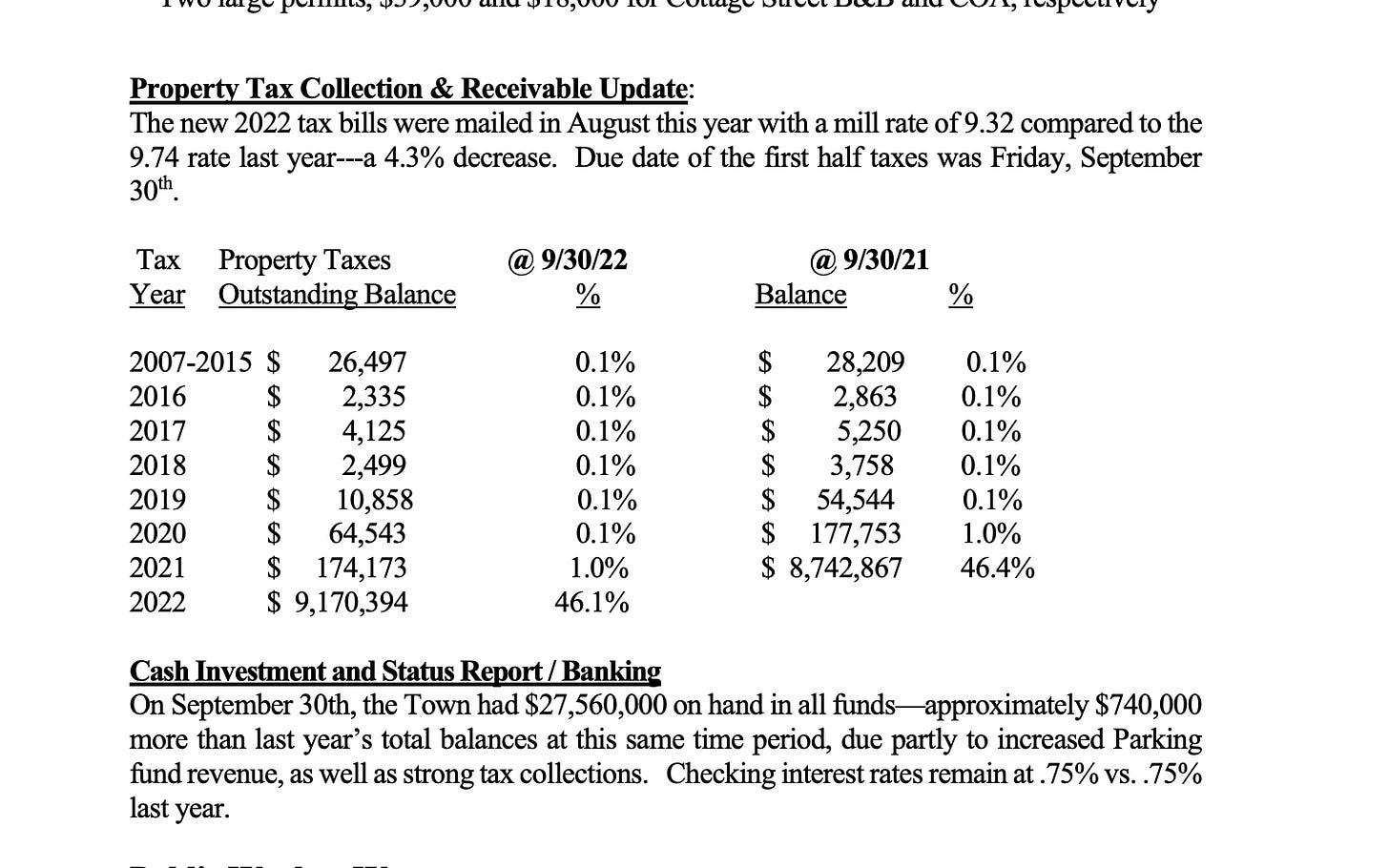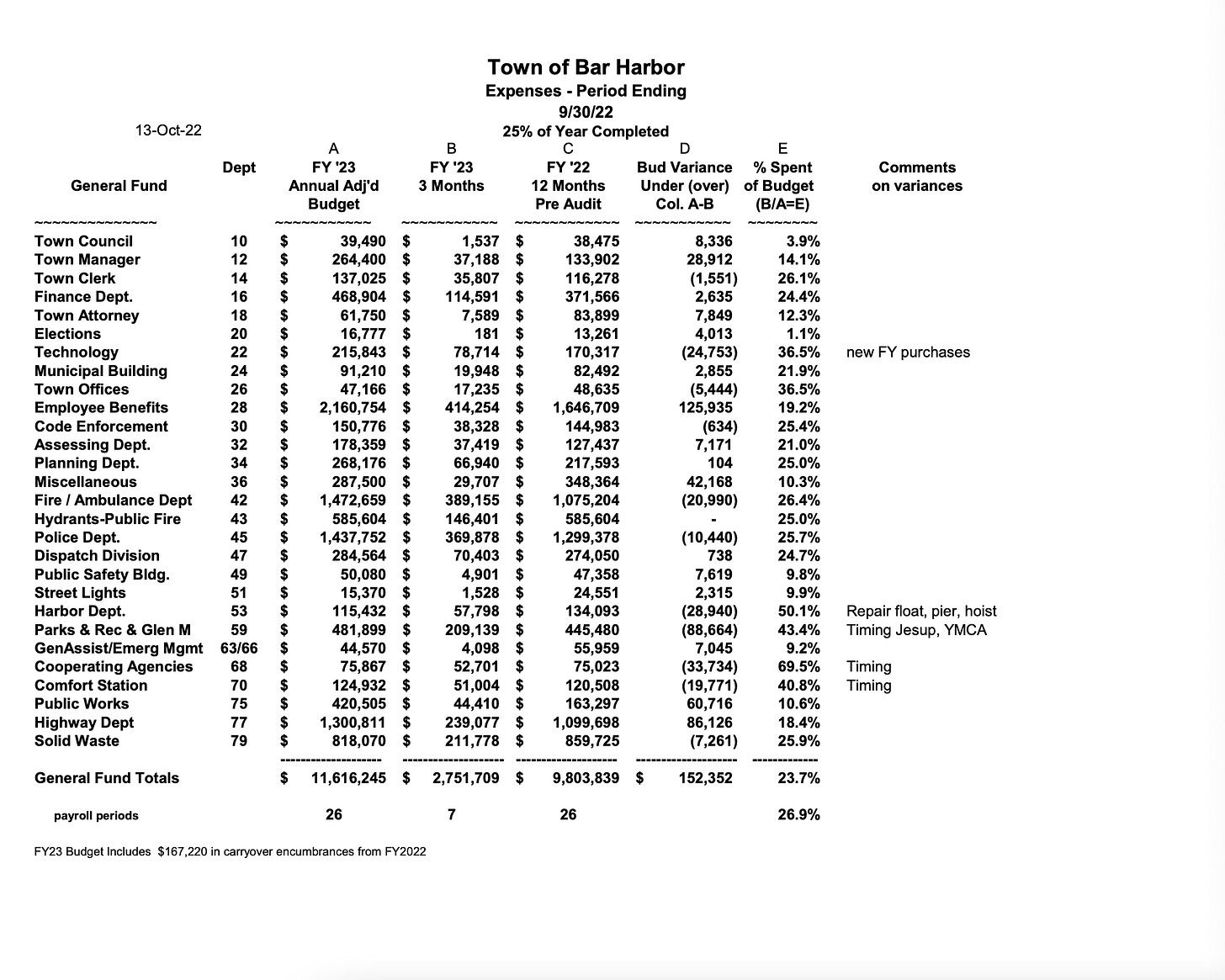 STREET CLOSURE
Open Table MDI hopes to close Maple Street between Cottage Street and Brewer Avenue on November 11 for a grand opening celebration event. Open Table MDI is leasing space at 116 Cottage Street. The event would be a community street dance from noon to 3 p.m.
VETERANS DAY BELL RINGING AND BLUE STAR MEMORIAL MARKER
There is potential motion to ask "Bar Harbor churches and schools to sound their bells in observance of Veterans Day."
The Bar Harbor Garden Club also hopes to post about the Sundial Lupine Project. The sign would be on town property near the head of the island next to Route 3.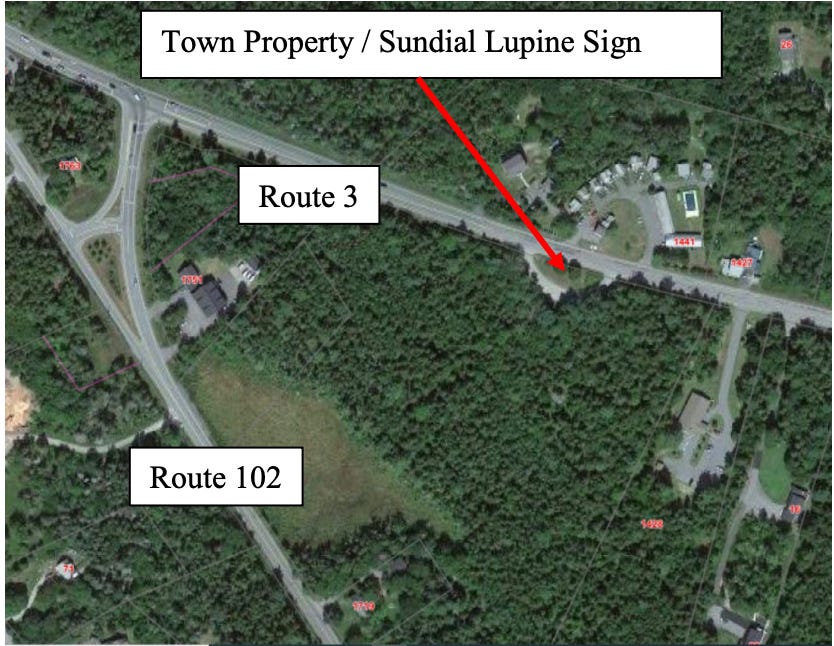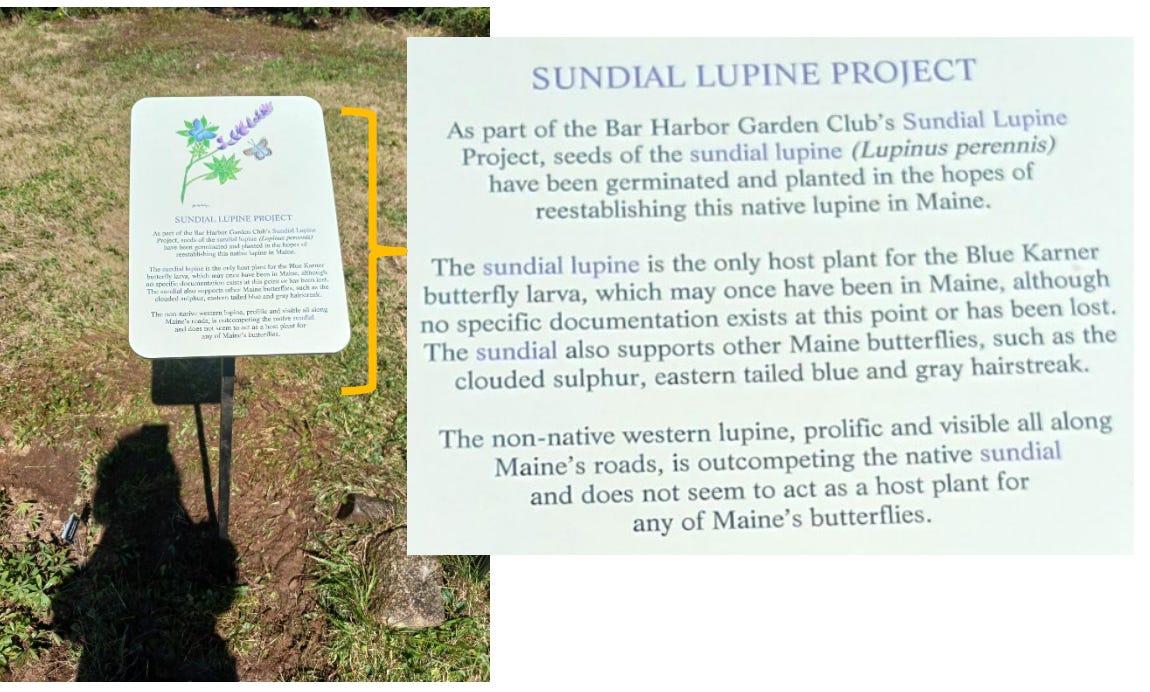 ---
Sample ballot enclosed; the full Warrant and Notice of Public Hearing are available on the Elections-November page.
Financial Report pages 9-14.
We have had a ton of articles on all the public hearing issues. To peruse them, head over to our archive section. It's organized by date.
Bar Harbor Will Vote on Cruise Ship Caps This November
Bar Harbor Council Hosts Cruise Ship Plan Questions and Answers
---
Bar Harbor Story is a reader-supported publication. To receive new posts and support my work, consider becoming a free or paid subscriber. I'm just one person and your support means so much to me.