Mortgage rates increasing does not help prospective homeowners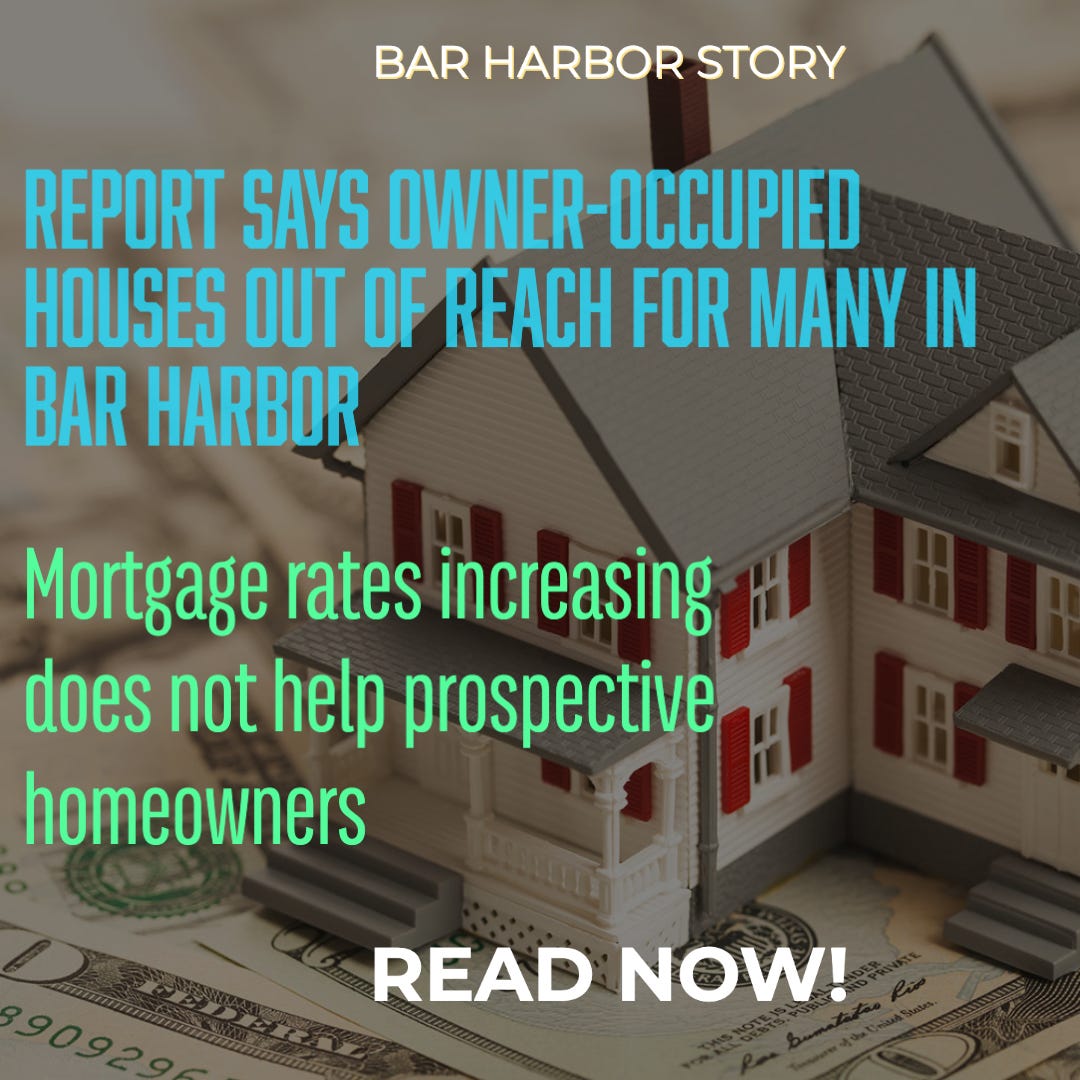 BAR HARBOR—So far in Bar Harbor's comprehensive plan process, part of the committee's focus has been on housing. Two recent documents lend data to those concerns.
Both the plan's October executive summary and its report on existing conditions go into great detail about housing.
Median home sales in Bar Harbor increased to $520,00 from $311,500 in 2018. The report specifies below that this increase has made "owner-occupied homes further out of reach of many."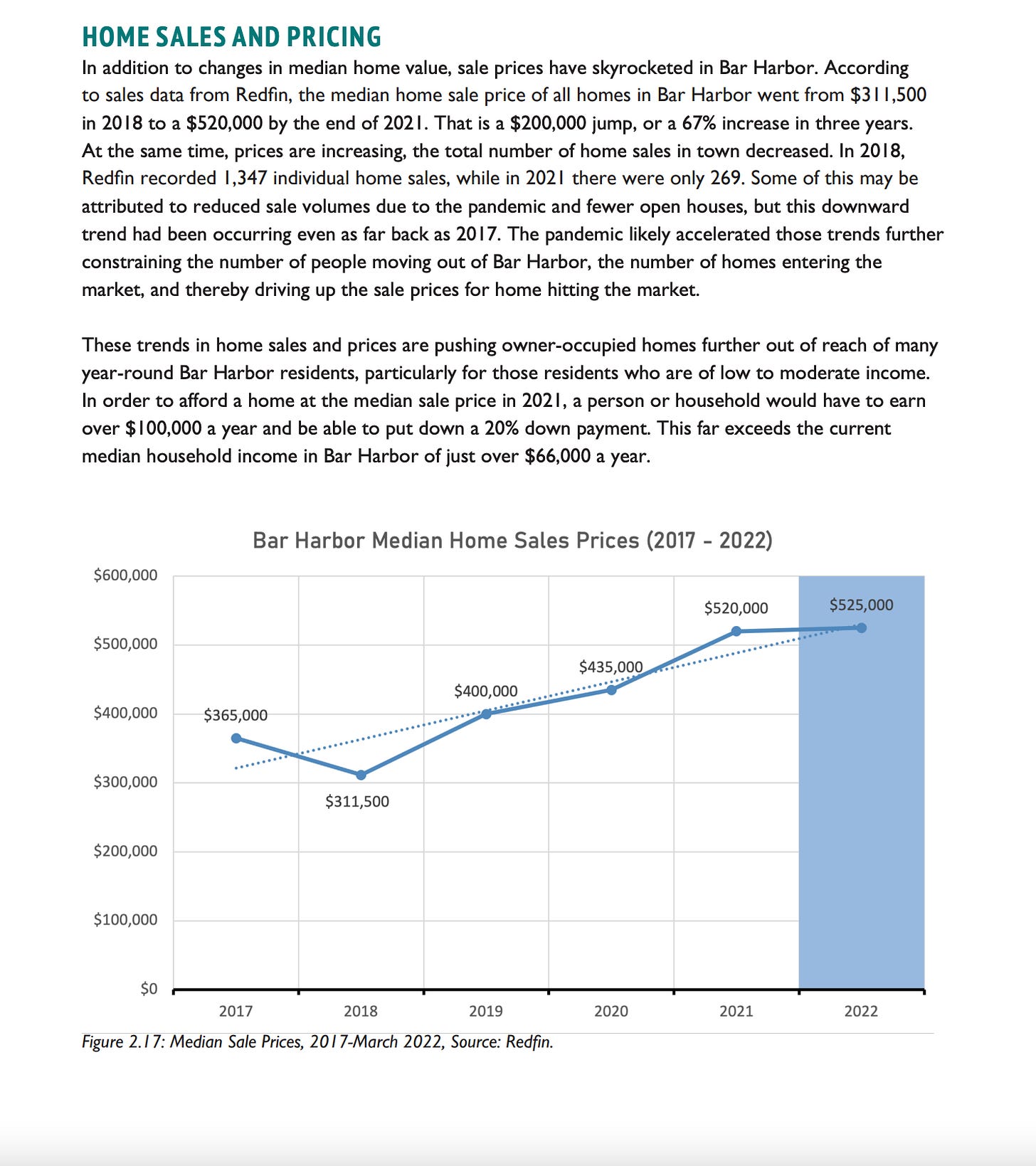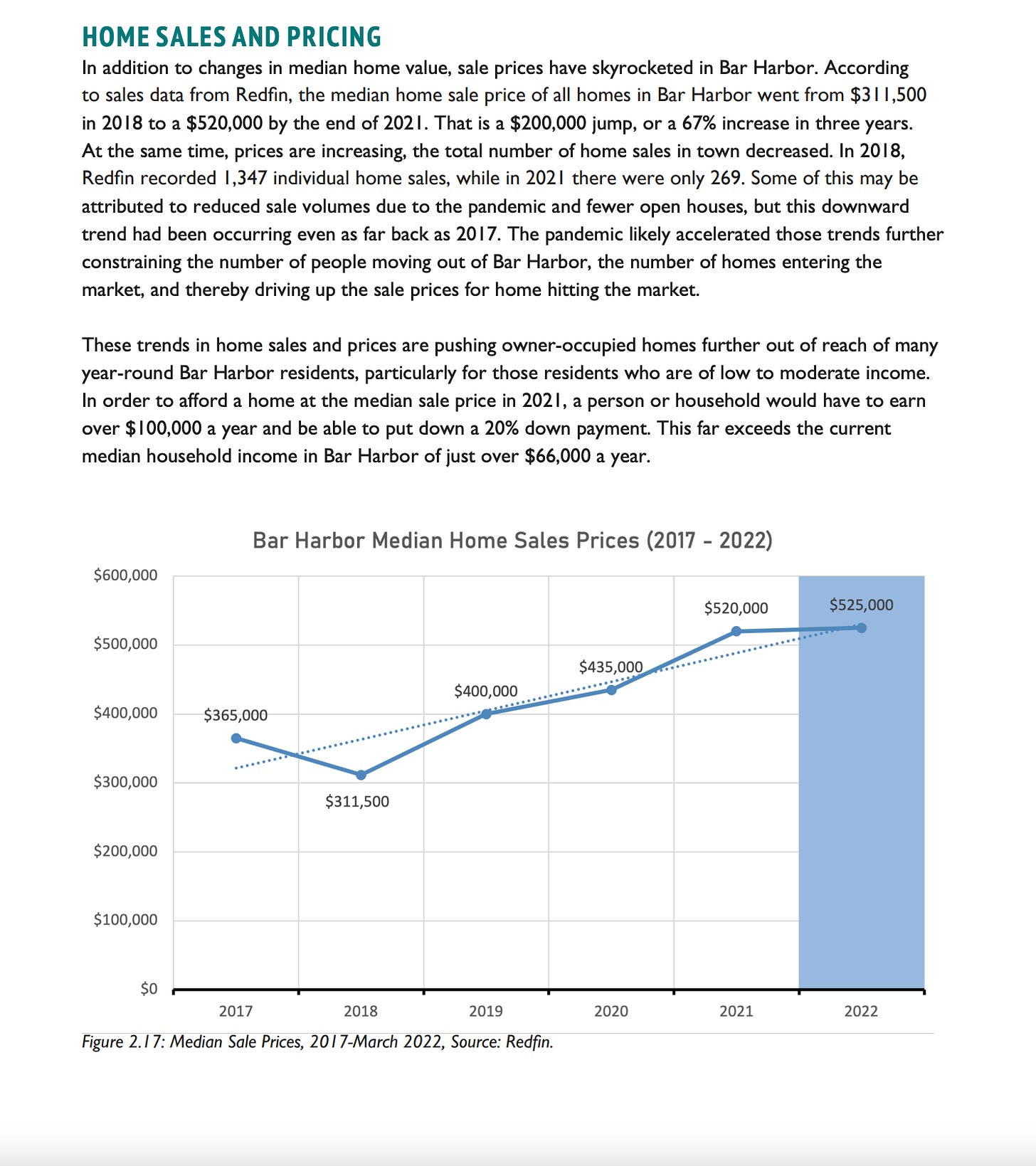 Similarly that 67 percent increase in median sale prices has made it so that to buy a home, a typical household would have to make over $100,000 and also put down at least 20 percent.
MORTGAGE RATES
Increasing mortgage rates aren't likely going to bring first-time home buyers in Bar Harbor or give the rest of Hancock County much help in buying a starter home soon.
According to a recent NYT article by Stefanos Chen,
"According to Mortgage News Daily, a popular industry gauge, the average 30-year fixed-rate mortgage reached 7.08 percent on Tuesday. Another survey, by the Mortgage Bankers Association, showed the rate averaging 6.52 percent, the highest reading since mid-2008. Freddie Mac placed it at 6.7 percent, up from 3.01 percent during the same week last year."
In 2020, the average 30-year mortgage had a rate of less than 3%. Now it's hovering near 7 percent. Simultaneously the cost of housing has been increasing, but some experts predict that it's starting to fall because houses aren't selling at list prices.
And current homeowners are starting to "lock in," which means that they aren't selling their homes and moving even if they want to because their new mortgage rate is going to be so much higher than their current one. A recent Bloomberg News article says that the inventory for single-unit homes is lower than it has been since the beginning of the 1980s.
During the first weekend in October, there were only twelve homes under $450,000 available in Trenton, Lamoine, Bar Harbor, Tremont, Southwest Harbor and Mount Desert.
Chen writes,
"Assuming a 10 percent down payment, a home listed at the national median asking price — $435,050 in August 2022 — cost nearly $1,000 more each month than it did in August 2021, when the average mortgage rate was 2.88 percent and the median home price was about 14 percent lower, said Danielle Hale, the chief economist at Realtor.com."
According to an article by Simon Moore for Forbes,
"For much of last year you could get a 30-year mortgage at around a 3% rate. Now mortgage costs are closing in on 7%. That's a dramatic change in the affordability of U.S. housing in a short space of time. Recent data on house prices is showing some of the biggest drops in over a decade. However, it is early days, with prices still generally up year over year.
"Mortgage rates matter for many buyers since these figures determine what many of them can afford. The median home sales price in August was $436,800, according to U.S. Census data.
"That means that the monthly mortgage cost of a house has risen from approximately $1,000 to $2,500 for new home buyers. Of course, not everyone buys homes with a mortgage, but many do, and so the affordability of a home has been reduced for many Americans in the space of just a year."
RENTERS
The news isn't that great for Mainers who rent or who need rental assistance either. On September 29, MaineHousing stopped taking new applicants for emergency rental assistance. The program has helped 34,000 households since March 2021. Federal funds via COVID-19 relief laws supported the program, which said it needs more money to continue after December of this year. There are 11,000 applications pending. The organization's press release states that an "unexpected uptick in program demand over the last several weeks has accelerated the depletion of available funds."
The October 2022 Comprehensive Plan Existing Conditions Report details the housing situation in Bar Harbor with both graphs and summary. The median gross rent between 2011 and 2019 increased 9.4 percent to $894 a month. People must bring in $40,000 a year to afford a $999 monthly rent and $80,000 a year to afford a rent payment of $1,999 a month.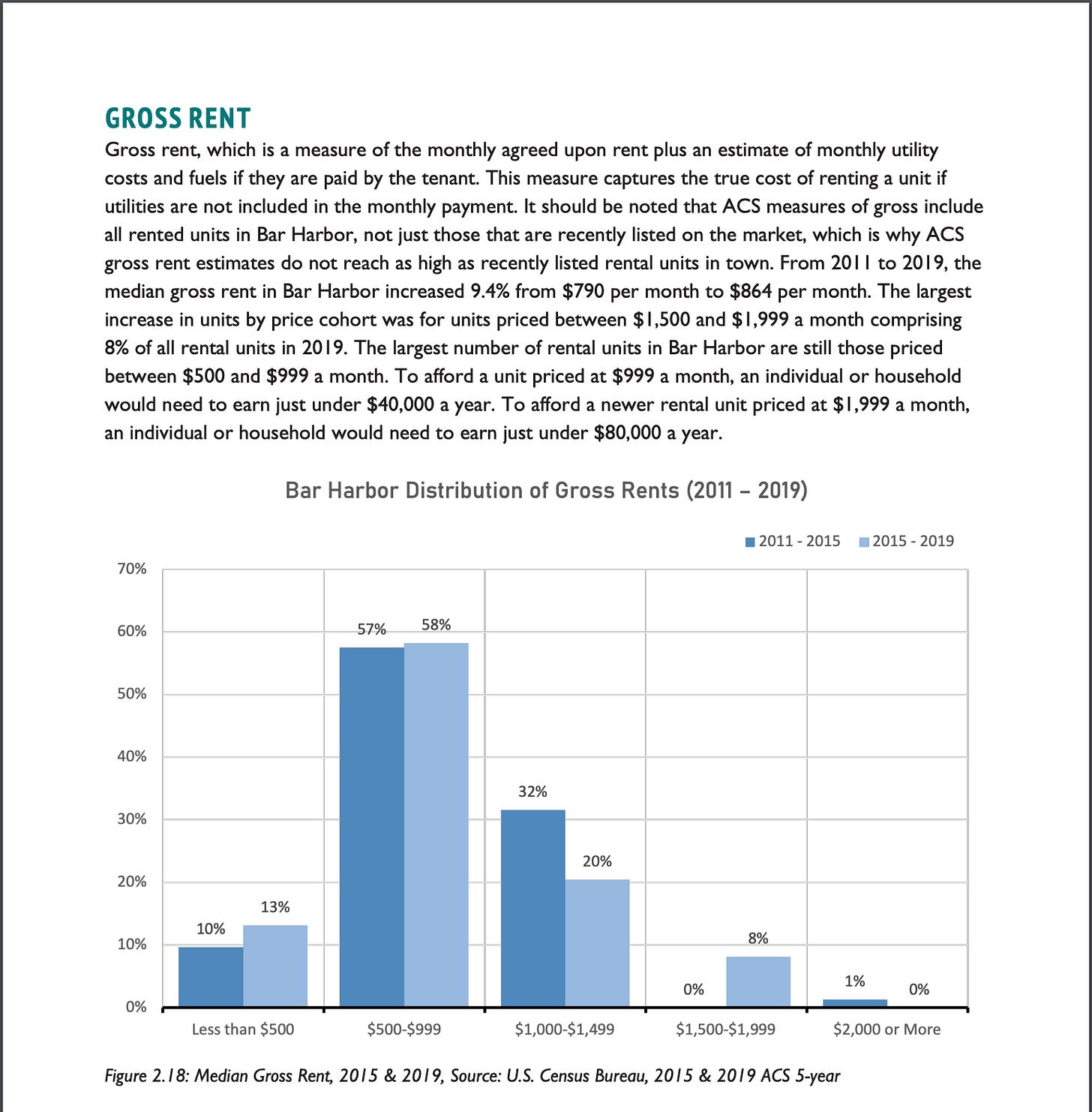 ---
LINKS TO LEARN MORE!
https://www.bloomberg.com/news/articles/2022-10-10/here-s-how-weird-things-are-getting-in-the-housing-market
https://www.forbes.com/sites/simonmoore/2022/10/03/mortgage-rates-are-closing-in-on-7-signaling-risk-of-house-price-declines/?sh=4c3ef7924acd
https://www.yahoo.com/lifestyle/editorial-maine-cant-let-against-080500319.html/sun