What adventures will you have this week in Bar Harbor?
GET YOUR NEWS ON!
I'm just one person, so some weeks there will be more news than others as I try to fit things around my editing novels, podcasting, and writing my own books and actually making a living, but here you go!
Here are the links to our stories from the past week in case you missed any.
COUNCIL HOSTS CRUISE SHIP MANAGEMENT PLAN QUESTION AND ANSWER SESSION ON MONDAY
Where Have All The Starter Homes Gone?
Community Forum for Conners-Emerson Building Plan Set for Thursday, Sept 29
How to Build Family Connection + Resilience: Caron Treatment Center Presents to Bar Harbor Community
Manager Minutes at the Library
New Town Manager Minutes Opens Access to Top Bar Harbor Staff and Officials
Questions and Community Compel and Inspire ArtWaves' New Director Nikki Moser
---
Become a Stronger Family!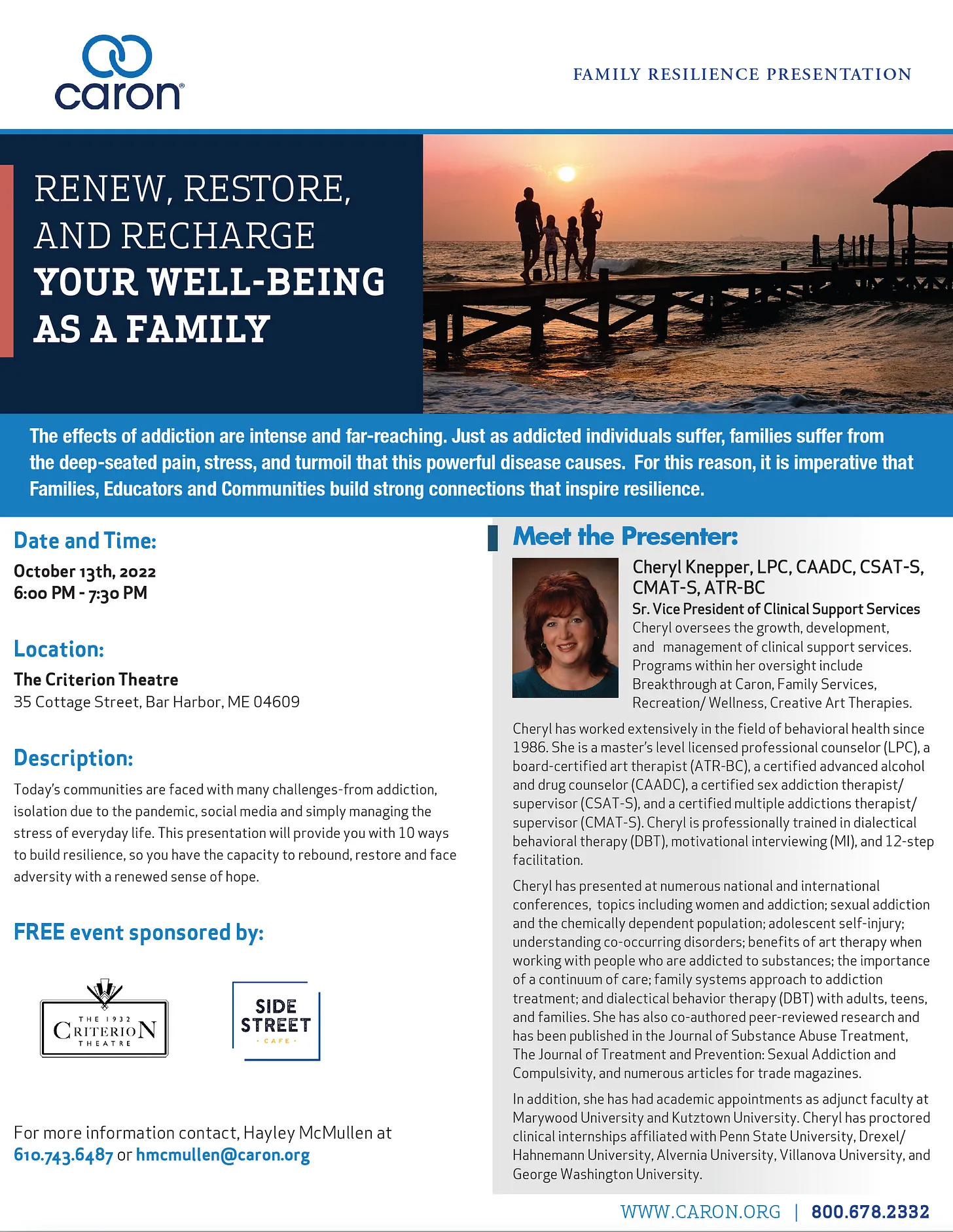 ---
Become a Climate Ambassador
A Climate to Thrive has a new program available for MDI residents. The Climate Ambassadors program will train community members to apply their existing skills, knowledge, and experience to meaningfully drive climate action here on Mount Desert Island. Climate ambassadors will become effective climate solutions leaders and communicators on MDI. Anyone can apply to be a climate ambassador, no prior experience is needed! Applications are open until October 2nd.
---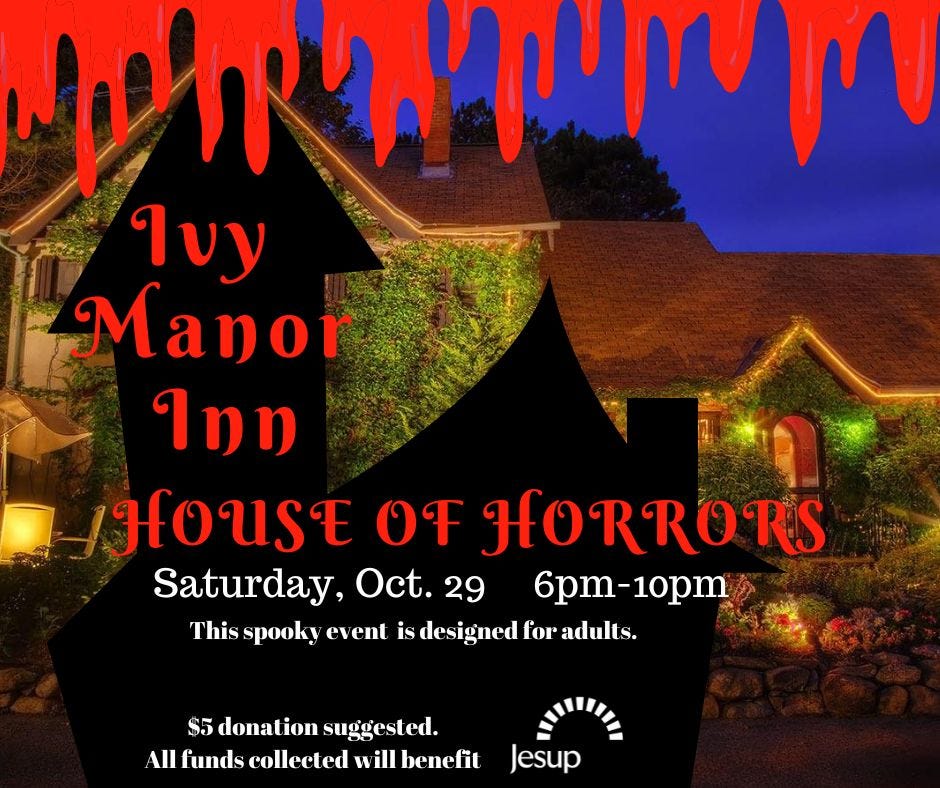 ---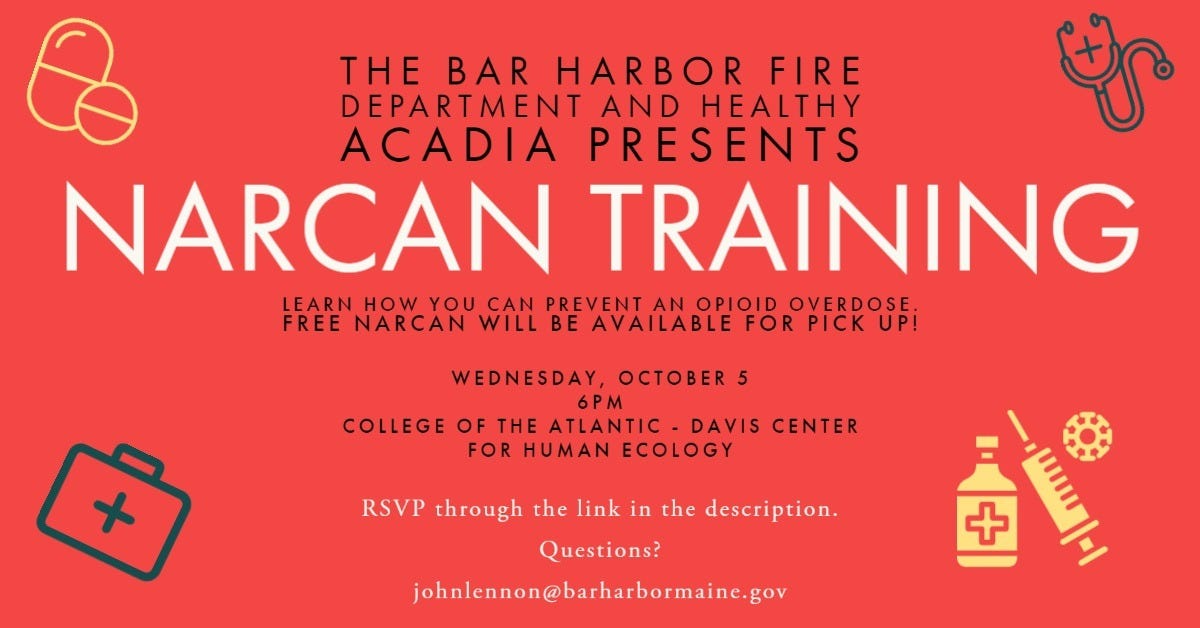 Community Narcan Training
We have all known for many years now that the opioid epidemic has been in full swing. One death from an overdose is too many, and we would like to offer an opportunity for you to maybe help prevent the next one.
Naloxone is a medication that rapidly reverses the effects of an opioid overdose. It is not harmful to someone who is not experiencing an overdose but can be a lifesaving tool that is very easy to use. We would love to see as many folks locally trained as possible. Additionally, if you are the owner or manager of a business that serves alcohol, we urge you to have trained staff.
We know that schedules are very busy to be asking folks to attend a training of this kind, but this is a very important issue. The training is not long, can be onsite, and the benefits could be lifesaving. There is no cost.
If you would like to have this training or have any questions, please contact John Lennon at 207-288-5533 or johnlennon@barharbormaine.gov.
This training is in cooperation with Healthy Acadia. A public community session is coming on Wednesday, October 5th at COA in Bar Harbor at 6:00 pm, more info to follow soon.
---
BECOME A BHFD FIREFIGHTER
Full-Time Employment
To check if Bar Harbor Fire Department is currently hiring, please go to the town's jobs page.
Become A Call Member
Becoming a call force firefighter requires extensive training, hard work, and dedication to the community. We rely on call force firefighters to respond quickly to emergencies, to perform firefighting duties, and to provide assistance and support to career firefighters. To be a fall force firefighter is to have a chance to aid and serve the community, which is an extremely rewarding experience.
---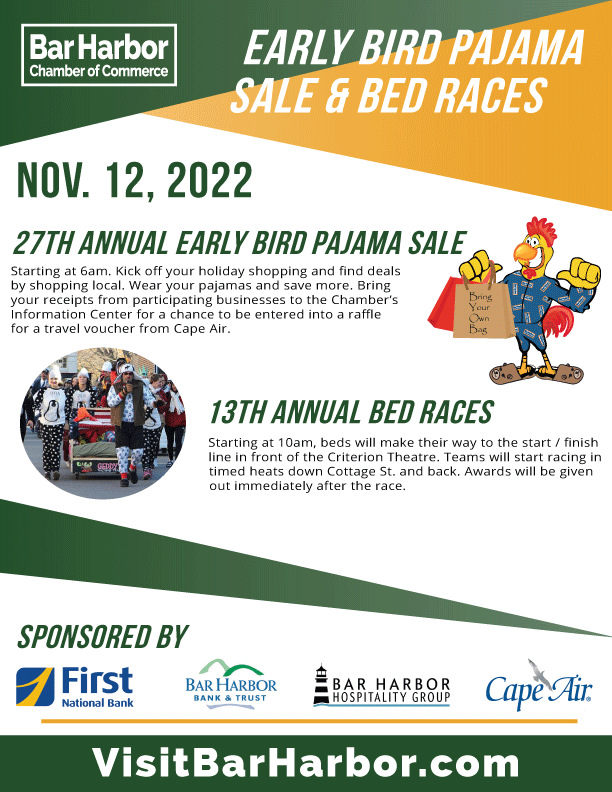 ---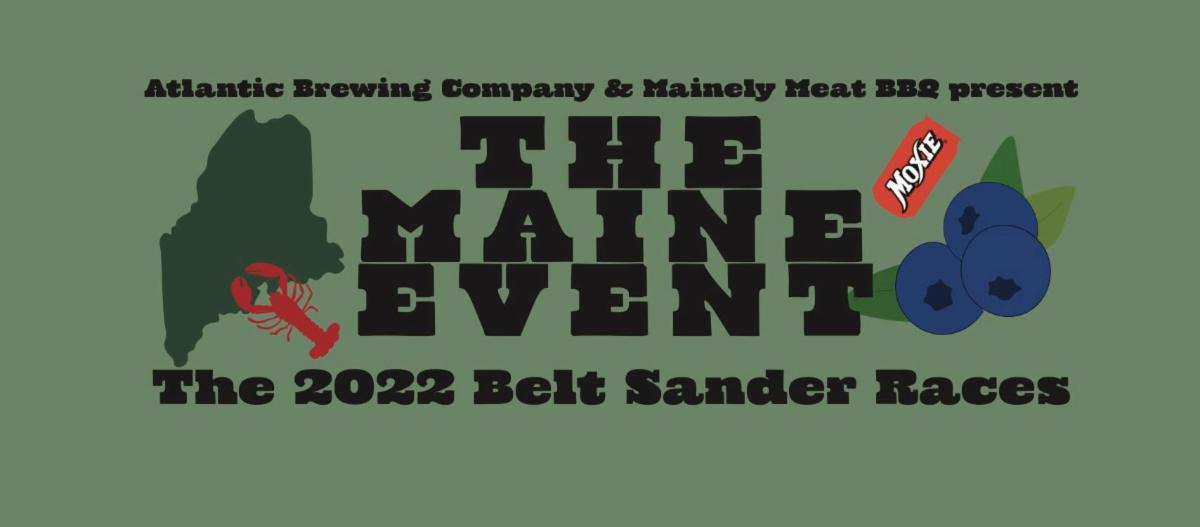 Get Your Belt Sander On!
Seriously.
It's time for The Maine Event!
Join Atlantic Brewing Company & Mainely Meat BBQ October 9th, for the annual Belt Sander Races!
Belt Sander Races are a friendly but fierce competition in which decorated belt sanders are raced down two tracks in a double elimination bracket. The winners receive prizes, glory, and bragging rights.
This year's theme is Maine! Lobsters, Moxie, red snappers, Blueberry Ale, whatever your favorite bits of Maine are, get 'em on a belt sander! Remember the best decorated takes home a fabulous prize!
Anyone can enter the races! Sign ups for the races start at 2 o'clock day of, no need to sign up in advance! Simply bring your decorated sander (no engine modifications please!) to the starting line to sign up before 2:50!
The Beth C. Wright Cancer Resource Center and the Muir Fund for Cancer Support are the beneficiaries of this competition.
DATE AND TIME
Sunday, October 9, 3 P.M.
Mainely Meat BBQ is open from 11:30-close
Live music from Mondo Charlie 12-3pm
BELT SANDER RACES begin promptly at 3pm
This is an outdoor event, rain or shine!
---
Get Your Run On!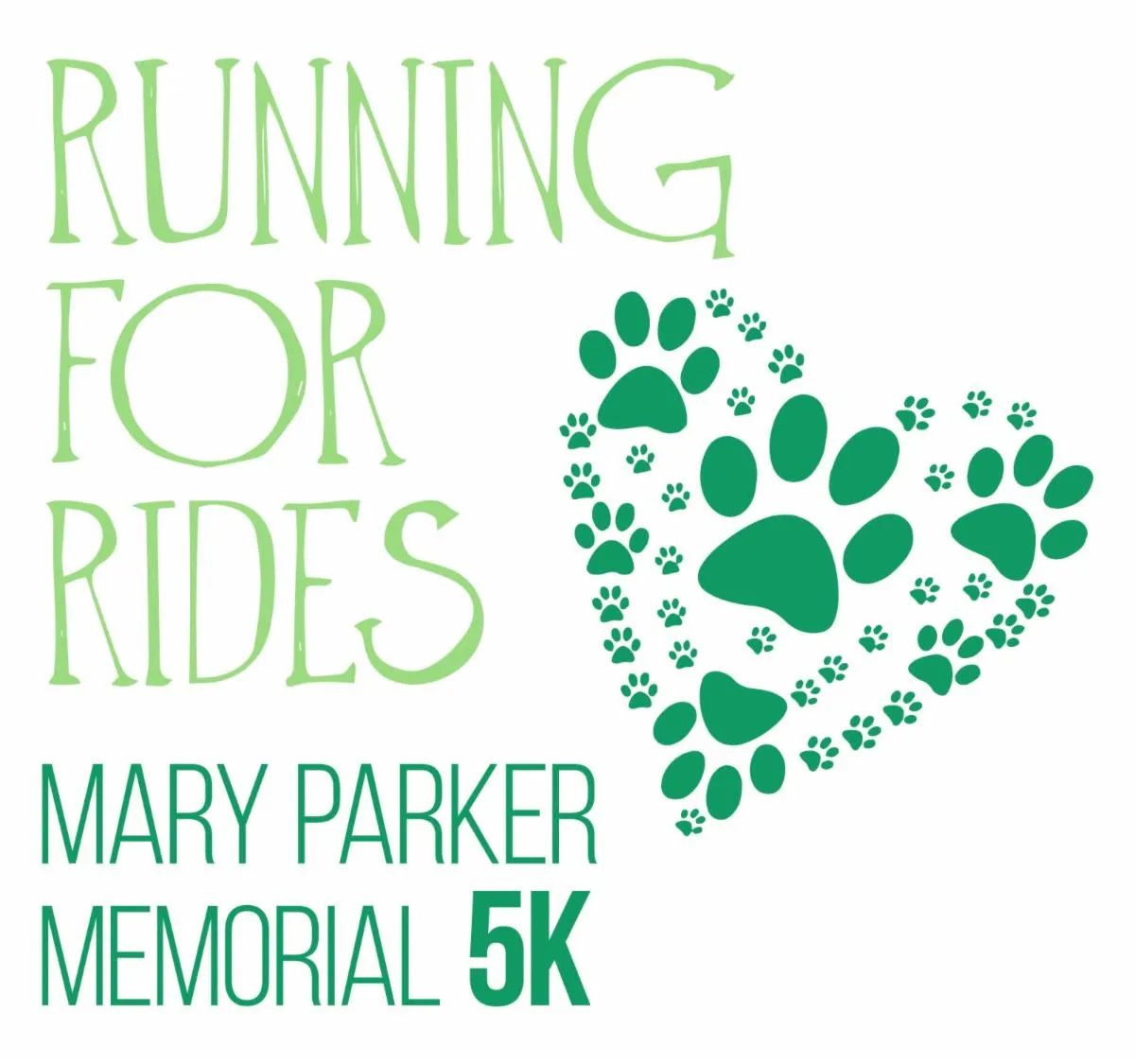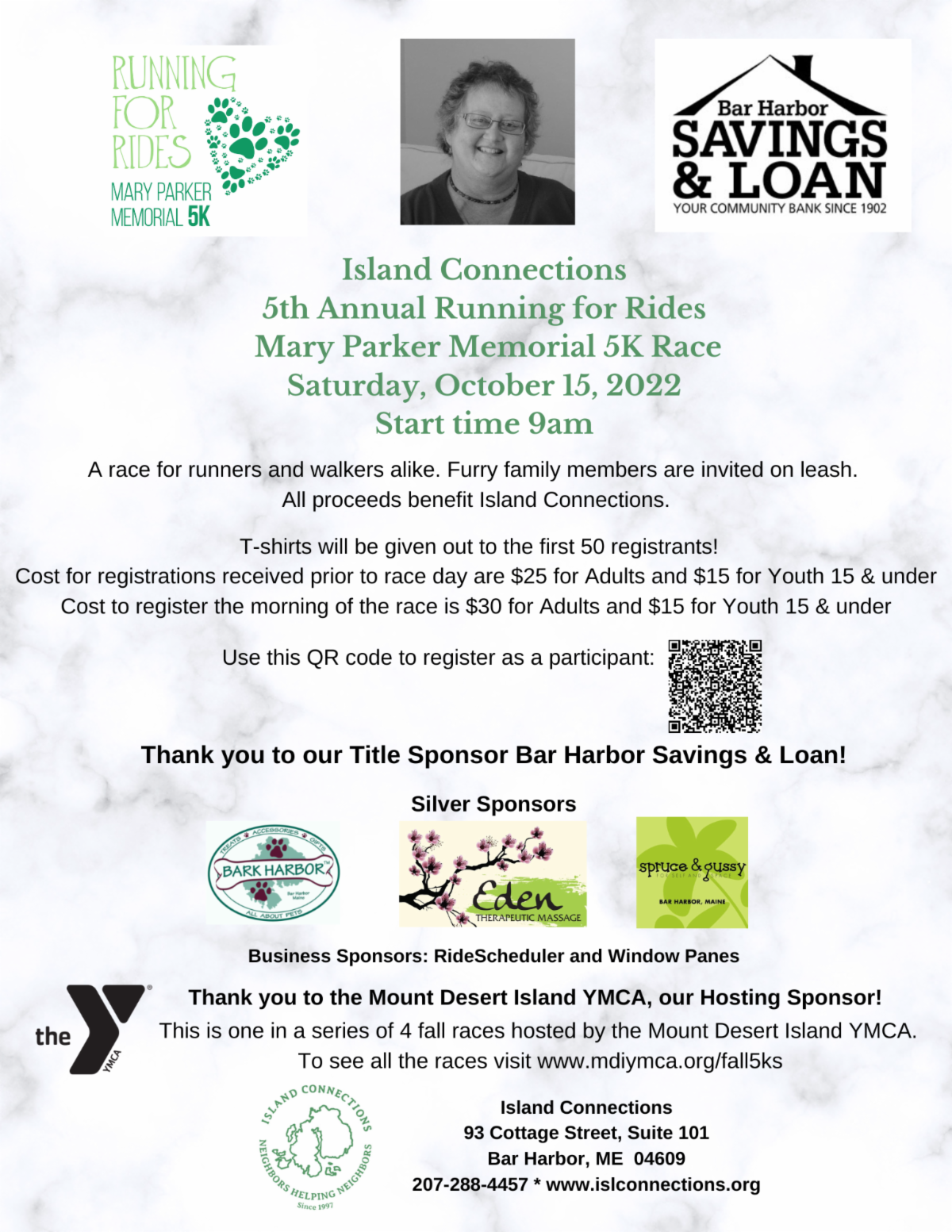 5th Annual Running for Rides Mary Parker Memorial 5k Race
This annual race was created to honor and celebrate Mary Parker's passion for Island Connections' mission, neighbors, and volunteers. The race will begin at 9am on Saturday, October 15. Same-day registration will begin at 8am.
Costs
Cost for registrations received prior to race day are $25 for Adults and $15 for Youth 15 & under. T-shirts will be given out to the first 50 participants. To pre-register, click below.
All proceeds benefit Island Connections.
Location and Time
October 15, 2022 at 9 a.m.
To Find Out More and Register
https://runsignup.com/Race/ME/BarHarbor/5thAnnualRunningforRidesMaryParkerMemorial5kRace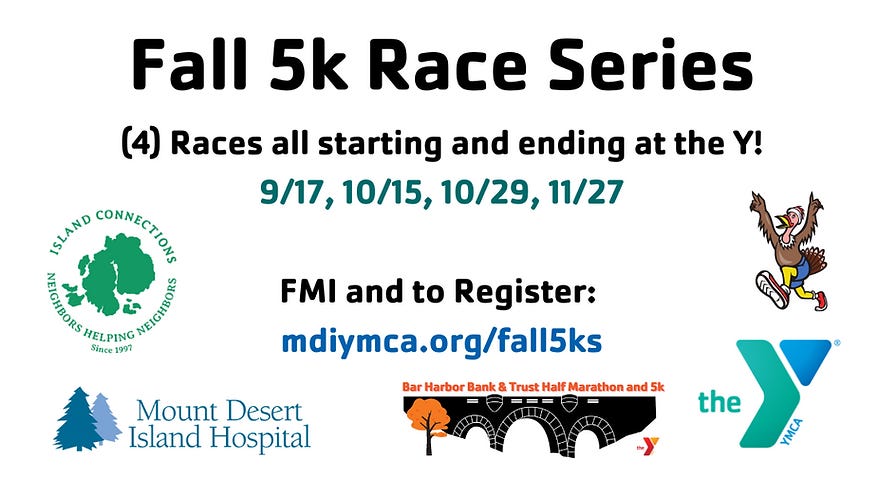 Four 5ks
The MDI YMCA is co-hosting 4 5k's this fall. All start and finish at the Y, all have different race courses and different vibes and all are for a great cause. Join MDI Hospital, Island Connections, and the Y this fall.
MORE INFORMATION AND REGISTRATION
---
MOUNT DESERT ISLAND MARATHON!
The Mount Desert Island Marathon, Half & Relay is North America's premier destination road race. The award-winning course features miles of pristine terrain passing tranquil lakes, soaring mountains, sleepy Maine villages, and stunning seaside vistas —including Somes Sound, the only fjord on the Eastern Seaboard— all set against the awe-inspiring backdrop of Acadia National Park in peak fall foliage season. The Marathon and Team Relay start in the world-famous Bar Harbor, while the Half-Marathon starts in the well-to-do village of Northeast Harbor. All three races finish on the quiet side of MDI in the hardworking lobster fishing community of Southwest Harbor.
Held annually the weekend following Indigenous Peoples' Day, this fall classic has earned national and international accolades. Once you #RunMDI, you'll see why!
Proudly hosted by Crow Athletics.
START TIME & LOCATION ➤MARATHON
October 16 – 8:00 A.M. (eastern time)
200 Main Street, Bar Harbor – Maine
START TIME & LOCATION ➤HALF
October 16th – 8:30 A.M. (eastern time)
5 Manchester Road, Northeast Harbor – Maine
---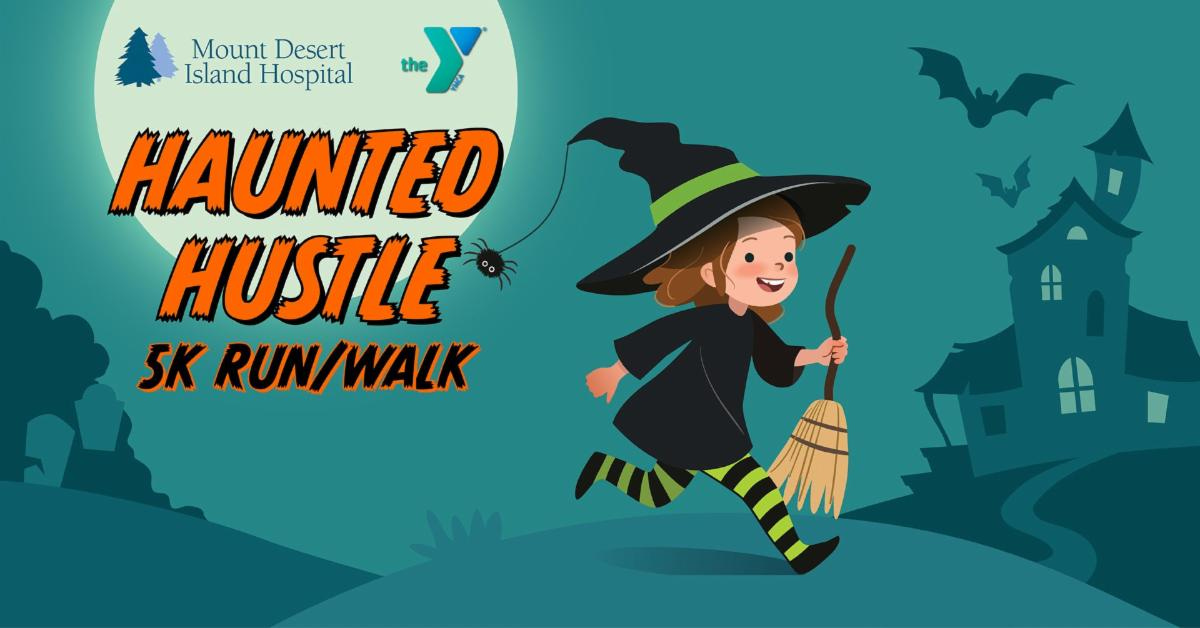 HAUNTED HUSTLE!
Join us for MDI Hospital's first annual Haunted Hustle 5K Run/Walk! The race will begin and end at MDI YMCA in Bar Harbor. Registration is from 7:00-7:45 am, with the race beginning at 8:00 am.
Date and Time
October 29, 7 a.m.
Location
21 Park St, Bar Harbor, MDI YMCA
More Information
Pre-Registration cost is:
$25 for ages 12+, $15 for ages 5-11, and free for under 5 years.
Day-Of Registration cost is:
$30 for ages 12+, $20 for ages 5-11, and free for under 5 years.
Prizes will be awarded for 1st place and runner up in both female and male categories, as well as an award for best costume!
Questions? Please contact Ben Billings at ben.billings@mdihospital.org or 207.288.5082, Ext 1319.
Register online: www.mdihospital.org/giving/5k/
---
Get Your Costume On!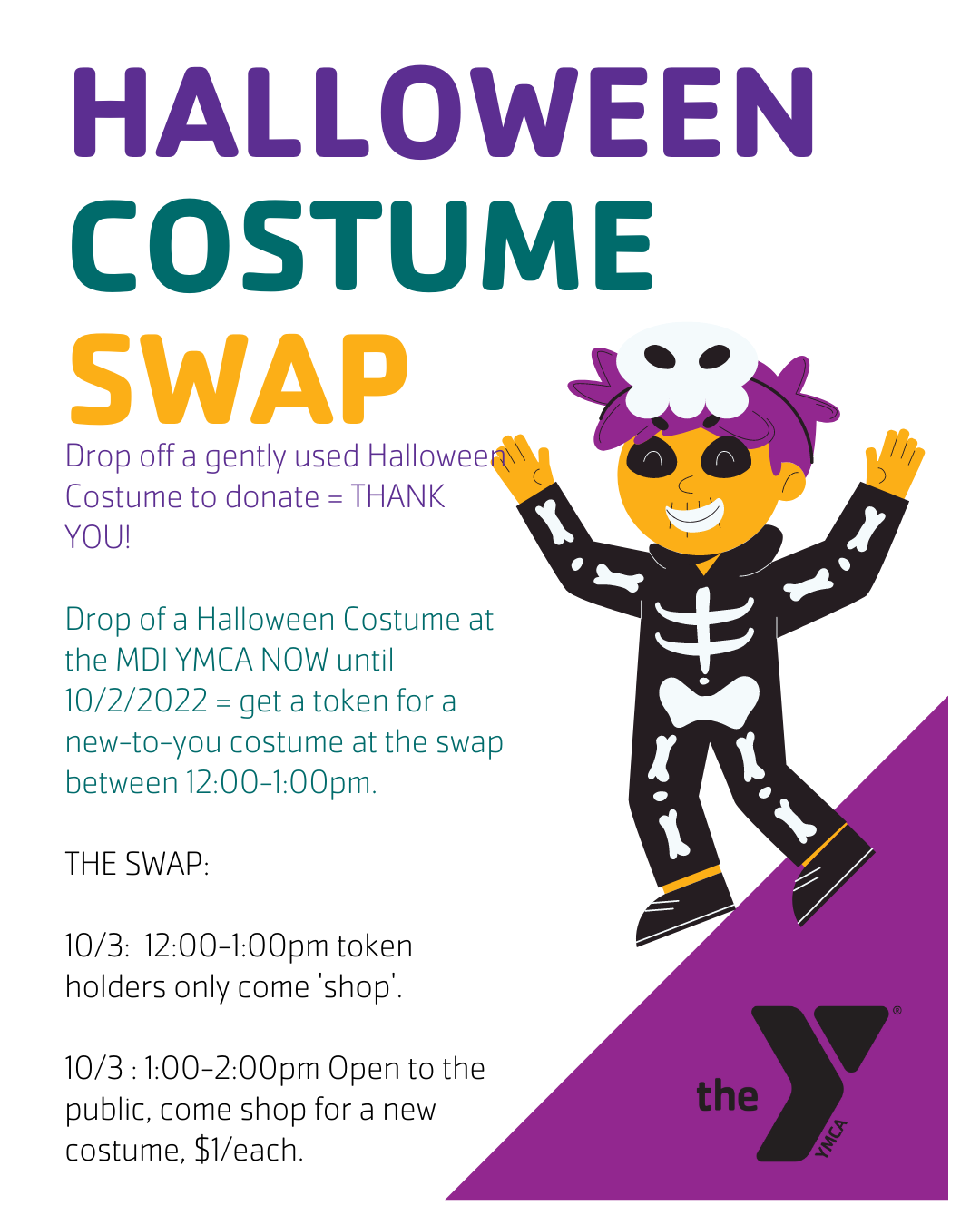 ---
Get Your Book On!
VIRTUAL WRITE ON! WRITING GROUP
Want support for your craft? The Write On! writer's group has been meeting at the Jesup since 2014, and remotely during the pandemic. Each meeting, members may bring in up to 1200 words to read for feedback, and in turn offer feedback to others. Although each member doesn't get to read work every time, the group shares the time fairly. The group meets on Zoom, and hold in confidence what is shared. This group welcomes adults 18 and up writing in many genres. There's no homework–the only commitment is two hours on Saturday mornings.
Date and Time
SATURDAYS
9:00 AM to 11:00 AM
Location
Zoom
How to Attend
Call the library, 207-288-4245, for more about us and how to join, or email info@jesuplibrary.org.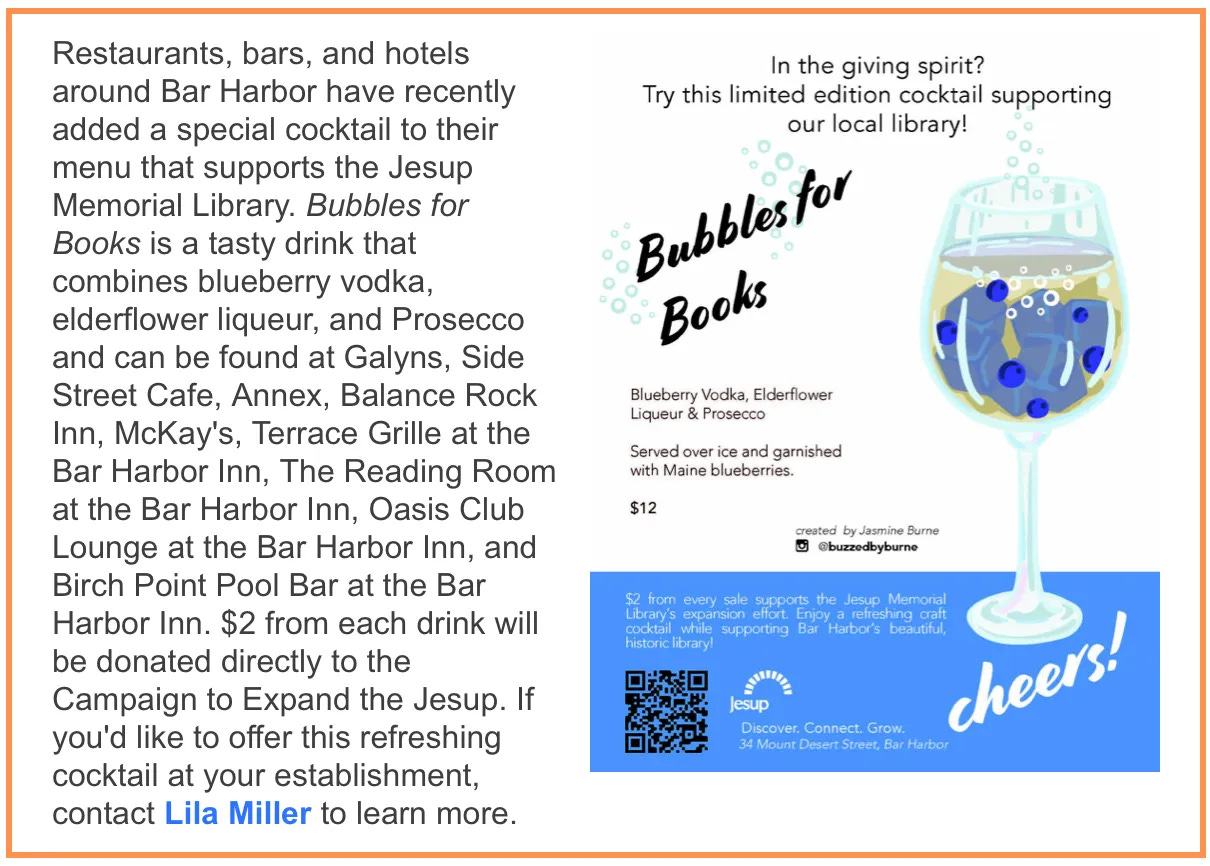 ---
PJ Story Time
Join Abby on Wednesday evenings for PJ Story Time! This program is for kids of all ages and their adults.
Time and Date
THURSDAY, SEPTEMBER 8
6:30 P.M. to 7:00 P.M.
---
Author Jeffrey Ryan "This Land Was Saved for You and Me: How Gifford Pinchot, Frederick Law Olmsted, and a Band of Foresters Rescued America's Public Lands"
The story of how America's public lands—our city parks, national forests, and wilderness areas—came into being can be traced to a few conservation pioneers and proteges who shaped policy and advocated for open spaces. Some, like Frederick Law Olmsted and Gifford Pinchot, are well known, while others have never been given their due.
Jeffrey Ryan covers the nearly century-long period between 1865 (when Olmsted contributed to the creation of Yosemite as a park and created its management plan) to the signing of the Wilderness Act of 1964. Olmsted influenced Pinchot, who became the first head of the National Forest Service, and in turn, Pinchot hired the foresters who became the founders of The Wilderness Society and creators of the Wilderness Act itself. This history emphasizes the cast of characters—among them Theodore Roosevelt, Bob Marshall, Benton MacKaye, Aldo Leopold, and Howard Zahniser—and provides context for their decisions and the political and economic factors that contributed to the triumphs and pitfalls in the quest to protect public lands.
In researching the book, Ryan traveled to the places where these crusaders lived, worked, and were inspired to take up the cause to make public lands accessible to all.
Ryan is passionate about the outdoors and the conservation of public land, whose work has been cited in Forbes, USA Today, Appalachia and other notable publications. He is the author of Appalachian Odyssey (2016) and Blazing Ahead (2017). He lives in Portland, Maine.
Date and Time
THURSDAY, OCTOBER 6, 2022
7:00 PM – 8:00 PM
Location
JESUP MEMORIAL LIBRARY
34 MT. DESERT STREET
---
Yoga Story Time with Jennifer Byer
Join local yoga teacher and author Jennifer Byer for a reading of her book Guided by the Light of the Moon: a Kid's Yoga Halloween Book" and a kids' yoga class!
SATURDAY, OCTOBER 8, 2022
10:30 AM 11:30 AM
JESUP MEMORIAL LIBRARY34 MOUNT DESERT STREETBar Harbor Book Signing with Ron ChaseJoin us in Bar Harbor, Saturday, October 8th, for a signing and meet and greet with outdoorsman and author, Ron Chase!Check out his book "Maine Al Fresco" for Ron's best 50 outdoor activities and ask him any of your outdoor recreational questions!Date, Time, and LocationSaturday, October 8, 2022 – 1:00pm to 3:00pm56 Main StreetBar Harbor, ME
---
GET YOUR ART ON!
OPEN STUDIO – MEMBER MONDAYS
Members can reserve a table in our studio for an hour or the whole session and have access to our non-consumable tools or use some materials from our stock!$10 for reserved space – participant brings supplies. OR $25 for reserved space plus access to consumable materials; felting, glass, paint, printmaking.Participants under 18 must be accompanied by an adult. Masking, vaccinated, and social distancing for staff and participant safety.
Date and Time
Mondays
2:30 p.m. – 6 p.m. EDT
Location
ArtWaves, 1345A State Highway 102, Bar Harbor
Fees/Admission
$42.00
Websitehttps://www.artwavesmdi.org/event
Contact Information207-266-0010
Send Email
---
MONDAY EVENING FIGURE DRAWING – EMOTION THROUGH BODY LANGUAGE
Join Gabrielle for instructed sessions on portraiture and clothed figure drawing or use the time to practice with our model! Mondays – instruction from 5:00 p.m. to 6:00 p.m. then drawing from 6:00 p.m. to 8:00 p.m. Participants under 18 must be accompanied by an adult. Masking, vaccinated, and social distancing for staff and participant safety.
Date and Time
Mondays, 2022
5 p.m. – 8 p.m. EDT
Location
ArtWaves, 1345A State Highway 102, Bar Harbor
Fees/Admission
$50.00
Website
https://www.artwavesmdi.org/event-4849702
Contact Information
207-266-0010
Send Email
---
MONDAY & THURSDAY NIGHT FIGURE DRAWING
Please register, space is limitedArtists will have a few quick warm-up poses then be able to spend time refining a long pose. Registration necessary- ArtWaves maintains distances for safety.The model is the star, no instruction, but plenty of easels, boards, horses, paper, charcoal and fellow friendly artists. Feel free to bring your paints and brushes as well!18 and over, under 18 allowed with parental attendance or prior signature.
Date and Time
Mondays and Thursdays
6 p.m. – 9 p.m.
Mondays 6-9 single pose and Thursdays multi poses
Location
ArtWaves Fine Arts Studio
Fees/Admission
$15 for 3-hour session
Members: $25 month fee
Contact Information
office @artwavesmdi.otrg
Send Email
---
KIDS CRAFTERNOONS
ArtWaves is devoting afternoons of studio (under the big tent) sessions for children to create. Most workshops use unique materials like fiber, ink, stained glass and wax. Weekly themes. Open to kids between 7-11. No skills required.Masks, vax'd (over 5), and distancing for staff and participant safety.
To Register:
Date and Time
Every Monday, Wednesday, and Friday
3 p.m. – 5 p.m.
Location
ArtWaves, 1345A State Highway 102, Bar Harbor
Fees/Admission
$30 materials included or bring some of your own! ($20 for members)
Student membership is $36 a year!
Contact Informationoffice@artwavesmdi.org
Send Email
---
Glass Mosaic, Botanical Prints, Batik, Felting-Your Custom Workshop
Here's where you can select a convenient time to create in a relaxed, wonderfully stocked studio.Bring your family, friends or colleagues to experience stained glass mosaic, pulling botanical prints, batik, candle dipping, oil painting (yes!, you can!) or anything you see on our website at a time of your choosing under the big tent or in one of our spacious studios!Unique ways to create a gorgeous memory of Acadia!
Complete this form to request a time and to review more info on all the possibilities!
Date and Time
Tuesdays and/or Saturdays
12:00 AM – 2:00 PM EDT
Location
ArtWaves Campus
Fees/Admission
$180.00 for a two hour workshop for 2 to 6 people, plus materials fees $30.00 for each additional person up to 12 total for two hour workshop, plus materials fees $270.00 for a three hour workshop for 2 to 6 people, plus materials fees $45.00 for each additional person up to 12 total for three hour workshop, plus materials fees MATERIALS FEE: Materials pricing is dependent on the type of workshop, so we will work with you regarding the fees once you have determined what you will do.
Contact Information
liz@artwavesmdi.org
Send Email
---
Island Arts Association's Oktoberfest Craft Fair
Stop by and visit the local artisans showcasing their beautiful handmade crafts at the Atlantic Oceanside Outside Lawn, 119 Eden Street, Bar Harbor. Food by Atlantic Oceanside.
Date and Time
Saturday Oct 8, 2022 and Sunday Oct 9, 2022
10/8/22 & 10/9/22 10am-4pm
Location
Atlantic Oceanside Outside lawn, 119 Eden Street, Bar Harbor
Fees/Admission
free
Website
http://islandartsassociation.com
---
GET YOUR MUSIC ON!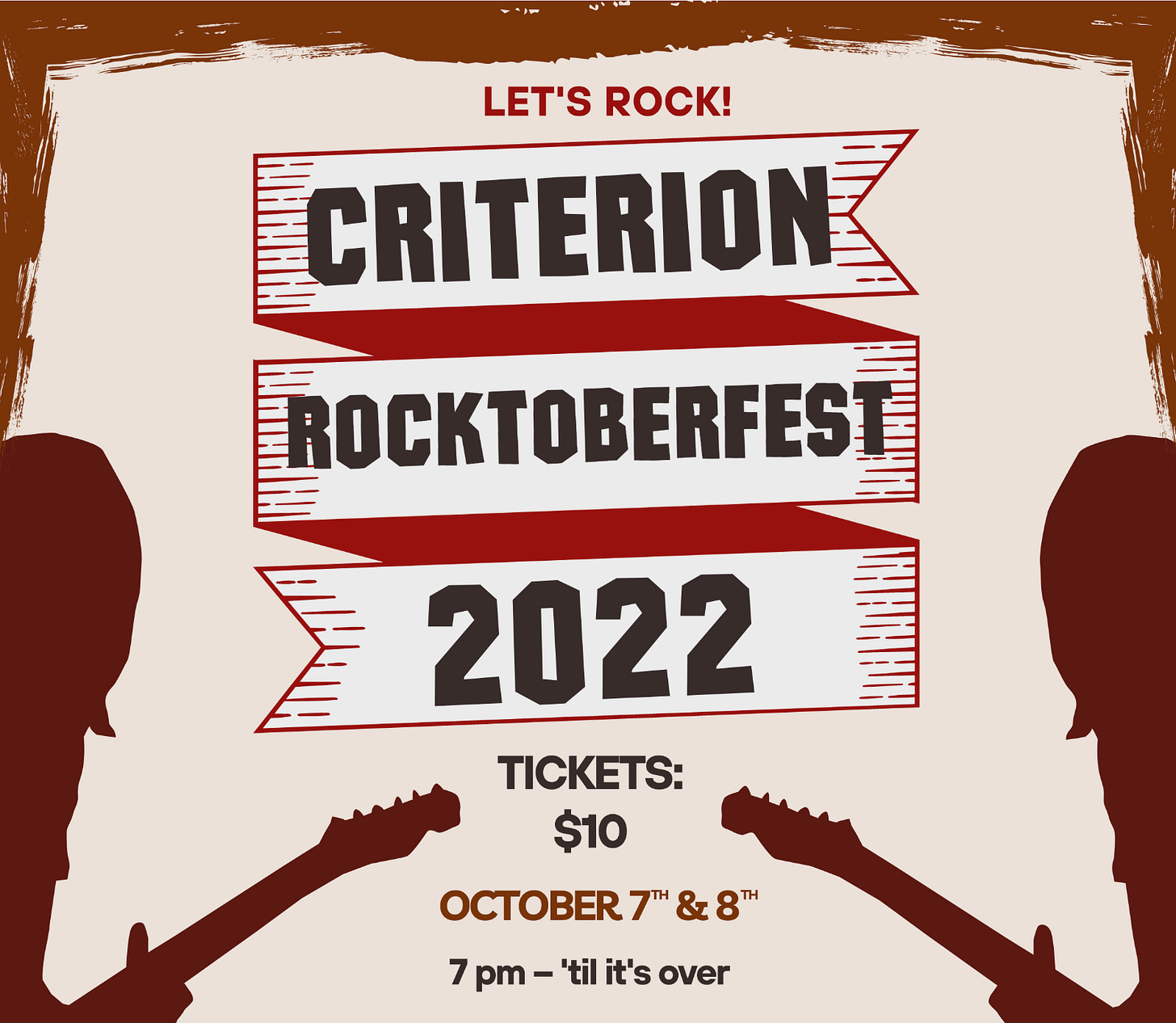 ROCKTOBERFEST 2022
The Criterion Theatre welcomes you to join us for our Rocktoberfest 2022 Concert Series featuring some of the best local acts on MDI and surrounding areas. (artist line-up for the 7th & 8th is in the event description when you click the link. but feel free to come out both nights to see some incredible local live music!)
TIME AND DATE
October 7th & 8th at 7PM
FOR TICKETS
CLICK HERE for tickets to the 7th
CLICK HERE for tickets to the 8th
---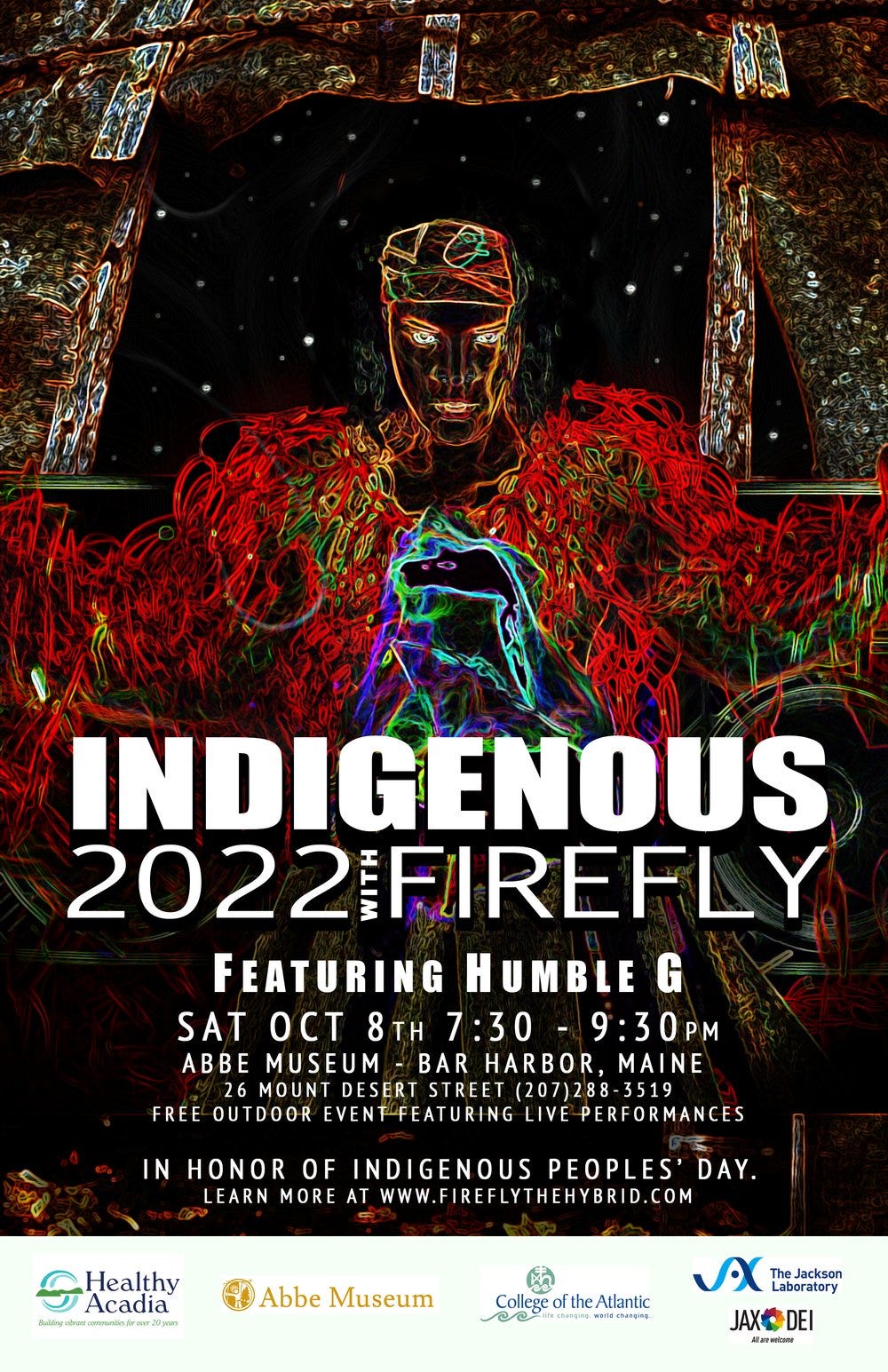 Saturday, October 8, 2022
7:30 PM 9:30 PM
Abbe Museum (map)
Join us for the second annual INDIGENOUS 2022 with FIREFLY. This performance, hosted by the Abbe Museum is in celebration of Indigenous Peoples' Day and features the powerful vocals of Firefly with special guest Humble G, a renowned classical and hip hop violinist and vocalist.
SPONSORED BY: The Jackson Laboratory | Healthy Acadia | College of the Atlantic | Abbe Museum
This event is free to attend. There is no onsite parking, please review the Town of Bar Harbor's parking information. This event will be held outdoors; please dress warmly. No video recording will be permitted. For updates, please check in on Facebook.
---
GET YOUR MOVEMENT ON!
YOGA BY THE BAY
Date and Time
Daily
9 a.m – 10 a.m. EDT
Location
Bar Harbor Inn & Spa, 1 Newport Drive, Bar Harbor
Fees/Admission
$15 per person.
Contact Information
Contact Beth for questions (340) 643-6467
Send Beth an Email
---
ZUMBA!
It's a dance party, no experience needed!

Come take care of yourself, shake, smile & sweat! Every class is different; the music, people and weather, and we always have a blast! Erin leads a workout that caters to all levels of fitness and ability. All you need is a love for music and movement (or come to class to fall in love with dancing), but no experience necessary. You can follow along and give it your own flair! Come join our classes throughout the week, in the gorgeous dance studio at ArtWaves! If you haven't tried Zumba and want to talk with Erin, feel free to email anytime.
Date and Time
Thursdays
5:30 p.m. – 6:30 p.m. EDT
Location
Dance Studio at ArtWaves, 1345A State Highway 102, Bar Harbor
Fees/Admission
$40-$50 per month ($10 per week paid monthly)
Website
---
Get Your Movie On!
REEL PIZZA
https://www.reelpizza.net/now-playing
Location: 33 Kennebec Place, Bar Harbor
This week's showings include Bullet Train and Elvis.
---
CRITERION THEATRE
https://www.criteriontheatre.org/
Location: 25 Cottage Street, Bar Harbor
---
Get Your Food On!
---
BAR HARBOR'S EDEN FARMER'S MARKET
Maine grown, raised and value added delights in Bar Harbor. Sundays, 9 a.m. – Noon, rain or shine, Mother's Day weekend until the end of October.
Date and Time
Sundays
9 a.m. – Noon
Location
Park and Main Street at the YMCA parking lot, Bar Harbor
Website
---
Trail of Treats
Join Birch Bay Retirement Village and MDI Hospital for our 2nd annual Trail of Treats! Well-spaced tables with pre-packaged treats will be situated outside, on a paved pathway around the Birch Bay Inn. Parking is available and all community members are welcome!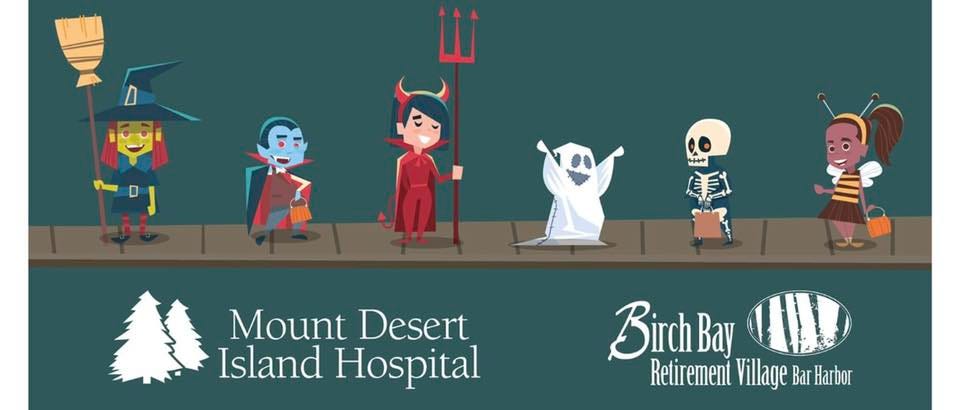 For more information, contact Susanne Hopkins:
shopkins@birchbayvillage.us
288-8014, ext. 5211
---
GET YOUR CIVIC DUTY ON!
TOWN GOVERNMENT MEETINGS
SOUTHWEST HARBOR
Regular Meeting Schedule (meetings held at the Town Office unless otherwise noted)

​Board & Committee Meeting Schedule
Select Board: 2nd & 4th Tuesdays of every month @ 6 p.m.
Conservation Commission: 1st Tuesday of every month @ 4 p.m. via zoom
Planning Board: 1st & 3rd Thursdays of every month @ 6 p.m. at the Town Office and via zoom
Historical Cemetery Committee: 3rd Wednesday of every month @ the Town office or otherwise specified @ 2 p.m.
Harbor Committee: 2nd Monday of every month @ 6 p.m.
Shellfish Committee: 2nd Monday of every month @ 5 p.m.
Board of Appeals: 2nd Wednesday of every month (as needed) @ 6 p.m.
Warrant Committee: as needed
---
---
TREMONT:
October 3, 2022 – 5:00 PM
---
BAR HARBOR:
According to the town's website, "Meetings that are broadcast live can be viewed at home by watching Cable Access Channel 7 or 1303 (Spectrum Cable only) and online at Town Hall Streams."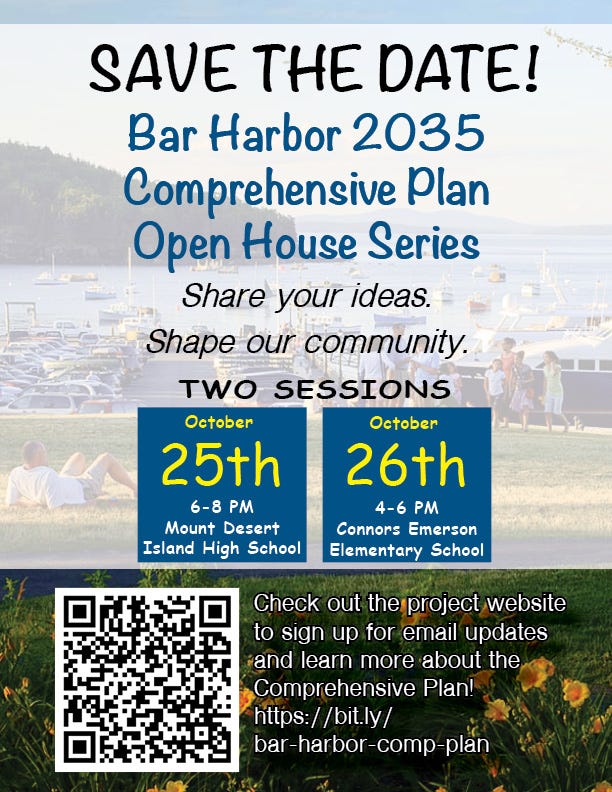 ---
October 3, 2022,
4:30 PM - 6:00 PM
Conners-Emerson School Library
October 3, 2022,
6:30 PM - 9:00 PM
Council Chambers
October 5, 2022,
4:00 PM - 6:00 PM
Council Chambers
---
REGULAR SCHEDULE OF BAR HARBOR'S MAIN COMMITTEE/BOARD MEETINGS
· Town Council meetings– the first and third Tuesdays of each month at 7 p.m.
· Planning Board meetings- the first Wednesday of each month at 4 p.m.
· Design Review Board– the second and fourth Thursday of each month at 6 p.m.
· Appeals Board – As needed, call the Planning Office for meeting times
---
MOUNT DESERT:
October 3, 2022 – 6:00 pm
---