BAR HARBOR—Last Thursday, as she taught a bit of color theory to locals and visiting campers in one of the non-profit's art studios, ArtWaves founder Liz Cutler swung her paint brush around as she talked and introduced herself with a smile, ending the litany by saying, "And I'm the former interim executive director because we've hired someone wonderful!"
That someone wonderful is artist Nikki Moser. The hire was announced by ArtWaves Board President Julie Meltzer last week in an email to community members.
"We are thrilled to have Nikki on board and look forward to all of the ways her leadership will bring ArtWaves forward," Meltzer wrote.
A sculptor whose work is both in private collections and exhibited regularly, Moser and her family moved to Northeast Harbor in March of 2021; since then, she's consulted with the MD 365 Boot Camp for a proposed maker space, worked with Jen Judd-McGee, taught a course at College of the Atlantic and a workshop at a local elementary school.
Before moving to Mount Desert Island, Moser was an educator and president of Scranton, Pennsylvania's Afa Gallery where she built community arts programming. She cofounded Keystone Iron Works, an iron casting program for at-risk high school students. Keystone received two National Endowment for the Arts awards for creative place making.
"Nikki is a sculptor who is fascinated by systems: natural, economic, and social. Her work has manifested itself in cast iron, printmaking, photography, mixed media, and numerous community projects," Meltzer wrote.
---
Interview with Nikki Moser.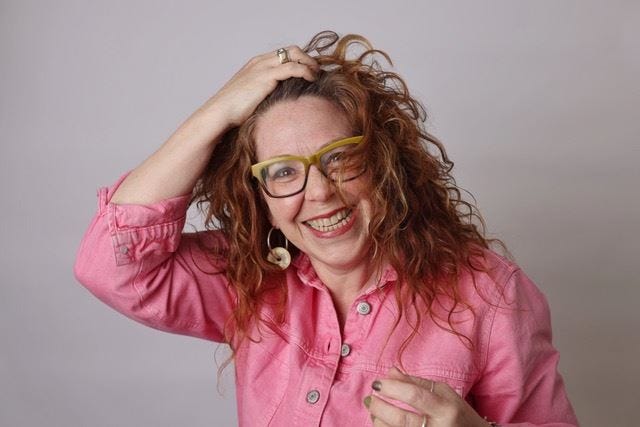 When you moved here, you moved in March, which many people would think is a really hard time to move. Were there moments when you thought, "Ah, what was I thinking?" Or was it all bliss?
In November I started coming up every three weeks with a box truck full of our stuff and working for a week at a time where we would be living. But it was pandemic times I felt like I was sneaking in as quiet as I could, and it was dark at 4 p.m.. So yes there were some moments of "what have I done?" When we both got here with the last of the trucks (there were a lot of trucks), there was so much to do it didn't hit us for a while. But every night after unpacking, we would bundle up and sit at the harbor and realize yep, BLISS.
Where did you move from?
We were based in the Scranton/Wilkes Barre area of Pennsylvania. Where pizza comes in square trays and round pies, where there are two Coney Island Texas Weiner shops on the same block and yep, like in The Office.
As an artist and a person, what do you think about risks and transitions? Moving to Maine, becoming the executive director of ArtWaves are big transitions!
I think risk is critical to growth and growth critical for joy. I amend that to appreciate transition is not always without pain or frustration. My husband Rick is an artist retired from teaching. I was teaching and my position disappeared. My teens were fledging and although I wanted to stay in that two hours to get to them in an emergency zone, I felt making a bold move into an unknown place and future was parenting by good example.
First they thought I was kidding, and then they thought this move was nuts. I saw that I had built what could be built where I was and it was time to move on. Yes, I had scared days and I miss old friends, but I have found this amazing community here and I want to put roots here.
What are you most excited about for your new position?
My background is in community arts. I can't seem to envision small personal projects, I like to get everyone involved in some way, shape, or form. As I got to know this place as home, I started to have the itch to stir up the art pot, really the itch to contribute to the community.
Then the opportunity at ArtWaves appeared, fortune favors the bold, is that the saying?
ArtWaves is a wonderful community arts center with a rich history, dedicated founder and board and poised to offer more dynamic programing to the art and movement community. I really, really, REALLY believe the foundation of community is cultural and art programing. The arts create the rhizomatic structure that holds community together, they ward off erosion and give us a place to grow and be joyful.
And in the press release/email from ArtWaves it says that you've spent the last eighteen months getting to know MDI and what makes it so special. What have you learned?
I am convinced the Trenton Bridge has some kind of tractor beam for interesting folk. People who are from here and people who are from away have the most interesting talents and stories. It is a place of tides of people, seasonal, year round, visitors. The landscape, the light, the rocks, the water, I don't know what it is, but there is a vibe here that calls people back who have left and calls people like me to the island. So many people have been so generous helping us settle, repeating history, and sending us to the hidden beaches, offering me work and community. A move like this could have gone bad, but we feel like we live in the pot of gold at the end of the rainbow.
Your website says that your work manifests from questions that you are addressing (and I was super intrigued by this because I haven't seen a lot of artists/writers/musicians say this. Do you have questions now? And when you think of your art as communication, do you rejoice in that letting go or worry over how the viewer will translate that experience? I ask because I know a lot of authors have a hard time letting go of their work for that communication piece. Do you rejoice in that collaborative aspect when art is so subjective? Fear it? A bunch of things?
I always say to students your viewer arrives at your art work with a suitcase of personal and cultural (baggage) history. Your job is to make something that leaves room for that but places then in a space that is new to them and they can reflect and respond to it.
It's a little like call and response preaching. You have to invite people in. I have big opinions, but what I want my work to do is create space for discussion, reexamination. I live in this world, and I am complicit in the systems that I am dissecting. I have to own that while I examine our other choices and invite people to look at something they understand or believe from another view point. I am currently collaborating on a big installation based on reading Moby Dick during the pandemic. I have so, so many questions.
---
Nikki can be reached at Nikki@artwavesmdi.org.
You can see some of her work on her website.
Per the ArtWaves website, "ArtWaves is currently home to three visual arts studios where people of all skill levels can dabble, or hone their skills, in sculpture, figure drawing, or painting, mosaics, printing, fiber arts and more. Classes and workshops allow participants to learn techniques from artist instructors in the area and beyond. Our state of the art dance studio offers a variety of movement classes for expression, fitness, and fun. ArtWaves offers both in-person and online classes."
For more about ArtWaves, memberships, and offerings, click here.