Elvis, the hiking, kayaking cat, vacations in Bar Harbor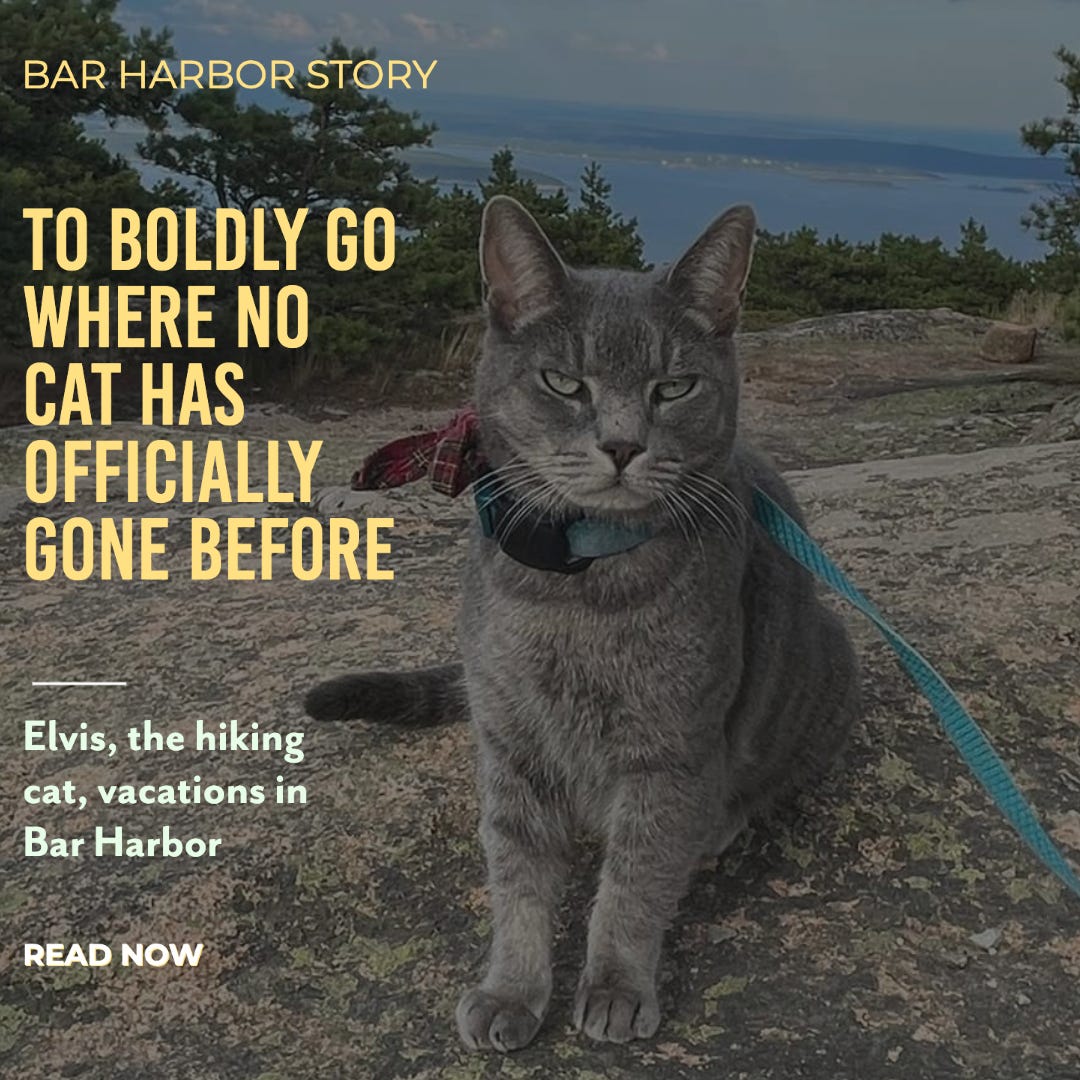 BAR HARBOR—Tourists and locals are used to seeing dogs hiking on the trails of Acadia National Park with their owners or hanging out on the patios of local restaurants, but this month, Elvis made an appearance.
No, not Elvis the rock and roll legend who died in 1977.
This was Elvis, the four and half year old cat, whose human Jim Cuifolo adopted him from a shelter.
It wasn't Elvis-style bling or swagger that caught Jim's eye, but it was Elvis's attitude.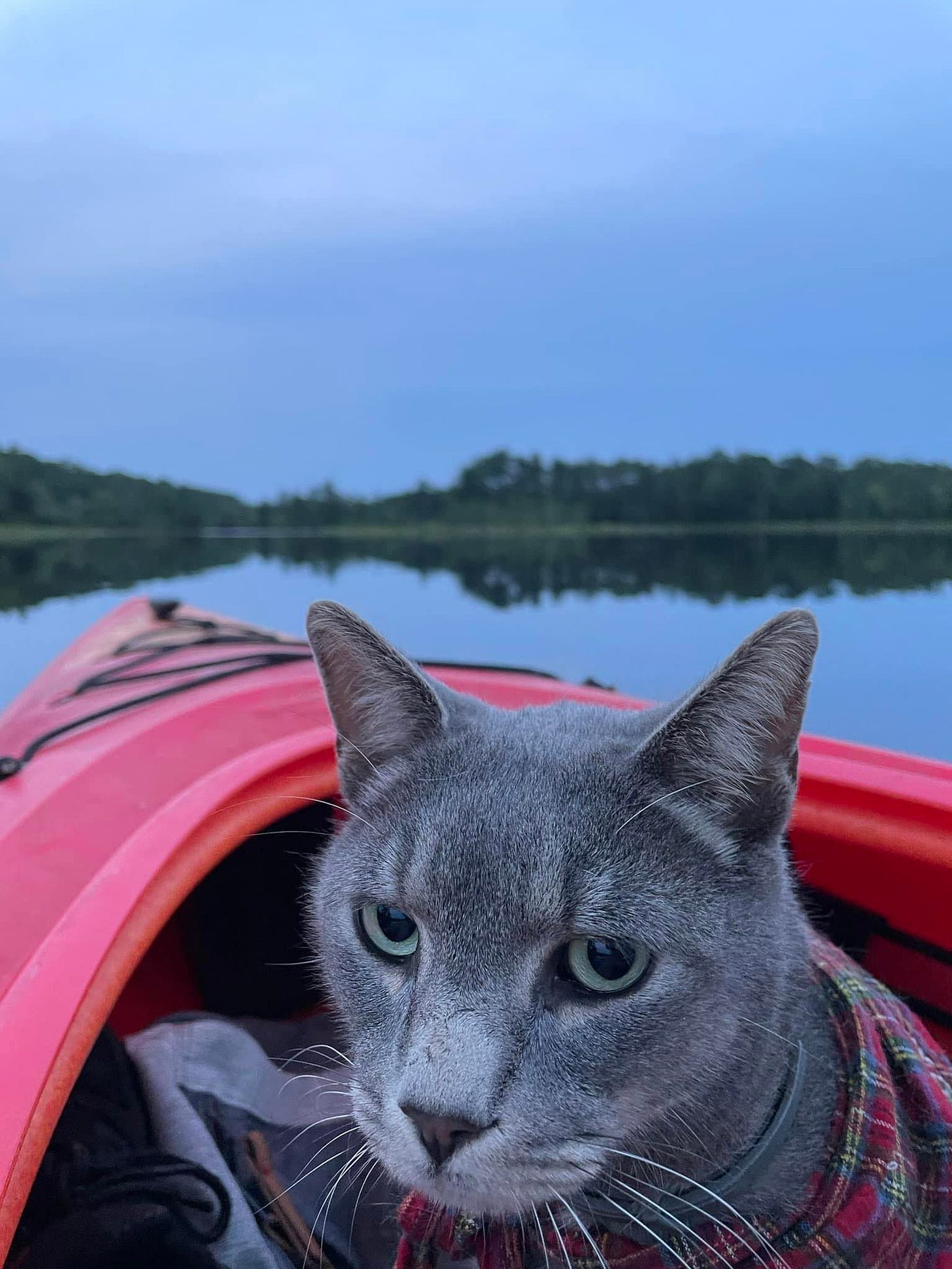 "He was the least nervous cat of eye choosing and he also had a smaller than him kitten in his cage with him…of which he was cleaning the kitten's fur," Jim said, and that was all that Elvis needed to do to win Jim's heart and his way out of the shelter.
Jim leads an active lifestyle and it quickly became obvious that Elvis didn't want to be left home when Jim went to work.
"He would cry and basically wait at the door. Very much the behavior of a dog. So because I am self-employed I wondered if he would be ok accompanying me in my work truck. He did so just fine as though he belonged there. So he began to tag along with me every day. I think this creates a strong bond between us," Jim said.
The next step was adventuring, taking to the camper that Jim travels up and down the East Coast in from his home base in New Jersey.
"So naturally when I would travel in my camper along the east coast, he would be included in the journey. Once at a location with the camper, he would then begin to be upset if we left him in the camper when we would go hiking…. So, I thought maybe he could hike with us. This is how it all began," Jim explained.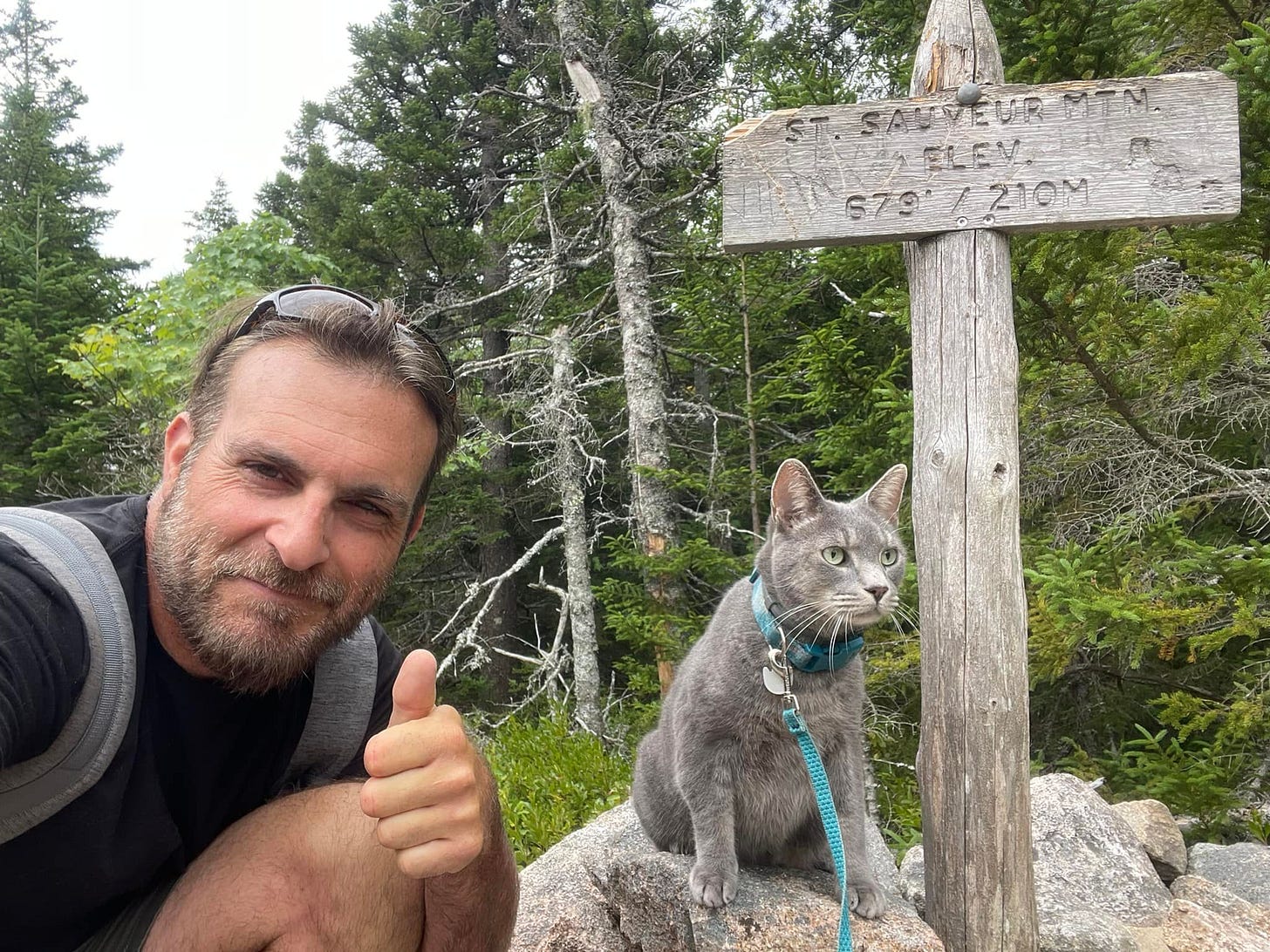 Jim trained Elvis using a combination of "cat sack" (a backpack for animals) and leash with collar. He prefers a collar to a harness because then Elvis can free himself if there is a problem
Elvis is a hiking cat and like many cats and hikers he has preferences when he's trekking through the pine woods, dirt trails, and granite steps as well as along the rocky cliffs of the Atlantic.
"Elvis prefers to hike trails within Acadia that have well defined borders along the trail. A cat's natural instinct is to explore with their shoulder to a border or edge. I find that Dorr Mountain Trail is excellent for this," Jim said.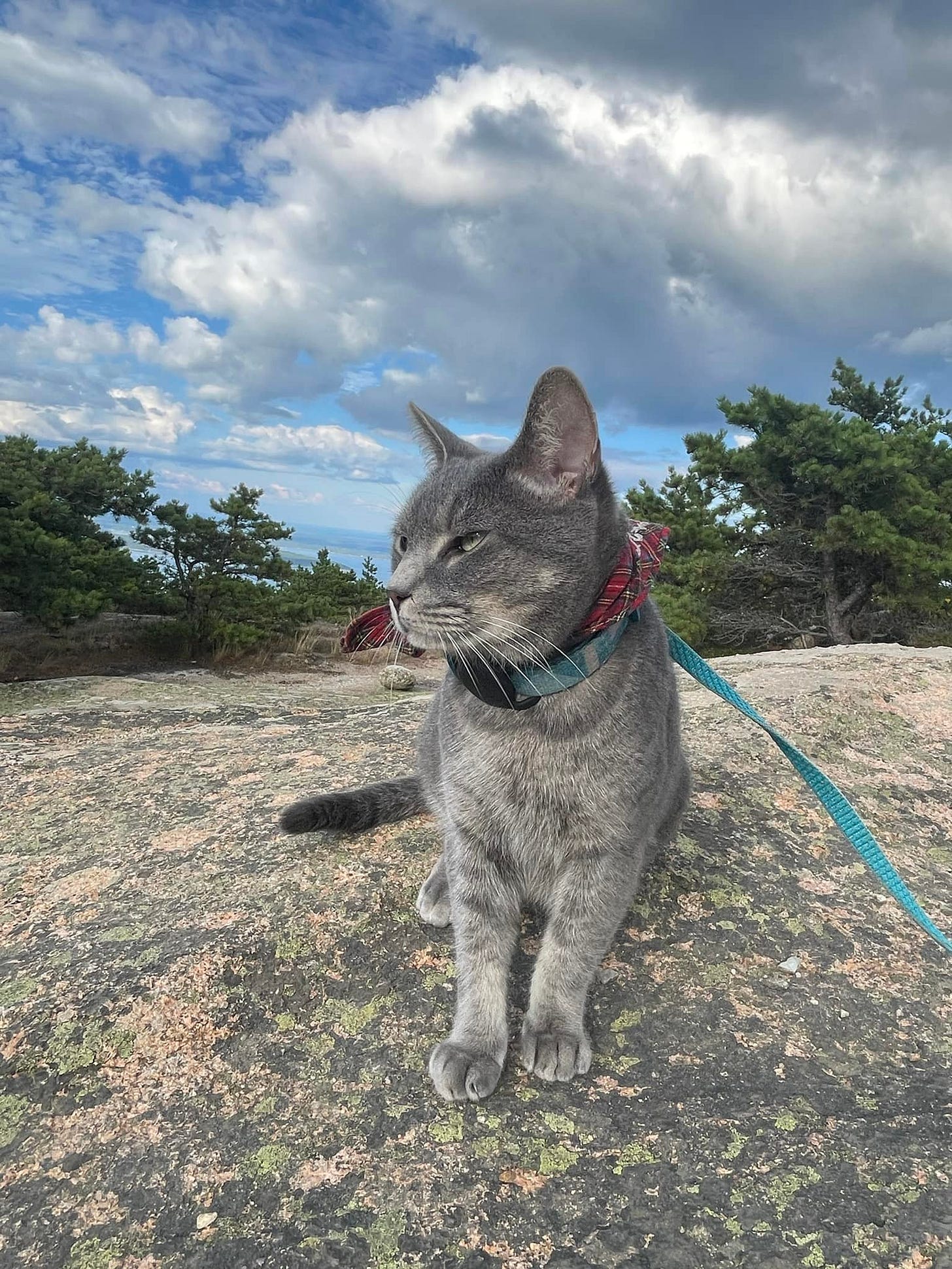 "Cats are creatures of space not people," Jim says. "If he becomes spooked or nervous he will go into the backpack and feel secure no matter where we are. This is key to him learning new places. I will include him everywhere we hike, but the trails that we frequent he will want to leash walk because he is familiar (with the trail). The new trails are where he prefers to be in his cat sack."
And Elvis has a favorite time of day to hike, too.
"He will most enjoy a dawn hike or sunset hike. This is the natural cat prowling hours. This is also an enhancement of his instinct. But we will take him on most of our hikes unless he is very tired. He will then prefer to sleep in the camper. My son often attends the trips. Elvis is very kind to my son, Benjamin. Benjamin is autistic and having Elvis along facilitates a lot of social interaction and friendly conversations along the trail which Benjamin really enjoys."
Elvis also likes to go with the family for lunch or dinner in Bar Harbor and Jim says that the dog-friendly patio restaurants work out just fine for them
---
OTHER HIKING CATS
Candace Stroh also hikes with her Colorado-based adventure cat, Olive, and she told Chewy,
"Cats have different personalities. Some cats don't want to go outside. It would be horrible to take your cat outside just because you think it looks cool."
"Many cats are skittish about new experiences," Jessie Russell who has an adventure cat, Milo, told Chewy. You might have to "slowly acclimate your cat to the great outdoors."
"I always ask myself, what's Olive's mood for the day?" Stroh said to Chewy. "Is she going to like going hiking today? If she's not going to like it, then I'm not going to force it."
---
LINKS TO LEARN MORE
Another story about Jim and his family and their tulip house, and tulip planting quest, a way Jim found to recharge while raising a special needs kid. Another article about that is here.
You can check out Jim's company here. It's the Haddonfield Tulip Co.
A PetFeed article all about cats who adventure via hikes, kayaks and swims.
How to Hike With Your Cat according to Adventure Cats and Their Humans.
Some Hiking Cats:
Maria Roper and her cat Rio (of @adventurrio);
Candace Stroh and her cat Olive (of @olive_the_adventurous);
Jessie Russell and her cat Milo (of @miloandmoki