Dog parks, camping by the town's athletic fields and a Jackson Laboratory Update dominate remainder of the Town Council's long-running Tuesday meeting
BAR HARBOR—During a marathon meeting on Tuesday night, August 16, the Bar Harbor Town Council unanimously supported a senior taxpayer ordinance that would allow property tax relief of up to $750 for some seniors who own property in Bar Harbor.
"I believe this program would cost around $85,000 and talking with the Age Friendly Committee we very well might be able to find some volunteers to help senior citizens apply for and participate in the program," Town Manager Kevin Sutherland said in the council's packet notes.
The program finds senior citizens who are eligible for Maine's Property Tax Fairness Credit Program. That program rebates some seniors for a bit of their rent or property tax.
To be eligible, property owners must:
1. Be 65 or over (prior to April 1 of the funding year)
2. Be a resident of Bar Harbor
3. Already get a tax credit from the Property Tax Fairness Credit Program.
Sutherland said his former town of Saco has a similar ordinance, and it doesn't usually require a lot of staffing from the town. Seniors would have to apply before December 1 for this year. The deadline next year will be August 1. Sutherland said he hoped the town could get the Age Friendly Committee to help seniors fill out forms for the credit/rebate.
Councilor Jill Goldthwait did a lot of work on the ordinance which Councilor Gary Friedmann called "groundbreaking." He added that the price tag is small to keep the senior residents, who have been paying taxes for years, in town.
Council Chair Valerie Peacock said that after the town's revaluation last year, "a big jump happened for a lot of people." She said the town wanted to help seniors that could have more difficulty paying their property tax after their homes were revalued at higher amounts.
Sutherland detailed the ordinance in his packet notes.
"A resident, by the December 1st deadline for this year (and August 1st in future years), would submit the state program form as part of their tax filing from April along with our application (to be developed in time for the public hearing and final vote) which would be used to establish the credit they'd receive in the following year. I.e. information filed for calendar year 2021 (in April 2022).
"Because of the timing of its implementation, if the application is complete and submitted before December 1st, it would be credited toward the second half of the tax bill in Fiscal Year 2023 (the bill that is due March 31, 2023). In future years, it will be credited to the first tax bill and the application will be due by August 1st."
Councilor Matthew Hochman said that while this ordinance is wonderful, he works with a lot of younger homeowners who worry about their taxes as well and he'd love to see the town work to help those residents as well. Councilor Erin Cough reiterated Hochman's statements saying that is "absolutely wonderful that we are allowing our seniors to stay," but there is a desperate need for our younger generation to stay as well.
Earlier in the meeting, Shannon Westpahl, a resident of Bar Harbor, mother and teacher appeared in supporting the town working to retain families.
"This summer we are losing families," she said. She said that her heart can't accept families moving off the island and the lack of housing means that more families won't be able to live here.
"We can't maximize profit at the cost of community," she said. "I'm simply here begging for the town and council to come together to unite around the need for affordable housing."
A quick search on Zillow, a real estate website shows 22 listings for Bar Harbor, the lowest home is priced at $479,000 for a two-bedroom, two-bathroom. The cheapest home in Ellsworth is $199,000 for a two-bedroom, one-bathroom.
Jackson Laboratory representative, Mike McKernan said later in the meeting that the lab lost 72 employees because of housing issues in Bar Harbor. The lab is cutting the ribbon on its own Hemlock Apartments, employee housing, later this week.
DOG PARK
The town council unanimously agreed to setting up an account in the town to accept donations for design and other needs and serve as fiduciary to safeguard the funds.
Goldthwait worried that this was more work for town staff and said that she didn't know if the town council supports a dog park, and that should be ascertained before the town accepts money and donations.
Councilor Jeff Dobbs said that the Parks and Recreation Committee wants the group to come up with a plan on paper, what the costs are, shielding from abutters, landscaping, what it will look like. Councilor Gary Friedmann said that setting up the fund within the town makes it easier for a citizens group to process the funds.
Hochman said that the town acted as the fiduciary for the skate park in the past. This was not the case with the Park Street playground rebuild, which was pushed forward by Amy Schwartz and the Bar Harbor/MDI Rotary Club. The MDI YMCA acted as the fiduciary agent for that project.
JACKSON LABORATORY UPDATE
Michael McKernan, director of government and community relations at Jackson Lab, is a member of the comprehensive plan committee charged with helping to create the town's vision for the future, but presented a Jackson Laboratory update at the meeting. The Bar Harbor campus has 1500 employees. The lab's mission is to "discover precise genomic solutions for disease and empower the global biomedical community."
It is the fifteenth largest employer in the state of Maine. Scientific research and development services is a significant employer in Bar Harbor, Maine.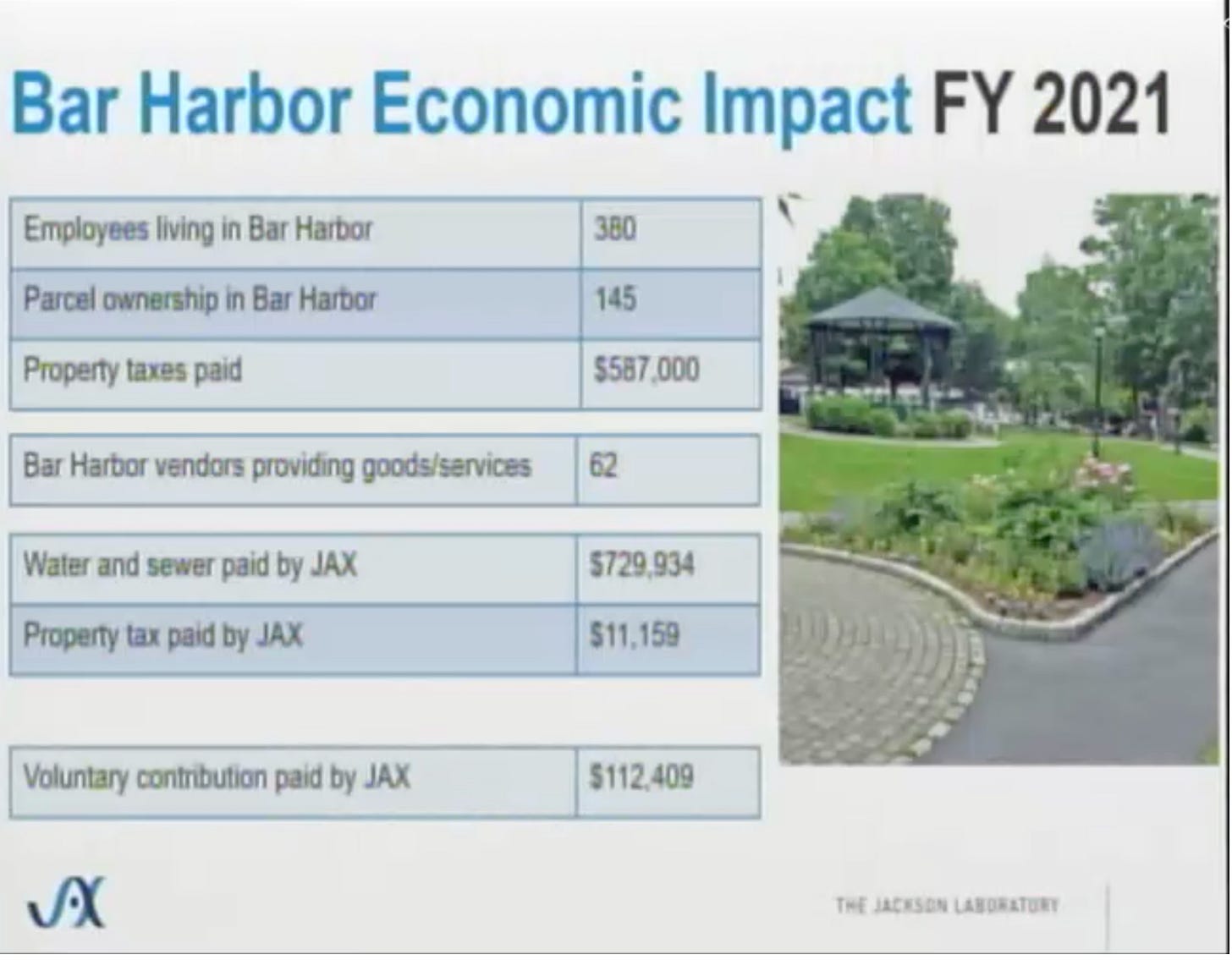 He also mentioned that the lab is opening a daycare center with 40 slots for lab employees, early 2024. The daycare providers will be employed by the Downeast Family YMCA, which is based in Ellsworth, which has operated the lab's Beechland Road daycare in Ellsworth for several years. There would be 13 slots open for the community, he said. Currently, lab employees have children at other daycares such as Kids Corner, a nonprofit. There is also daycare provided in private homes and at the MDI YMCA, another nonprofit.
ATHLETIC FIELD PARKING AREA WORRIES
Jan Hanscom owns Cromwell Harbor Hotel and has been a Bar Harbor resident since 1947. She said during the public comment period that she believes the town needs to use the south side of the athletic field for employee parking, stressing that side streets are overused and residents can't park there. She also mentioned illegal camping, transients, and people in the woods as well as fights in the woods in the area by the athletic fields and her hotel, saying one man had been camped in there for three weeks.
"Over this weekend he was drunker than beyond and at 5 in the morning he's flapping his hands saying he's going to kill himself," she said and also referenced a fight in the same area. "We can alleviate all that by taking that parking area, widening it, and taking out the woods."
HIGHBROOK ROAD SPEED LIMIT
Sutherland said the request was to lower the speed limit to 20 mph, but the Maine Department of Transportation, which controls the speed limit for roads, only goes down to 25 mph for residential roads. Deputy Chief David Kerns looked at the roads and said there isn't enough signage there. There will be a public hearing to reduce the speed limit for Highbrook Road, Bloomfied Road, Cleftstone Road and Champlain Roads. Some of these roads are on a designated biking route.
COMMITTEE APPOINTMENTS
There are nineteen committees in Bar Harbor and the council unanimously appointed members to four of them, unanimously approving Peter Houghton, Age Friendly Committee; Bob Huff, Parks & Recreation Committee (reappointment); Calistra Martinez, Planning Board; Kaitlyn Burke, Task Force on the Climate Emergency. All are for three year terms.
Bar Harbor Story is a reader-supported publication and all our news is free, but it takes a lot of time, and I'm a working mom who is no longer getting any sleep. So your support? It means everything. To receive new posts please consider becoming a free or paid subscriber. And thanks for being here!
---
WANT TO LEARN MORE?
AT THE BAR HARBOR STORY, WE WANT YOU TO NOT JUST HAVE OUR TAKE ON THE NEWS, BUT YOUR OWN, WHICH IS WHY WE TRY REALLY HARD TO GIVE YOU A LOT OF LINKS TO PERUSE IF YOU HAVE TIME.
Property Tax Fairness Credit Summary
Jackson Laboratory's site.
Bar Harbor's current real estate listings.
The last council packet is here.
The rules for changing Maine speed limits.
Sample letter of intent by the municipality to DOT to ask for change of the speed limits on a local road.
Maine's Department of Public Safety information on strategies to reduce pedestrian and bicyclist crashes and fatalities.
---
Editor's Note: This writer is currently the volunteer co-president of Kids' Corner, a nonprofit childcare center in Bar Harbor.